Lots of choices to fit your family needs…
By Garth W. Cane
RV buyers can visit RV dealers or regional shows where you can see a wide range of models on display. Most dealers will stock a variety of sizes and floorplans, as well as an array of certified used RVs.
Choosing the right RV for your family will depend on how many people will travel; whether you plan to travel as a family with children, or as a "empty nest" couple; how long you intend to spend on the road; and whether the RV will be used for weekend camping or long trips. For some RV shoppers, the vehicle will be a retirement project for rambling across the continent after the kids have left home and gone to college.
What kind of RV will best suit your lifestyle? The layout will be determined by how many people are going to use the RV, and what kind of sleeping arrangements are necessary. Will you be more comfortable towing a travel trailer, a fifth-wheel trailer, or driving a motorhome?
Let's take a look at the various types of motorhomes – many of the layout considerations also apply to trailers.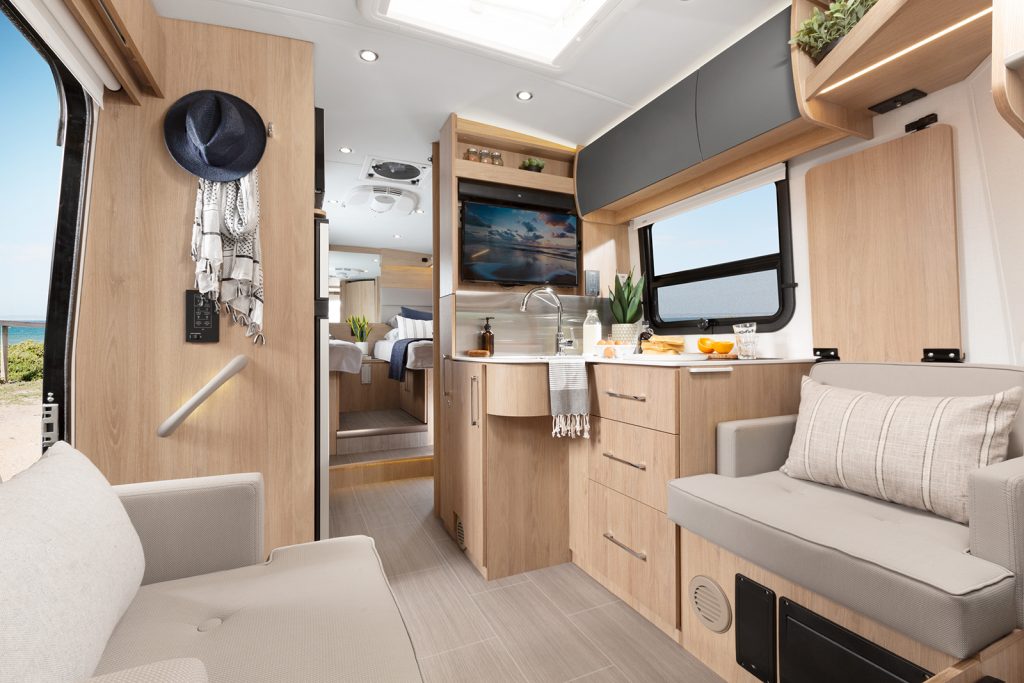 Families with children often choose a class C motorhome since it has more flexible accommodations for a family of up to six people. Do you want a dinette booth that transforms into a bed at night (I have often remarked that this bed is for two people in love, or the kids – it is normally 72 inches long and 48 inches wide) or a dining table with swivel chairs. The largest bed in a class C motorhome is above the driving compartment and is generally used by kids. When you are parked, the cabover bunk makes a great play area for the kids. If you plan to use this cabover as an adult accommodation, keep in mind that it is best suited for adults who are still flexible enough to climb.
Do you want two single beds or a queen or king size in the bedroom? Will the master bed be up against a wall, or can you get out of bed on either side so you don't disturb each other if you get up in the middle of the night? A master bedroom that lets you walk around the bed is preferred as this is very convenient when it comes to changing sheets and making the bed.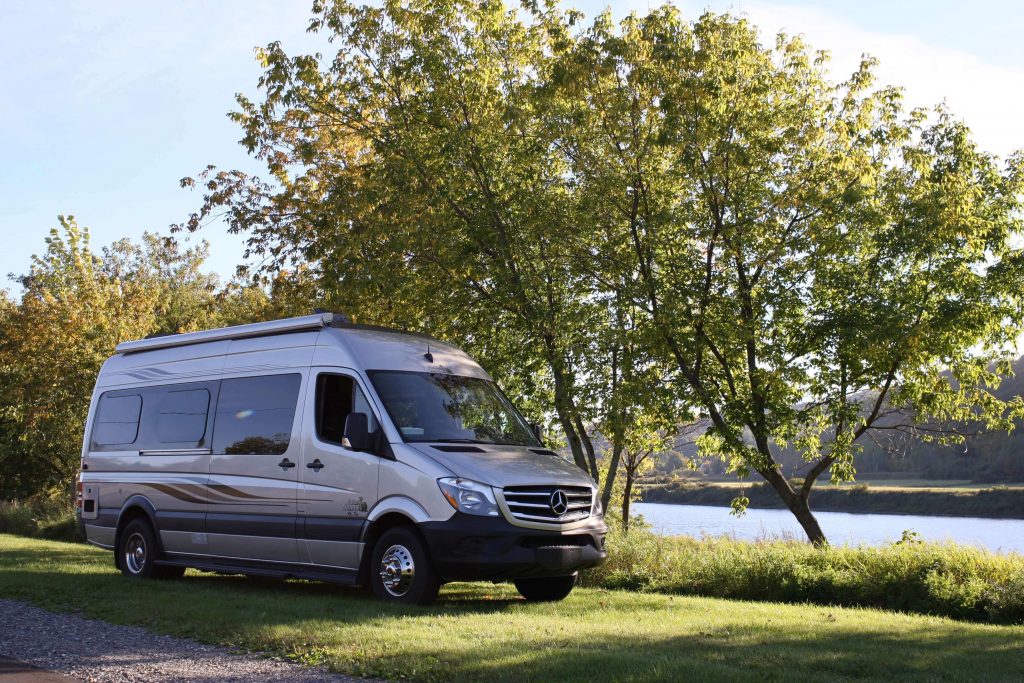 When two people travel on their own, they often choose a type B van conversion with either a full bed or twin beds in the rear. The front area is comfortable for daily driving, and the vehicle handles like a family van. With two captain's chairs and a door on each side it is an easy vehicle to enter or exit. Compact and in many cases garageable, you can take a class B motorhome anywhere and it gets good gas mileage. Modern van conversions are often built using a Sprinter or one of the smaller chassis such as the Ford Transit Connect or the FCA ProMaster. They are often powered by a gas engine, although some buyers are choosing a diesel-powered vehicle for the better fuel economy. Vans today are equipped with all the conveniences of home, and some have all-electric appliances operated from battery power recharged by solar panels.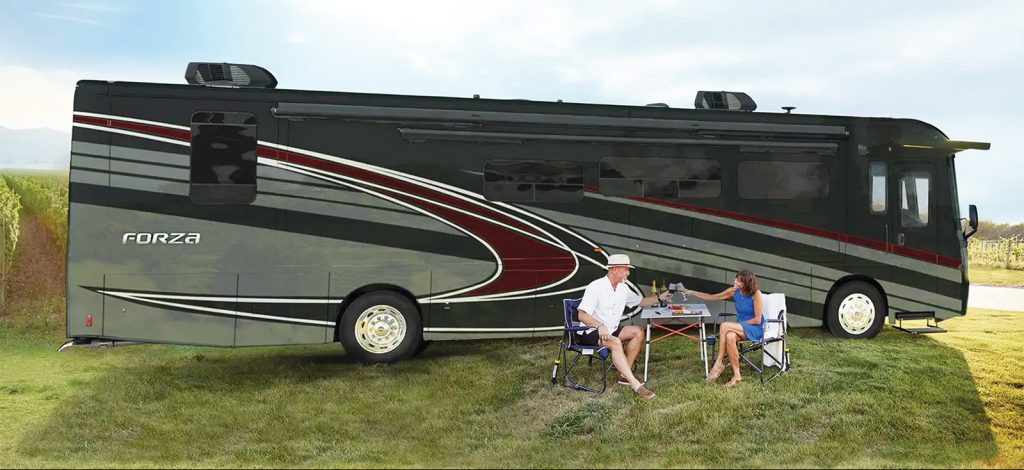 Retired people who intend to use a motorhome for extended travel have dreamed of a life on wheels so they can chase the sun in the wintertime. They may choose a larger class A motorhome with all the bells and whistles, a more luxurious layout, a private rear bedroom with king-size bed, full washroom and sometimes laundry facilities. These motorhomes may have three of more slide-outs to create extra space in the bedroom, bath and living areas. Similar RV features are available in larger travel trailers and fifth wheels.
Storage is important to people who are going to be on the road for long periods of time. Besides more closet space for clothes, underfloor storage space is essential for all the larger items that you would normally have at home. Our own unit has room under the floor for a mobility scooter. A class A motorhome will often have an auxiliary power generator, solar panels, and rear diesel engine that provides decent fuel efficiency. This is a unit that will not be driven every day, so the cost per gallon is not a big deal. Many owners intend to spend their winters in the south and summers travelling across Canada, instead of owning a home. When you are in a campground, someone else is responsible for cutting the grass and looking after the flowers and swimming pool!
Custom Orders
Should you have a motorhome built especially for you, or should you buy from the dealers' inventory? Having a unit built specifically for you at the factory can take time – lots of time. If you need a unit right away, it would be advantageous to select one that is already in the dealers' inventory.
Today, many class A motorhomes are not built until the factory has a firm commitment from the future owner. Some high-end manufacturers require a deposit at time of order, the next payment when the first weld is done on the chassis, and the last third when the new owner drives it off the production line. Expensive RVs are built for a specific customer, but large dealers often know what style of units they can sell, and they may order one for stock or for display at an RV Show. With the Internet, it is possible to see all the options and styles available.
Choosing Your Dream RV
Now it is time to decide what is necessary for your life on the road.
Many RV factories have tours that allow prospective owners to watch an RV being assembled. If you have ordered one to be built at the factory, you are often invited to watch it move down the production line. RV Lifestyle Magazine has been to several RV factories where we have met the RV buyers following the progress of their dream coach as it rolls toward completion.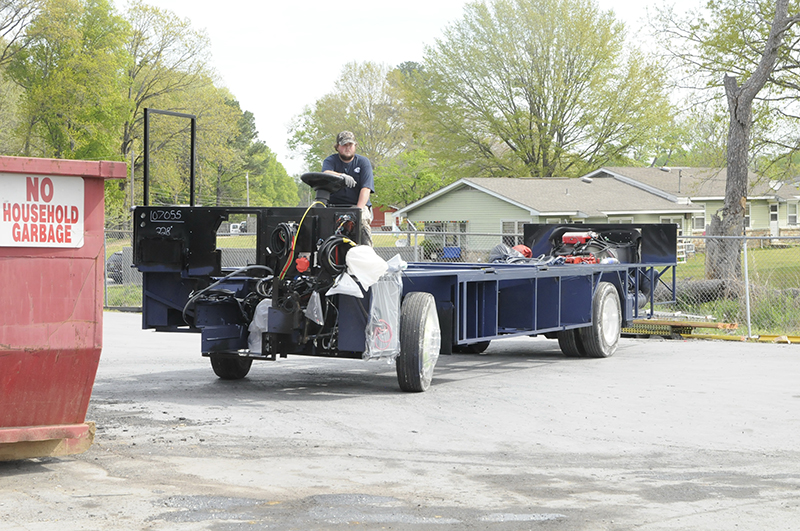 Large gas motorhomes are often built on a chassis and suspension system supplied by Ford, this includes the steering, brake system, and engine. Diesel engine motorhomes are built on a Freightliner chassis with Cummins engine or a brand-specific chassis like the PowerGlide by Tiffin.
Built to Last
The RV chassis is powder-coated to eliminate rust and corrosion. In the case of motorhomes, the suspension system, steering systems, leveling systems, power brakes, cruise control, electrical generator and electronics systems are installed before the chassis arrives at the RV factory.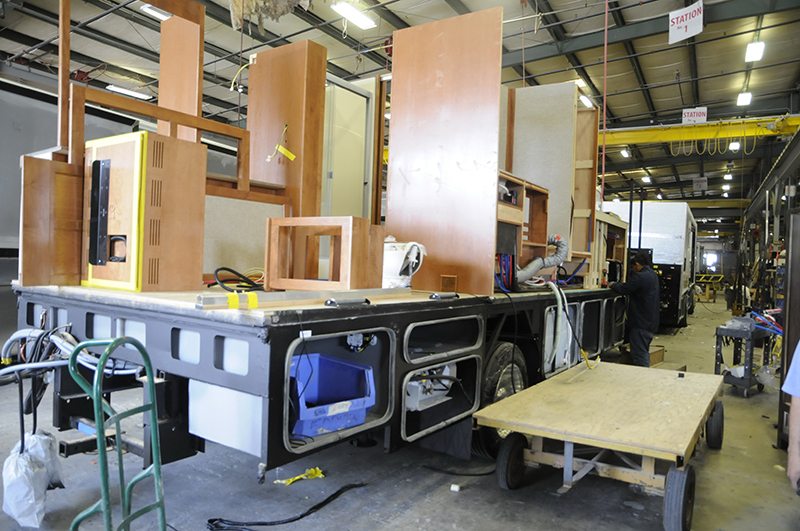 While the chassis for any RV is being prepared, the wood for the cabinets, doors and drawers are all air dried and selected and sorted depending on where it will be used in the RV. All the pieces are milled and sanded to a smooth finish and stacked for assembly. The cabinet frames are stapled, screwed and glued together for stability since RVs often travel over very bumpy roads. Once the floor is completed, including heating ducts, tile or carpets, the cabinets and all the major appliances and furnishings are put in place, and then it is time to install the exterior walls. The next step is to install the slide-outs, then the roof is lowered to the top, the front and rear fiberglass caps are assembled. If your RV features full-body paint, it is time to send it to the finishing department, where it will receive several coats of paint, decorative stripes and clear coat. For some units, the front is covered by a nano-fusion film of Diamond Shield to protect it from stone chips.
The RV is ready for final inspection and quality control testing, and then it is delivered to the new owner for a generation of touring the RV roads to adventure.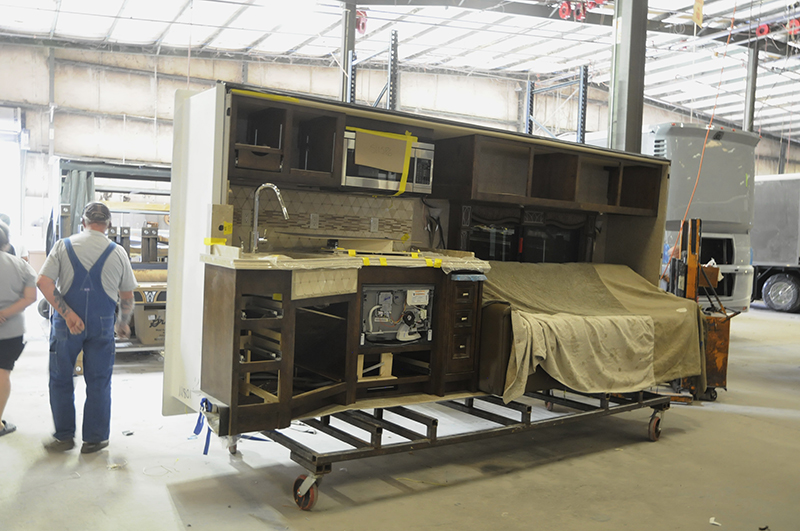 ---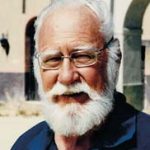 Over the last 35 years, Garth Cane has been the Technical Director for RV Lifestyle Magazine. He is a member of the Automotive Journalists Association of Canada, and was professor of the Apprenticeship Program for RV Service Technicians in Ontario. He is a RV/MH Hall of Fame inductee, class of 2020.