Is Smartphone Navigation letting you down?
Time to revisit GPS navigation systems!
By Norm Rosen
As we sheltered in place over the past two years, longing for the day when we could break free from the pandemic and roam the RV roads to adventure, who would have thought that when the border opened, we would face another obstacle… the changing technology of the North American cell phone infrastructure.
Cell networks have progressed from 2G (second generation) to 3G (third generation) to 4G (fourth generation) LTE (Long Term Evolution), and most recently, 5G and 5G Ultra Wideband.
Downloading files from the internet on a 4G LTE system is 10 times faster than 3G, and 5G Ultra Wideband is typically 10 times faster than 4G LTE – but this is a system that is being phased-in across North America, with coverage in some areas, and not in others… yet.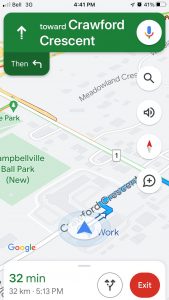 If you are a Canadian cell phone user, with a 3G phone, you will find that you can no longer connect to cell systems in the USA. According to the FCC, T-Mobile, for example, planned to shut down Sprint's 3G CDMA network at the end of March 2022, and the plan was to shut down Sprint's 4G LTE network at the end of June 2022. Verizon plans to shut down its 3G network December 31, 2022. Many smaller carriers in the United States use the AT&T, Verizon, or T-Mobile networks, so some of the older devices, including cell phones, medical devices, tablets, smart watches, vehicle SOS services, and some home security systems that use 3G network services may have to be upgraded or replaced.
If you rely on a smartphone to navigate as you roam across North America, you may find that your smartphone-based guidance systems will leave you wandering in the wilderness. Without the "Roam like Home" data plans, even if your smartphone connects for navigation purposes, your data charges could come as quite a shock.
If you think this sounds like a headache brewing just over the horizon, join the club…
Why is this happening? Apparently, the US carriers are shutting down their 3G networks to make room for the new technology, including 5G. So, your older 3G cell phones and some of the older 4G mobile phones that do not support voice over LTE (VoLTE or HD Voice) will not be able to send or receive calls and texts, including calls to 911, and you won't be able to use data services.
Bell Mobility Canada and Rogers reassure us that they will still maintain service for these older phones in Canada, but we can expect the technology to eventually impact Canadian cell networks as the march to 5G spreads across North America.
Of course, if you have unlimited financial resources, you can just upgrade to whatever technology your carrier offers, toss your old phone into the technology recycle bin, and spare yourself the time to read the rest of this article… but if you are on a limited budget, or if you resent the heartless communications companies turning your smartphone into an obsolete paperweight, it's time to take a look at the traditional GPS concept, which has quietly evolved in recent years to provide the most reliable and economical way to navigate the highways and byways of North America.
Time to Re-Invent the Wheel.
While the bells and whistles of Apply Car Play, Android GPS, and smartphone navigation fascinated drivers for the past few years, this change in cellular telephone and navigation technology relies on connectivity and data availability from your cellular system – if you are in an area where there are no towers available, you are essentially out of luck.
There is a better way to navigate.
Back in February 1978, the first Navstar GPS satellite-based radionavigation system, initially developed by the U.S. Department of Defence, became available to the general public. In what may have been the most magnanimous gesture in technological history, the United States Government made access to the satellite navigation system a public service, and the consumer and commercial GPS industry was born.
The technology was implemented worldwide, with the EU offering their Galileo system, China creating their BeiDou system, Russia launching GLONAS, Japan offering QZSS, and India using IRNSS or NavIC.
The GPS devices evolved steadily, with greater accuracy and better visual elements introduced to respond to tremendous worldwide demand for the systems.
Today, the North American GPS system, part of a global navigation satellite system (GNSS), is operated by the United States Space Force, providing geolocation and time information to GPS receivers anywhere on (or near) Earth. The GPS system receives data from one or more of the 75 satellites that orbit the planet at an elevation of 12,540 miles, providing position information that can be as accurate as 500cm to 30cm (16 feet to one foot) for consumer applications, and as accurate as 2 cm or less for engineering and surveying applications.
It cost the United States $12 billion to create the GPS satellite navigation system, and $750 million per year for the United States Space Force to keep it operational.
We benefit in many ways from the GPS system. Civilian GPS receivers are used in marine navigation, commercial trucking, and, of course, recreational uses.
Ready for a new GPS?
Start your trip here…
Today, as we seek an alternative to smartphone navigation systems, there are new GPS units that deliver everything we could ask for – and more.
RV Lifestyle Magazine reached out to Garmin, a worldwide leader in the GPS field, for the latest update on what is available for the RV and recreational market.
Many of us enjoyed using the Garmin Street Pilot™ devices in the late 1990s, and the Nuvi™ GPS units from 2005 – 2015. The more recent Drive series units were preferred by the auto enthusiasts, and the RV and commercial trucking models brought a level of information, accuracy and reliability that could not be matched by cellular based systems.
In 2022, as we return to the tried-and-true GPS technology, Garmin offers a range of automotive OEM and aftermarket products ideally suited for the modern traveller.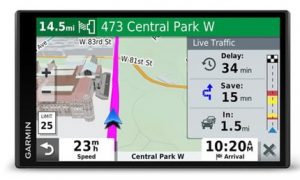 In the automotive sector, the latest models of the Garmin DriveSmart™ Navigator GPS, including the 66 and 76, provide a sharp and bright screen and a host of features that make operation fast and intuitive. Dash or windshield mounted, these GPS units are the optimum aids to automotive navigation. Check out the specs at:
https://www.garmin.com/en-US/p/721098/pn/010-02469-00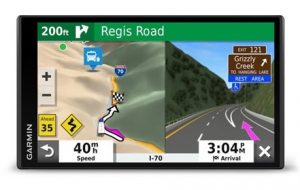 For the RV navigator, units are available in larger screen sizes, starting with the 780 model that features a 6.95-inch screen, the 890 model, and the top-of-the-line 1090 unit. The RV models let you input key information about your rig – the length, width, height, weight, and whether you carry LP gas on board. This information is used to map your route, avoiding roads that cannot carry the weight of your rig, low bridges and overpasses, and routes like the Chesapeake Bay Bridge and Tunnel system, which do not permit vehicles carrying LP gas to travel through the tunnel.
To view the range of Garmin RV GPS models, please follow this link:
https://www.garmin.com/en-CA/c/automotive/rv-camper-motorhome-gps/
For the RV driver, backing up the trailer can be a tricky procedure, even if your co-pilot is ready and eager to assist. In most cases, you just have to have visual information to safely and accurately manoeuvre the rig. The Garmin GPS models mentioned above can be equipped with optional cameras that are wired into the vehicle's electrical system, and beam a wireless image to the GPS receiver, which can be located as far as 50' away.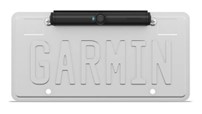 The BC 40 camera is a battery-operated model that eliminates the need to hard wire the device – AA Lithium batteries are said to last up to 3 months, depending on use.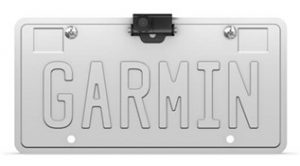 The BC 40 or BC 50 cameras are compatible with several of the DriveSmart™ Series navigators. For the latest information on those products, please visit: https://www.garmin.com/en-US/c/automotive/
Garmin also manufactures GPS models in the dēzl™ OTR series, specifically designed for the commercial trucking industry, which include data that lets the trucker plan a route with rest stops, service centres, weigh scales, and other elements that are unique to the trucking industry. For information on these models, please visit:
https://www.garmin.com/en-US/p/840222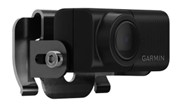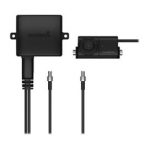 Some of the Garmin GPS models can be paired to several wireless cameras – the process is explained very clearly in a series of videos on the Garmin website – start your voyage of exploration at this link:
https://www.garmin.com/en-CA/c/automotive/rv-camper-motorhome-gps/
Then proceed to the BC 30 installation videos here:
https://www.garmin.com/en-US/p/501486/pn/010-12242-10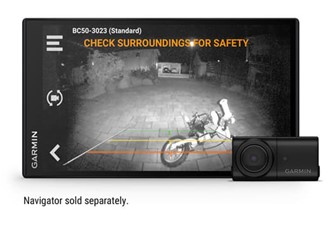 For the ultimate in convenience, check out the BC50 camera with night vision technology – here is the link: https://www.garmin.com/en-US/p/768642/pn/010-02610-00
Stay tuned to www.rvlifemag.com for the latest updates in GPS navigation technology!