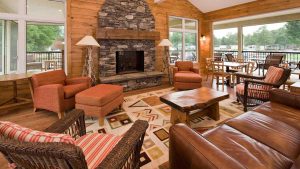 Cottage families looking for exciting places to spend a few days, a few weeks, or the summer season will enjoy the many amenities and on-site attractions at Great Blue Resorts. With locations in Niagara, Muskoka, Peterborough and the Kawarthas, Prince Edward County, and Perth, these South Ontario resorts represent a new wave of family camping comfort.
As you might expect from a major resort chain, Great Blue Resort properties feature a full range of activities – swimming pools, of course, as well as splash pads for the youngsters and canoes, kayaks, paddle boats, "water walkers" and more for the teens and adults.
Each resort features scheduled a summer "Kidz Klub" with scheduled activities from 10 am to 2 pm daily. Sandy beaches and beautiful landscaped grounds are the backdrop for the vacation of your dreams. You can purchase a cottage outright, or come for a short vacation. Either way, your stay at one of their eight resorts will be the beginning of a tradition that will continue for generations to come.
Great Blue Resorts are situated in the following Ontario locations: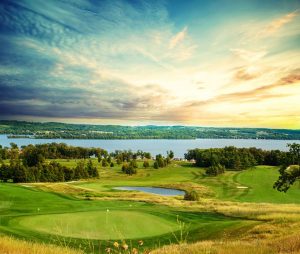 Bellmere Resort is located at 1235 Villiers Line RR1 Keene, ON, on the north shore of Rice Lake, just minutes east of Peterborough. With an 18 hole championship golf course and a heated pool, multi-sports court, and playground, this resort has so much to offer, from the perfectly combed sandy beach to the forested sites and waterfront park model cottages.
Cherry Beach Resort is located at 486 County Rd., RR 18 Cherry Valley, ON, and it offers more than 45 acres of waterfront, including a 1200 foot long sandy beach on East Lake. This resort, in the heart of Prince Edward County, is only a few minutes from Sandbanks Provincial Park and features a heated pool, splashpad, multi-sports court and new for this year, a community pavilion.
Lantern Bay Resort, located at 1336 S Morrison Lake Rd, Gravenhurst, ON is a family resort on the shores of the Trent Severn Waterway in Muskoka. Just 20 minutes from Gravenhurst, Lantern Bay offers a beautiful sandy beach, heated pool, multi-sports court, play area and much more.
McCreary's Beach, located at 155 McCreary's Beach, in Perth, ON, in Lanark County, just 45 minutes from our capital, Ottawa. There, you'll find a beautiful beach, indoor heated pool, gym and playground, plus access to Mississippi Lake, renowned for great fishing.
Shamrock Bay Resort is located at 1082 Shamrock Marina Rd, Severn Bridge, ON, in the heart of the beautiful Muskoka region, just a 15 minute drive from Gravenhurst, just north of Orillia. Shamrock Bay offers beautiful wooded lots, a marina with boat docks, a heated pool, play area and multi-sports court.

Pool at Vine Ridge Resort

Vine Ridge Resort, located at 1501 Line 8, Niagara-on-the-Lake, is just a few minutes from the beautiful historic town of the same name, plus just a fifteen minute drive to Niagra Falls. The resort features a one acre zero-entry pool, plus play area. New for late 2017, is a new pool and a multi-sports court.

Woodland Estates Resort, located at 171 Woodland Estate Road, Campbellford, ON, is situated on the shoreline of Lake Seymour, just 45 minutes from Peterborough, and 90 minutes from Toronto. The resort features docks for your boats, a recreational centre, heated pool, beach with volleyball court, plus lots more.
Bonnie Lake Resort, located on Bonnie Lake Camp Road, Bracebridge, is the newest resort and is undergoing exciting changes. Already in place is a welcome centre, recreational centre, playground and beach with kayak and paddleboards for hire. Bonnie Lake surrounds a stunning, crystal clear, spring-fed lake.
For more information please visit:
Bellmere Winds Resort
https://greatbluecottagerentals.com/resort/bellmere-winds-golf-resort/
Rice lake cottages
Lantern Bay Resort
https://greatbluecottagerentals.com/resort/lantern-bay-resort/
Muskoka Cottage rentals
McCreary's Beach
https://greatbluecottagerentals.com/resort/mccrearys-beach-resort/
Perth Ontario Cottages
Shamrock Bay
https://greatbluecottagerentals.com/resort/shamrock-bay-resort/
Muskoka resorts
Woodland Estates Resort
https://greatbluecottagerentals.com/resort/woodland-estate-resort/
Cottage rentals 
Bonnie Lake Resort
https://greatbluecottagerentals.com/resort/bonnie-lake-resort/
Cottages for rent in Muskoka