On the north shore of Lake Temiskaming in Northeastern Ontario there is a curious collection of ice fishing huts that call Sutton Bay Park campground their off-season home.
On blocks and set in rows alongside an access road leading to a boat launch, they're backed by bushes dominated by a large granite hill. You'll find them in various shapes and colours, measuring 6'x8′ or larger. A few are well worn with ragged, sun-bleached curtains, others are shinier and new; some have a sports team theme, while many are simply practical, with wood or gas stoves, modest benches and sleep bunks or kitchenettes.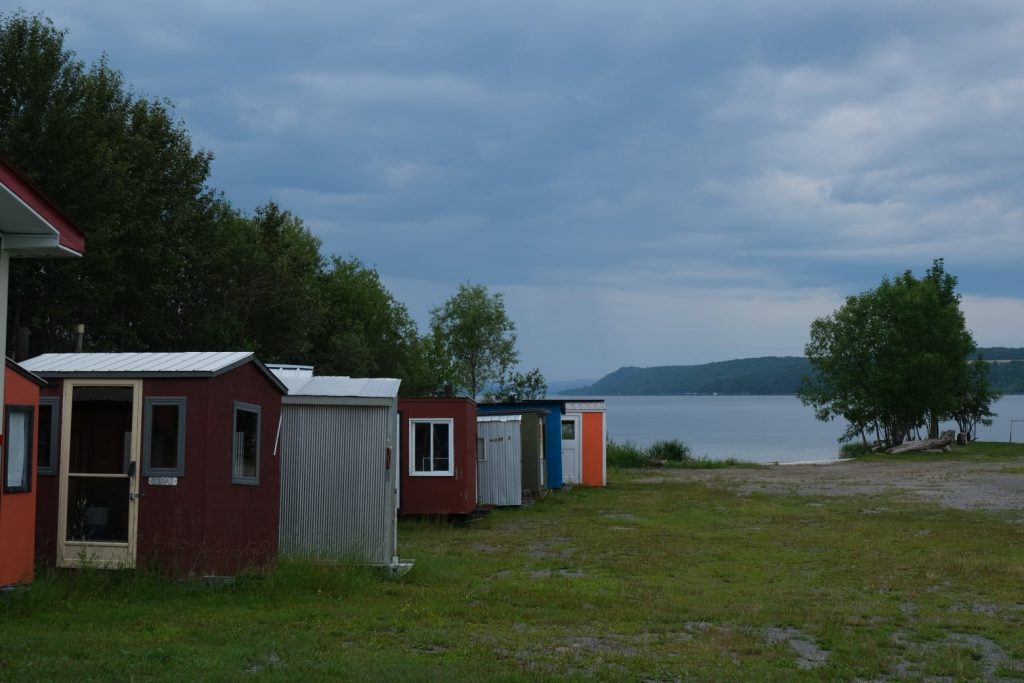 For a small fee Sutton Bay Park owner and manager Raymond (Ray) Laferriere lets winter fishing fans keep their huts on his campground property and access the lake. Ray, who has run the campground since 1995, keeps the road plowed in winter and even helps tow the huts out onto the bay. Hut owners leave their cars in a lot adjacent to and even on the lake; some arrive to ice fish on their snow machines or Ray escorts them on his.
The campground is near the picturesque city of Temiskaming Shores, where fertile farm fields meet the Canadian Shield. In December, when the ice freezes, hundreds of fishing huts emerge on Lake Temiskaming, on both the Ontario and Quebec sides. The largest groupings are across from Sutton Bay and opposite the New Liskeard and nearby Haileybury marinas. (The towns, along with the township of Dymond, amalgamated in 2004 to form Temiskaming Shores.) On a busy day, well over 125 huts are in the area across from Sutton Bay.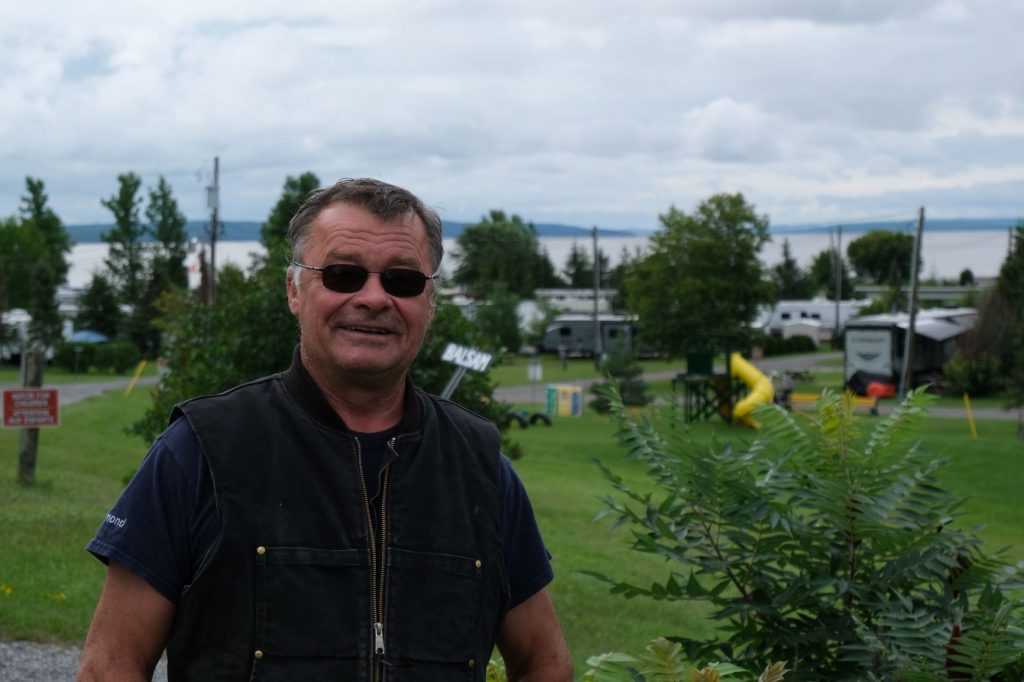 Ray offers a number of ice fishing packages – by the day(s) or week – which include hut rental and amenities such as firewood and drilled ice holes. There is also an on-site cottage for hire that sleeps eight and comes with a wood stove. Ray says that the lake is known for walleye, pickerel, perch, northern pike and ling, a cod-like fish. "The pickerel are pan size," states Ray, "and this area bites a lot." The season starts about the end of December and runs, on average, to mid-March.
An avid outdoorsman, Pete Gilboe is a friend of Ray, and he knows a lot about the sport of ice fishing. Pete grew up in New Liskeard and worked for 31 years around Ontario as a conservation officer for the Ministry of Natural Resources and Forestry. He and two friends constructed a hut that they keep at Sutton Bay.
Pete explains that Lake Temiskaming is a reservoir lake. "It's controlled by a dam and over late winter 10-15 ft vertical of water can be drawn. In the spring, some huts are nearly on the mud!" Sutton Bay is a shallow bay with a flat silt bottom, thus there's no real need for fishing sonars. "There's no real fishing hot spot," adds Pete. "The entire bay is covered with huts that are sprinkled across the lake." Saying this, Pete and his ice hut partner return to the same spot every year, about 5 km out, thanks to their GPS. "We're creatures of habit," he quips.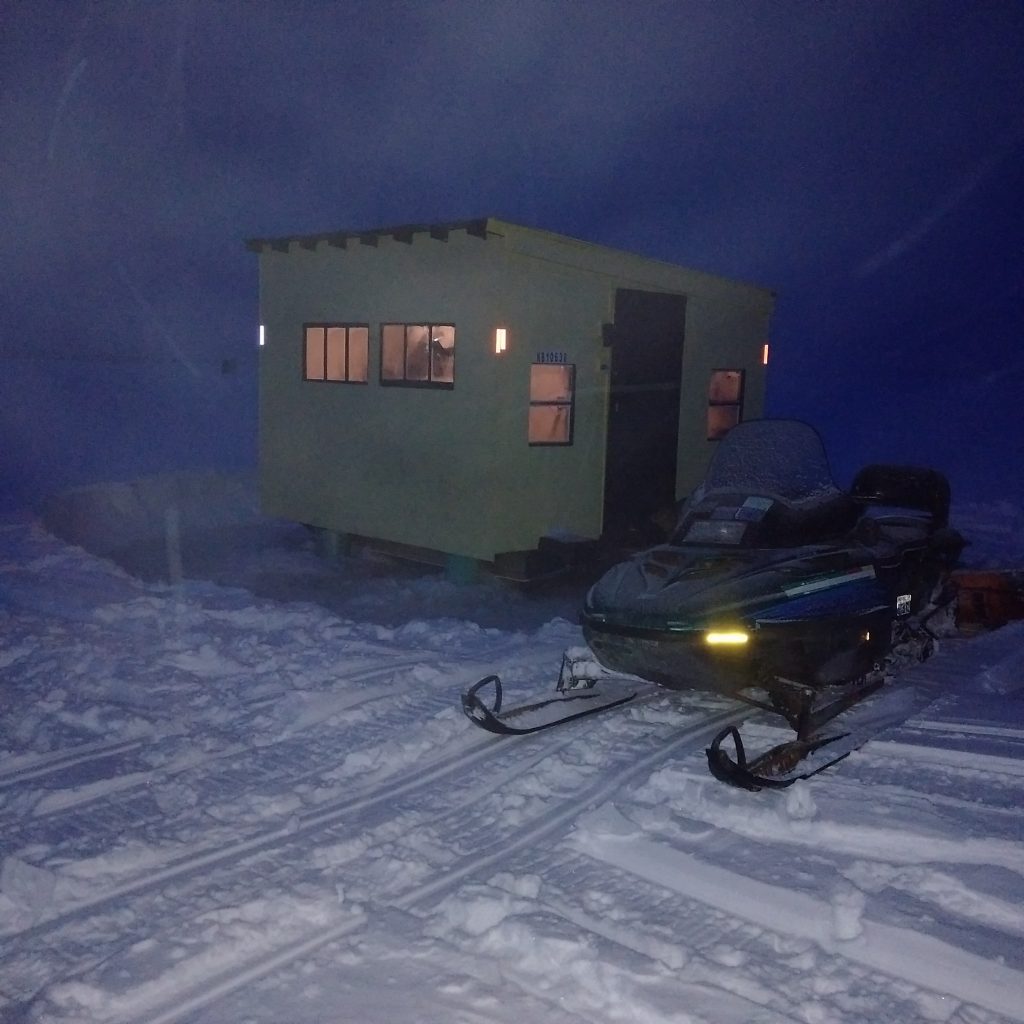 "Moving the hut," explains Pete, "is similar to moving an RV. We need to secure everything and it's the same process whether we move it 50 feet or a mile. It takes about 30 minutes on each end or one hour in total."
"There are 'unwritten rules'," adds Pete, about not crowding the next shack. "You try to keep it at 100 yards … or a reasonable distance." The hut is on blocks so that the skis for moving it are not fixed to the ice. "They're about 10-12 inches wide and are wrapped in Teflon," says Pete, so they don't freeze into the ice.
How thick can the ice get and when do you know when it's safe to go out? Pete replies: "Three feet of ice if a good season – you just have to watch the conditions, and local knowledge helps. I look for the ice to be about eight inches before we haul the hut out, though a lot of others are happy with six."
Ice fishing is permitted until March 15 on the Ontario side and March 31 on the Quebec side. There is no fishing between these times and the May long weekend to allow for the walleye to spawn and migrate, Pete explains to me, adding that people can fish on Lake Temiskaming with an Ontario or Quebec fishing licence.
On a good day, Pete fishes three to four hours in the afternoon. He will clean some catch in the hut and bring some home and the spawning size fish are always released. "Sauger is the main fish we catch – they're prolific spawners. They're a cousin of the walleye and a smaller version of the pickerel, a 14″ sauger is a big one!" he states. "The sauger bite throughout the day and the ling are fished generally at dusk or into the dark." (Pete noted an important fact about fish size: "Almost all large fish of any given species are females, making them important to the conservation of the population. Contrary to popular belief, you're better to keep smaller fish to eat and release the larger ones to spawn.")
A large majority of the ice huts have holes in them (Pete's hut has four holes inside) and most people fishing will have a couple of lines going inside and out. According to Pete, portable pop-ups (ice fishing tents) are becoming more popular and the tip-up technique of fishing (to set the hook to alert that a fish is on the line) is a common technique choice, though some simply use a jigging rod.
Pete ice fishes for the pure joy of it. "It's about catching the fish, but I also like to eat fish. But it's the social aspect for sure. It's a way for us to pass the time now that we're 'grumpy old men'," he laughs, referring to the '90s movie with funnymen Jack Lemmon and Walter Matthau.
"We built a big hut for a purpose – together our three families had seven kids – and we invited all kinds of people out to fish. There was always some action on the ice, and we have a lot of great memories."
Pete adds that Ray "provides a real community service". "We really appreciate the number of years that Ray has allowed us to access Lake Temiskaming from his property."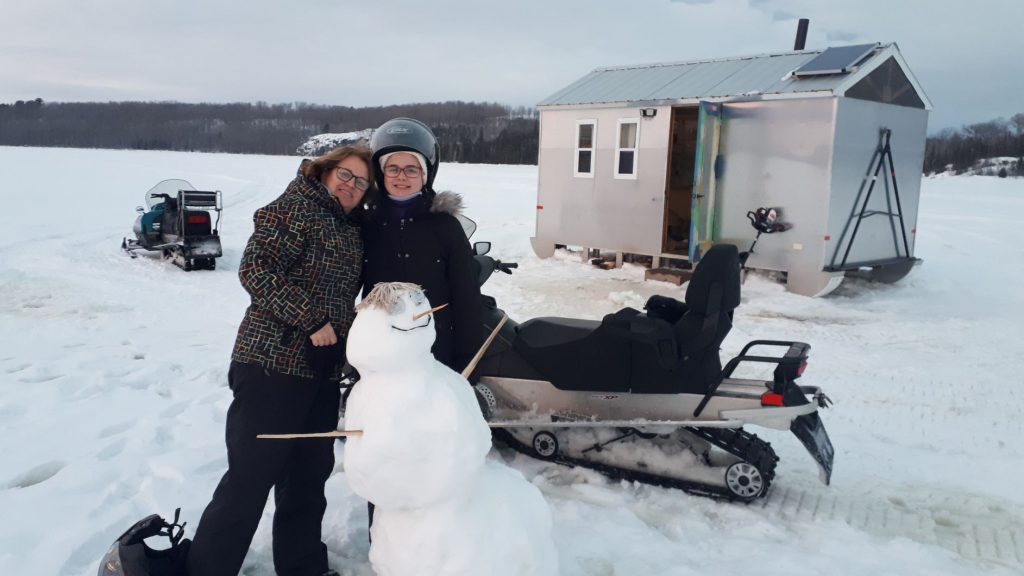 After 25 years of running the family campground business, Ray Laferriere is finally looking to sell. "It's time to retire," Ray says with a sigh, "and travel when life permits."
As for the locals – and regular visitors alike – they must certainly be hopeful that a new owner will continue the ice fishing tradition on Lake Temiskaming.
Sutton Bay Park
Open for camping from May 1 to the end of October. A Camping in Ontario member, Sutton Bay offers 125 campsites (water/electricity; 30 and 15-amp options/sewer in all but 25 sites), washrooms, shower and laundry, free Internet, and promises no black flies! Firewood is available on-site.
841514 Waugh's Hill Rd, New Liskeard, ON, P0J 1P0
1 (800) 647-8510 / (705) 647-8510