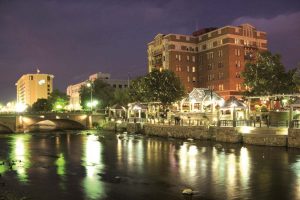 In the United States there are three major Interstates that run from the east to the west. Interstate 10 runs from Jacksonville, FL. to Los Angeles, CA.; Interstate 40 runs from Wilmington, NC to Barstow, CA.; and Interstate 80 runs from New York City, NY, to San Francisco, CA, which is the busiest Interstate of all three.
These highways offer so many attractions that it would take a lifetime to experience them all. Even if you picked just one of these three Interstates and travelled from one end to the other, visiting all the villages, towns ing and cities, it would take months – if not years – to see everything.
A few volumes ago (RVL Vol. 36, No. 7), Karen and I reported about a small town on Interstate 80 called Winnemucca, NV, just 167 miles west of Winnemucca is Reno, which is the most populous city outside of Vegas.
There is so much to see in Reno and the surrounding area that you could easily spend two to three weeks seeing it all. During our visit, we stayed at the Reno KOA in Boomtown, which featured full hookups and was our home base during our visit. The KOA was a gateway to see areas of the State we would not have normally seen. In addition to Reno, we also paid visits to Virginia City, Carson City, Lake Tahoe, and Donner Memorial State Park – four areas that should be on your destination list this year.
RENO
It was 1859 when Charles Fuller built a log bridge across the Truckee River and charged a modest fee to those who crossed it while on route to Virginia City and all the gold that was being discovered there. Fuller also provided gold miners with a place to rest, purchase a meal, and exchange information with other prospectors.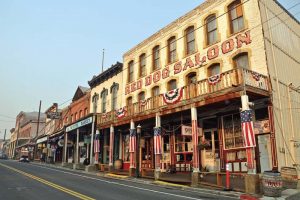 Then, in 1861, Myron Lake purchased Fuller's bridge and with the money from tolls, he bought more land, and constructed a gristmill, livery stable, and kiln. When the Central Pacific Railroad reached Nevada from Sacramento in 1868, Lake ensured his crossing was included in its path by deeding a portion of his land to Charles Crocker – an organizer of the Central Pacific Railroad Company – who promised to construct a depot at Lake's crossing. On May 13, 1868, the town of Reno – named after Civil War General Jesse Reno – was officially established.
Today, the city has a population of 225,221 and is located in a high desert valley at the foot of the Sierra Nevada. Reno borders the city of Sparks, which, as of 2010, has a population of approximately 90,264. Reno, which is commonly known as "The Biggest Little City in the World is famous for its casinos. But there is also so much to see and do including golfing, visiting the automobile museums, hiking, and so much more.
The region was also famous for being home to The Ponderosa Ranch and The Ponderosa Ranch theme park that was in operation from 1967 to 2004. It was operated in Incline Village, located near Lake Tahoe, NV. Portions of the last five seasons of the series and three TV movies were filmed at this location.
For more information on Reno and the many activities it has to offer visit www.visitrenotahoe.com/destination/reno
VIRGINIA CITY
The 19th century mining boom transformed Virginia City into the most important settlement between Denver and San Francisco. At the same time, gold prospectors became instant millionaires. They built mansions, imported furniture and fashions from Europe and the Orient, and even helped finance the Civil War.
At the peak of its glory, Virginia City was a boisterous town. There was gold in every hill and millions of dollars were being made. Men came from everywhere. The spirits of these characters still inhabit the places they built and 150 years later, romance still thrives in the wondrous place in the shadow of Sun Mountain. You can also step back in time in Virginia City. The buildings date as far back as the 1860s and the ambience of the old west abounds.
Our advice is to not drive your motorhome or pull your trailer up to Virginia City. Highway 341 is winding and steep. It's best to drive your tow vehicle and plan on staying the full day.
For more information on Virginia City and the many activities it has to offer visit www.visitvirginiacitynv.com
CARSON CITY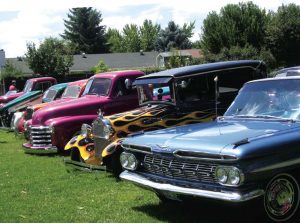 The consolidated municipality of Carson City, which is Nevada's territorial and state capital, has a rich and colourful past. Carson City was founded as a community in 1858, seven years following the first settlement of Eagle Station trading post in 1851.
Eagle Valley was settled by ranchers and Carson City is named after the famous frontiersman, John C. Fremont, and his scout, Christopher "Kit" Carson. During his 1843-1844 expedition, Fremont had named Carson City's nearby river for Kit Carson. Pioneer Abraham Curry arrived in Eagle Valley in 1858 and soon thereafter surveyed and plotted a town site.
A cadre of well-connected attorneys whose names still decorate street signs here (including Proctor and Musser) bought the richest part of the valley for $500 and a herd of horses. The farsighted and optimistic Curry set aside 10 acres expressly for the construction of a capital – this was prior to the formation of Nevada Territory in 1861.
Carson City was soon designated both the territorial capital and county seat of the new Ormsby County. President Abraham Lincoln, recognizing the importance of Nevada's silver and gold resources to the Union's Civil War effort, signed the proclamation that ushered Nevada into statehood on October 31, 1864. Carson City was selected as the state capital at the constitutional convention and has retained that honor to this.
Carson City, which is situated in a high desert river valley approximately 4,730 feet (1,440 m) above sea level, consists of four distinct seasons, all of which are relatively mild compared to many other parts of the country. Winters are typically light with moderate snowfall and most precipitation occurs in winter and spring, with summer and fall being fairly dry – drier than neighboring California. For more information on Carson City visit www.visitcarsoncity.com
LAKE TAHOE
Lake Tahoe is a large freshwater lake in the Sierra Nevada with a surface elevation of 6,225 feet and located along the border between California and Nevada, just west of Carson City. It's the largest alpine lake in North America and the 27th largest lake by volume in the world.
When we visited this scenic region, we were told the town was called "Tahoe Village" and the lake was Lake Tahoe. The area consists of Tahoe South on the California side, which runs through the village, and North Lake Tahoe in Nevada. Regardless, the view of the mountains is amazing and there is much to see and do with casinos, shows, beaches for swimming, State Parks and much more.
Mark Twain once described Lake Tahoe as "the fairest picture the whole earth affords" and the Indians referred to it as "big sky lake". No wonder, Lake Tahoe is known for its beautiful blue, clear water and is surrounded by mountains, which towers more than 4,000 feet above the shore. The lake is 22 miles long, 12 miles wide, and approximately one-third lies in Nevada, the rest in California. The water drains from Lake Tahoe through the Truckee River, which is one of a few rivers that run inland to the desert rather than towards the ocean.
For more information on Lake Tahoe and all the excitement there is to enjoy checkout www.visitinglaketahoe.com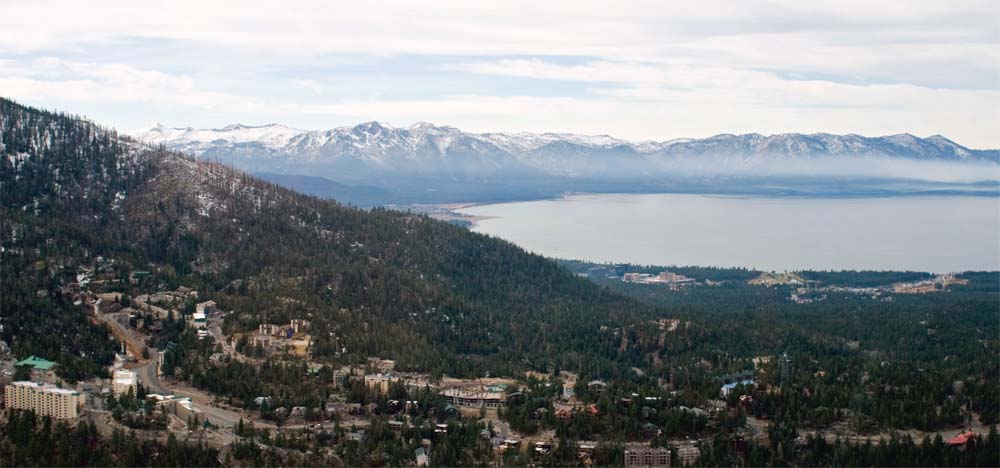 DONNER MEMORIAL STATE PARK
At Donner Memorial State Park you can learn about the Wagon Train, which headed west to California in the mid- 1800s. The park is named after The Donner Party, a group of Californiabound American emigrants immersed in the "westering fever" of the era. After becoming snowbound in the Sierra Nevada in the winter of 1846–1847, some members of the Wagon Train resorted to cannibalism.
This is an incredible true story of what the Donner Family went through (along with the other parties of the Wagon Train). It's certainly well worth visiting. Nearby is the town of Truckee, NV, and Interstate 80. Keep in mind, however, Interstate 80 is occasionally closed due to snow in the winter months. Today, this pass through the mountains is known as Donner Pass.
The State of Nevada has much to see and do outside of the glitz, glam and excitement of Las Vegas. You can easily take a step back in time to learn all about the insightful history, enjoy all the attractions, take in some annual events, or enjoy the countless recreational activities that the region has to offer.
For additional information on Nevada please visit www.travelnevada.com