By James Stoness
T

he scenery of Northern Ontario has been shaped by thousands of years of scraping by the Continental Glacier. The melting of the glacier left eskers, long winding hills of sand and rock, and kettles, which are small lakes.
Esker Lakes Provincial Park, 37km northeast of Kirkland Lake on Hwy-672, is part of the Northern Boreal Forest with black spruce, white birch, tamarack, and jack pine. It sits on top of one of Canada's longest eskers, the Munro Esker, which runs for 250km with a width about 5km. It's so large you can't see the usual outline of an esker, which is a long, winding hill of sand and gravel.
An esker is formed by a stream running under the glacier. As the stream deposits debris on its streambed, it also carves away at the roof above, so that it continues to run unimpeded by the ice. When the glacier melts, the winding ridge is left.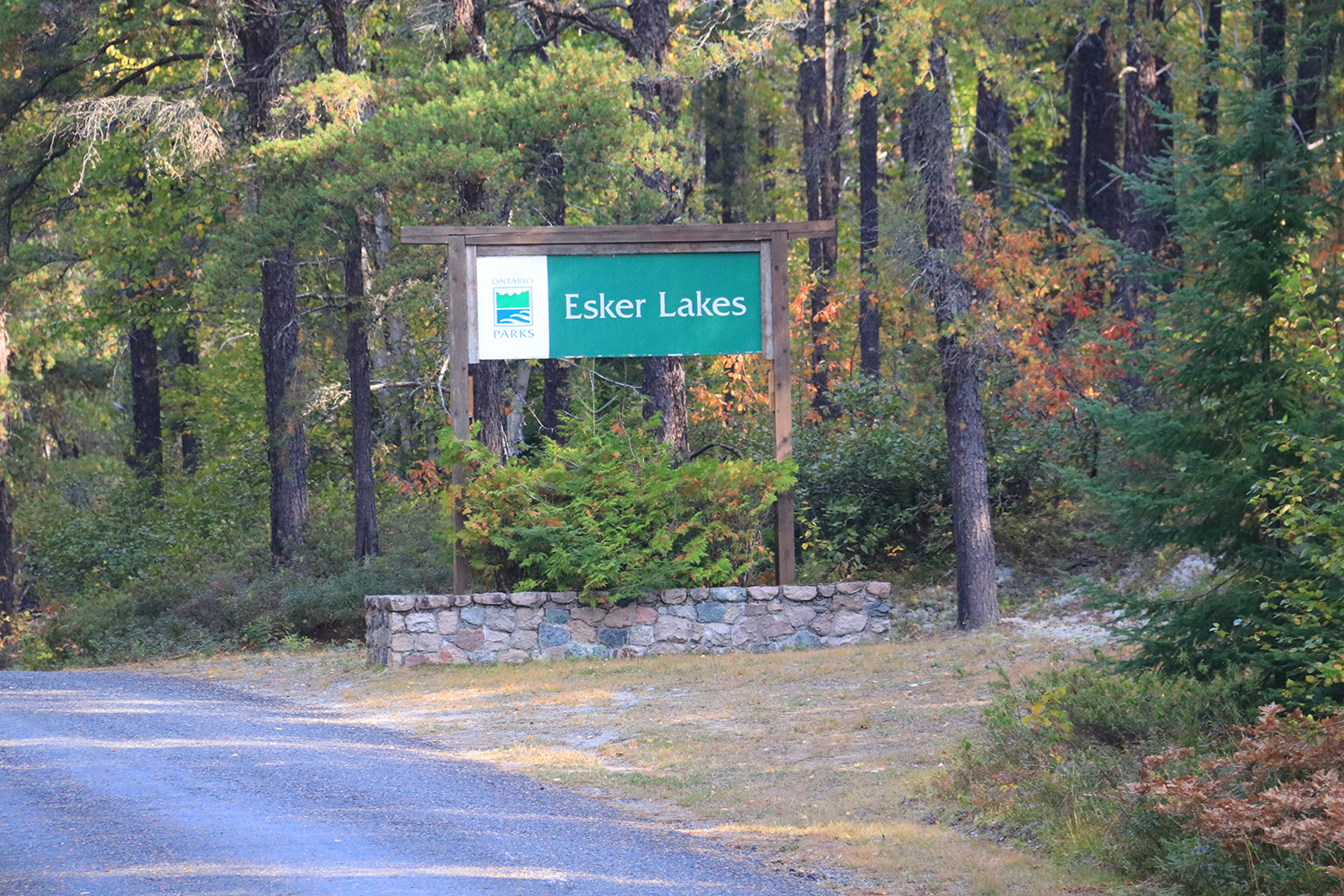 Glaciers also drop chunks of ice, some very large, and which are then covered with debris from the glacier. Later, after the glacier has gone, these chunks of ice melt, leaving a hole in the landscape and are filled with water, forming Kettle Lakes.
Here in Esker Lake PP, the glacier left a chain of lakes right on top of the Munro Esker. This is a bit unusual because instead of looking up at the esker, here your activities take place on top of the huge esker.
It was the glacier that created the landscape where you can find a wide variety of things to do. There are lots of campsite, the lake provide lots of opportunity for canoeing, and the park has several trails for hiking.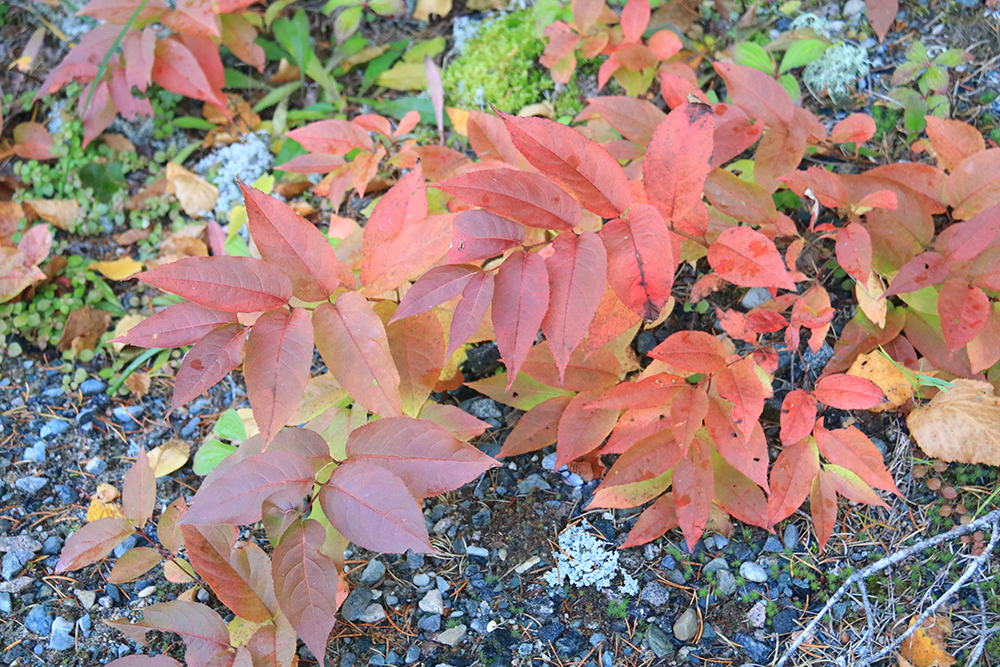 The Sunny Point Campground has 135 sites, with about 30 that have electricity. The beach is available for water fun. In addition to these are two backcountry sites on Lulu Lake. There is a trailer dump station as well as two comfort stations, hot water, showers and toilets. You can do laundry at the office building.
The park offers endless adventure if you like to canoe. There are 29 kettle lakes with several connected by portages. It should be very easy to quickly find yourself on what feels like a 'private lake'. The lakes are cold and are perfect for Rainbow and Lake trout, and some of them have hungry pike waiting for your lure. Ontario Fishing Regulations have to be followed. You need special camping permits for the backcountry campsites which you can pick up at the park office. For your added pleasure, no motorized boats are permitted.
Stop at the Visitor Centre for more information about rental facilities for canoes and lifejackets. Near the park entrance is the Store with some camping supplies, wood, and ice.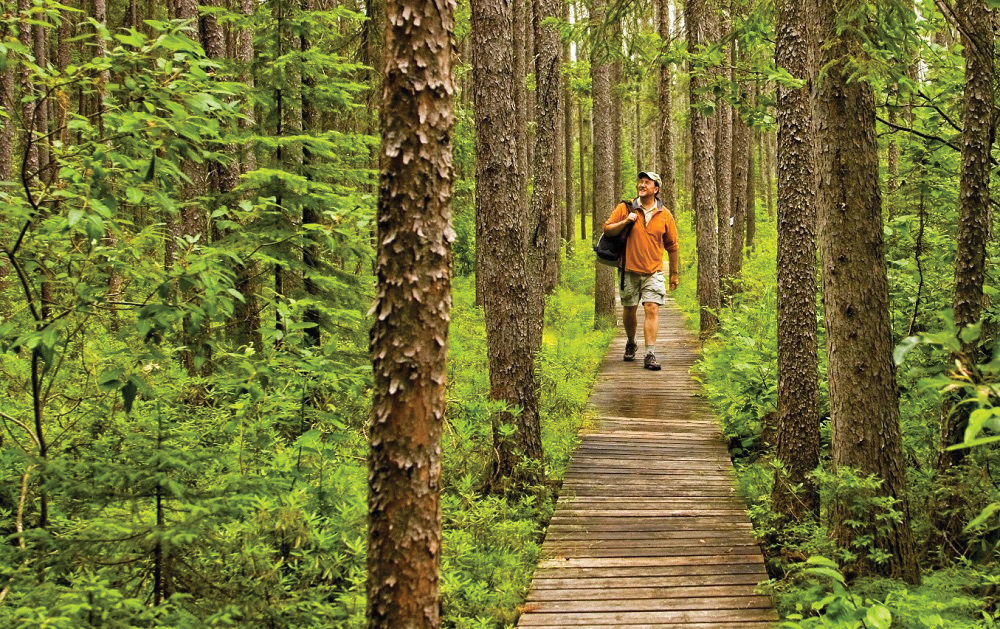 Trails
The park's trails offer short and long hikes.
1 – Prospectors Trail, 1.4km, runs along the shore of Panagapka Lake and offers access to several of the park facilities. 
2 – Lonesome Bog Trail, 1.5km, winds around Sausage Lake where, using a boardwalk, you visit a bog. This area shows the bog transitioning to a meadow, with the help of the flooding beaver, which is changing the nature of the bog. The trail starts out passing through a stand of jack pine. They often result from fires, and require fire to pop open their cones and let the seeds out. Black spruce encroach on bogs and part of the boardwalk is a pleasant stroll through the grove. As you leave the bog you will find a zone of balsam fir trees. One of these sits by a large rock. This rock, called an erratic, rode to this location on the glacier. For a short hike, this is a very interesting trail. 
It'll soon be evident that you are not the first to pass through here. You will cross a corduroy road built by laying down trees crossway to the direction of travel. Sometimes the logs were covered with dirt and gravel. This road reached a gold mine. You will also see old cut stumps where people cut the trees for timbers at the mine.
3 – Recreation Trail, 1.5km, is a wandering track near the campground, mainly used for exercise.
4 – The Trapper's Trail is perhaps an endurance test. The three loops give you choices of 9km, 14km, and 20km hikes that will see you on the trail from 4 hours to a couple of days, and is considered 'difficult'. It leaves from the campground area, at the north end of Panagapka Lake. The trail is one used by an Ojibway trapper woman. On the trail you will see the Trapper's Cabin.
There are sanddunes and the forest often sits on sandy soil. Some areas have been clear cut by logging, or burned off in one of several large fires that crossed the north in earlier years, some as the result of destructive logging practices. Blueberries grow well in these open areas and in August the park hosts a Blueberry Festival. Fires that affected the bog occurred in 1875, 1910, 1925, and 1940.
We often read of the British Columbia fires, yet 1922, 1916, and 1911 were years of terrible fires across the north. Some resulted from settlers clearing the land by burning off the cover, others from burning the trash that resulted from clearing the land. Some logging areas were covered with slash, left over after logging. Many, many people died in these fires.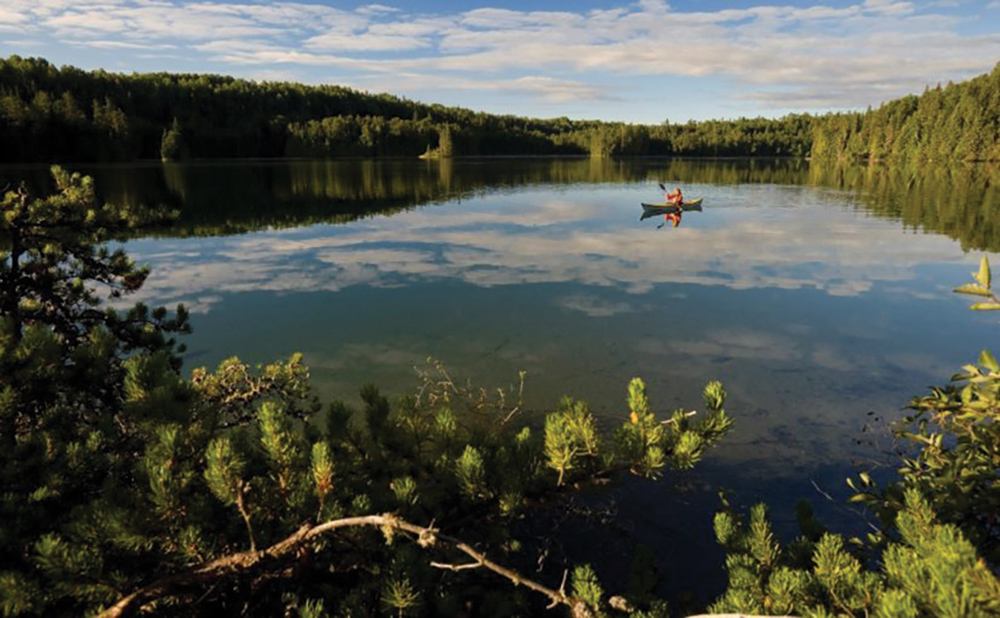 Kettle Lake Provincial Park is 42km east of Timmins, and continues your geological park tours. The very name tells it all. Here are 22 kettle lakes that had been created by the passing glacier, but unlike Esker Lakes PP, these are not confined to an esker. 
As I look past the branches of a white birch I see a small lake so calm that it reflects the row of evergreens and fluffy white clouds that form the perfect backdrop. Behind me, I can hear the crackle of burning wood in the firepit, and the campsite odour of smoke drifts past my nose. It's a perfect place for relaxation.
The park lies on the Northern Clay Belt whose common tree is the black spruce, and the balsam fir. Where the soil is sandy it supports the jackpine, a tree that springs up after hot forest fires, and there have been hot fires, aplenty. Major forest fires have raged across the park area off and on for many years, resulting in several deaths in the surrounding areas.
Here, there is a transition zone where the trees that grow well in southern areas strive to exist, such as the white pine, aspen and white birch.
It's a busy park with two campgrounds. 
The smaller Pines Campground has 20 sites with half electrified.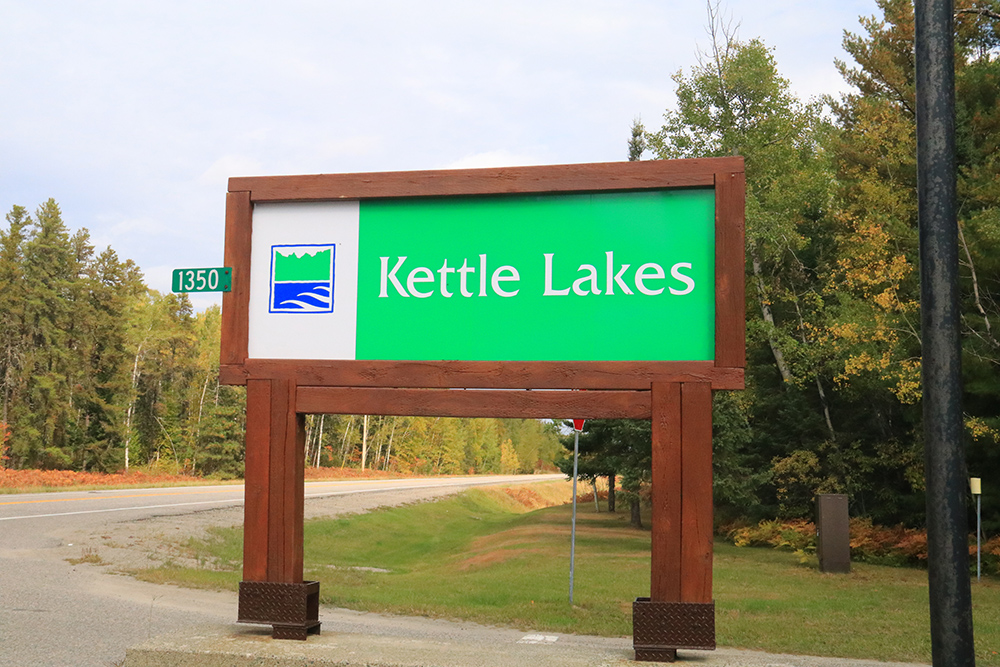 Island Lake Campground has 100 sites, with 70 electrified. Depending upon where you are you might find yourself in a huge site surrounded by a wall of trees that shield you from the next campsite. Something you will find in some campsites is the unhandy location of the electrical boxes. They are often between two sites and you will need double the length of extension cord you would normally use.
If you don't have a tent or a camper, you might like to try the camp cabin which sleeps 5. It has mattresses, frig, counter, and a kitchenette. The table and chairs provide a place to eat inside, while if you want to move outside there is a BBQ and picnic table.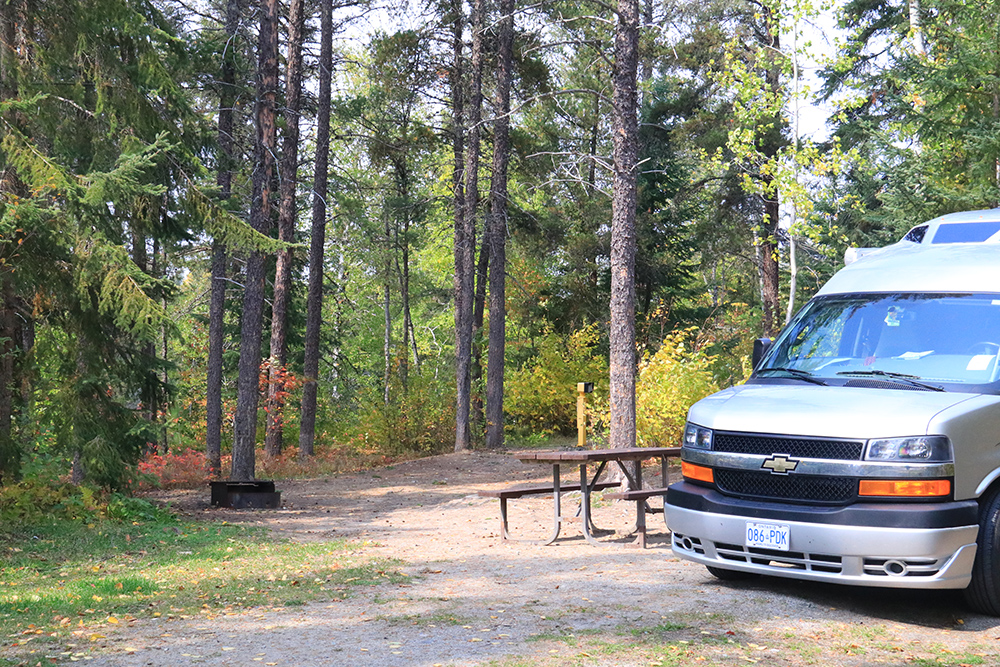 The trail system seems to be made for easy hikes. Maybe if you take your lunch you can enjoy one of the many secluded quiet spots. It should be pleasant to sit under a canopy of leaves, by a small lake, and listen to the lapping of the water on the shore.
Kettle Trail in its 2kms takes you to where you can see and explore an esker, as well as areas of bog. There are Interpretive Signs to help you understand what you are passing.
Tamarack Trail is a 2km loop around Tamarack Lake and provides easy walking.
Wintergreen Trail is a fairly easy 1.5km trip with views of Island Lake.
Oh-Say-Ya-Wah-Kaw Trail has interpretive signs which discuss the geology of the kettle lakes along its 3km route.
The Long Bike Trail uses the gravel roads, paved roads, and some trails to take you 14km through the Boreal forest. Of course for shorter trips, you are able to cycle over some of the 40km of roads and trails.
The park was logged prior to 1950, and burned over several times. Over 1,500,000 trees planted in the last few years should go a long way to reforest that area.
The lakes are stocked with rainbow and brook trout, and pike, also yellow perch.
Kettle Lakes PP has two campgrounds, The Pines CG, and Island Lake CG, that can handle large trailers. Some sites have electricity. For swimming, select Island Lake.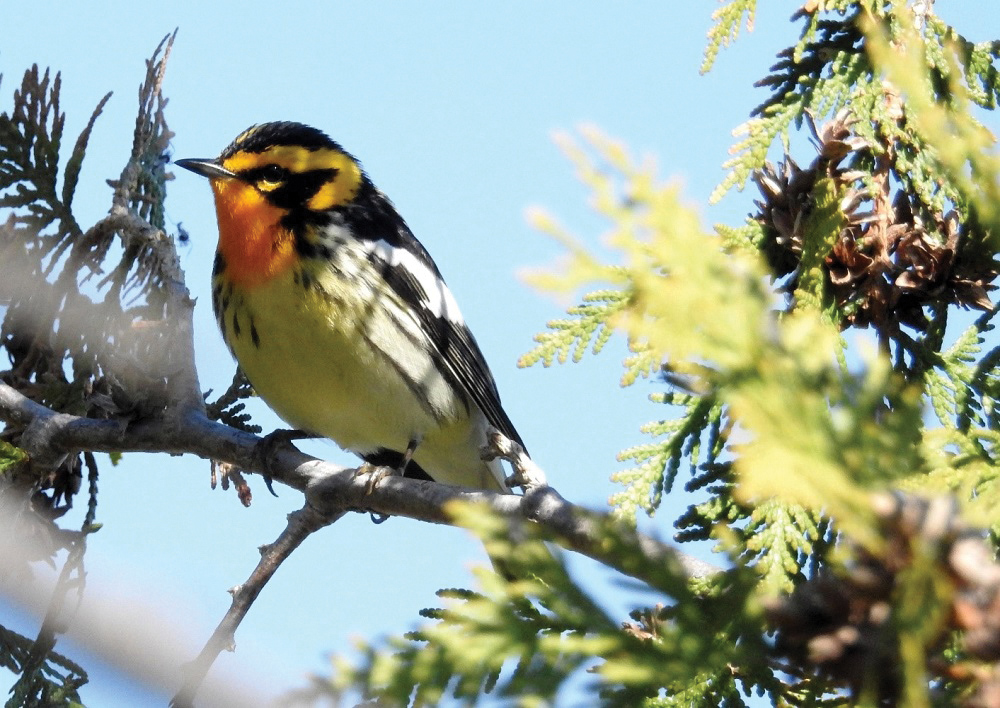 You can Rent bicycles at the front gate, and engage in 14km of trails that range from comfortable to more difficult. 
If you like canoeing there are lots of lakes for you to discover, and if you didn't bring a canoe, you can rent one at the park. Just remember, kettle lakes are formed from the holes left by melting chunks of ice, and the lakes are not usually joined by streams. If you portage lake to lake you will likely find your 'private lake', at least for a few hours until someone else joins you.
Many Provincial Parks offer a Discovery Programme where staff help visitors learn things about nature. The programme may include hikes, evening or campfire talks, and programmes of interest to the young ones. At the Visitor Centre, if open, you can peruse the displays and talk to the park staff.
After a day of heavy activity, or even after a long relaxing afternoon, you can enjoy the large comfort station at Island Lake CG with its hot water for showers, laundry, and you will also find flush toilets.
If you don't wish to bring your toys, you can rent canoes, paddle boats, kayaks, and lifejackets and bicycles. Stop at the Park Store, near the main entrance, for camping supplies, firewood, and other camper needs.
Other amusements include horse shoe throwing, volleyball, baseball, and of course swimming.
You are likely to find the camping experience top notch. The large sites, and the privacy trees make your trip into the wilderness very real. The absence of boat motors and ATV's is certainly a plus. A serious drawback can be the using of generators until 10:00 pm which is not good. Generators while preparing meals and off by 7pm would leave you the evening to sit out and watch the stars and the fire without man-made engine noise.  
---
https://www.ontarioparks.com/pdf/maps/eskerlakes/esker_lakes_trappers_trail.pdf
https://www.ontarioparks.com/pdf/maps/eskerlakes/esker_lakes_campground_map.pdf
https://www.ontarioparks.com/pdf/maps/kettlelakes/kettle_lakes_trail_map.pdf
https://www.ontarioparks.com/pdf/maps/kettlelakes/kettle_lakes_campground_map.pdf
https://www.ontarioparks.com/pdf/maps/kettlelakes/kettle_lakes_overview.pdf