Can you tow a trailer 500 Miles in one day with a Tesla?
My theory when I ordered the Tesla was that it would be possible to travel 500 miles a day towing. I had planned to go to the Airstream Rally in Denver to test that theory, but due to Covid that was not possible – but on warm day in November we did it. We traveled from London Ontario to Huntsville Ontario, and back. The trip took longer than it would have had we towed with a gas fuelled tow vehicle, but it was oh so much more relaxing.
We left London at 7:20 AM and headed East on the 401. Everyone focusses on the range of an electric car, but the first stop was required by the humans at the Kitchener Service Centre. Back on the road, we drove to the Tesla super charger at 401 and Winston Churchill Blvd., on the west edge of Toronto. 158 kilometers into the trip. Since we were only driving to Barrie, which was 112 Kilometers away, we did not need a full charge, so 35 minutes later we were on our way. When we arrived in Barrie, 270 kilometers into the trip, Kelsey's restaurant was just opening, so we ordered curbside pickup for lunch as we charged the batteries. The Tesla finished charging before we were finished lunch (those darn humans again). Then we were off up Highway 11 to Huntsville, 130 Kilometers away. At this point we had not done much hilly driving with the Tesla, and I would have worried about how the hills on this section would affect the range – but we had a strong tail wind, so I was not very concerned. We left the cruise control set at 90 KPH and did not slow down on any hills, so power was not an issue.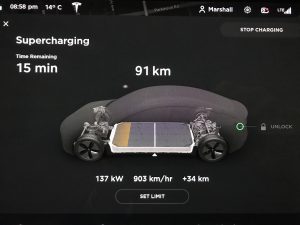 Once in Huntsville, we faced the return trip to Barrie, and with the hills and a substantial headwind we were a bit concerned about running out of power, but we arrived in Barrie with a 38-kilometer cushion. Unlike a gas car where you often look at the fuel gauge dropping rapidly through the last quarter of the tank, and you wonder how much range you really have, the Tesla projects your range very accurately. Other annoyances like stop and go traffic can actually improve the Tesla's range. On our trip, it also appeared that hills had very little if any effect on range.
One thing about towing with the Tesla is that you can have lots of conversations, especially at Superchargers, so we spent more time talking to people than the charging took at the second Barrie stop. As we headed south from Barrie, we realized that the 401 was jammed up like a parking lot and since there was no sense driving into a traffic jam, we drove just 70 Kilometers to the Supercharger at Vaughn Mills to top up the car, have dinner, and wait for the traffic to clear somewhat.
We had taken a Sienna van along as a chase vehicle so we could photograph and video this trip, and in Vaughn it needed fuel for the first time – so it provided an interesting comparison. Both the Tesla and the van left London full, and both were filled/charged fully in Vaughn. The Tesla towing the 27' Airstream needed $70.17 of supercharging to cover the 600 Kilometers up to that point in the trip. The Sienna, which is a pretty efficient vehicle for its size, turned in 8.7 L/100 Km and cost $68.00 in fuel running solo.
After dinner, we continued south to the 401 and then turned west towards London, still heading into a headwind, and driving in traffic that never quite stopped, but never got up to full highway cruising speed either for the first 40 kilometers on the 401.
Our projected range showed us coming up just short of home, which was to be expected as it was 193 kilometers in a headwind, so our last stop was to take on a 15-minute charge in Woodstock, which was plenty to take us the last 50 kilometers to London.
We arrived back in London after our charging stop in Woodstock, having completed a round trip of 800 kilometers or 500 miles. The trip took 14 hours, and 45 minutes of that was spent at superchargers. Due to the downtime, it did not feel like a 14-hour day, in fact, I was less tired than I would have been had I done it in 10 hours in a gas tow vehicle. The time to relax along the way combined with the ease of driving the Tesla and the lack of engine noise certainly takes less toll on the driver and passengers.
Total cost of the trip for supercharging was $76.77, plus the cost to recharge the car using our home base plug was an additional $10.00, so the total energy cost for the trip was $86.77. There are some other cost savings as well, if you calculate the oil and wear and tear compared to a gas fuelled vehicle.
We now have 10,000 kilometers on our Tesla, of which, 8,000 have been towing a trailer. If it were a gas vehicle, I would have done my second oil change.
I know many people buy a Tesla to help save the environment, and that is all good. Environmental factors aside, it is an outrageously stable, very quiet and comfortable tow vehicle that is a lot of fun to drive solo. It will also likely have a very low operating cost. The bottom line is that I love driving this car.
I have never considered myself an environmentalist. Yes, I know oil will eventually run out, and we are using too much oxygen, but I believed human ingenuity would solve those issues just like so many in the past.
My personal car is an also fun to drive – it is a supercharged 2012 500 HP Jag XJ that I have had for 7 years now. It will soon be replaced by the new version of the Tesla Model S. Two years ago, I would have scoffed at the suggestion.
I had been thinking of ordering a Model S but had decided to wait until this fall when I could actually try one – but the other day I was watching the news of the heat wave in BC. I remember being in Vancouver in 2000, and the locals were talking about how hot it was, about 83° Fahrenheit. When you are from Southern Ontario that's nothing. I came to find out that the record high temperature for Vancouver was only 92° F. The other day it was 98°. A spark from a train wheel started a fire that burnt the entire town of Linton to the ground – it was 120°. What if we had 120° heat in Southern Ontario? What would happen to our trees and crops? As I was reading this in the news, I got a text message with the latest picture of our granddaughter. I pushed the button and ordered the model S.
So, I am hardly a raging environmentalist, but I can do the math. Human ingenuity is solving the problem and I am thinking it is time to be part of the solution. It will take a while to convert the fleet – but Can-Am has bought its last gas-powered tow vehicle. Maybe by the time you need your next tow vehicle we will have a great deal more information for you. We have already set up 23 Tesla's for customers, with more coming in every month. If you would like to test tow a trailer with the Tesla, just call and make sure it is not off on a trip somewhere.
Andy