Jaguar XJ and

 

26' Airstream

 
By Andy Thomson
Can-Am RV Centre, London, ON
Many people find that investing in a good used car is a wise decision when they are looking for a travel trailer tow vehicle. Older passenger cars and SUVs had strong chassis, powerful engines, and often included options that enhance driver and passenger comfort on long haul towing adventures – all at an affordable price.

Over the years, I have purchased and adapted many used vehicles for towing travel trailers. Here are some reflections on one of my favourite tow vehicle projects.
In 2007 I purchased a 2004 Jaguar XJ to use as my personal car. It had belonged to one of our customers who was getting a new one, and I had made the mistake of driving the Jag a few too many times… When I purchased the Jag it only had 47,000 kilometers on it – I enjoyed the car for eight years and it had 164,000 km on it when I sold it in the spring of 2015.

When I bought the car I budgeted a fair bit for repairs and I invested in an extended warranty, assuming that it might need some work. As it happened, the Jag was one of the best cars I have ever owned, needing very few repairs over the years, and the few repairs that I needed were surprisingly reasonable in price. What amazed me most was that in all those years it never needed brakes, a ball joint or a tie rod end.
A few months after I completed the transformation of the '04 Jag for towing trailers, I was at the Jag store for an oil change and the sales person persuaded me to test drive a 2012 model that they had in stock. I had no real intention of selling the '04 Jag, but who could resist the opportunity to go for a test drive… I did not expect much difference in the ride or handling between the '04 and the '12 since the chassis was basically the same, even though the body had changed completely, but there was one major difference that I wanted to check out on the road. The '04 had a perfectly adequate 302 HP 4.2 liter V8 mated to a 6-speed ZF transmission. The aluminum body Jag only weighed 3800 pounds so this was enough power to give it considerably more than adequate performance, along with crisp nimble handling that you would not expect in a large car. The '12 is 220 pounds heavier, but has a supercharged 5.0 litre engine producing 476 horsepower. This much power is totally unnecessary but certainly delivers a fun driving experience. If you are a Jag fan, the 2016 version is 550 HP. There were a few really neat bells and whistles on the 2012, like paddle shifters and programmable air suspension and massaging seats. One other change from the '04 is much larger brakes. Though I never thought there was anything wrong with the '04's brakes and they lasted the entire time I owned it, this one has massive discs for its weight.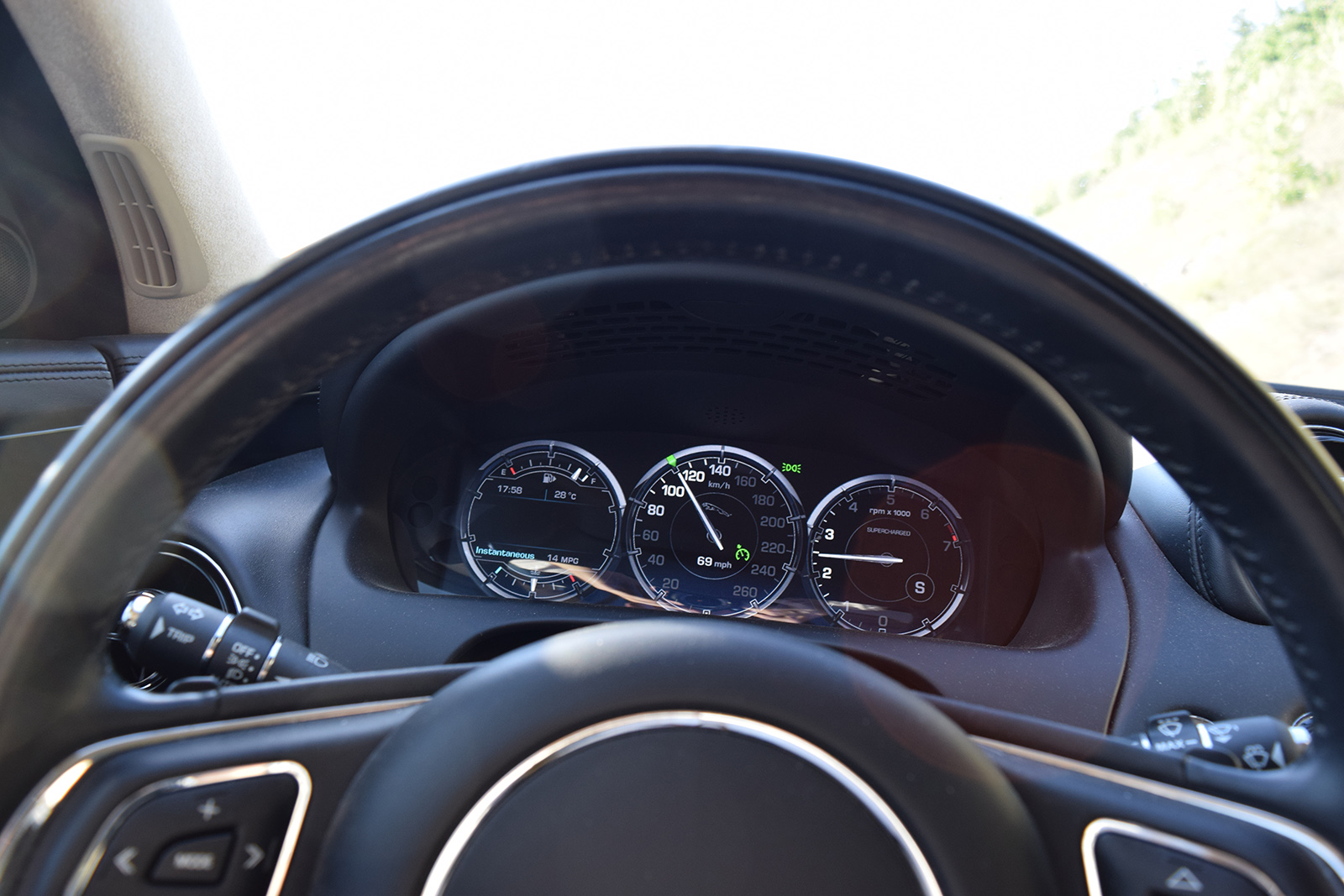 Since the 2012 Jag was half the price of a new model, with only 49,000 Kilometers on it and warranty coverage until 2019, I decided to go ahead and trade in the 2004. 
Last summer I was lucky enough to have a friends' Jag F-type 2-seat convertible to drive for a couple of weeks. I really enjoyed that car but half the time I would leave it sitting because I had more than two passengers or needed to tow a trailer or carry suitcases etc. The Jag sedan is a perfect car for me; even though this is a 120" wheelbase full size sedan it feels like a sports car, especially if you engage Dynamic Mode, which tightens the shocks and makes the shift points more aggressive. It is interesting that even though you can engage the 2012's more aggressive dynamic mode, it is still a little firmer in standard ride mode than the '04 was. One other change is that the automatic skid control is much more aggressive than the 2004. In the 2004 you needed to be pushing very hard to engage the ASC system – on the 2012 in standard mode it activates more often than I would like, but engaging dynamic mode solves this idiosyncrasy and I am likely one of the few people that would notice this.
Though many people ask "can you tow with that?" the Jag is an amazing tow vehicle, delivering massive power with rock-solid handling. On a trip to Virginia, towing a 26' Airstream, we drove from London to the border crossing at Niagara Falls. Since we were sitting in line, I opened the sunroof and turned the engine off. When I opened the roof I realized that the wind was really howling, but in the car I never felt it. Acceleration in a touring sedan like the Jag feels like you don't have a trailer on the hitch, and you can keep up with traffic as you pull away from stop lights or merge with highway traffic. With the very quiet ride combined with the handling and the power, you really have to watch your speed. Most combinations of RV's are going to start to feel slower around 70 MPH where the aerodynamic drag starts to get close to the power output. This becomes an almost automatic speed limiter. Many rigs will go faster, but not without some effort – with the Jag towing a trailer there is none of that feeling that you have maxed out the power. On the test track, towing an Airstream, I reached 88 MPH on the straightaway without really trying.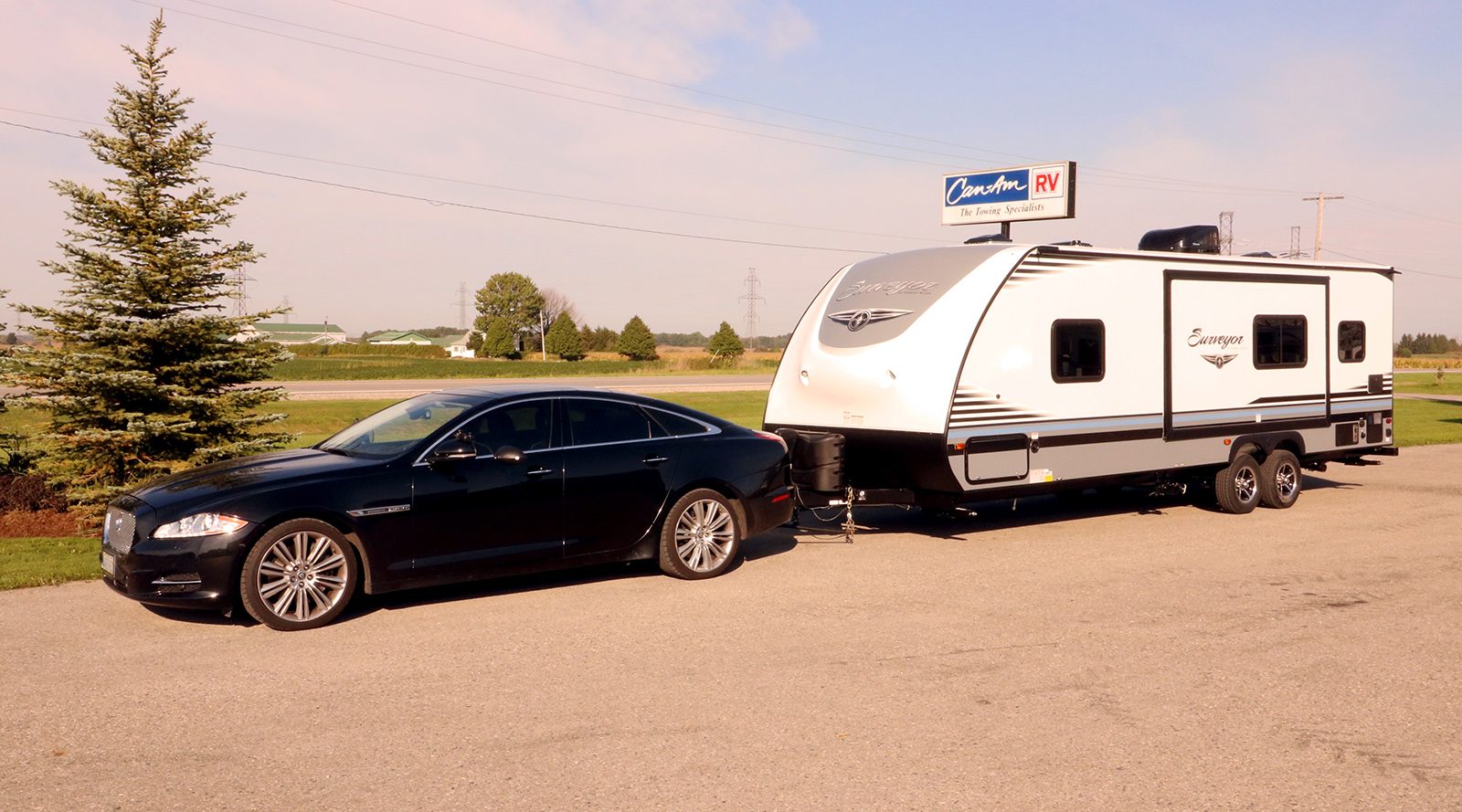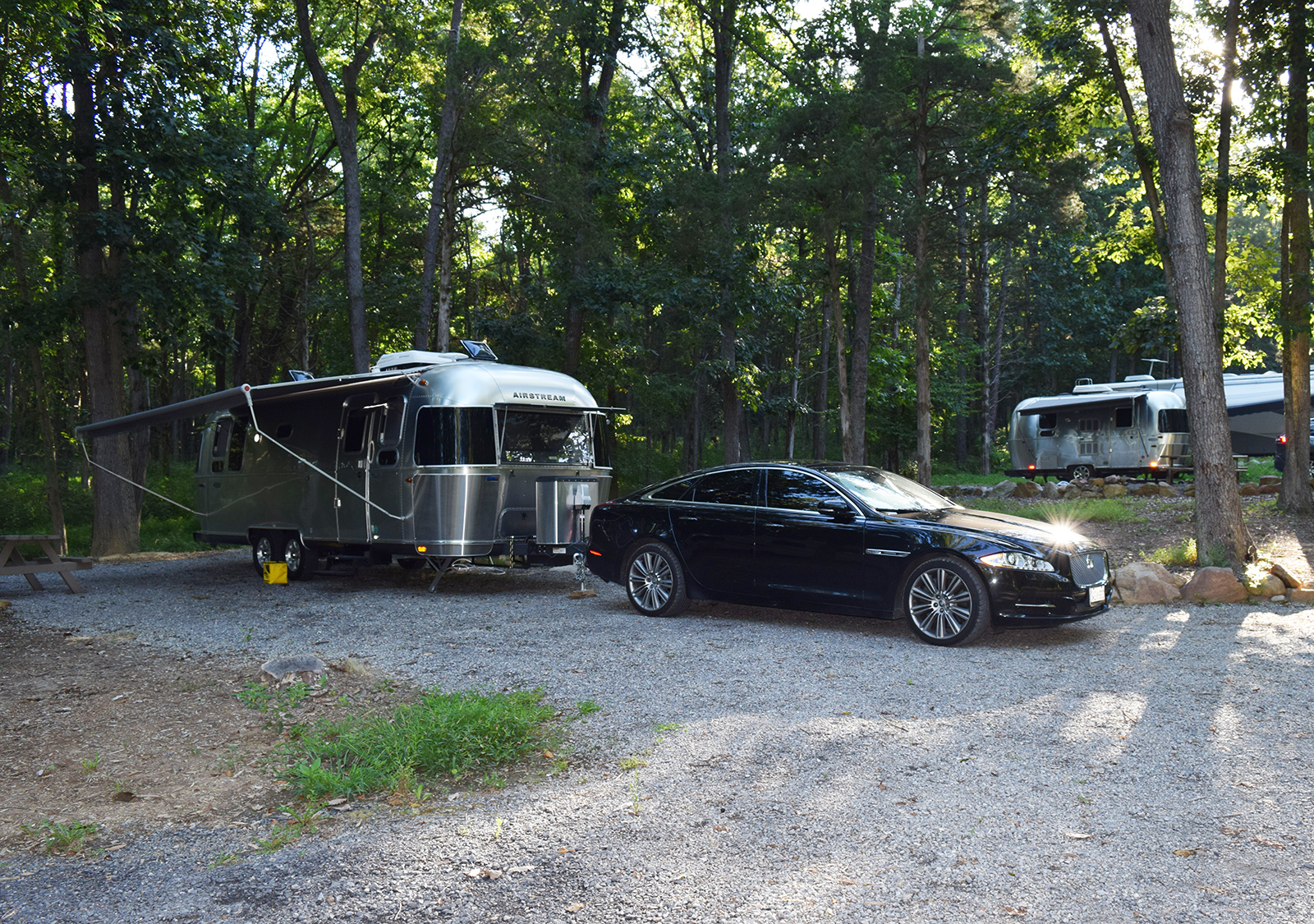 The 2012 Jag is very aerodynamic as we see bugs below the front window of the Airstream, however the extra power does come at a price, with solo fuel economy around 4 MPG less than the '04's 4.2 litre engine, so we get 9.5 L/100 or 29 Imperial MPG at 110 KPH without a trailer in tow.  Fuel economy while towing is about the same for the '12 as it was for the '04 – at 110 KPH it turns in 18.2 L/100 or 15.5 Imperial MPG. On one trip, I towed a Surveyor 264 back from Indiana, the 264 is one of the few remaining low profile "Lite" trailers available. At 110 km/h the fuel economy was 12.9 MPG or 21.8 L/100, undoubtedly the mileage with the Surveyor would have been much better if I had been travelling 10 km/h slower. 
In theory, the supercharged engine is not as fuel efficient a way to achieve boost as turbo charging. However, the supercharged engine in the Jag is extremely responsive – it is noticeable how much quicker it responds than a turbocharged engine, then again, I have not driven a 476 HP turbo in a 4000 pound car for direct comparison. I my case, I don't care, as I said this is the "I want that car" not the "logical and fuel efficient" car. Then again, compared to owning a car for fun and a car for the family and another vehicle for towing, it does become a somewhat logical purchase, or at least that's what I told Heather. 
Andy