This feature story was written by Stephanie Jarrett and sponsored by our friends at AGS.
Would you like your campground to raise more money for Care Camps?  Just ask your seasonal campers to get involved!
Every Saturday in the summertime, volunteers, campers and staff at the Lena KOA in Illinois gather around to watch their favorite Care Camps fundraiser: the duck races. One hundred numbered ducks are tossed into the pool and released at the same time, and they are carried across the pool by the natural current. The first duck to reach the other side wins the race. There's a children's race and an adult race, and campers and staff both love the event. The real winner here isn't the duck that makes it to the end of the pool first, though. It's the children with cancer supported by Care Camps, which receives half of the proceeds from the event.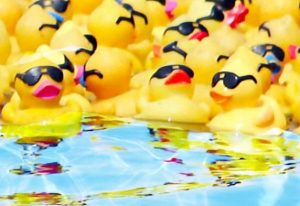 Lena KOA's duck races were dreamed up by the seasonal campers during COVID, when the pool sat unused. The regular campers, who were introduced to the cause and have become very passionate about Care Camps, wanted to find a fun way to raise funds for Care Camps when they couldn't host a few of their usual events. "Care Camps are so important to us," says Beth Becke, one of Lena KOA's seasonal campers. "It's heartfelt charity work that we do, and we love being involved."
These campers bought 100 rubber ducks online and gave each of them a number between 1 and 100. Then every Saturday morning, volunteers walk around the campgrounds, selling ducks to campers and staff (campers don't actually keep the ducks, the campground reuses the ducks for each race). Ducks can be purchased for $5, and many races sell out!  Then everyone gathers at the pool to watch the races. The owners of the winning ducks get to share the proceeds with Care Camps (the amount raised per event depends on how many ducks are purchased). Many times, winners donate their winnings right back to Care Camps. This event is a big hit for the campers and a big win for Care Camps!
Another successful event that the Lena KOA volunteers put on for Care Camps was a Liquor Wagon Raffle. Volunteers and campers each donated a bottle (or more!) of alcohol to the raffle, and one volunteer secured an old-fashioned red wagon to hold all of the alcohol. Tickets were sold all summer long to anyone who wanted a chance to win- the winner didn't need to be present when the name was drawn. Volunteers carted the Liquor Wagon around town to drum up interest and support- and ticket sales! Last year this simple fundraiser ended up raising over $13,000 for Care Camps!
Beth says she and the other seasonal campers work together to make the events that benefit Care Camps happen. She says it is "one big joint effort" to come up with ideas of fun ways to support Care Camps. She also says Lena KOA has very supportive owners, and that those owners "make a world of difference."
Owner Joe Long is quick to attribute much of the campground's fundraising success to his seasonal regulars. He is willing to support whatever ideas his seasonal campers come up with and isn't afraid to step outside his comfort zone. "Don't be afraid to just jump in with both feet," says Joe. "Stay consistent and keep at it."  Lena KOA and their seasonal campers also host several large events over the summer meant to draw in support from everyone. They recently wrapped up "Treasures in the Trees" over the Fourth of July Weekend, a campground-wide garage sale where proceeds benefit Care Camps. This month they will also host Christmas in July, where campers can donate handmade items that will be sold at the event and all money will be donated to Care Camps.  By getting your campers involved, you not only get more help to raise funds for a great cause, but increase the fun-factor and goodwill with your campers at the same time!
About Care Camps:
Care camps brings hope and smiles to kids battling cancer and their families, giving them a special chance to experience the healing power of the outdoors at special oncology camps serving kids in every single community in the US and Canada. If your campground or business would like to get involved, email Jennifer Mercer at jmercer@carecamps.org for more information.