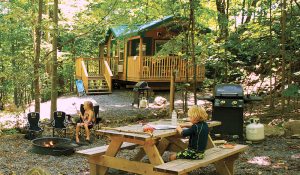 There is only one KOA nestled in the spectacular scenery adjacent to the 1000 Islands Parkway – and it's a real beauty – the Ivy Lea KOA, an "eco park." Located close enough to walk to the docks for the famous 1000 Islands/Boldt Castle cruises, and within easy access to a range of local restaurants, boat rentals, golf, and the Casino, this park is a destination area in its own right.
For more than 30 years, RV Lifestyle Magazine's sister publication Power Boating Canada has been running the annual 1000 Islands Poker Run for performance boats, with more than 100 of the most spectacular offshore racing boats in North America running the waters of the mighty St. Lawrence River, from Kingston to Brockville, Prescott, and Gananoque, then back to Kingston.
One of the most scenic spots to watch the event has always been from a spot in the Ivy Lea KOA – located on the high ground overlooking the river, near the Ivy Lea Bridge.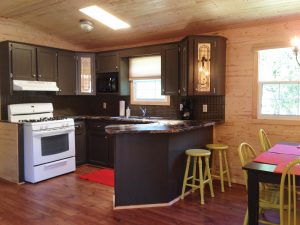 This is just one of the cool events happening during the May through October camping season. Every week from May through October, the Ivy Lea KOA has organized activities for the whole family – including some really clever themes – like: "A Pirates Life Week" over the August Simcoe Day weekend; the cowboy themed "Boots 'n' BBQ Week" in mid-August; the "Jurassic Hunt Week" focusing on the archelogy of the region, and the "2 Cool 4 School Week" at the end of August. During the September/October time frame, the park has a "Zoo Balloo Weekend" celebrating camping with pets; a "Sinfully Chocolate Weekend"; and, of course, the famous "Fallfest Weekend" to mark the end of the camping season.
Check out the full schedule of events at the KOA here:
http://koa.com/content/campgrounds/ivy-lea/documents/55203doc776d310f-3b1a-4d14-b9f4-b6c47ec292d2.pdf
The Ivy Lea KOA facilities include a fitness centre, a movie lounge, arcade games, and the "eco-park" attractions, including nature trails through the most spectacular scenery in the region, bike paths, and, of course, the riverside attractions.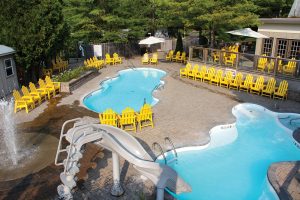 Campers can enjoy two heated pools and a splash pad, as well as hot tubs including a 21-foot adult hot tub with a waterfall. The kids will love the air castle, the pool slide, and the foaming fountains. As a "dog approved park" the Ivy Lea KOA is a canine's delight – and the park is totally pet-friendly.
Sites are spacious and landscaping in the park is immaculate. You can opt for an upscale Executive RV patio site and camp in a style fit for a king and queen of the wilderness.
On-site gourmet coffee is a favourite, and your sweet tooth will be delighted with the ice cream socials.
The Ivy Lea KOA is an ideal choice for a vacation to remember.
For more information:
Ivy Lea KOA
514 1000 Island Parkway, Lansdowne, ON K0E 1L0 Canada
613-659-2817
http://koa.com/campgrounds/ivy-lea/
Open May 5 – October 9
For Reservations: 800-562-2471