By MB "The Wagonmaster" and Karen "The Cookie Lady" Wilson…
Arriving home one night I was greeted by my wife, Karen, when she told me, "We are going to Hell." I replied, "OK, what else is new." "No," she said, "We are going to Hell." I followed her into our office and she showed me on the computer a town called Hell located in Michigan and mentioned she would like to go there.
We are big fans of the Ontario Hockey League (OHL) and are season ticket holders of the Sarnia Sting. We had planned on going to Saginaw, MI. to see our team play the Saginaw Spirit with a stop in Birch Run, MI. so Karen could go shopping. We checked our Michigan map and found Hell was just around 100 miles south of Saginaw. So, we added Hell to our itinerary.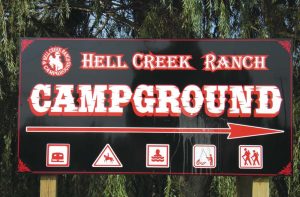 Being retired, it is easy to add destinations to visit on our trips. One thing we found out is our GPS could not locate Hell. As a matter of fact, we could not find any towns called Hell on our GPS. So, we had to find a town close to Hell and add it to our GPS, making it easier to find our way. I also copied some maps of my computer for backup.
Once we left, we crossed Blue Water Bridge leading into Michigan and were well on our way to Birch Run and the outlet mall. It was only about a one-and-a-half-hour drive.
The next morning, we left for Saginaw and our OHL hockey game. The Saginaw Spirit did not take long to score the first goal and before we knew it, it was 3 – 0 for the Spirit. Our team fought back to tie the game at 3 – 3 and in the last minute of the third period, the Spirit scored and won 4 to 3. Following the game I said, "I hope things are better in Hell." The people around us gave me a very strange look and as we had our Sarnia Sting sweaters on, I think they thought I was talking about their Spirit hockey team. I told them, we are going to Hell tomorrow – more strange looks.
It was time to go to Hell. With our GPS on and maps beside us, we headed south on I-75. I told Karen to keep an eye out for signs that said Hell, so we knew we were getting close. As it turns out, there were no road signs on our route that indicated that Hell was this way or Hell 20 miles. So it was up to the GPS and our maps to get us there. We headed down I-75 to Highway #23 south to exit #55. From there, we had to travel along several back roads.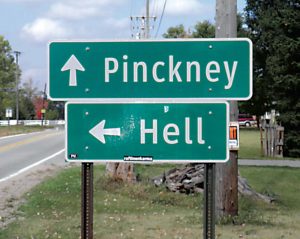 Let me say this, "It was not easy to get to Hell". We did find one road sign that said Hell and an arrow to make a turn. It seems that as fast as they put the signs up, the public takes the signs down for souvenirs.
Finally we came across a sign "Hell Creek Ranch Campground" and we followed the signs to the campground. The campground has 100 sites with hookups, a beautiful pool area, and even a stage for entertainment.
Now, at this point, we had to go and find the town of Hell. We asked for directions and were told to go back to the highway, turn right and go down the hill to enter Hell. I thought, well at last I know they had the right directions – "you have to go down to get to Hell."
So, down we went and sure enough, at the bottom of the hill, we arrived in Hell. There were three buildings, referred to as uptown, midtown and downtown. We learned that 72 people live in Hell, although they claim that the population varies daily.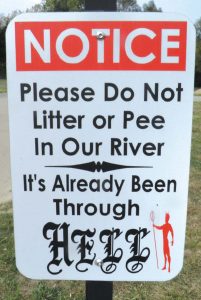 Hell was first settled in 1838 by George Reeves, starting out as a grist mill and general store on the banks of what is now Hell Creek. Reeves had a habit of paying local farmers with homemade whiskey and many of the wives commented "He's gone to Hell again" when they asked about their husband's whereabouts during harvest. The name stuck and Hell became an official town in 1841. The rest is history.
The first store Karen went into was the Gift Shop. They have every type of souvenir you could want, and Karen bought many. We even came home with a "BAT out of Hell." Hell is also a great place to shop for Halloween decorations.
We passed by the Wedding Chapel, which was built in 2005. The small but festive chapel features a red tin roof and blue doors to keep out the evil spirits. You can get married here, as a marriage made in Hell has nowhere to go but up. They even offer a guarantee. If it doesn't work, they will do it again for free. We also learned that there have been some people who have returned to collect on that guarantee.
For the low price of only $100 visitors can also become Mayor of Hell for a day or you can become a real estate owner, one-inch at a time. We didn't go downtown to the bar, but we went uptown to the Hell's Kitchen and Scream's Ice Cream Shop.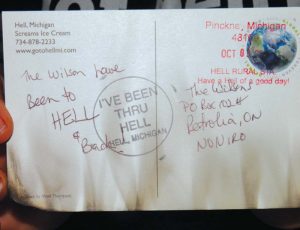 We discovered this shop is also the Post Office. We bought a postcard and sent it to ourselves from Hell. They stamped it with I've Been Thru Hell and they even burned the edges of the postcard with a candle. We also learned that many people come here each year to mail their taxes.
We had a devil dog for lunch at Hell's Kitchen and decided to tackle the Gravediggers sundae just for fun. They start with a bed of dirt (Oreo cookie crumbs) and lay down a banana body, mini blue M & Ms for the eyes and red coloured coconut for the hair. Three giant scoops of ice cream were then added and then we got to add the finishing touches.
During our visit, it was a hot day in Hell. We even saw smoke from someone burning something nearby. We are glad we went to Hell before it froze over in the winter. Now, we have been to hell and back and lived to tell you about it.
Hell Creek Ranch Campground, 10866 Cedar Lake Road, Pinckney, Michigan, 48169 Phone 734-878-3632