A "Van-Tastic" way to see the world!
While some RV families seek the utmost in comfort and convenience, a growing
number of touring enthusiasts are turning to the compact motorhomes in the class B, B+, and small class C categories. We compiled a short list of 2019 models that define the concept of the ideal family RV – models that are compact and agile enough to serve as daily drivers, and fully equipped to tour the continent in style.
By Steve Sansford
Hymer Aktiv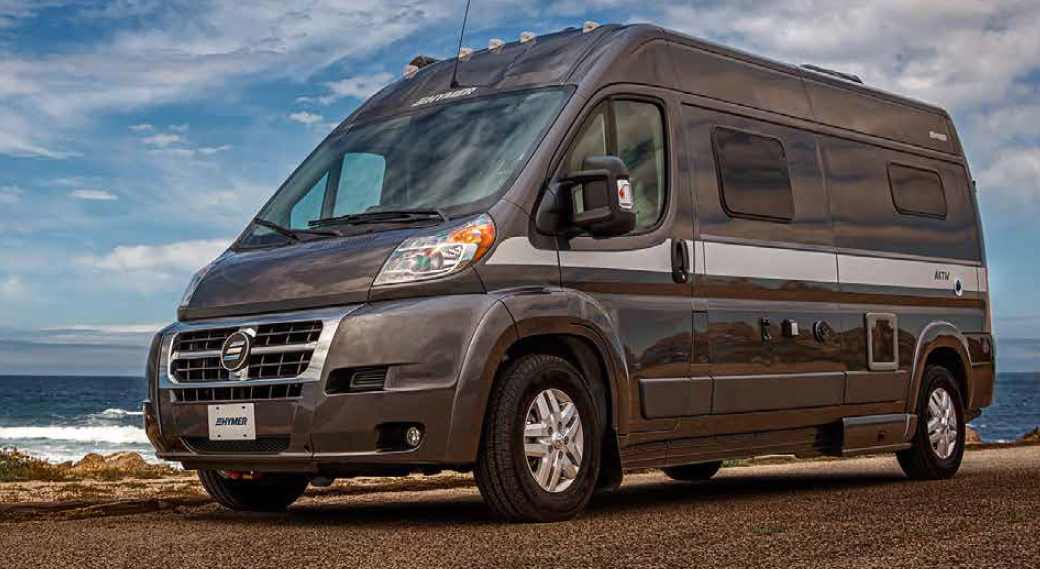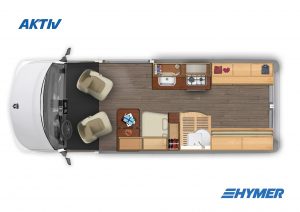 Hymer describes the Active as the RV for those who want to stay active. Given Hymer's sixty years of experience building quality motorhomes, this class B model checks a lot of boxes for the active couple or even a small family. The Hymer Aktiv rides on a Ram ProMaster chassis and is powered by a 280-horsepower V6 engine. This chassis offers smooth power and excellent fuel efficiency. The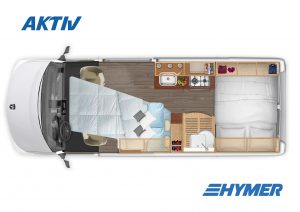 interior of this class-B motorhome features seating and sleeping arrangements for four. There's a queen-sized bed that spans the rear of the unit. It's foldable so it can be stowed out of the way, opening up a passageway that runs the full length of the coach and gives access to built-in storage on both sides. The passageway also makes for a convenient spot to store large items, such as bikes, when moving between camping spots. The galley, fully-enclosed bathroom and forward seating area make the most of the space available in this compact RV. The Aktiv is also available with Hymer's EcoTrek 400 lithium battery power module for worry-free freedom off the grid.
For more information, visit www.gohymer.com/aktiv-overview/#
Carado Banff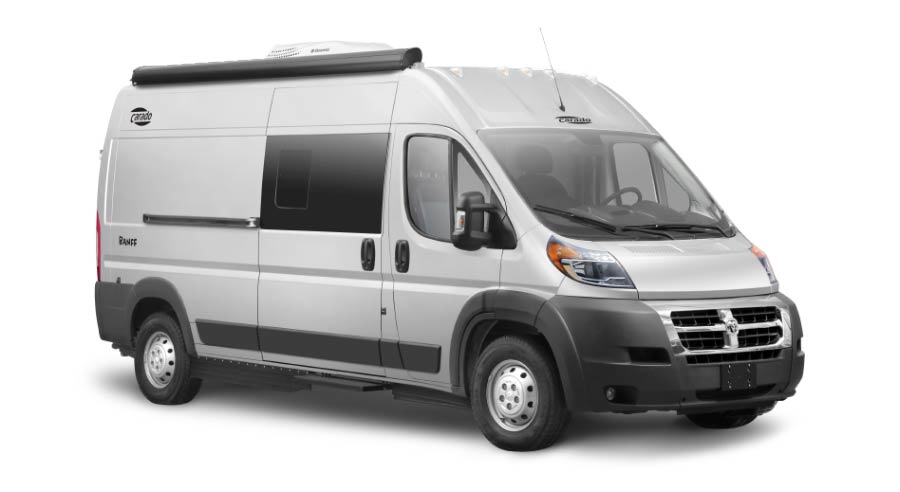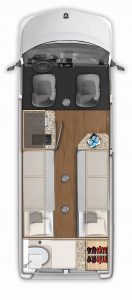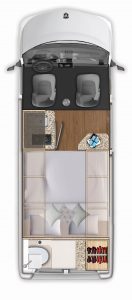 Carado builds it's entry-level class-B motorhomes in Kitchener, Ontario, but just because their units are inexpensive, doesn't mean they're short on quality. Carado is part of the Erwin Hymer Group, the world's  leading manufacturer of class-B motorhomes, so every Carado unit is built to the highest standards in the industry. The Carado Banff is an ideal unit for the adventurous couple. The flexible layout means the living area of the coach easily converts from a large dining area or a set of twin beds. The twin beds can be combined into a single king-size sleeping space that spans the width of the van. The washroom is laid out across the rear of the motorhome, meaning it's larger than most enclosed heads in this segment. The front-wheel-drive Ram ProMaster 2500 chassis is easy to drive and offers great economy for long trips. Optimal off-grid power is provided by an available EcoTrek 400 lithium battery system and recharging is possible via a 200-watt solar panel and charge controller. Equip your Banff coach with the 280-amp under-hood generator and Carado's VoltStart system will automatically start the engine (up to five times) to recharge your batteries once the drop below the set threshold.
For more information, visit https://caradorv.com/models/banff/
Leisure Travel Van Serenity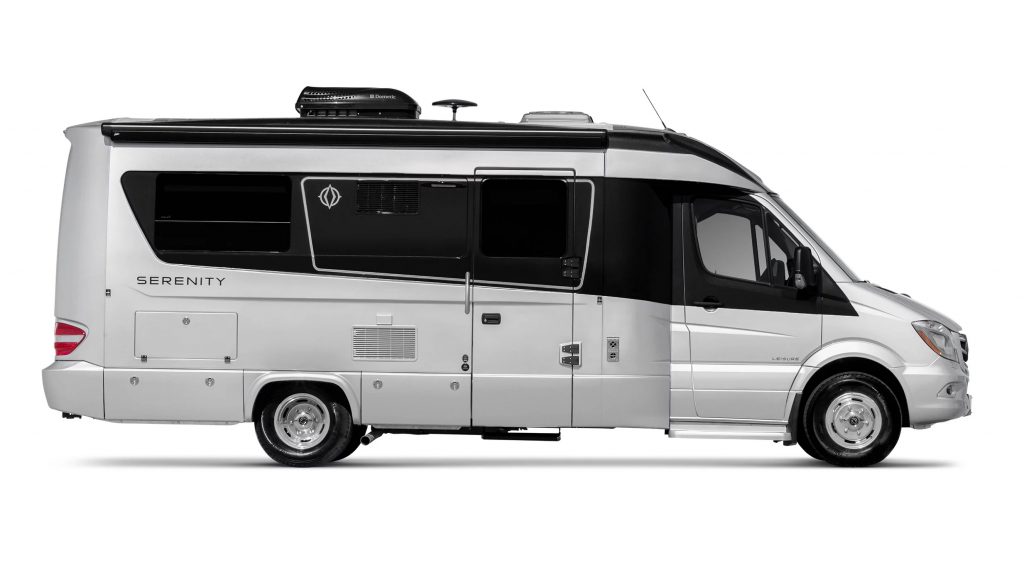 A Leisure Travel Van may seem out of place on a class-B 'van' list, but the slim, compact motorhomes from this premiere builder offer all the same great maneuverability and handling characteristics of a true class-B, but with the larger interior space of a class-C. The top-of-the-line Serenity model packs an incredible amount of usable space into its 25-foot chassis. A 54 by 80-inch double bed or the optional tri-fold sofa offers a sleeping area for two while the forward dinette can be lowered to create a second sleeping space. With seat belts and sleeping capacity for four, it's an ideal compact model for a small family or a traveling couple that wants more space than the traditional class-B offers. The Serenity also offers 40 cubic feet of exterior storage, which means there's plenty of room for gear for an extended journey. The unit is built upon a Mercedes-Benz Sprinter 3500 chassis equipped with a 3L BlueTEC diesel engine for unmatched power and fuel economy. The Serenity is also equipped with all the latest driver safety features like Collision Prevention and Lane Keeping all which help make this motorhome one of the best handling models on our list.
For more information, visit https://leisurevans.com/serenity/
Pleasure-Way Ascent TS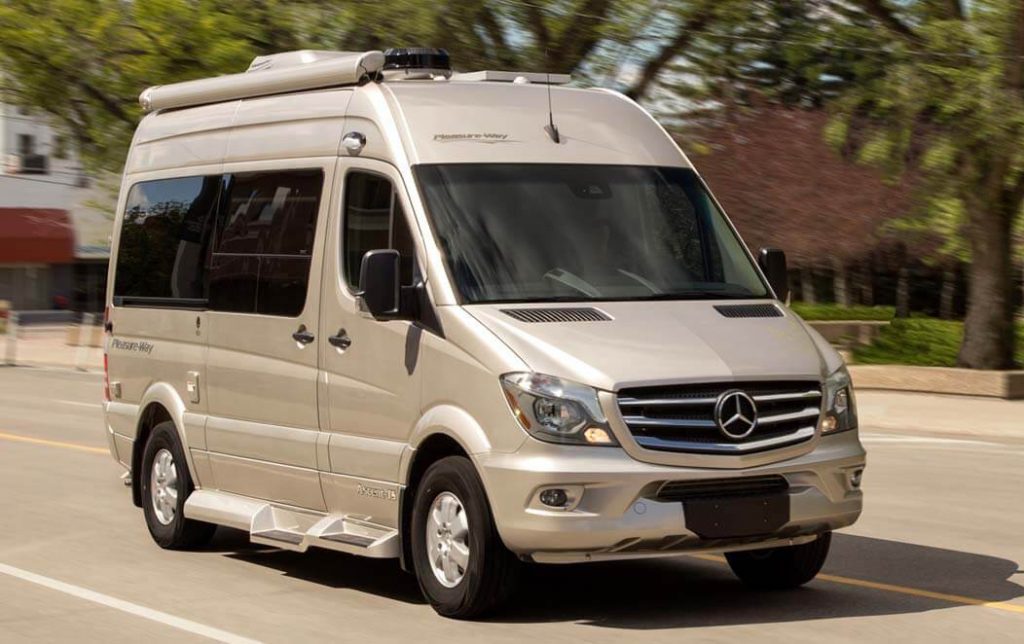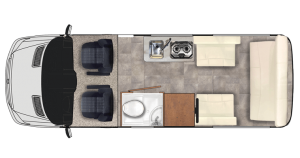 In a lineup that includes several class-C and class-B models, the Pleasure-Way Ascent TS stands out for its incredibly compact, yet highly functional design. It's less than 20-feet long, yet still manages to include all the features an individual or couple would need. The layout features a rear sofa that spans the width of the coach. It folds down and combines with the opposing loungers to create a generous sleeping area. A small galley sits just ahead of the seating/sleeping area and is equipped with a sink and two-burner gas stove. On the opposite side, you'll find a fridge, a microwave, and a flat-screen television. There's a fully-enclosed washroom complete with shower and sink. A compact unit like this is comfortable around the city, thanks to its compact size, but that size also means it's equally at home visiting secluded places and journeying far from the beaten paths. To help with off-grid adventures, the Ascent TS is outfitted with a pair of 100-amp lithium batteries to provide plenty of power when there are no electrical outlets nearby. The Ascent TS also benefits from the Mercedes-Benz Sprinter diesel engine which gives this small class-B a big 5,000-pound tow rating. More than enough to bring along your favourite toys.
For more information, visit https://pleasureway.com/pleasure-way-ascent/
RoadTrek E-Trek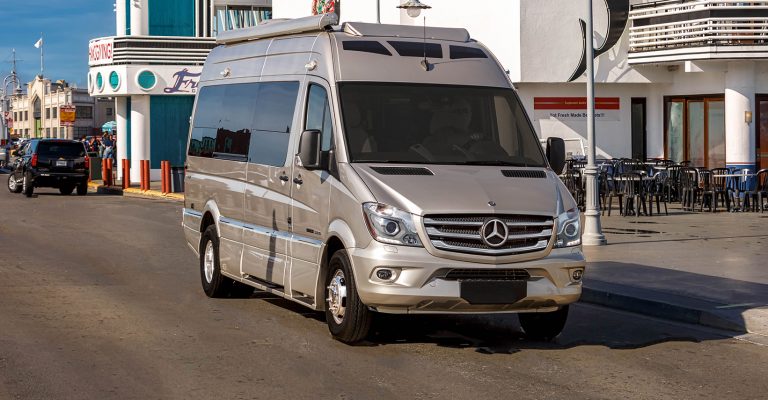 RoadTrek is one of the most recognized names in the class-B motorhome sector. With a current stable of 10 models across six different lines, the company builds a wide variety of RV styles to suit most buyers. The RoadTrek E-Trek is one of the more interesting models offered. A class-B that sleeps four is not uncommon, but one that has seat belts for seven is rare. It offers flexible seating for a small family journey but lets the E-Trek function as a capable people-mover around town. The E-Trek is designed to be an environmentally friendly RV and several features have been included to help reach that goal. The 470-watt solar panels on the roof provide an off-grid charging source for maintaining the batteries. Large windows on both sides allow for plenty of natural light. The rear sofa and dinette convert into a large sleeping area. The four seats that make up the dining area combine into a pair of twin beds. While the standard model has plenty of storage, and XL option is available that increases the length of the coach by 18 inches, allowing even more room for larger items or extended trips.
For more information visit https://www.roadtrek.com/models/e-trek/
Safari Condo Sprinter XL Plus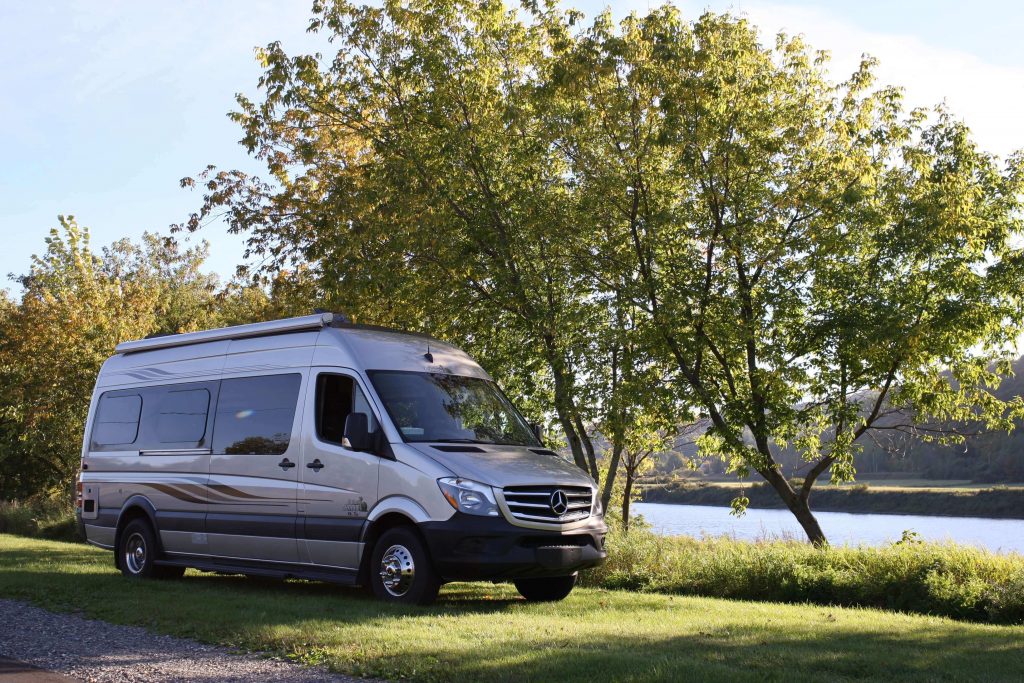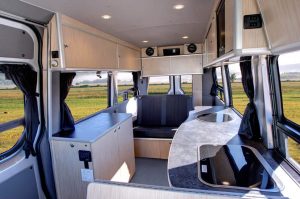 Safari Condo is a versatile builder of class-B motorhomes. Utilizing Sprinter, ProMaster and Savannah chassis allows them to offer a variety of models and floor plans to suit any buyer. The Sprinter XL Plus is a great example of this Quebec builder's unique approach to RV design. This model includes several stand-out features, including a 60-inch queen-size bed and a unique double-fridge approach that offers an impressive seven cubic feet of cold storage. The washroom is popup style but includes a retractable shower. A fully enclosed head is popular with some buyers, but the advantage of the foldout design is there's no obstruction to the 360-degree panoramic view through the large windows. The head is still accessible with the dining area and large bed deployed. The Mercedes Sprinter chassis is always a great choice for a class-b. The diesel engine offers great fuel economy and this particular unit is available with four-wheel drive for the serious off-grid camper. With seatbelts for four and sleeping for three, the Sprinter XL Plus is an excellent RV for the adventurous couple.
For more information visit https://safaricondo.com/en/motorises-serie-sprinter-xl22-xl-plus/
Winnebago Era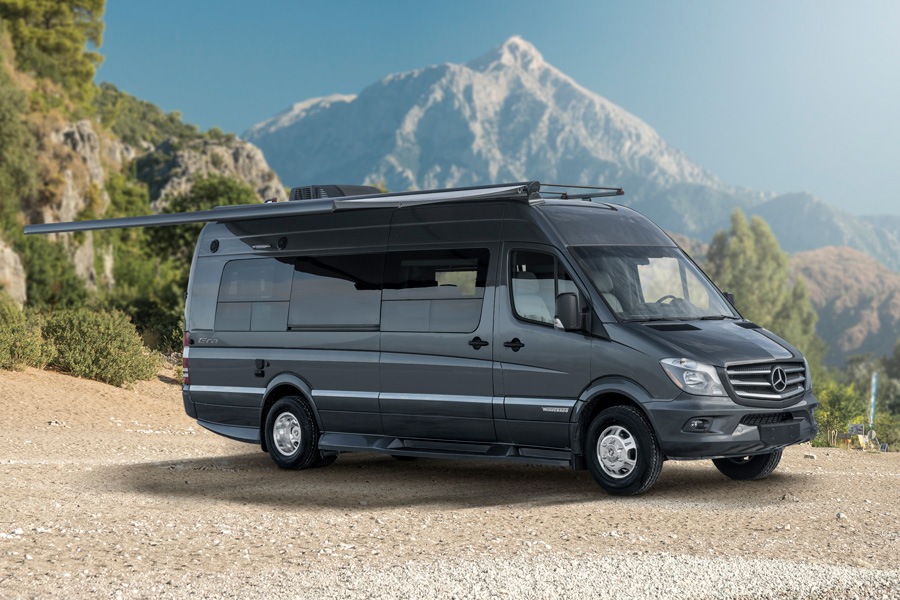 There's no more recognizable name in the RV industry than Winnebago. This leading builder has been designing and building great motorhomes for decades. While better known for their large class-A coaches, Winnebago's class-B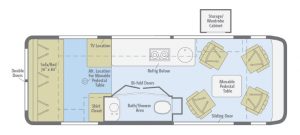 units share the same pedigree. The Era line offers three floorplans built on the reliable Mercedes Benz Sprinter chassis, including one design with a slide-out. The Era 70A lacks a slide but does offer a flexible interior design with a pair of twin beds in the rear that converts into a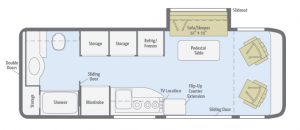 single, large sleeping space. Up front, both chairs swivel to make use of the pedestal table. The 36-inch sofa adds additional seating and converts into a third sleeping area. In the center of the coach is an enclosed head with bi-fold doors. A galley with a sink, two-burner stove, fridge and plenty of storage round out the interior. Like most Sprinter-based class-B's, the Era's large windows on all sides allow plenty of natural light into the interior.
For more information visit https://winnebagoind.com
Winnebago Revel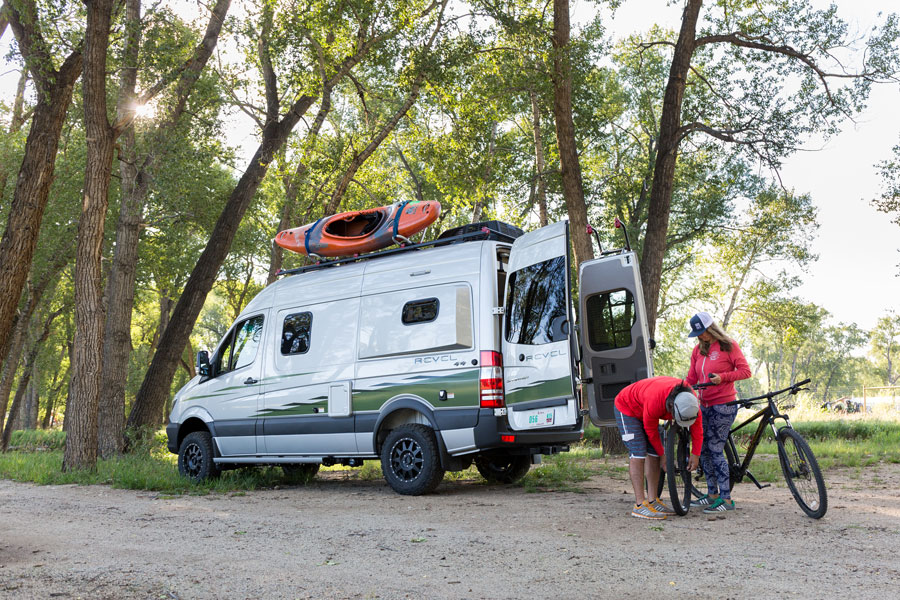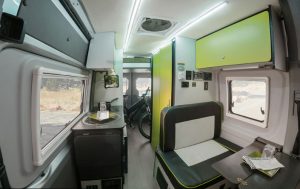 Most class-B RVs are suited for boondocking and off-grid adventures, but few are built specifically with an off-road destination in mind. The Winnebago Revel is one such model. It's designed with the sole intention of providing a "no-nonsense approach to adventure." It starts with a diesel-powered Mercedes Benz Sprinter chassis and a full on-demand four-wheel drive system with low range for true off-road capabilities. Rugged tires and a raised suspension add to the Revels abilities. Winnebago offers this model in just one floorplan, but it's been carefully designed to maximize space and functionality. Its highlight feature is the 'gear-garage' under the power-lift bed. The Revel packs in 140 cubic feet of storage for all your outdoor adventure gear. Every other aspect of this coach has been designed around that feature. The wet bath offers a cassette-style toilet, which eliminates the need for a holding tank, thus saving valuable gear space. The windows are dual-pane acrylic for added strength. A solar panel system is standard fare, and a welcome one considering this unit is designed to operate far from an electrical hookup. Any RV trip is an adventure, but when the journey begins where the pavement ends, the Winnebago Revel is ready for the challenge.
For more information visit https://winnebagoind.com