Make the Trek to Canada's most Easterly Province, you won't regret it.
By Travis Kingdon
Far to the east of the country lies the province of Newfoundland and Labrador.  The province is one of the oldest in Canada and the capital city, St. John's, has existed since the early 1500's, being incorporated in 1888. St. John's holds the title of North America's most easterly city and houses the most eastern point on the continent as well.
When most visualize the province they immediately think of cod fishing, the colourful row houses and of course, the Newfoundland dogs.  While all of that is present in the province, there is far more it has to offer.
Newfoundland's island isolation and position on the Atlantic Ocean has combined to create not only an extremely interesting history but also a distinct culture that is as colourful as the infamous houses. The views and vistas that await you in Newfoundland are simply unlike anything else you will find in Canada and potentially all of North America. There are a plethora of experience you won't be able to find anywhere else.
It may be a tad isolated and further than your average trek, but the journey to Newfoundland is absolutely worth it and the province absolutely rewards those who do.  While a trip to "The Rock" may not be on your immediate radar, it should be. 
Getting There: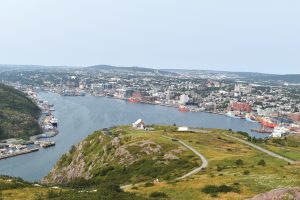 With Newfoundland being an island, getting there is a bit tricky. You will most likely be reliant on a ferry to take you to "The Rock," unless you plan to rent an RV when you get there. 
The Marine Atlantic ferry has a terminal in North Sydney, Nova Scotia, that will take you across to either Argentia (easterly) or Port Aux Basques (westerly).  Argentia has you landing closer to St. John's, while Channel-Port Aux Basques has you arriving south of Gros Morne National Park.  The port you choose to land at is entirely your decision, it simply depends on where you want to start your tour of the Island. 
Ferry rates are based on length of your vehicle, budget for anywhere between $250 and $674 for the journey.  More information on the ferry rates can be found at www.marineatlantic.ca
Once you arrive, where you go first is entirely up to you, mostly dependent on which port you chose to land at. But regardless of where you land, there is something to do at every turn in this province.
Gros Morne National Park: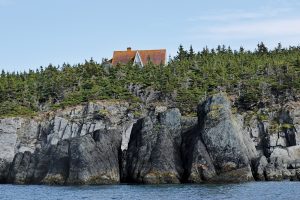 If you visit Newfoundland and don't make your way to Gros Morne, you've done yourself a disservice.  The park can be summed up in one simple word:  otherworldly.  With simply staggering views and vistas that are beyond description, you'll be convinced Gros Morne exists in another plane of reality. 
The park is the result of continents colliding and icebergs crashing together, Gros Morne is a UNESCO world heritage site, spanning 1,805 sq-km.  Camping is available around the park, which is ideal as you certainly won't be exploring the entire park in one day. Hike the Tablelands; the place where plate tectonic theory was confirmed, or take a boat and experience the cliffs from a different angle. Words simply cannot describe the beauty awaiting you in Gros Morne.
If you choose to land in Channel Port Aux Basques, Gros Morne should be your first stop.  Just three hours up the coast from where the ferry drops you off you'll find the park.
Get Screeched in: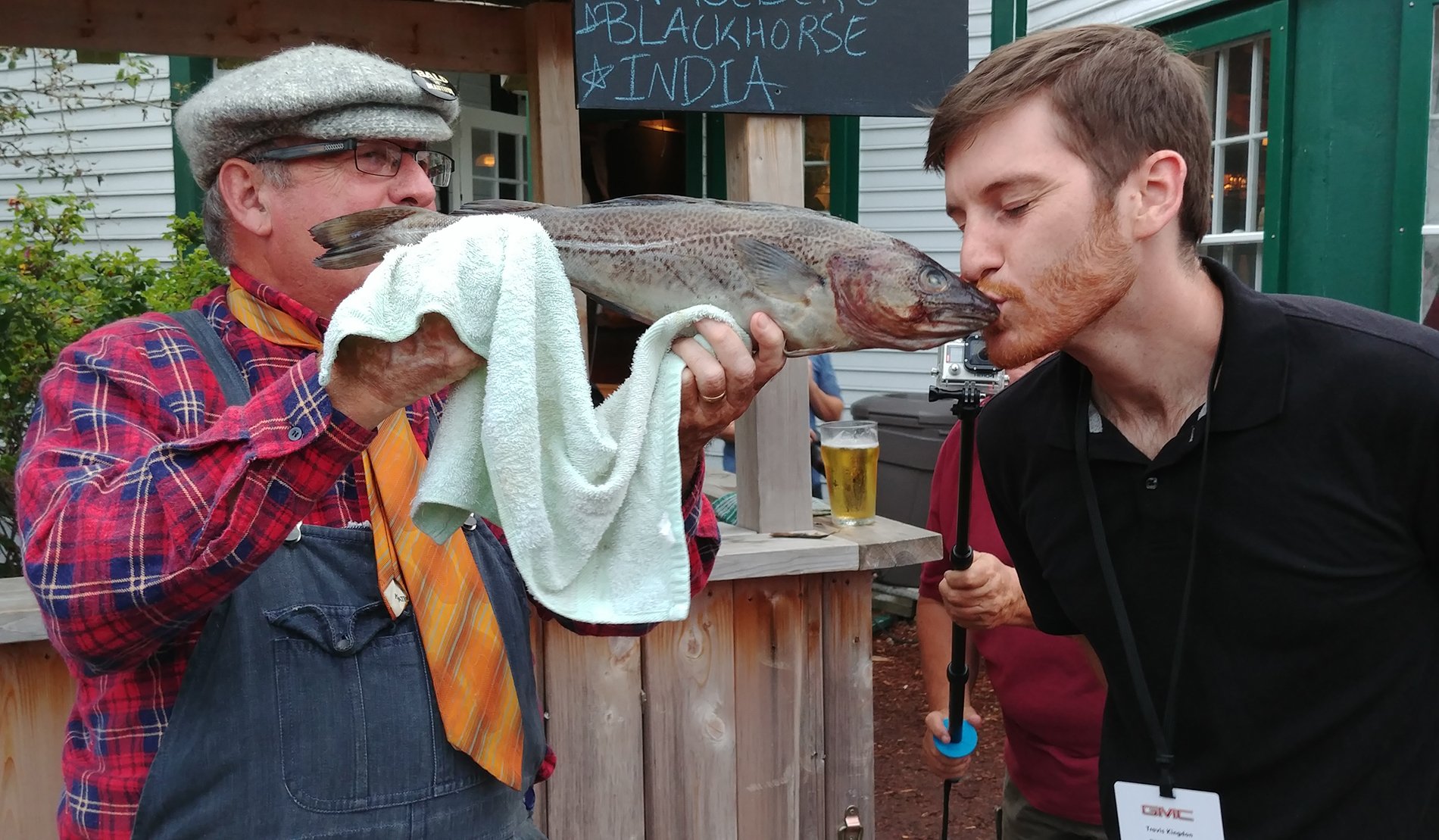 Q: "Is ye a Newfoundlander?"
A: "Deed I is, me old cock, and long may your big jib draw!"
Getting "Screeched In" is a right of passage for visitors to the island. While the expression may sound crude it simply means: "Yes I am, my old friend, and may your sails always catch wind!" 
The process of being screeched in involves taking a shot of the liquor the process is named for as well as kissing a codfish.  Screech is a rum that is imported from Jamaica and then blended and bottled in the province, carrying 40% alcohol content. 
"Screeching-in" ceremonies are held across the province and may have different elements to them depending on where you get "screeched-in."  We partook in two ceremonies while we were on the Island, one involving a slice of bologna and an extremely salty small fish and the other involving kissing a stuffed Puffin's rear end.  Regardless of where you get 'screeched in', the shot of liquour and cod-fish kiss remain an integral part of the ceremony, no escaping it!
After the ceremony, you'll be rewarded with the title of "honourary Newfoundlander" and a certificate to prove your accomplishments.
Visit the Quaint

fishing town of Quidi Vidi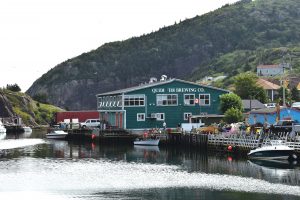 If you close your eyes and picture your quintessential Newfoundland fishing village, you're most likely imagining Quidi Vidi.  Pronounced "Kiddy Viddy," this village just Northeast of St. John's is named after for the lake and harbor it resides on. 
For history buffs Quidi Vidi is the site of the Quidi Vidi Battery, a provincial historic site.  The battery was one of 12 in St. John's designed to help protect the city from attack and was the longest lived coastal battery, operating until the British left the province in 1870.
Also, in the village is the province's largest microbrewery.  The green brewery sits at the mouth of the harbour, with stunning cliffs behind it, this is typically the view of Quidi Vidi that most are used to seeing. The Quidi Vidi Brewery has been operating since 1996 and currently brews eight different types of beer.  However, the most popular seems to be their Iceberg Beer.  As the name would suggest, Iceberg Beer is brewed with water harvested from icebergs off the coast of Newfoundland. You certainly won't find that anywhere else!  Tastings and tours are available at the brewery. 
If you find yourself a tad hungry after the tasting, make your way to the Mallard Cottage.  The Mallard Cottage is an 18th century cottage, built in the Irish-Newfoundland style, is one of the oldest buildings in North America.  Originally, the building served as a private residence for the Mallard family, local fishermen, who resided there until the early 1980s. In 2011, the cottage was purchased, restored and turned into a restaurant.  Chef Todd Perrin serves up authentic Newfoundland cuisine, designed to showcase the wild game, seafood and produce that are native to the province.
A note to those with large RV's, the roads around Quidi Vidi are extremely narrow and often congested. If you don't have a dinghy or a tow vehicle, we recommended you don't drive your RV through the town.
Visit Signal Hill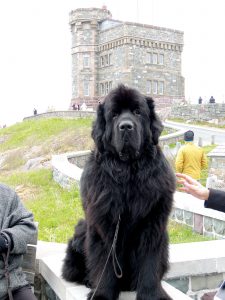 Just up the road from Quidi Vidi is Signal Hill, which provides a stunning view of the city of St. John's. A national historic site, Signal Hill has a large amount of historical significance.  The large tower at the peak of the hill is Cabot Tower which officially opened in 1900. 
Signal Hill was the site of the very first transatlantic wireless transmission.  Received by Guglielmo Marconi on December 12, 1901, the morse-code message was broadcast from the United Kingdom.   
The hill has also served as a military outpost throughout history, active through the, Napoleonic Wars, American Civil War and played host to the final battle of the Seven Years' War.  Our tour guide told us during WWII nets were put in the inlet to the St. John's Harbour to catch German U-Boats. 
Many hikes start around the Signal Hill area that will deliver you some simply stunning views of not only the city, but the cliffs and overlooks of the Atlantic ocean.
Watch the Sunrise at Cape Spear.
It should serve as no surprise that the most easterly province is also home to the most easterly point in North America: Cape Spear.   The lighthouse at Cape Spear was first constructed in 1836.  If you arrive early enough, you are able to watch the first sunrise in North America at Cape Spear, which is a truly unique experience.
A word of caution for those visiting Cape Spear. Be extremely careful and stay back from the edge.  There is no fence or barrier at the Cliffside, and it is an extremely steep drop. This, combined with the high winds in the area, merit extreme caution when taking in Cape Spear.
Whale, Iceberg and Puffin Watching.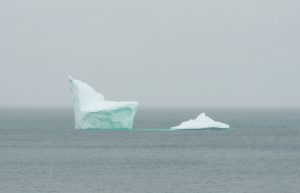 This is another must-do when you're in Newfoundland.  There are plenty of places that offer whale watching, iceberg sighting and puffin watching tours.  If you're hoping to encounter a whale, your best bet is mid-June to mid-August, though there's no guarantee you'll spot one.
Icebergs can be seen off the coast of Newfoundland from May and June, but past those months you're not likely to see one.
The Puffins you will see off the coast of Newfoundland are Atlantic puffins, one of three breeds of these sea birds.  The puffin, with its colourful beak and bright orange feet, is the official bird of Newfoundland and Labrador.   Puffins spend the winter alone in the ocean and return to land to breed in the spring where they spend their time in burrows.  Puffins are rather entertaining creatures. With tiny wings they have to rapidly flap to stay airborne and their inability to land gracefully (it is common for the birds to miss the landing on either ground or sea), they are quite entertaining to watch.  The skies around the islands fill with puffins and murre's (another black and white bird but lacking the puffin's colours), we recommend you don't look up with your mouth agape in awe though, lest you receive a surprise…
Experience the culinary scene of St. John's.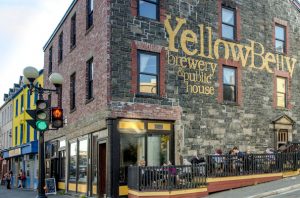 Newfoundland has become a hotbed of culinary activity lately. If you're looking to eat some of the freshest seafood and the best wild game in the country, Newfoundland is your best bet. The province is home to Chef Jeremy Charles and his outstanding Raymond's restaurant, winner of Canada's best restaurant in 2014. Or, try Bacalo's amazing seafood.  If you're looking for something not as fancy, visit Ches's Fish and Chip shop or find yourself a lighthouse picnic. If you're looking for some locally brewed beverages, we recommend the Yellow Belly Brewery and Public house and its Underbelly speakeasy. These are just some hints to get you started, the Province has a host of culinary delights just waiting to be discovered.
"Get ready for a look at a place that is still, if not a part unknown, then certainly a part underappreciated," wrote the late Anthony Bourdain in his field notes on Newfoundland prior to the Parts Unknown episode featuring the province. Bourdain's words provide a fitting summary of the province on a whole. 
Where to stay:
Pippy Park, 4 km from St. John's www.pippypark.com/camping.asp
Marine Park, Pouch Cove, 25 km from St. John's www.marineparknl.com
Celtic Rendezvous Cottages & RV Park, 40 km's from St. John's 
www.celticrendezvouscottages.com/oceanfront-full-service-rv-park/
Bluefin Family Park, 46 km from St. John's http://bluefinrv.com/
White Pines Resort, 60 km from St. John's https://whitepinesresort.com/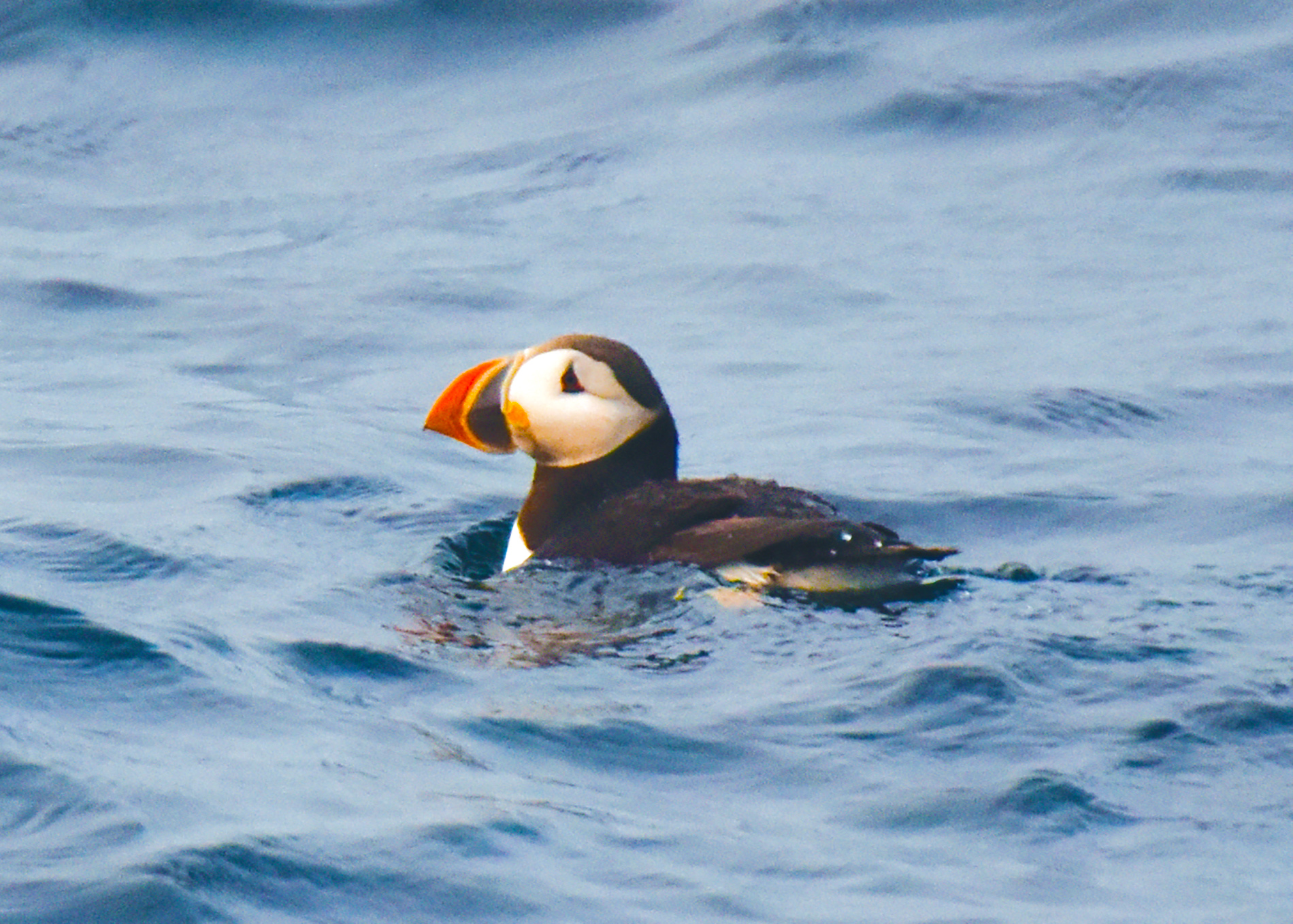 Much ado about Puffins
What do you call a group of puffins? We all know a group of crows is called a murder and a group of owls can be called a parliament, but what about the puffins?  Well, it depends on your preference really. Groups of puffins can be called: a colony, a puffinry, a circus (which might be an apt description of these funny little birds), a burrow, a gathering or an improbability.  The latter is our favourite, as you're more likely to see a group of puffins than an individual bird.   Which makes us pontificate the probability of puffins, and why a large group of them, which is a common site, is so improbable…