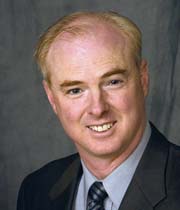 Can the 2018 Dodge Ram EcoDiesel change my opinion on Pickups?
I know, I know. I don't usually tow Airstreams with a pickup truck. For a while now people at car companies and some customers have been saying: "You're not a fan of pickup trucks because you never use one. I bet if you took a trip in one you would change your mind."
My response to that is I test drive customers' pickups several times a week, so I am quite familiar with how pickups run so I don't need to drive one on a long trip to get the full experience. I have also used ¾ tons with fifth wheels on long trips, so I have a pretty good idea what to expect from a half-ton. Then the magazine started suggesting trucks as well. I now know what a politician feels like with lobbyists all around!
Despite all this, we were thinking of getting a new half-ton for the dealership. There are times we need a pickup as we often have people wanting to test tow a half-ton towable fifth wheel. A half-ton is certainly much less expensive to operate than a ¾ ton, especially when the ¾ isn't necessary. So, in July we came across a 2018 Ram with the EcoDiesel engine with all the options you need, but nothing excessive which made the price right at just over $40,000.00. This truck is the full crew cab with a 6'4" box and a 153" wheelbase. The Ram has the same 8-speed ZF transmission that we love in the Chrysler 300C.  Paired with the EcoDiesel the drivetrain is truly excellent.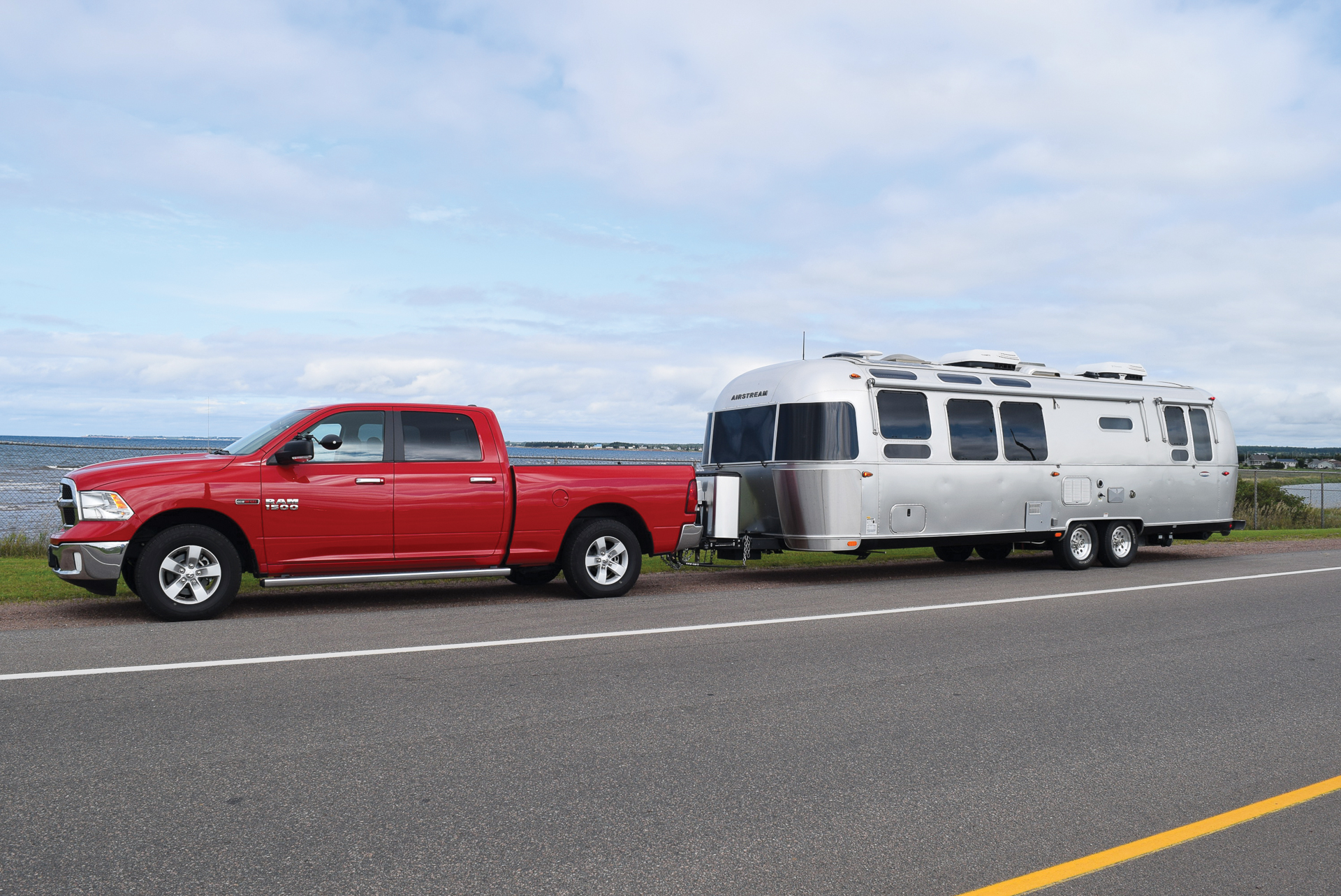 The front axle capacity is 3,900 pounds and the rear axle capacity is 4,100 so the truck will carry 8,000 pounds if you distribute it properly. The dry weight with fuel is a surprisingly light 5,760 pounds, so it can carry 2,200 pounds. It won't carry a large fifth wheel but has plenty of capacity for any travel trailer and lighter fifth wheels.
For towing a travel trailer there are a couple of things I would spec differently on the Ram. I would get 20" wheels for more stability instead of the 18" rims on this truck and I would get the air suspension option. The ride of the Ram with its coil springs is better than other pickup brands but the air suspension is better and the price of this option is very reasonable.
Similar to our experience with the Jetta Diesel, fuel economy does not suffer as much when conditions are not as good and speeds are higher compared to a gas engine.
I would also get the storage compartments in the side of the truck bed (called "Ram boxes") so I could be better organized, I think the "Ram boxes" take some of the flex out of the box too.  Also for towing a Travel Trailer, I would get the 5'5" box for the shorter wheelbase and improved maneuverability. For towing a Fifth Wheel, the ram boxes do not work and the 6.6" box is much better for turning clearance.
We towed a 30' Airstream with the truck on a trip to the Maritimes this summer with a group of friends. I have mentioned in the past is a great way to compare fuel economy as you are driving down the same road at the same speed in identical conditions.
One of our friends tows with a Mercedes R Class, which also has a 3.0 Diesel engine, that is always the fuel efficiency champ in the group. I was amazed to find the Ram was within a litre of the Mercedes on every fill up. On paper, there is no way this should be the case, as the Ram has far more drag than the Mercedes. Whatever they have done, Chrysler has figured out how to get every ounce of efficiency out of this engine.
The third Airstream in our group was towed by a Ford Flex EcoBoost. Also on our trip was 5.3 Litre GM half-ton towing a tall conventional, though lighter, trailer.
Our best tank of fuel was on a day with no wind and we kept our speed down to 100 KPH. The Diesel Mercedes and Ram turned in 15.3 L/100km the Flex EcoBoost a very respectable 18.8 and the 5.3 Litre GM and conventional trailer 23.8. Running at 110 KPH through long hills of northern New Brunswick with a head wind gave us our worst tank, the diesels ran 18.3 L/100km, the Flex 23.5 and the pickup and conventional trailer 32 L/100km.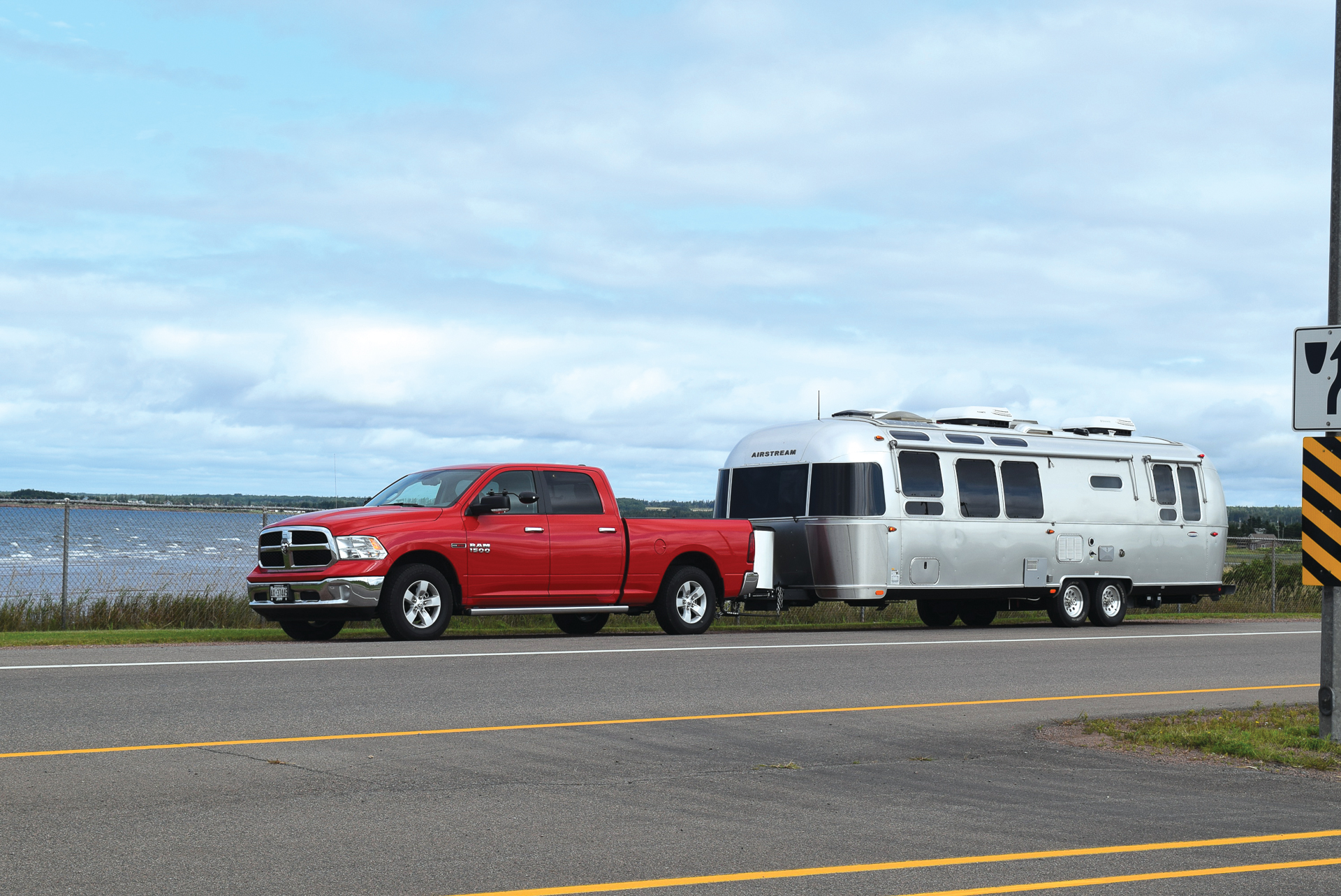 Towing an aerodynamic trailer with a Diesel cut the fuel cost almost in half. Similar to our experience with the Jetta Diesel, fuel economy does not suffer as much when conditions are not as good and speeds are higher compared to a gas engine. Ford and GM are about to introduce their 3.0 litre diesels which will likely be comparable to the Ram's EcoDiesel, the GM is an inline-6 cylinder like a BMW which is intriguing.
One disadvantage when towing with a crew cab truck is the maneuvering as the turning circle is so large, 48.7' on this truck. Where you notice this most is getting in and out of fuel stops, but the Diesel's extra fuel range reduces the number times you need to get in out of spots. Speaking of range, one other nice feature is this truck has a gauge for the DEF fluid so you are not always wondering if it is about to need refilling.
The Ram is quiet inside, the seats are comfortable and of course there is lots of interior space. I find handling of the full-size pickups to be pretty comparable and I suspect they all will benefit from upgraded shocks such as Bilsteins, or similar more controlled ones compared to stock.
Now if you love pickups and will always tow with one this is a good place to stop reading. If everyone is telling you to buy a pickup but you're not sure you want to live with one, then continue.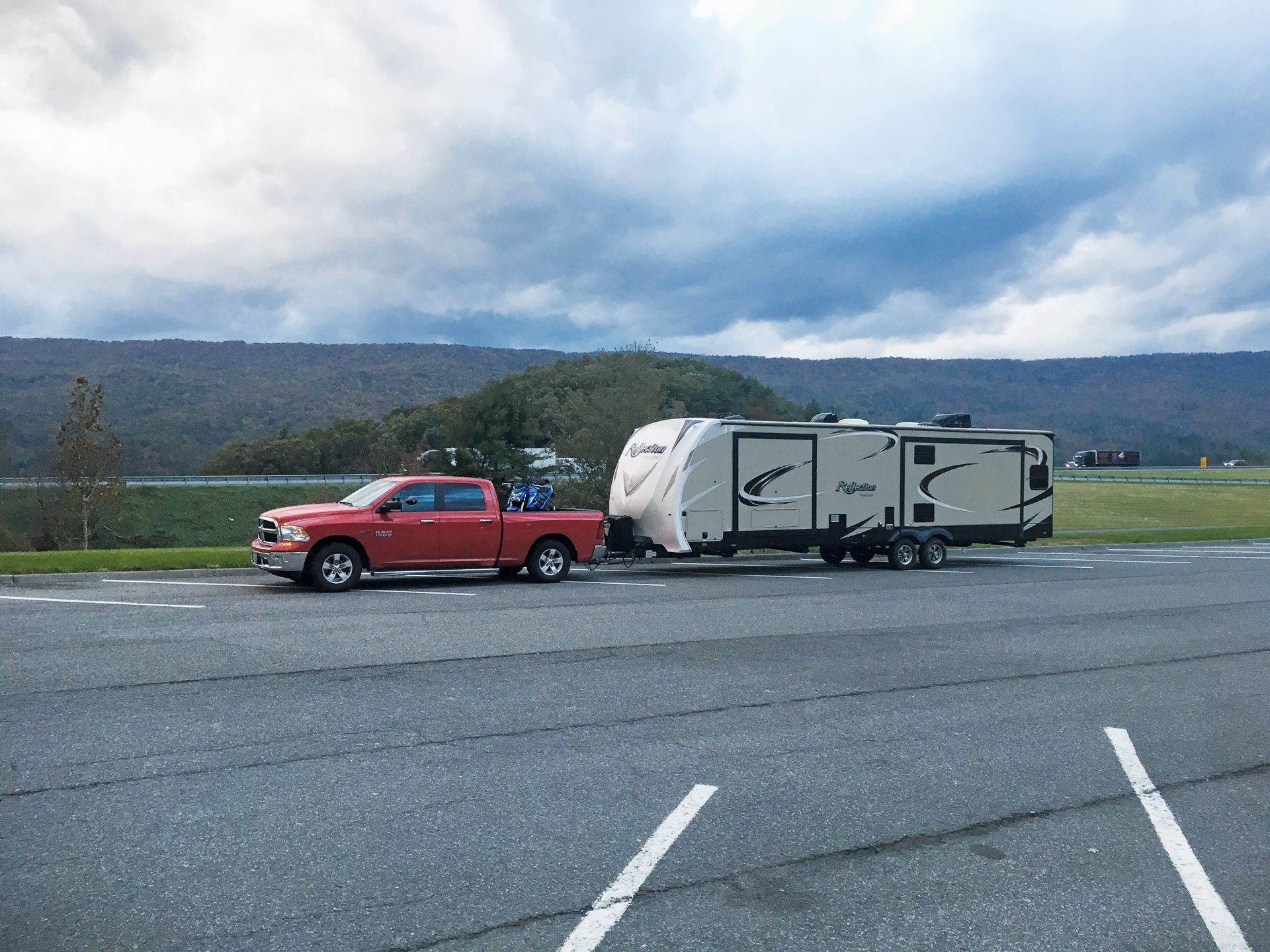 So, I can say that taking a two-week trip with a pickup was ok, but I am not likely to do it again. It's not that the pickup truck is terrible, I just know the experience can be so much better.
Driving along at 80 KPH and wiggle the wheel back and forth and the truck flops easily side to side without really changing direction. The twisty roads around Peggy's Cove, Nova Scotia, were quite enjoyable in the C350 Mercedes we drove there three years ago. The Ram however, was not at all confidence inspiring when the road got twisty, it was not as fun to drive as a solo vehicle compared to the C350. Don't get me wrong, the Ram does just fine, it's just a tad boring. Some people like a boring detached vehicle, which is fine, but if you like a vehicle that inspires confidence in turns and you feel a part of, this isn't the answer.
I could deal with the less than stellar handling if the tradeoff was an amazingly smooth ride, but the truck does not excel there either. In Eastern Quebec the Trans-Canada Highway is a little rough. I was commenting to our friends how much it had degraded in the three years since we were on it last and they said they didn't think it had changed that much. Sure enough, the ride in the Mercedes or the Flex was not bad at all. I started the trip with the truck tires at 44 PSI, that lasted 200 kilometers, then I backed them down to 32 PSI, which was plenty for the weight we were carrying but at PSI I found it way too vague when steering, so after further experimentation, I found 38 PSI to be a good compromise. Again the 20" tires would have improved it the handling while running at the softer pressure.
When we were almost home driving down the last 10 miles to our house Heather commented that the road was as bad as the ones in Quebec. I asked "how is it in your Jaguar?" She said "Now that you mention it in the Jag the road is fine."
Certainly, there is a place for pick-up trucks, like carrying a motorcycle (though I would use a Sprinter or Transit van myself) and some people just like driving them. If you fall into this category, great, buy one and you certainly won't be disappointed.
However, don't feel you have to buy a truck as a tow vehicle. There are plenty of much more modern options out there for towing duties.  Now if I could just get them to put that engine in the 300C like they do in Europe, how slick would that be?