Torklift Fastgun Wobble Stopper
Stabilize your RV with the Torklift Fastgun Wobble Stopper. The wobble stopper is a new product from Torklift,and aims to reduce any frame or jack stress your camper can encounter. Connecting between a camper's front jack legs and body, the device prevents swaying and is a nifty way to avoid any kind of camper sway one could encounter.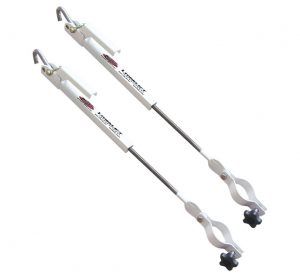 The wobble stopper has a DIY setup and is made from 100% aircraft grade aluminum and steel. The Fastgun Wobble Stopper includes a lifetime warranty provided by Torklift. To check out the Fastgun Wobble Stopper, visit the Torklift website at https://www.torklift.com/rv/fastgun-wobble-stopper
Camco Heavy-Duty Stabilizer
Give your RV jack the support it needs with the Camco Heavy-Duty Stabilizer! The Heavy-Duty Stabilizer provides the utmost support for your jacks. With 7-inches of lift and a weight rating of 6,000 lbs, the jack is perfect for any RV enthusiast looking to add to their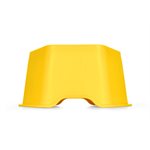 collection of equipment. The stabilizer is compatible with 10-inch round jack pads and is constructed with UV stabilizing polymer.
The jack is compact and is extremely easy to store, and with the small measurements of 13 ½-inches x 15-inches x 7 ¼-inches in height, the stabilizer is a must buy for RV owners looking to add some stability to their trips. For more information on the Camco Heavy-Duty Stabilizer, visit the Camco website at http://www.camco.net/camco-heavy-duty-stabilizer-rv-jack-support-yellow-44421
Lippert Leveling System
Level up your RV experience with the Lippert Level Up Hydraulic Leveling System. The six-point leveling system allows your RV to level itself in under a minute, thanks to the devices auto leveling feature, which only needs a single touch to operate. The unique design of the leveling system eliminates any stress your RV will have with regards to uneven ground, with the six-point leveling system incorporating leveling jacks just before the front and rear axles, maintaining your RV no matter where you decide to camp.
If you are looking to add a high-quality leveling system to your RV's arsenal, visit the product page at https://store.lci1.com/rv-leveling-systems
Stromberg Carlson Jack
Upgrade your old tongue jack and switch to the Stromberg Carlson 4500 lbs Electric Tongue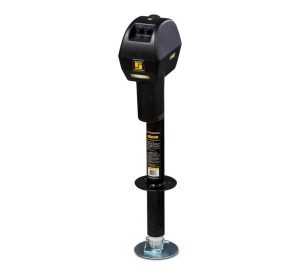 Jack. The tongue jack boats a simple and effective look, and featuring a new ball screw mechanism, the jack gives users a very simple and quiet set-up and tear-down.
The jack is outfitted with three separate LED's and an emergency crank-through head, making sure that any RV enthusiast will be prepared and ready to go for their next camping adventure. More information on jack can be found on the Stromberg Carlson website, including detailed information and troubleshooting videos for the product at https://www.strombergcarlson.com/product/4500-lb-electric-tongue-jack/
Hydralift Motorcycle Lift
Hydralift has released the Hydralift Motorcycle Lift, a motorcycle lift designed to allow RV users the ability to carry their motorcycles and tow-cars simultaneously with a one piece welded body design, the Hydralift Motorcycle Lift is the lightest power-lift currently on the RV market.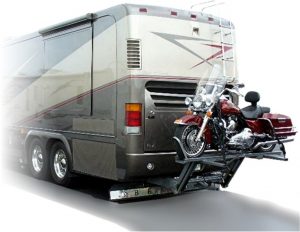 The lift mounts higher than any other power-lift, and boasts a one-person setup and operation, allowing for a very quick setup, allowing RV enthusiasts to mount their motorcycles, and hit the road in an instant. Each stopper is a custom fit application to your RV's body, and with the power and ease of access of the device, it is only a matter of time before the Hydralift Motorcycle Lift takes over the power-lift market. For more information, visit the Hydralift website at https://hydralift-usa.com/motorhome-lift-2/
Husky Brute Trailer Tongue Jack
Husky aims to crush the competition with the new Husky Brute Trailer Tongue Jack. The jack has a minimalist and quiet design, with a very low noise level when operating the jack. The brute tongue jack also includes a UV and water-resistant cover, allowing RV enthusiasts to take the jack with them anywhere and everywhere, without fear of the device breaking.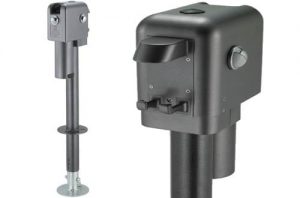 The Husky Brute Trailer Tongue Jack is also very economical, with a Low 25 ampere draw at rated load. The device is primed to take the stress off your vehicle, and eliminates any stress that could be put on the jack. To find out more about the Husky Brute Trailer Tongue Jack, visit the Husky website at https://www.huskytow.com/husky-towing-87247-trailer-tongue-jack