Portable Campfire
Take a campfire anywhere you travel with the Camco MFG Portable Campfire. The portable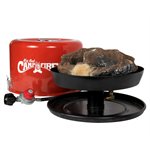 campfire is small enough to fit in virtually every RV on the market, and provides a mess and ash free alternative to in-ground campfires.
The portable campfire provides a very realistic log as well, and with a tray diameter of 11-1/4″ and a propane hose of 8', taking up space will never be an issue. With a sturdy lid and security latches, the portable campfire is also a safe alternative to the in-ground campfire.
The Camco MFG Portable Campfire can be found on the Camco website at http://www.camco.net/little-red-campfire-olympian-58031.
Camp Casual Dish Set
Taking friends or family camping? Never run out of kitchenware again with the Camp Casual 12-Piece Dish Set, an aesthetically pleasing dish set perfect for long camping trips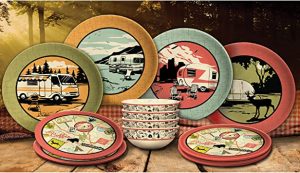 in your RV. Made out of 100% Melamine, the dish set comes equipped with enough dishes for four separate campers. Including four 11" plates, four 8.5" salad plates and four 6" bowls, the set is top rack dishwasher safe and comes in a reusable case.
With a beautiful and unique design on each plate and bowl, the set is perfect for those looking to impress. The plates are available for purchase on the Camp Casual Website at https://www.campcasual.com/product-page/12-piece-dish-set.
Pet Life Vest
Keep your pets safe with the Pet Life Vest from Valterra. The unsinkable vest is perfect for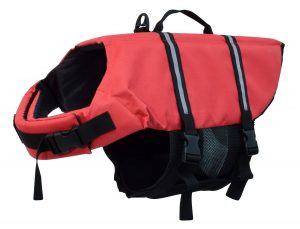 those looking to take their pets out in the water, and comes with reflective strips on the vest, making sure keeping track of your pet is never an issue. The vest is fully adjustable for maximum comfort and allows for leash attachment. The vest also has a mesh underside for quick drying, making sure the fun never stops when camping with pets.
Check out the vest for yourself at https://www.valterra.com/product/pet-life-vest-large/
Portable Chair
Kick back and relax with the GCI Outdoor Kickback Rocker Portable Rocker Chair. The chair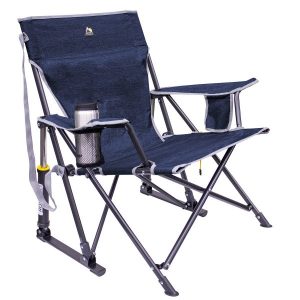 is GCI's lightest and most compact rocker yet. With quick set up, the rocker features a smooth design with a lower sit, providing a large amount of comfort without the bulkiness that comes with most rockers on the market. The chair is designed to be bagless, and is able to rock on a variety of harsh surfaces including rocky areas and hard terrain.
Get comfortable with the GCI Outdoor Kickback Rocker – a supremely comfortable Portable Rocker Chair, which can be found on the GCI Outdoor website at https://gcioutdoor.com/products/kickback-rocker
Portable Cooker
Firedisc has released the The Original Firedisc 36" Portable Propane Cooker, a portable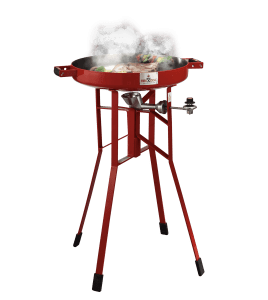 cooker that you can take on the go. The portable cooker is able to cook most foods, and with a three-piece setup, it is extremely easy to get right to cooking tasty meals. The walled disc is able to contain a high volume of food and liquid, making it perfect for deep for deep frying your meals.
With a 36" stand, the cooker is able to reach table height, perfect for getting the food out of the cooker and right onto your plate. The Original Firedisc 36" Portable Propane Cooker is available on the Firedisc Website at https://www.firedisccookers.com/product/firedisc-deep-36-inch-cooker/.
RV Rugs
Prest-O-Fit has introduced the Trailhead RV Step Rugs For MORyde StepAbove Steps. Improve your RV's comfort with these durable step rugs. The bristle like texture of the rug prevents any kind of dirt and mud from getting into your RV, as well as being UV protected. The rug has a very simple and easy to learn setup, providing springs, as well as hook and loop fastening strips.
Able to fit both electric and manual steps, the RV Rugs are a much-needed quality of life upgrade for RV enthusiasts. For more information, visit the Prest-O-Fit website, https://www.prestofit.com/RVStepRugsSubPages/TrailheadForMORrydeStepAbove.html.
Pet Odour Spray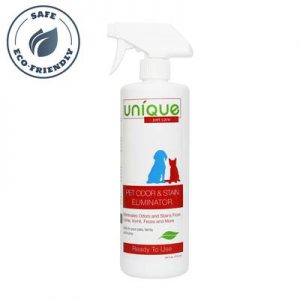 Keep your RV pet odour free with the Pet Odor and Stain Eliminator, a new product from Unique Camping + Marine. Utilizing probiotics and enzymes to eliminate odour's in a pet safe way, the eliminator deodorizes pet beds and litter boxes.
The Pet Odor and Stain Eliminator is toxin free, and can remove stains down to the subfloor. Taking pets with you on your camping trip has never been easier with the Pet Odor and Stain Eliminator. Pick up some spray for your next trip at https://uniquecampingmarine.com/collections/pet-products/products/pet-odor-stain-eliminator
Inflatable Lounger
Take a much-needed brake with the Paradise Lounger with Canopy 2P by WOW Water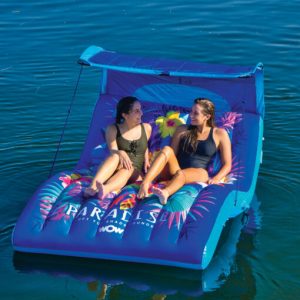 Sports. This inflatable lounger is designed with ULTRA SOFT fabric to provide maximum comfort for up to two people. Sporting a tropical design, the lounger has an adjustable mesh canopy, as well as a side grommet allowing multiple loungers to attach to one another.
With a one year warranty included, the Paradise Lounger with Canopy 2P by Water Sports is here to improve your quality of life and provide an added feeling of relaxation when camping out on the water. You can purchase the lounger on the WOW Water Sports website, at https://wowwatersports.com/shop/pool-floats-lounges-islands/floats-lounges-noodles/paradise-lounger-with-canopy-2p/
Solar Powered Cooler
Cool off with the Furrion eRove™ Electric Cooler, a battery powered, solar charging cooler
that's poised to assist any RV enthusiasts camping experience. With 50Qt of space, the cooler is able to fit up to 72 cans inside, and also sports 6Qt of dry storage. The cooler comes with an ePod Power station and a 100-watt solar panel, providing a rechargeable battery for the cooler. Along with this versatility, the cooler also provides detachable cup and umbrella holders.
The cooler is equipped with an optimized cooling system and is also capable of freezing -22 degrees Celsius, keeping all beverages and food cold for extended periods of time. For more information on the Furrion eRove™ Electric Cooler, visit the Furrion website at  https://furrion.com/products/furrion-erove.
Surge Protector
Protect your RV from any electrical surge with the the Hughes EPO Surge Protector. This indispensable device provides RV users with 2,400 joules of surge protection. The smart circuit analyzer within the surge protector will shut power down to an RV as soon as a disturbance occurs, and is also Bluetooth accessible, allowing RV users to monitor power right from their phone.

Available for both 30- and 50-amp setups, the surge protector also comes with a replaceable surge module, preventing having to buy a new unit when hit by a large power spike. The Hughes EPO Surge Protector is available on the Hughes website at https://hughesautoformers.com/product/pwd30-epo/.
RV Cleaning Products
Dicor Products has released a new set of top-of-the-line RV cleaners. The RV Care Line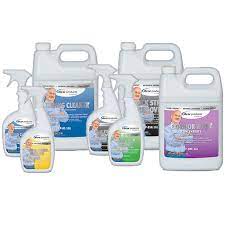 features a wide array of cleaners from black streak removers, awning cleaners, exterior wash and everything in between, Dicor has what any RV enthusiast needs. The cleaners are safe to use on almost any surface, ranging from fiberglass, aluminum, fabric, and many others.
With five different cleaners to choose from in the line, cleaning your RV will never be an issue again with the Dicor RV Care Line. The cleaners are available on the Dicor Products website at https://dicorproducts.com/product-category/rv-care-line/.
Universal Vent Lid
Swap out your old vent lids and replace them with the Maxxair UNIMAXX Universal Vent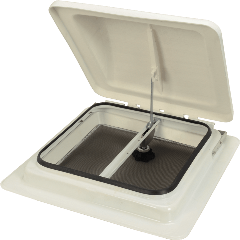 Lid. The lid is pre-built, and includes all the mounting hardware needed for setup. The vent is very durable, having a UV resistant polypropylene lid as well as rust resistant hardware.
With the Maxxair UNIMAXX Universal Vent Lid, you'll never have to worry about when your vent was manufactured and who the manufacturer was. With a simple and modern design, the universal vent lid is a great way to improve the quality of your RV. You can purchase Maxxair UNIMAXX Universal Vent Lid at https://www.airxcel.com/rv/maxxair/products/covers/unimaxx-vent-lid.