Did you know that movie fans and RV enthusiasts share a common history?
When Marty McFly rode his skateboard to Dr. Emmett Brown's garage and Hill Valley High School back in October 1985, his personal set of "wheels" was a Valterra / Madrid model, built by one of today's leaders in the RV parts and accessory market!
We did a little research into this iconic skateboard, and the Valterra brand, to give you an interesting topic for campfire conversations…
Back in 1971, Bert Grengs started Grentec Inc., a plastic injection molding company in Burbank, California. Among the range of products that the company manufactured were RV gate valves, RV toilets, plumbing fittings and some of Southern California's iconic plastic skateboards like the famous "banana board".
When Bert retired in 1981, his son, George Grengs, daughter-in-law, Patricia Grengs, daughter, Barbara Glennon, and son-in-law, Dennis Lunder, transformed the company into Valterra Products, Inc.
In addition to a wide range of RV products that the company manufactured, Valterra reintroduced a skateboard line in 1984 that focused on wood decks, exciting graphics, and precision bearings.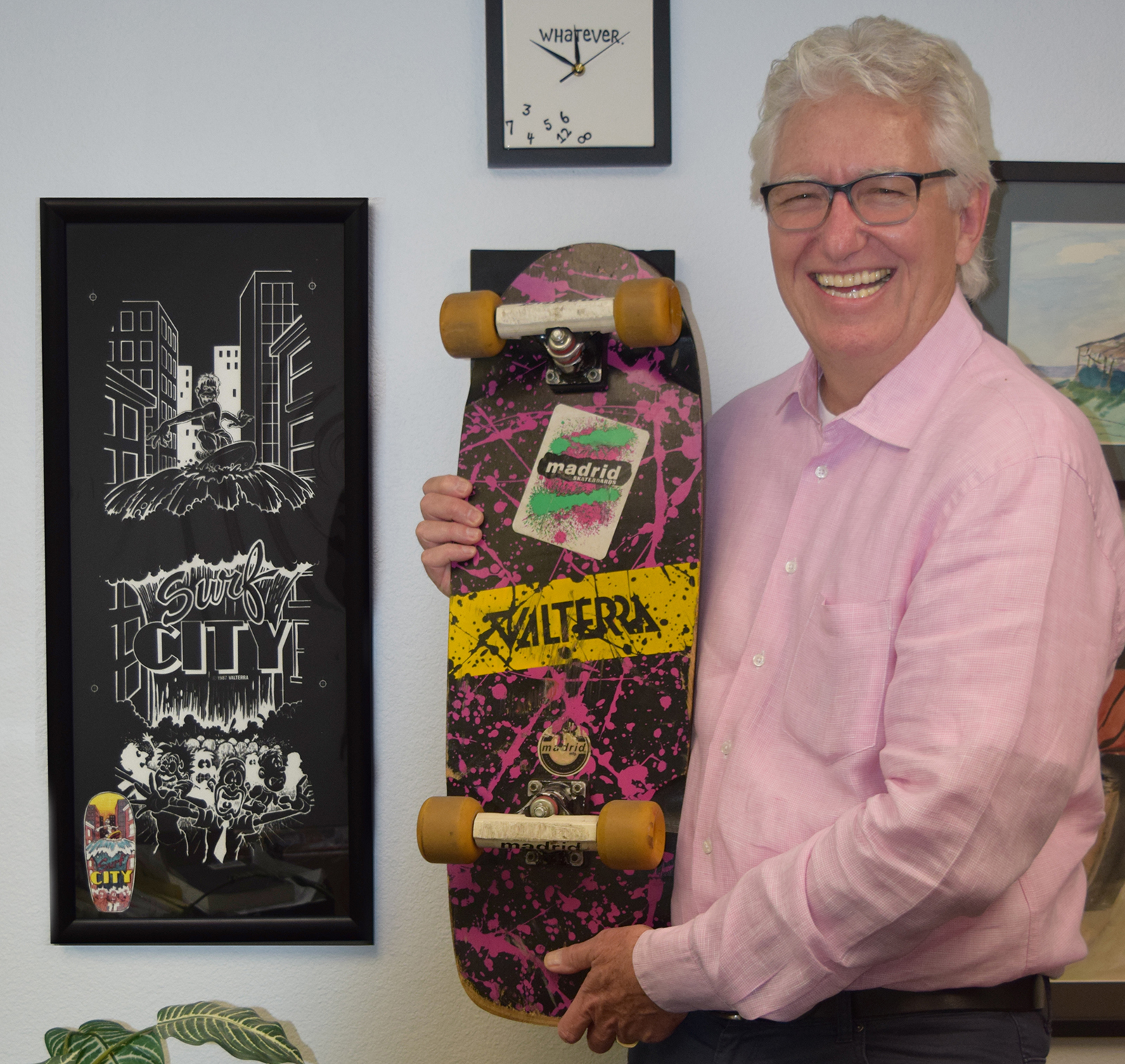 The Madrid Connection
California has always been the focal point for skateboarding, and one of the legendary brands was created by Jerry Madrid, who began shaping surfboards in his parents' Southern California garage in the late 1960s. as the Madrid company history describes, "when the waves weren't good enough to surf, Jerry shaped skateboards for himself and his friends."
In 1976, while also working as a firefighter, Jerry officially started the Madrid skateboard company, with his brothers Jim and Jeff assisting in the operations.
A mid-1980s collaboration between Valterra and Madrid resulted in the "Back to the Future" board design that was an iconic part of the evolution of skateboard technology. After developing some of the first modern concave skateboards, Madrid produced a series of collaborations throughout the '80s, including the Madrid X deck incorporated into the Valterra "Splatter" Skateboard used by Marty McFly in the original Back to the Future movie.
Since 1971, Valterra Products LLC, has been a leading supplier of brand name products to the RV, Pool & Spa, and PLumbing industries.
Today, Madrid continues to manufacture skateboards in Huntington Beach, California, with the philosophy that boards should be crafted to perfection and guaranteed to perform.
Over the years, Valterra moved away from the skateboard business to focus on the expansion of their RV business, acquiring many important product lines including sewer hoses, RV locks, Fridgemate Fans, and ABS tanks, found in many of the RVs on the road today.
The main gate valve product line, which is the "foundation" of the RV gray and black water tank systems, continued to grow as the line expanded into pool & spa, plumbing and industrial applications.
In 2002, Valterra acquired the Blue Devil Pool & Spa Accessories line which includes a full line of Blue Devil maintenance accessories – which are widely used in residential and commercial installations throughout North America.
As you can see, the company has expanded well beyond the scope of the early skateboard business… in 2008 Valterra established a contract manufacturing division to offer low-cost custom manufacturing and assembly services to client companies seeking to reduce costs and improve the bottom line. A year later, Valterra joined C-TPAT (Customs–Trade Partnership Against Terrorism), a voluntary, joint government-business partnership to help add to supply chain and increase border security.
In 2013, Valterra management successfully completed a corporate restructure and recapitalization.  Since that time, Valterra has acquired several leading brand companies including Mighty Cord, Phoenix Faucets, Odorlos eco-friendly tank treatments, Diamond LED lights, GoPower! solar systems, Minder Industries tire pressure monitoring and Monochem deodorizers and cleaning products.
There is a little "Valterra" in a lot of products we use on a daily basis!
With 39 injection moulding machines, 3 profile extrusion machines, JIT (just in time) warehousing with a global supply chain, prototyping, bottling, assembly and packaging, Valterra handles a multitude of contract manufacturing projects. In 2015, the molding facility became ISO 9001:2008 (International Standards for Quality Management System) certified.
With more than 430 employees, many being 20, 30 or even 40-year members of the Valterra team, and 190,000 square feet of production, warehousing, and shipping space, Valterra continues to be a leading supplier in the RV OEM and RV Aftermarket, as well as the pool & spa, plumbing, industrial and custom manufacturing sectors.