Here is a Hitch Hints column from our RV Lifestyle Magazine archives – this article first appeared in 1993.
By Andy Thomson Jr.
A common assumption made by people purchasing a truck to tow a fifth wheel is that they simply must have dual wheels. Their reasons vary from feeling they need dual wheels for the stability or the load carrying capacity, or some people just like the looks of those big fenders and all that rubber.
While it is true that dual wheels can give slightly more stability, there are also disadvantages. The dual wheels have far more unsprung weight and when combined with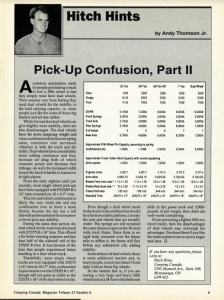 the heavier spring rates, translates into increased vibration in both the truck and the trailer. Dual wheels have considerably more rolling resistance and they increase air drag both of which consume power and decrease fuel mileage. As well, the increased width means the truck is-harder to maneuver in tight places.
From the early eighties until just recently, most single wheel pick-ups have been equipped with P235/85 R x16″ tires mounted on 16 x 6.5" rims. This tire and wheel combination is likely the very worst tire and rim combination ever to leave a truck factory because the tire has a tall sidewall and mounted on far too narrow a rim to give any stability.
During the same time, the dual wheel trucks were manufactured with 225/75 Rx 16" tires. This offered a far better steering response and less than half of the sidewall roll of the 235/85 R tires. It was because of the tires that people experienced better handling in a dual wheel truck.
Thankfully, most single wheel trucks are now equipped with 245/75 x 16″ tires on 16×7″ rims, a substantial improvement over the 235/35 Rx 16", though still not quite as stable as the 225/75 x 16" of the dual wheel trucks.
Even though a dual wheel truck looks much wider and therefore should be a far more stable platform, it is only the axle and wheels that are wider. The springs are still mounted the same distance apart on the 38-inch-wide truck frame. Since there is no rigid body mounted over the frame rails to stiffen it, the frame will flex before any substantial roll, adding stability.
In the defence of dual wheels, there is some additional traction, and to many people, a truck just doesn't look right without those big wheels. So, the bottom line is, if you are towing a very large and heavy fifth Wheel such as a 38-foot with a bedroom slide in the goose neck and 3,000-pounds of pin weight, then duals are well-worth considering.
If you are towing a tighter fifth or a travel trailer, then the disadvantages of dual wheels may outweigh the advantages. Purchase them if you like the looks or plan to move up to a larger unit later. If you have any questions, please write to:
Hitch Hints,
RV Lifestyle Magazine,
44-268 Crawford Crescent,
Campbellville, ON
L0P1B0