This article originally appeared in RV Lifestyle 37-1
Whether you are looking for a truck for work, or an upscale model to tow your travel trailer or fifth wheel in solid comfort, General Motors has the truck for you in 2008. We had the opportunity to drive the new 2008 General Motors Sierra and Silverado trucks at the Blainville, Quebec proving grounds. At these facilities, we were able to do many tests and comparisons that would be difficult to do on regular highways.
With trailer towing in mind, GM has stepped up to the plate with trucks that will tow your trailer around the country with ease and can handle difficult campground roads and hilly sites even when the ground is slippery or has a loose gravel surface. The Light Duty V-8 powered regular trucks have a tow rating of 8200 pounds for 2WD and 8900 for 4WD units, but with crew cab or extended cab trucks equipped with the enhanced trailering package the rating increases to 10,200 pounds for the 2WD model, and 10,500 pounds for the 4WD vehicle.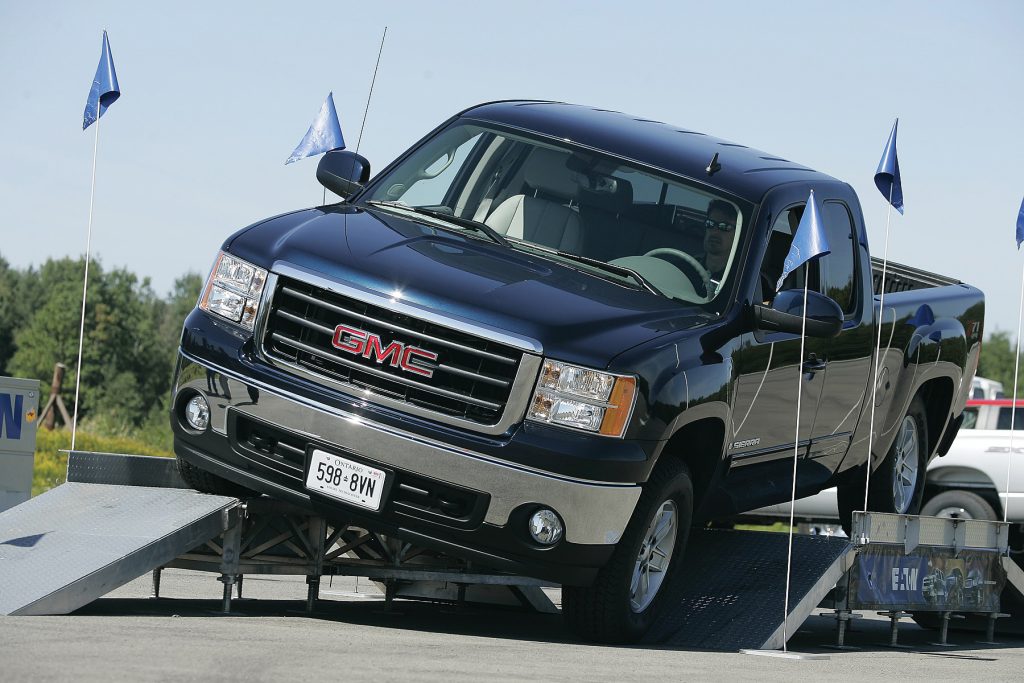 If you want to tow with the big boys and move your forty-foot fifth wheel across the country, the Heavy Duty series of Sierra and Silverado can haul 13,000 pounds, and are available with crew or extended cabs. The regular cab truck can tow up to 15,000 pounds. (It is wise to note that since there are no regulatory standards for establishing tow ratings, each company sets their own rating).
This year, the frame has been widened to increase torsional stiffness, lateral stiffness, and beaming stiffness. Beaming refers to the flexing of the frame from front to back that affects how a trailer is towed and its resistance to porpoising. An increase in torsional stiffness stops the frame from twisting as you back into a downhill campsite with your trailer. Variable rate springs in the rear help improve the ride whenever you have the trailer hooked-up and also improve the ride when you are driving solo. The front suspension is coil-over-shock with monotube shock absorbers, and there is a new front axle mounting system to optimize the ride for a feeling of minimal body movement, and isolation of road bumps, Rack-and-pinion steering provides instant positive response as though the vehicle was riding on rails.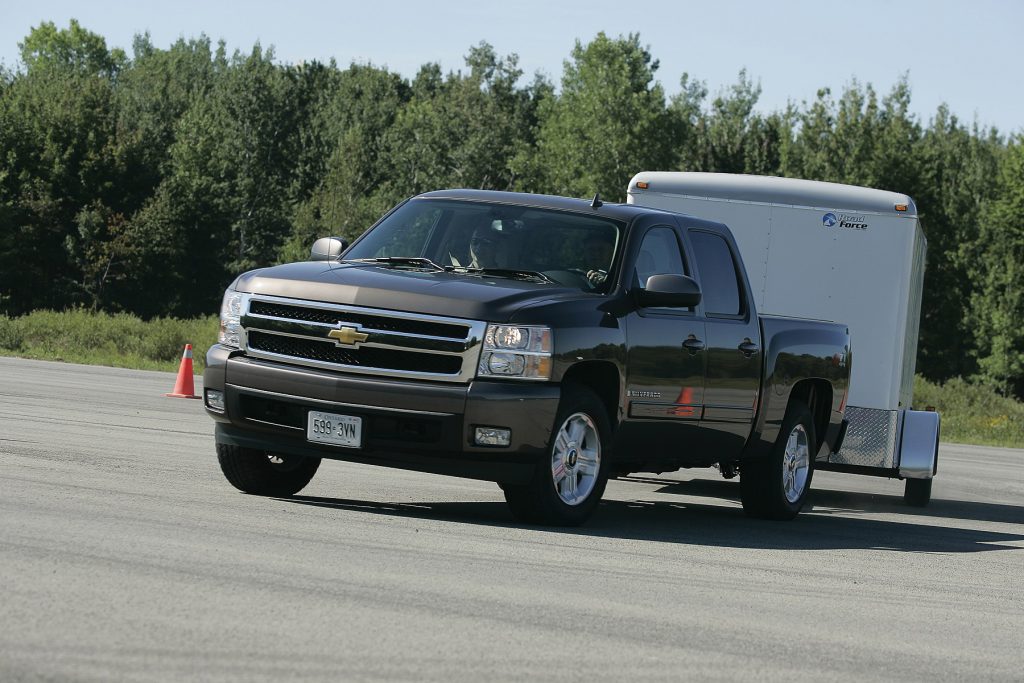 When it is time to "throw out the anchor" and stop quickly, the extra 1-inch diameter of the 2008 version of the truck's disc brakes helps slow you with less heat developed in the vented discs. The next generation Bosch ABS system keeps the vehicle headed straight in panic stops, and the StabiliTrak system prevents the vehicle from slewing around and losing control on wet and slippery surfaces. It is standard on crew cab vehicles and optional for extended cabs in both 2WD and 4WD.
New for 2008 is an integrated trailer brake control on light duty models that was previously only available on heavy duty models. It is integrated with the ABS system and provides immediate and measured brake force signaling to the electric-controlled brake systems in your trailer. This eliminates the need for an aftermarket brake controller, and it is conveniently mounted on the left side of the dash.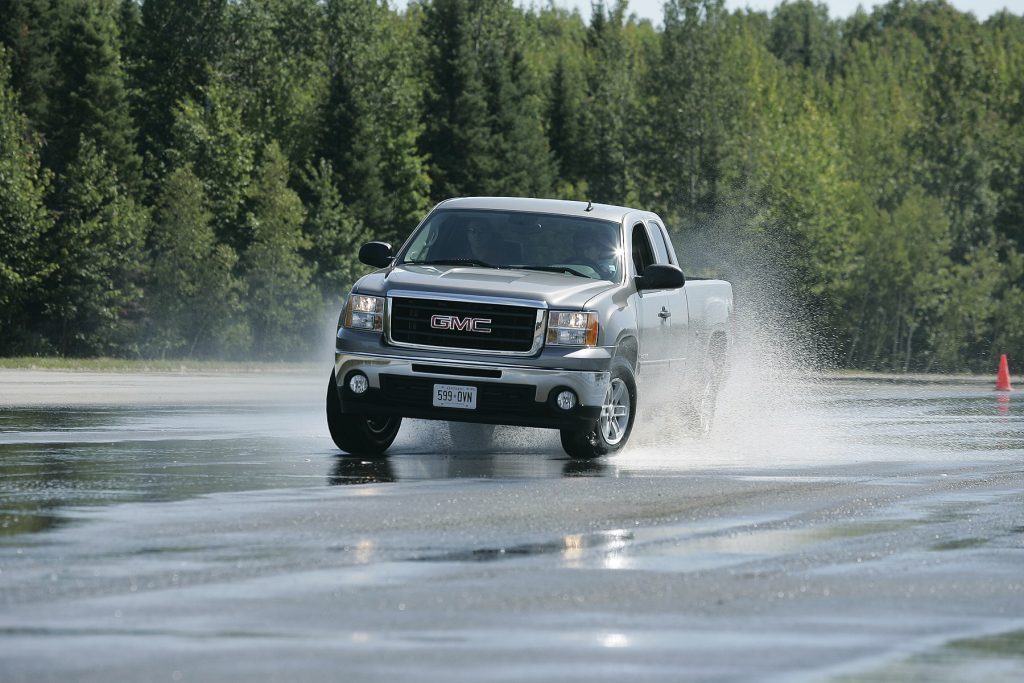 Many times we get hung up when one wheel loses traction, especially on the gravel roads and wet surfaces that are often found in campgrounds. With Traction Control you will not experience this problem as the other wheels continue to grip the surface even when one wheel slips or is temporarily off the ground in uneven terrain. This was developed for General Motors by Eaton. It engages when the system sees a difference in speed between wheels on either side of the same axle, and an internal spring-loaded pendulum reacts to the centrifugal force, locking the gears.
In these days of higher fuel costs, fuel economy has become a major factor in a tow vehicle purchasing decision. The popular 5.3L Vortec engine with 315 horsepower can travel 100 kilometers on less than 10 litres of fuel by using Active Fuel Management, Variable Valve Timing, and better aerodynamics.  The other engines in the Light Duty lineup include the 4.3L V6 Vortec that produces 195 horsepower and 260 pounds-feet of torque. There is also a 4.8L V8 with 295 hp and 305 pounds-feet of torque. A 6.0 Litre Vortec will be popular with the fifth wheel crowd – this engine produces 367 hp with 375 pounds-feet of torque. In the Sierra Denali package, you will be able to have a 6.2L E85 flex-fuel engine that tops out at 403 hp and 417 pounds-feet of torque.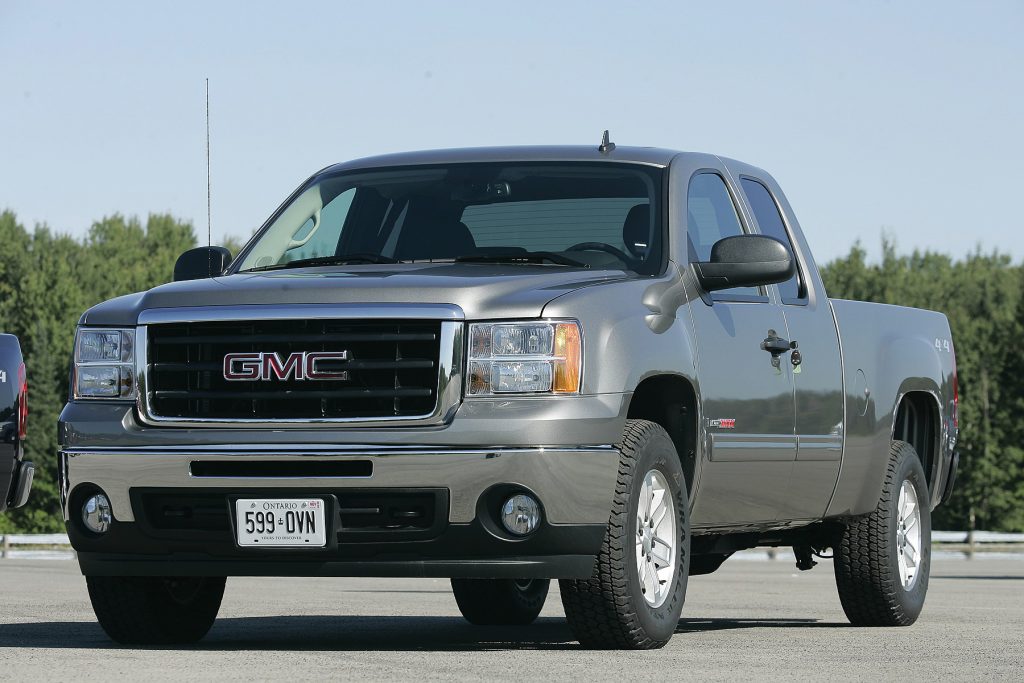 In the heavy Duty series of 2500 and 3500 bodies, you can have either the standard 6.0 Litre gas V-8 with 353 hp and 373 pounds-feet of torque or the optional 6.6L Duramax diesel engine with 365 hp and a whopping 660 pounds-feet of torque.  The transmission in the 2500 and 3500 series has two overdrive gears for better fuel economy and a touch-up or down control to change gears when climbing or descending hills. This will certainly help for gearing down the load on tough hills. The Duramax engine will be mated to a 6-speed Allison automatic transmission. New particulate filters on the engine will reduce black soot and NOx (nitrogen Oxide) emissions to help improve the environment.
For 2008, you will be able to choose from three cab styles (crew cab, extended cab, and regular cab), three different box lengths, and five chassis wheelbases. Five different suspensions will be available and trailer towers will appreciate the NHT suspension that is designed for maximum towing capacity with monotube rear shocks, 17-inch wheels and high capacity rear springs.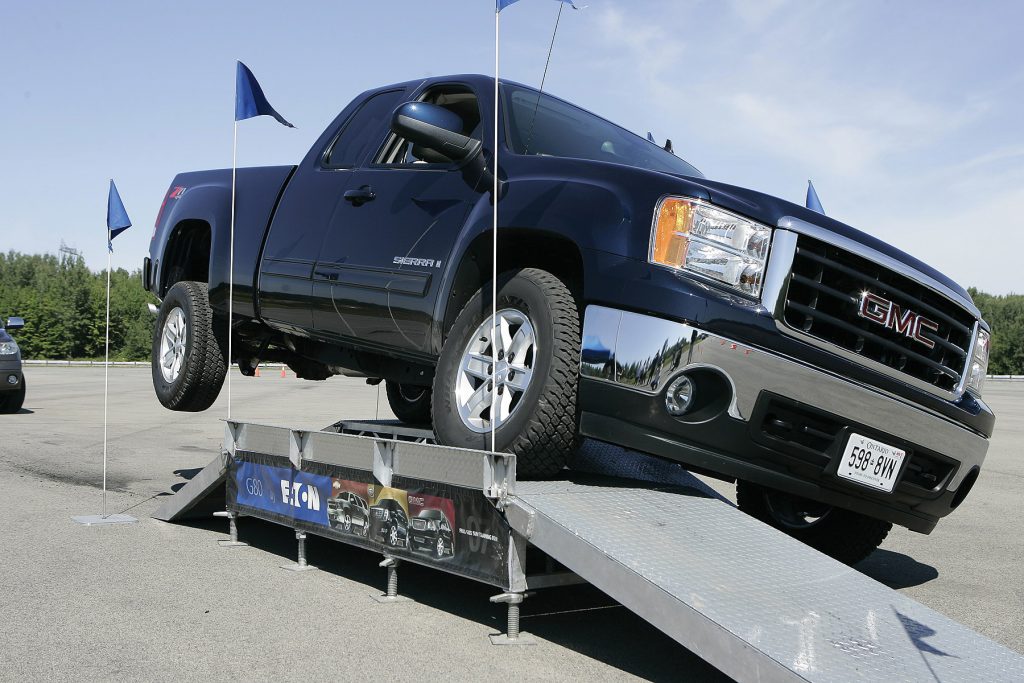 Inside the new trucks, you can have work truck practicality with a rugged interior to withstand wear and tear, or an upscale luxurious cab with all the creature comforts. The combinations could be endless. Standard on crew cabs will be a stadium-style rear seat with a 60/40 split design. It can be easily folded to provide an uninterrupted floor for loading. Other features include navigational radio with XM satellite radio service, heated leather seats, entertainment systems for rear seat passengers, a sunroof, and rear doors on the crew cabs that open 180 degrees for easier loading.
To get the power to the road, 17 and 20-inch wheels and tires are available throughout the range of models, and a bright-finish 22-inch wheel is available as a dealer installed option.  The trucks have earned a five-star crash rating from NHTSA, and provide increased compatibility with other vehicles in the event of a crash. Optional roof-mounted roll-over head curtains are integrated into the strengthened chassis and body structures to provide excellent passenger protection.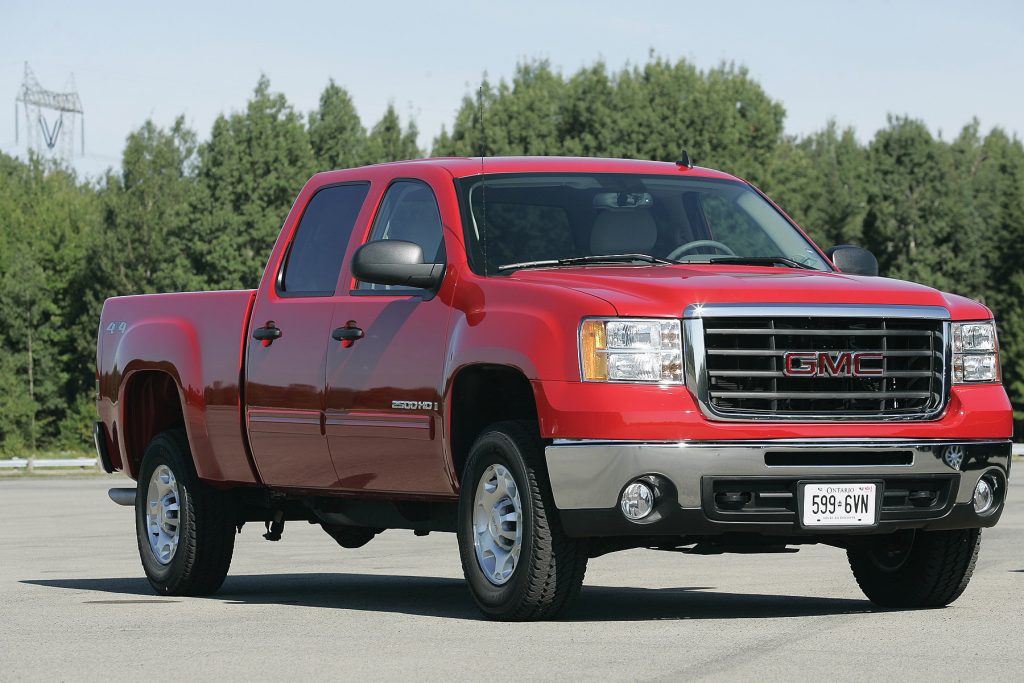 You'll never drive alone as all models come with a one-year OnStar Generation 7 system that includes the General Motors Advanced Automatic Crash Notification system that makes crash data available to emergency services so that appropriate life-saving personnel can be dispatched to crash scenes without delay. This system can also provide remote door unlocking service and assistance in finding a stolen vehicle.
The maximum trailer package combines the 6.0L V8 engine with a 4L70 four-speed automatic transmission and a heavy-duty 9.5-inch rear axle, locking differential, a 4.10 rear axle ratio, heavy-duty cooling system and other enhanced features. Prices for the Silverado and Sierra trucks start at $29,785 for the popular 1500 series crew cab model with a short box.