Definitely not a minivan anymore!
By Andy Thomson
This review originally appeared in RV Lifestyle 37-1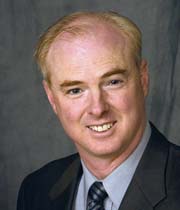 If you read this column regularly, you will know that I like the towing dynamics of front drive vans. The combination of a wide stance, good overhang to wheelbase percentage, rack and pinion steering, low centre of gravity and generally good tire and wheel combinations make them stable tow vehicles. As well, they have substantial interior room and offer a great deal of convenience as an everyday vehicle, easy to park and good on fuel.
We have set up hundreds of front drive vans for towing, and always have one in our demo fleet. Just at a time when GM & Ford have decided to exit the minivan business, Chrysler has completely redesigned their 2008 models. Although Chrysler invented the minivan, it would be hard to describe these new models as "mini". The wheelbase has grown to 121", and unfortunately the rear overhang has grown to 47", or 38% of the wheelbase, still pretty good for towing, but not quite as good as past models. The curb weight is up to 4600 lbs., which is only a few hundred pounds less than a full-size pickup and at least 1000 lbs. more than the first minivans from the 80's. The extra weight goes into a nice solid body structure, which combined with the smooth suspension gives the Town and Country a very quiet and comfortable ride.
The biggest difference for towing is a new heavy-duty 6-speed transmission mated to a 24-valve 4-Litre engine with 253 hp, and 262 torque. At the moment this engine is only available in the fully loaded Town and Country. Base model Grand Caravans and Town & Country's have the 3.3-Litre V-6 which is not a bad engine, but it is still mated to the old 4-speed transmission. With the added weight of the new van, I would definitely go for the larger engine. Fortunately, upgrading slightly gets you the 3.8-Litre engine with 197 HP and 230 torque and the new six-speed tranny. Though not as powerful as the 4.0-Litre, it is almost identical to the capabilities of the Ford Freestar engine that we towed with for so long and combined with the 6-speed it should be more than adequate for trailers with reasonable aerodynamics. EPA ratings are the same for both engines. Knowing Chrysler, it is likely only a matter of time before the 4.0-Litre is available in more models.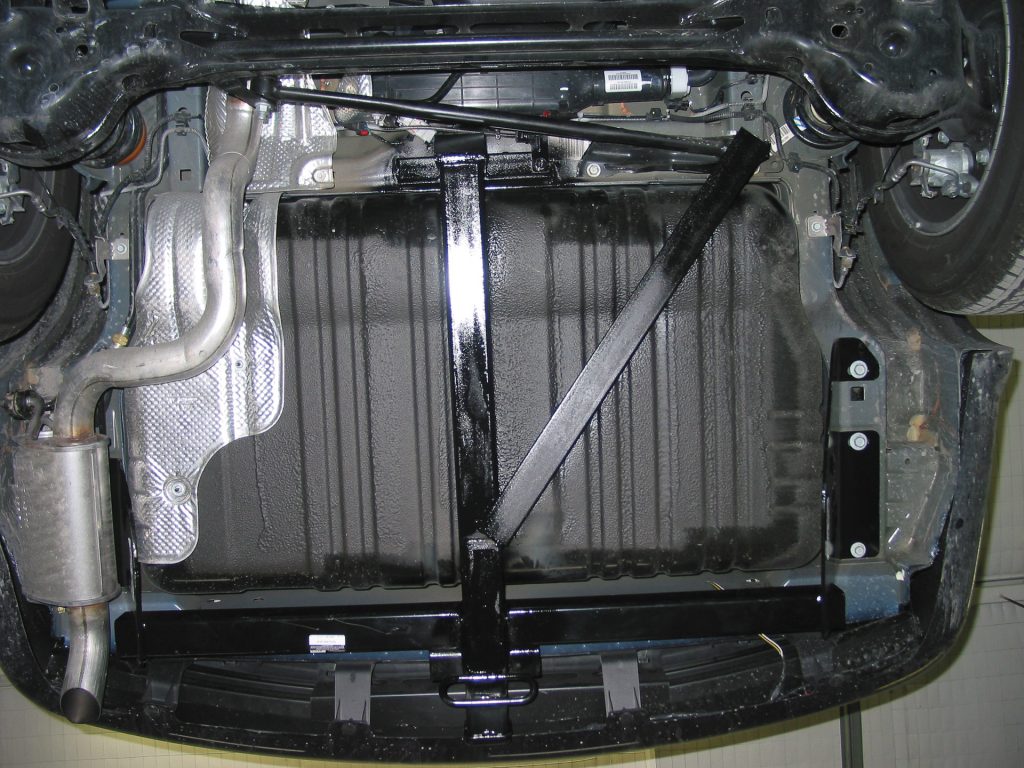 Unfortunately, a little of the SUV big tire philosophy is starting to appear in vans. The Town & Country came with 225/65R x 17" tires with very soft sidewalls. Even on dry pavement, they would squeal quite easily whether accelerating away from a stop or during a mildly spirited run through an on-ramp. The other issue we had with the large tires was that when pulling a Trail-Lite trailer in fifth gear there was very little reserve before it shifted down to fourth gear. In fourth gear, there was plenty of power, but the engine was turning faster than necessary most of the time. We changed the tires to 225-55HR x 17" tires. These tires give 6% more rpm. At 100 KPH running solo in sixth gear, the engine loafs along at 1600 RPM. Towing in fifth gear at 100 KPH it turns 2575 rpm. Most interstate grades can be handled easily in fourth gear at 3750 rpm.  0-100 KPH with the 6000 lb. 28' Airstream attached takes only 23 seconds, which is excellent.
The suspension would be a little soft for towing in many vehicles but with the van's wide stance and low centre of gravity the handling is good now that we have the lower profile tires. I am a little concerned whether the rear springs will ultimately be stiff enough – they are augmented with Nimovac rear shocks, which have a built-in oil pumping system that is powered by the action of the shocks going over bumps on the road, so they automatically stiffen and support load once the vehicle is moving.  If you look closely at the picture you will see the van is slightly low at the back, but once moving it levels out. The springs seem pretty soft so I wonder – if they age a little, will the shocks be able to compensate enough? Fortunately, rear springs are easy to upgrade in this vehicle if it becomes necessary.
My brother Kirk and his family just returned from a trip to Florida with a 28' Airstream and the Town and Country. He was very impressed with the fuel economy considering the speeds he was driving, and the performance on hills. A run up a twisty two-lane road to Hooper Bald Pass in North Carolina at 5300 feet was easy to do in third gear most of the way. One of the nice things about a 6-speed transmission is not having the flat spots between gears, so if you get slowed way down going around a switchback it can easily make the jumps up through the gears to climbing speed. Another very nice feature on the Town & Country is a dash-mounted shifter, about four inches from the steering wheel, which allows you to manually select any gear without reaching or taking your eyes off the road. If you are one of the many RV'ers currently towing with a van and are wondering what your next vehicle might be, you will find the Chrysler more powerful, very quiet, and smooth but slightly less stable.
Town & Country Fuel Economy
 
 
 
Condition
US MPG
IMP. MPG
L/100 KM
105 KPH Solo
24.3
29.2
9.7
100 KPH Towing 28′ Airstream.
12.9
15.4
18.2
 
 
 
Florida Trip with Airstream 110 KPH
11.7
14.1
20.1