Winnebago has manufactured and delivered the first-ever all-electric mobile preschool to a community in Colorado and it's known as the 'Magic Bus'.
A preschool on wheels from Winnebago? When you hear the company name, you're bound to think RVs. But did you know that they have a Specialty Vehicles division that can make mobile clinics, bookmobiles and food trucks? 
The Magic Bus is a program of the Vail Valley Foundation's YouthPower365 which provides extended learning opportunities that empower and educate youth. From October 5, kids aged 3-5 years will be able to climb aboard for state-licensed early childhood education. Classes will be 1.5 hours and of no cost, helping ensure that critical learning is available to children and families in need. All COVID-19 rules and regulations regarding social distancing and sanitation will be adhered to.
"The children and families served by the Magic Bus need to be kindergarten-ready even considering the current crisis," says YouthPower365 PwrUp Senior Manager Kendra Cowles. "The Magic Bus [will] play a critical role in preparing them to successfully transition to school."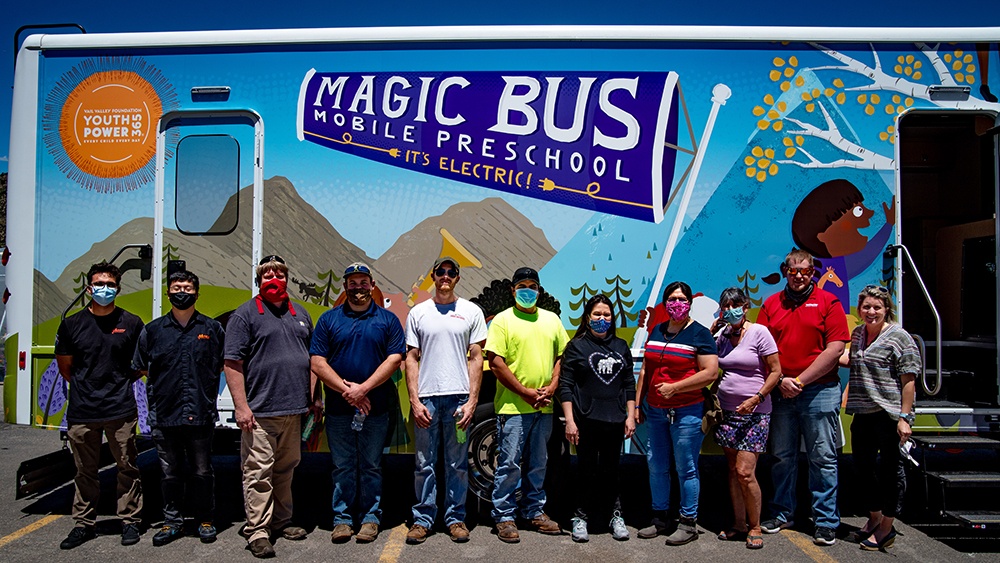 The Vail Valley Foundation's Magic Bus is based on Winnebago Industries' standard J33SE zero-emission commercial vehicle, and utilizes Motiv Power Systems' all-electric EPIC Ford F-53 chassis. Summit Bodyworks of Colorado was responsible for the vehicle upfit. The bus has six batteries, delivers up to 160 km (100 miles) on a full charge and is expected to see up to 85 percent operation and maintenance cost savings.
"The all-electric vehicle will enable operation in a quiet, emission-free manner," said Robert Kim, Director of the Winnebago Industries Specialty Vehicles Division.  
"Motiv's mission is to free fleets from fossil fuels, so it's encouraging to see community outreach merge with emission-free transportation to provide education to families who are unable to access brick and mortar facilities," said Matt O'Leary, Motiv Chairman and CEO.
The Magic Bus will join a gas vehicle in its scholastic efforts. They will both operate four days a week, travelling from neighbourhood to neighbourhood.
---
Winnebago Industries, Inc. manufactures lifestyle products and commercial vehicles under the Winnebago, Grand Design, Newmar and Chris-Craft brands, which are used primarily in leisure travel and outdoor recreation activities. The company builds quality motorhomes, travel trailers, fifth wheel products, boats, and commercial community outreach vehicles. Since the 1960s, its Specialty Vehicles division has leveraged motorhome platforms to design and build custom community outreach vehicles for customers around the world.