Toronto Spring Camping and RV Show – a sell-out success!

By Norm Rosen, with files from the Toronto Camping and RV Show communications team.
The Toronto Spring Camping and RV Show, produced by the Canadian Recreational Vehicle Association (CRVA) ran from March 2 – 5, 2023 at the International Centre, Malton, Ontario, right across from Toronto Pearson International Airport.
The "Big One" – Canada's #1 RV Show, brought together the largest RV dealers in Ontario to create a massive indoor display of the latest in RV design and technology, spanning all types of trailers, campers, and motorhomes. Participating dealers were enthusiastic to offer consumers the best deals possible on a full range of RV models, including several new RV brands making their Canadian debut.
For a listing of participating RV dealers, including the brands that were on display at the show, please follow this link:
https://torontospringcampingrvshow.com/rv-dealers-brands/
Tens of thousands of RV enthusiasts visited our spectacular new RV Lifestyle Magazine booth, in the connector hallway across from the RV Parts Marketplace…


Parts and Accessory Store – from 1000 Islands RV

This year's host dealership for the Toronto Spring Camping and RV Show was 1000 Islands RV, from Kingston, Ontario.
Seminars – Everything You Need to Know about RVing!
RV experts presented a series of seminars on a wide range of RV related topics.
CLICK ON THE BLUE HEADINGS TO VISIT THE WEB PAGES FOR EACH SEMINAR
Headlining the series are: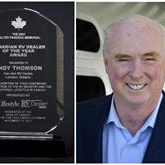 Presented by Andy Thomson, President, Can Am RV Centre
Andrew (& Brother) Kirk Thomson grew up in the RV industry, taking over Can-Am RV Centre from their father, Andy Sr., who established the dealership in 1970. Andy Jr. started working at the dealership when he was 11 years old, observing and assisting his father as they learned everything they could about trailer hitches, towing, and RV service and was named the recipient of Canadian RVDA Dealer of the Year in 2021. Since 1987, Thomson has written a column called "Hitch Hints" for RV Lifestyle magazine and followed by everyone in the Industry. We are thrilled to have Andy back in the The Toronto Spring Camping and RV Show to offer his advice and safety tips for towing an RV. Come learn from Andy and his expertise on towing an RV. Sessions daily.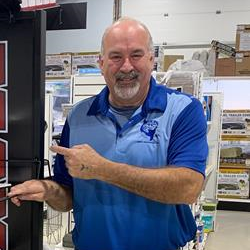 Presented by David Elliott, GWN Marketing Inc.
If you're like most campers, you may know that running your RV on solar is possible, and requires an investment in RV solar panels… but little else. But as it turns out, it's not as simple as just strapping panels to your rig's roof and plugging in your blender to whip up your favourite breakfast smoothie. RV solar might seem a little complicated at first, but don't worry: we're going to break it down for you so you understand every component it takes to outfit your RV with solar power.
PLUS:
A leaking roof can quickly destroy an RV and yet most people don't know how to prevent them. Find out what you should do to prevent leaks to your roof, siding and windows to keep your RV dry.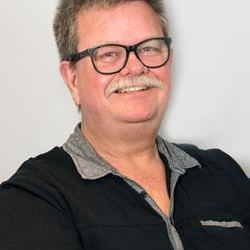 Presented by Rick Neddow, Trekker RV
Regular maintenance is key to ensuring trouble free enjoyment with your vacation on wheels. Learn about your RV & maintenance requirements from Rick Neddow a licensed RV service tech and owner of Trekker RV Repairs in Durham, Ontario.
Presented by Leroy Burkhart, Commercial Tire Service Manager, Bast Tirecraft Waterloo
Regular monitoring and maintenance are critical to keeping your RV on the road. your RV. Proper care can enhance handling, improve fuel economy, prevent irregular tire wear, and extend the life of the vehicle and its components. Learn how to prevent problems from Leroy Burkhart from Bast Tirecraft.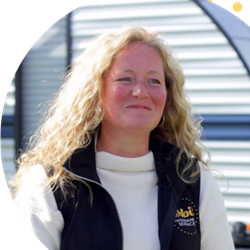 Presented by Amy Bradley, Business Development RV/Explorer RV Club & Senior Broker
Do you have any burning questions about RV insurance? Whether your home away from home is a trailer, motorhome or park model, it's important to have the best, most complete protection possible. In this session we'll cover the basics of RV insurance, answer frequently asked questions and provide tips to save on your premiums.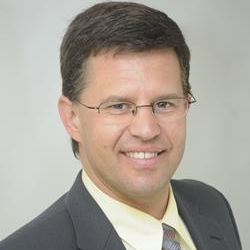 Presented by Peter Bristow, Partner, Aqua-tek
Why do the black and grey water tanks stink? Why do we have to use special toilet paper? Why have the sensors stopped working? This seminar answers these questions, educates on how holding tank treatments work, and teaches you how to make them work better!
Presented by Shane Devenish, President, Canadian Recreational Vehicle Association
Find out why the RV Lifestyle is more popular today than it has ever been! What is a Recreational Vehicle? Who are the Major Manufacturers? What are the different RV types and what is best for my family? Why is the RV Lifestyle so popular? What type of RV is best for me? Where can I go? Learn about RV Financing and where you can go camping. Get all of your questions answered at this seminar put on by the Canadian Recreational Vehicle Association.
For a full schedule of RV Show seminars, please follow this link:
https://torontospringcampingrvshow.com/rv-show-seminars/
RV Parts & Accessory Store & Marketplace featuring 1000 Islands RV! 
1000 Islands RV Centre had some great show specials exclusive at the 2023 Big RV Show! It was the ideal opportunity to stock up on RV & Camping Accessories!
Family Photo Op!
Toronto Spring Camping and RV Show visitors had the opportunity to travel virtually around Canada, to take photos against the green screen background that displayed a wide range of favourite and scenic destinations. Show visitors could create digital memories courtesy of Wayfarer Insurance!
Meet The Travelling Perry's!
For the last year and a half the Perry family has been travelling across Canada, living in their @salembyforestriver travel trailer. They have travelled from Ontario to British Columbia and spent their first #wintercamping on Vancouver Island. Their time was spent adventuring, learning how to homeschool, work camp, and work online. Now they have returned to in Ontario, putting the trailer in storage and spending the winter #staycationing in Toronto and coming to #TheBigRVShow to tell everyone about their experiences.
Follow the journey on Instagram @travelinperries and send them a message if you have any questions about travelling, RV mechanics, homeschooling, working remotely or work camping.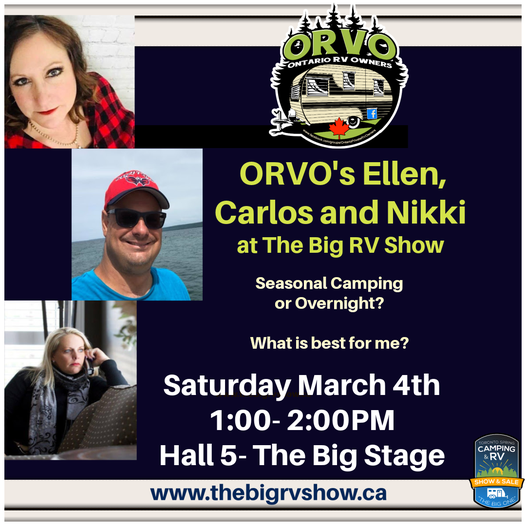 Are you thinking about the RV Lifestyle but not sure whether to go seasonal or transient (overnight)? The Ontario RV Owners (Canada) "ORVO" is a Facebook group with over 24,000 members and are a great source for everything RV and Camping. Visitors to The Big RV Show met Carlos, Ellen and Nikki, and enjoyed the opportunity to learn more about what ORVO members think is best!
Deanna Earle Starred on The Big Stage!
Deanna has been singing since she was young and has a passion for country music. Deanna began writing songs and learned to play guitar a few years ago during a battle with cancer. Deanna decided to pursue her love of music and released an EP called "Livin'" in 2019. 2021 brought two new singles for Deanna called "Everything to You" and "Pretty Girl". When Deanna isn't performing or writing, she is working full-time as a teacher.
Deanna entertained visitors to the Toronto Spring Camping and RV Show, Saturday March 4th and Sunday March 5th on the Big Stage in the Go RVing "Wildhood" Zone in Hall 5.
Charlie Bird Onstage!
The Toronto Spring Camping and RV Show welcomed Charlie Bird to The Big Stage in the Go RVing Activity Zone in Hall 5! Normally, Charlie Bird plays with his 5 piece band but for this special performance, he played acoustic guitar with Terry Whalen! RV Show visitors enjoyed the opportunity to sit back and relax with their favourite beverage during The Toronto Spring Camping and RV Show.
Brendan Michaels Live!
The Toronto Spring Camping and RV Show was excited to welcome back Brendan Michaels to The Big Stage in the Go RVing Activity Zone in Hall 5!
Fun for Kids of all ages…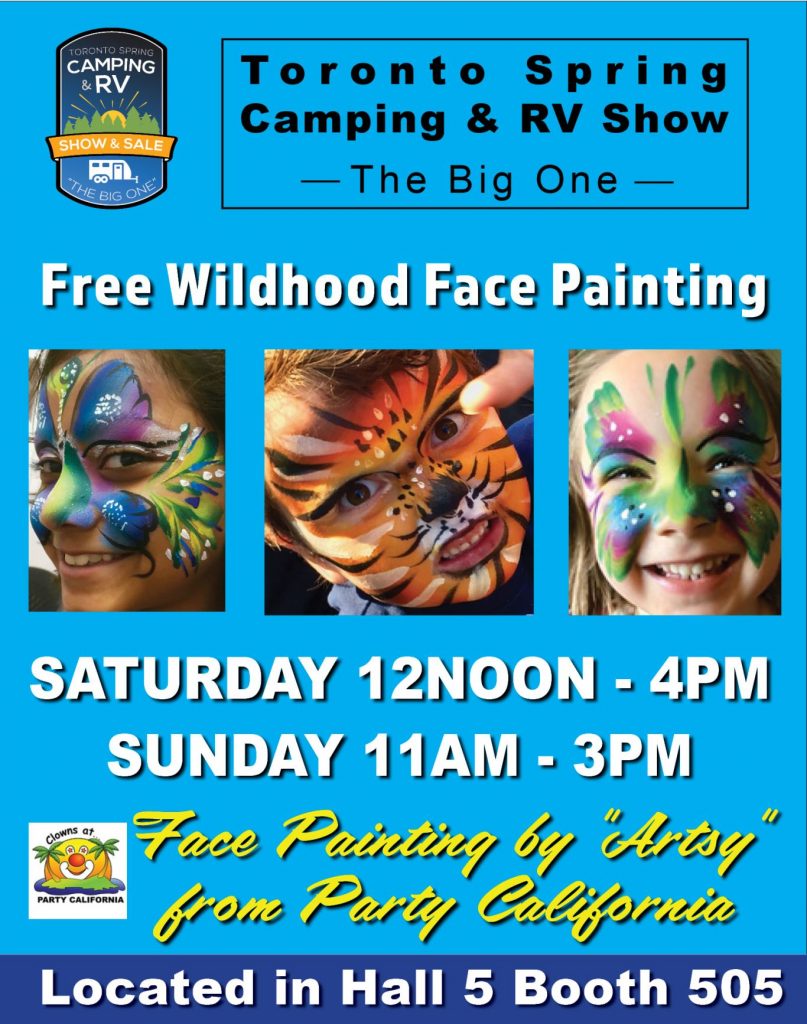 Many families took advantage of the opportunity to bring their kids for a special face painting experience in the Go RVing Canada "Wildhood" Zone in Hall 5!
Kids loved the Future Camper Zone, and many entered the colouring contest for some great prizes!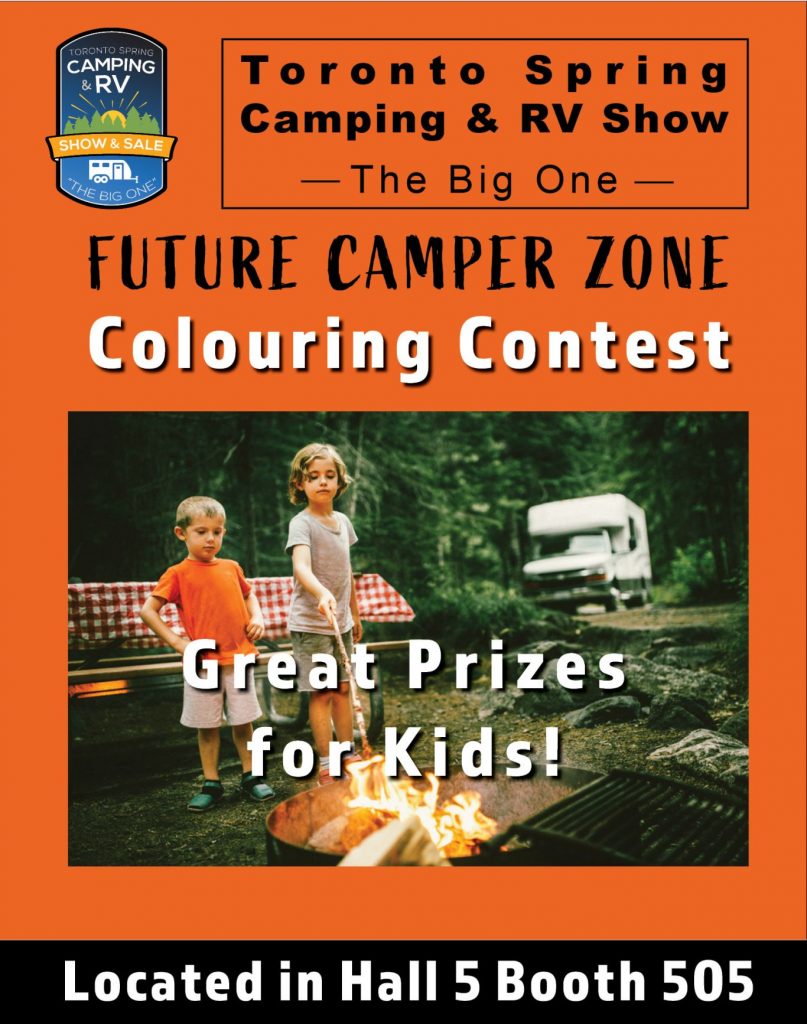 For more information on the RV Show features, please visit https://torontospringcampingrvshow.com/show-features/