This feature appeared in RV Lifestyle Magazine Volume 41 No 4, in June, 2012
Links have been updated as of May, 2023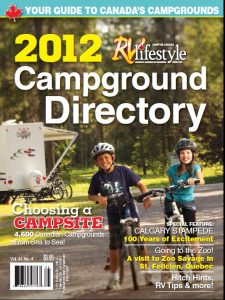 The tourism fascination surrounding the Calgary Stampede continues, as the "greatest outdoor show on Earth" is scheduled to take place July 7 – 16, 2023.
Here is our special feature – from the archives… 
The Calgary Stampede at 100 – and Other Hidden Treasures
Story by Lynn Benjamin
Calgary is the epitome of the Wild West – at least during the Stampede! There is a lot to see and do in the city itself, but we are RV'ers who try to find those hidden treasures beyond the city that are seldom included in the latest travel brochure. If you want pristine mountain parks, head west.
If you want to experience Alberta's vast open spaces and big sky, head south or east. First Nations Interpretation Centres are scattered throughout the province and almost every town has a museum or historic site to investigate.
If you want the excitement and adventure of "The Greatest Outdoor Show on Earth" and its dynamic home, check out the Stampede and City of Calgary!
THE CALGARY STAMPEDE
What can you say about the Calgary Stampede? It's "The Greatest Outdoor Show on Earth" and "2012" is its 100th year. The Stampede takes over the entire city for the ten-day extravaganza. The usual "suits" that fill the downtown towers transform themselves for the Stampede season by donning traditional cowboy outfits – especially hats and boots! The entire city goes "Stampede style", welcoming visitors from all around the World. If you get downtown early enough in the morning, you can catch one of the many Pancake breakfasts and Country/Western music sites that are scattered throughout the area.
GUIDELINES
In order to get a curb location you need to be up and on your way with the sun (if not before). Some fanatics set up the night before and sleep over. You will see chairs chained and locked to a light post to make sure no one takes their place. These days, some companies put up bleachers and sell seating.
You need to dress appropriately. Minimum Stampede costume is cowboy boots and a cowboy hat, but (depending on the weather –that can be anything from scorching sun to snow flurries) a sun-hat, sun screen lotion, extra water and munchies, a warm jacket, warm blanket, mitts and an umbrella may be in order. Surprisingly we have only missed one parade because of bad weather.
DON'T FORGET YOUR CAMERA! You may need an extra battery and memory cards – you will take ump-teen dozen photos.
Beware of the parade horses and their riders – the riders have been know to lasso spectators and horses have been known to leave "presents" on the road or even become skittish around so many people. There are about 850 parade-trained horses.
THE PARADE
The BIG ten-day event starts on the first Friday in July with a monstrous parade that lasts over two hours and shows off spectacular floats; a multitude of marching bands; magnificent representation from our First Nations communities; famous people and famous horses – it is a visual adventure in pure splendour and entertainment. they say that only the Rose Bowl Paradise is bigger. The Stampede is really a community holiday and you would be hard-pressed to find any business open.
These days, finding a good place to watch the parade can be a challenge of a lifetime.
WHERE IT ALL HAPPENS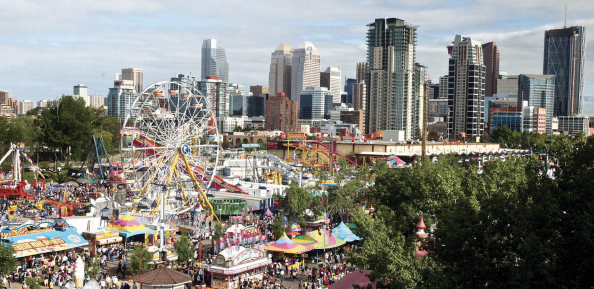 Be prepared to walk! I would say the Stampede and Exhibition Grounds are roughly in the middle of the city. There are almost a dozen different exhibition, entertainment, and rodeo areas that cover over 137 acres (Read all about the Stampede in this article from Canadian Geographic )
The Big Four Buildings house the Agricultural Exhibits: a cattle pavilion, arena, show and judging rings; agricultural products; and equipment and machinery.
The Indian Village was a part of the Stampede right from the beginning in 1912. (This area was re-imagined, renamed and relocated in 2016 to the Elbow River Camp, in the Enmax Park area, in keeping with the spirit of reconciliation with the First Nations peoples).
If you let your imagination take over, you can picture yourself in a traditional First Nations village with all the children running around and women working over open fires. There has always been a strong alliance between our First Nations people and the Stampede. The five First Nations tribes of Treaty 7: the Siksika, Piikani, Kainai, Tsuu T'ina, and Stoney Nakoda Nations have built a 26 tipi village to celebrate their colourful heritage.
---
EDITOR'S NOTE, 2023:
The Calgary Foundation for Community, in the spirit of reconciliation, acknowledges the traditional and historic legacy of the area…
"In the spirit of respect, reciprocity and truth, we honour and acknowledge Moh'kinsstis, and the traditional Treaty 7 territory and oral practices of the Blackfoot confederacy: Siksika, Kainai, Piikani, as well as the Îyâxe Nakoda and Tsuut'ina nations. We acknowledge that this territory is home to the Métis Nation of Alberta, Region 3 within the historical Northwest Métis homeland. Finally, we acknowledge all Nations – Indigenous and non – who live, work and play on this land, and who honour and celebrate this territory."
This sacred gathering place provides us with an opportunity to engage in and demonstrate leadership on reconciliation.
For a schedule of attractions focusing on the First Nations and the Elbow River Camp, please visit this page: https://www.calgarystampede.com/stampede/attractions/elbow-river-camp
For additional background information on Elbow River Camp, the re-imagined area where you can experience the culture and traditions of the Treaty 7 First Nations at the Calgary Stampede, please visit the Avenue Magazine Calgary website at: https://www.avenuecalgary.com/calgary-stampede/the-story-behind-elbow-river-camp/
---
The Midway, for me, the midway at the Calgary Stampede has always set the standards for what midways should be. The rides, the food, the fascinating  people – it just couldn't be better.
ENTERTAINMENT
Photo by: Mike Ridewood © Calgary Stampede

Nashville North is a free entertainment venue for adults (ages 18 and above). With a capacity for 18,000 people, dance floor and bar-style seating, it hosts popular country music performances and DJs.

The Coca Cola Stage is a free outside stage that sits next to the Big Four building. If you don't like what you hear, just wait 5 minutes! Rock n' roll, country, pop and Indy acts attract passers-by as they work their way from the entrance to the midway. This year, Paul Brandt will be playing in the coke stage every day.
The Grandstand is the centre if the activities. The bleachers along with standing-room can accommodate up to 20,000 people. The Rodeo events happen here plus the most popular event – the Chuckwagon Races. After the Chucks, the evening Grandstand Stage Show features top entertainers. This year they are spotlighting Garth Brooks.
THE RODEO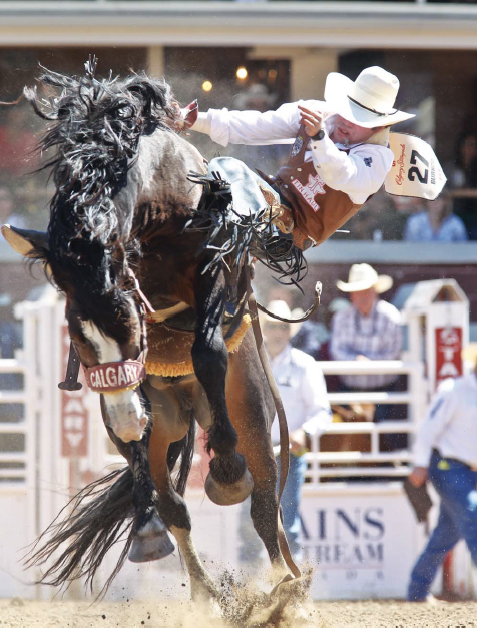 Calgary is a big city now, but at one time it was Alberta's Cow-town – and where there are cows, there are horses, there are cowboys. Calgary was (and still is) surrounded by working farms and ranches. Ranch work is tough – roping, breaking horses, riding, herding, branding – but it is their lives and they are proud of the work they do.
In the old days, after a rough trail ride, rivalry was fierce: the best rider; the best roper; who could break that new horse; who was best all-around cowhand. It was this competition that gave birth to the modern rodeo.
The Calgary Stampede Rodeo is the biggest and the highest prized rodeo in Alberta, but it is not the only one, and not the first.
For additional information please contact:
Travel Alberta
http://travelalberta.com/
The Calgary Stampede
http://www.calgarystampede.com/
---
SOUTH OF CALGARY
Word has it that the first organized stampede in Canada was at Raymond, Alberta about 1902 and it still happens every year on July 1st. Check out this historic event at the Raymond Heritage Days website
Taber Pro Rodeo (April 28-29, 2023) offers free camping with gate admission. Events include bareback, saddle bronc, bull riding, and timed events steer wrestling, tie-down roping and team roping. They have Muttin Bustin for 6 yrs. and under. In the past the Lee Taylor Band, Corb Lund, Aaron Prichett, Shane Yellowbird have played in the Taber stage. http://visittaber.com/event.asp?EventID=16064

Whoop-up Days in Lethbridge, a mini clone of the Calgary Stampede, will take place  August 24 – 26, 2023. Check this out at: https://whoopupdays.ca/
NORTH OF CALGARY
Benalto (a small hamlet north of Calgary) Rodeo July 6-9, 2023 has been happening for 95 years. it hosts 2 action packed Canadian Professional Rodeo Association (CPRA) sanctioned rodeo performances, as well as a Junior Rodeo. All weekend passes include camping.
The Teepee Creek Stampede is a CPRA pro rodeo held close to Grand Prairie This year's event will be held from July 13 to 16, 2023. It features 4 full nights of chuck wagon racing and pro rodeo. Camping is free.
WHAT WE LIKE BEST IN CALGARY
FINDING OTHER HIDDEN TREASURES (OUR FAVOURITES)
We do tend to travel on our stomachs and hunt out different restaurants:
The Chuck Wagon Café in Turner Valley has a great Alberta Beef burger that was nominated as the best in the Calgary area.

Mary's Classic Soda Shop offers a step back into the '50s with decor and music, burgers, fries, ice-cream sodas and malts.
If it is a horseback or dude ranch experience you're looking for, check out:
Calgary has very few RV parking alternatives: there is one park (that we know of) in close proximity to the city and they might have an overflow site available.
Many communities around Calgary do have campgrounds that can accommodate RVs. Some even offer shuttle service into the city. https://www.visitcalgary.com/things-to-do/stories-from-calgary/12-campgrounds-rv-parks-close-to-calgary
If you are looking for local camping sites, we like:
Yes, the Calgary Stampede is an outstanding ten-day festival, but don't ignore all those hidden nooks and crannies that lurk in and around the area. You never know, it may just be the beginning of an unforgettable adventure!
---
ATTRACTIONS FOR RVERS:
CALGARY:
Olympic Sports Hall of Fame
There are more than 25 museums located in Calgary that showcase Calgary's western history. One of these museums is located at the site of the 1988 Olympic Winter Games. There currently is a self-guided tour where some of the events were located, including bobsleigh, luge, ski jumping and freestyle skiing. You can also see a ski simulator at the Olympic Hall of Fame & Museum.
https://www.sportshall.ca/sportshall_home.html?lang=EN
Calgary Tower
Built to honour Canada's Centennial, the Calgary Tower overlooks downtown Calgary. The tower, completed in June of 1968, was originally called the Husky Tower, but became the Calgary Tower in 1971. Outstanding views of the city can be seen from the observation deck from glass floor, which looks over 9th Avenue SW and Central Street North.
http://www.calgarytower.com/
Wild Rose Brewery Tour
For $28.48 you can have an up-close look at the craft brewing process, a cold brew to enjoy and a souvenir glass to bring home. http://www.wildrosebrewery.com/
Explore Calgary – 4 Hours
The perfect way to experience the true western wonders of Canada. This incredible Brewster excursion will take you through one of Canada's most authentic cities to the magnificent Heritage Park Historical Village – Canada's largest living history museum. Here, take a step back in time to the old west, and experience life in the early 1900's. A unique and interactive experience that is sure to please. Brewster Tours – Calgary, Banff and other areas
Calgary Zoo and its Botanical Garden
http://www.calgaryzoo.org
Fort Calgary
The original home of the North West Mounted Police http://www.fortcalgary.com/