Discover the charm of this Ontario town!
Story by James Stoness
As you drive across Eastern Ontario, you come across a string of charming little towns and villages, many of which have their roots in the early development of the Canada we know. One of these is the vibrant village of Delta.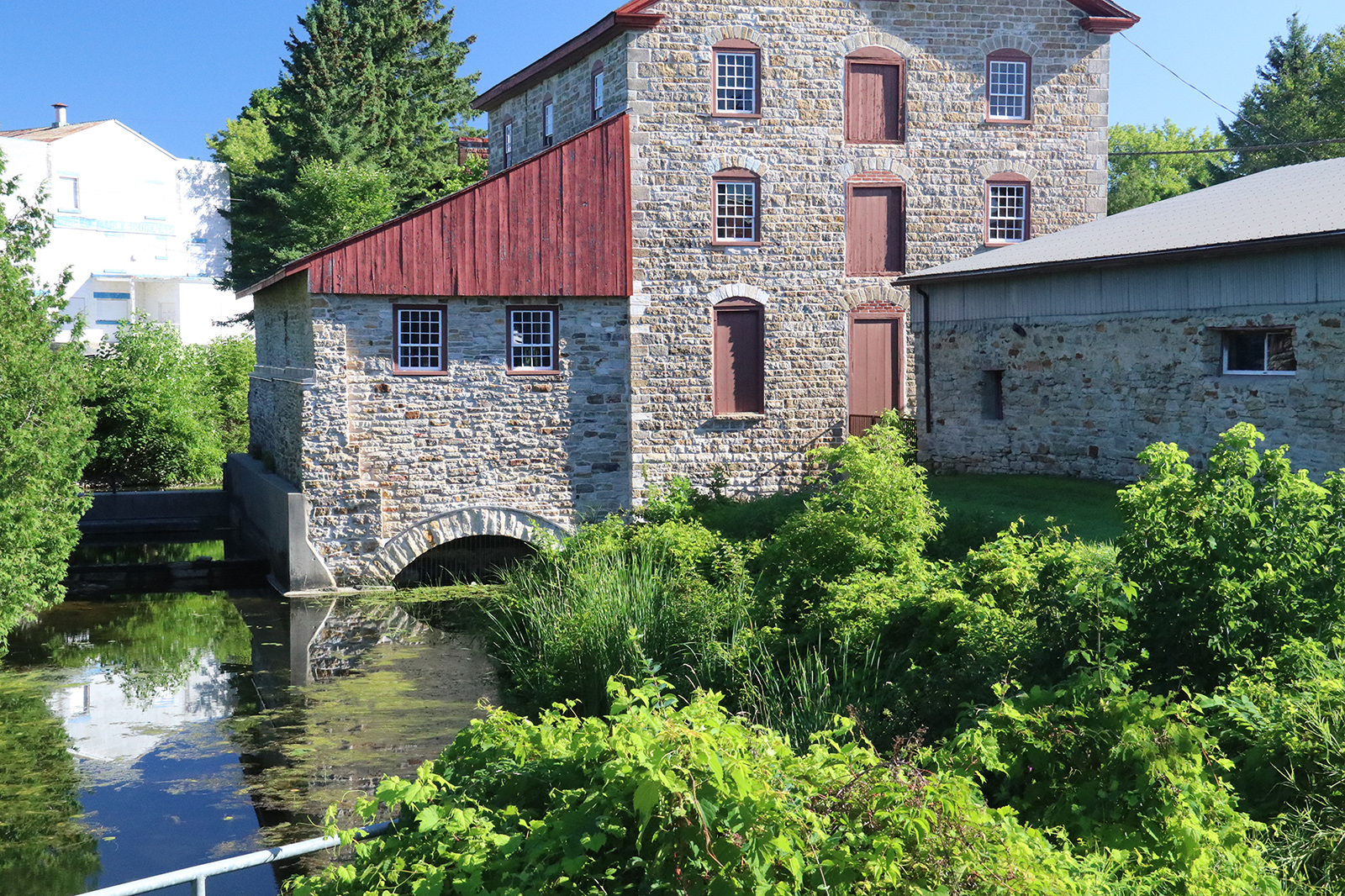 In the winter of 1794, Abel Stevens, along with several other would be settlers arrived in the area. As United Empire Loyalists they wanted to leave Vermont and settle in Canada, in British territory. The area around present day Delta had not even been surveyed for settlement. Stevens sought to be granted some land to settle upon and was given several hundred acres straddling the stream that is now between Upper and Lower Beverley Lakes. The set of rapids on the stream was the beginning of good things.
Stevens took advantage of the stream by damming it and creating a reservoir which unfortunately flooded land that might have become good farm land. But settlers need supplies. They needed lumber and Stevens built a saw mill. They also needed bread. They could grow wheat, however it needed to be ground into flour. Stevens added a grist mill. He could grind wheat to flour, and oats could be processed for cattle feed.
The settlers became farmers and cut the trees, rooted out the stumps, and grubbed out growing places in the tree root laden soil for their seed. Stevenstown was on its way! Stevens wasn't long in the business and in a dozen years he sold out to Wm. Jones and in 1810 Jones built a mill. Little could he have known that he was creating a legacy. He built a beautiful stone factory, 3 1/2 storeys high and solidly placed on bedrock. In fact it would become part of the new dam he would build. He ambitiously diverted the old stream to his location and raised the water level giving a head of about 9 feet. Steven's dam had raised the water about 5 feet. With more acreage flooded, and more pressure he was bound to be successful. His mill was designed to be the most technological mill for the time. In this mill no one had to touch the grain from the time it was unloaded until it was ready to be taken away in its finished form.
The flour produced would make its way to an upper floor where a screening machine would sort it into fine ground flour, or coarser flours, which then went down the chutes to be bagged.
In time these old places make room for new, and since the mid 1900's the effort has been to preserve the unused mill. In 1970 the Old Stone Mill became a National Historic Site and is the only early stone grist mill of that era existing in Ontario.
The reason the mill has remained in the village, in good shape, is because of the Delta Mill Society. This group has been the backbone of the preservation effort. It is a non-profit organization and depends heavily upon faithful volunteers and gifts and donations from the public. They also make a small amount of money from products they have on sale in their gift shop. Anna Greenhorn, who toured me through the mill, has been a strong supporter in the save the mill efforts. Her knowledge of the mill, and her delightful storys made the tour a living memory.
We know that old buildings don't stay in good condition without loving, and expensive care. When you can compare what it looked like in 1970, and what it looks like today, you have to give the team great credit.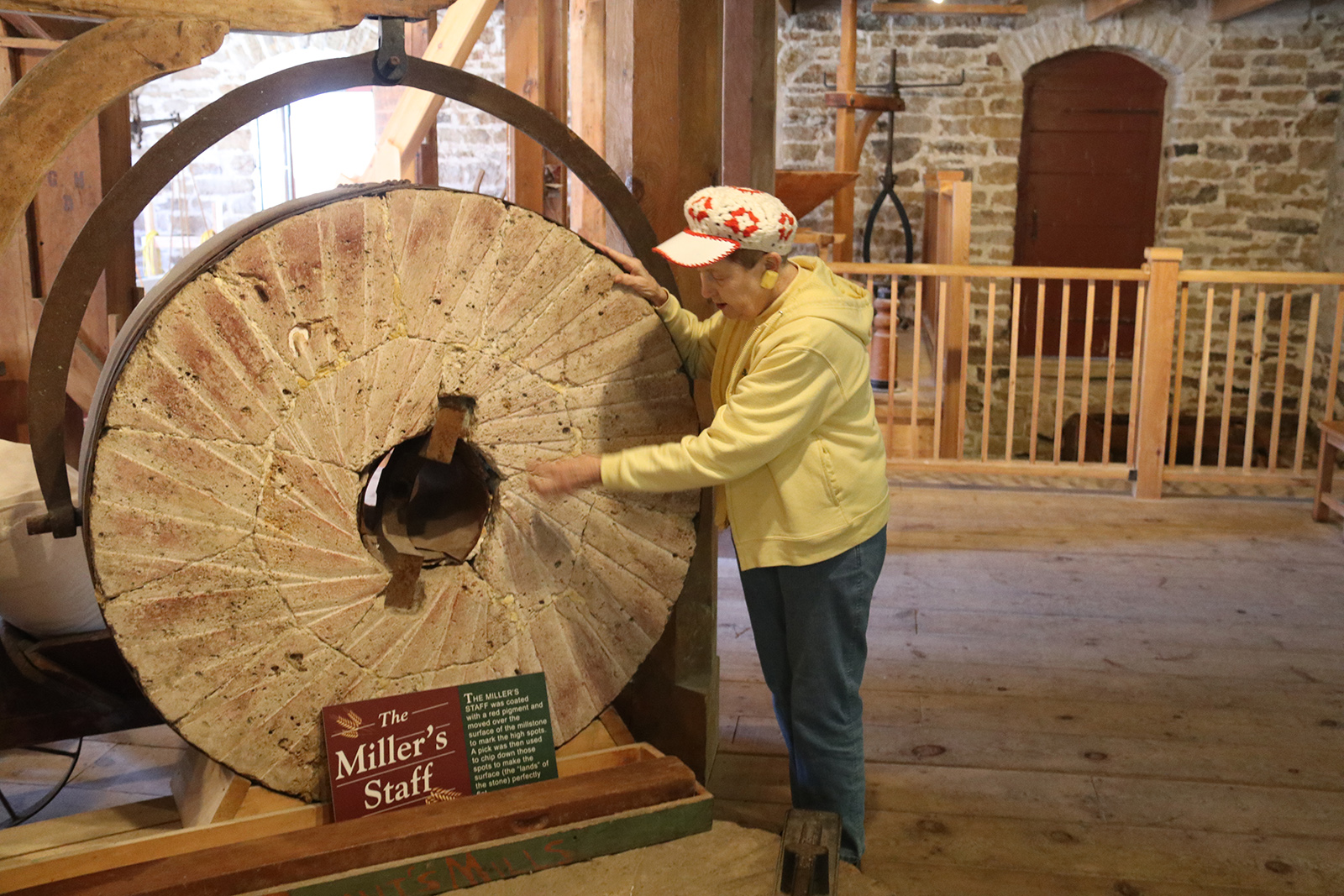 The stonework, probably mostly around the stream, would have taken a lot of time and money to make it secure. The restoration of the building's structure took until late 2003. Now, a mill without a way of powering it, is just a building. It needed a water wheel to convert the power of moving water, to useful work. This was done in 2007. Then they needed machinery from the early 1800's so they purchased a grain cleaner, and the mill stones and other necessary equipment.
The mill stones required a rebuilt mount, called the husk. Success came to them in late 2010 when they produced the first flour in 100 years.
The old system of moving the grain through the mill needed extensive restoring and that has been completed over the last few years. Milling now takes places at certain times during the summer, ably looked after by volunteers who run the demonstrations.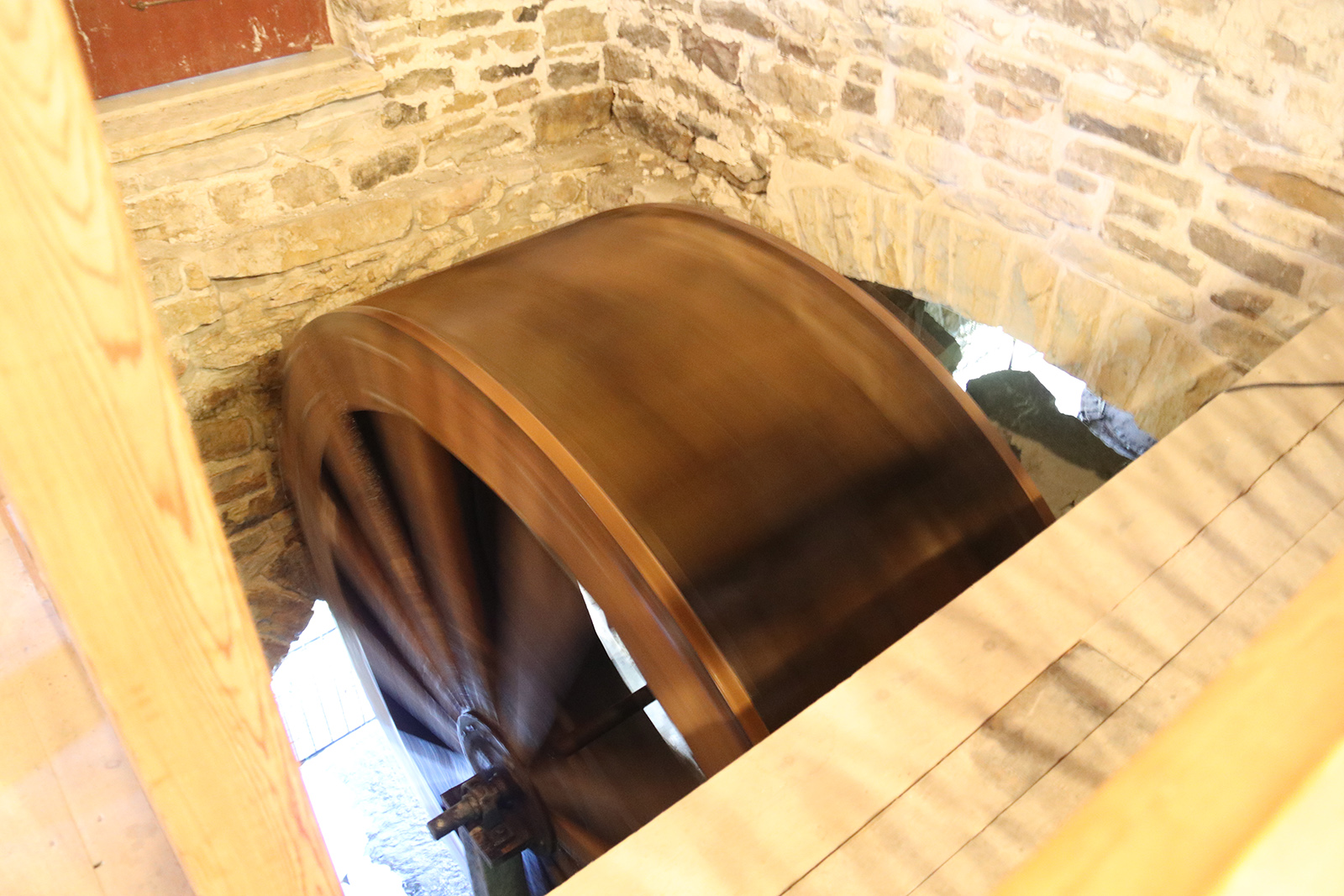 We watched as Chris Wooding prepared the equipment prior to grinding. Chris is a local farmer who grows Red Fife heritage wheat. Red Fife arrived in Canada with David Fife in 1842. Fife had a farm in Eastern Ontario. He apparently liked what he had seen in the wheat crops of Europe and started his crop from just one remaining seed… so the story goes. Under his caring hands he soon had a large crop of Red Fife. Anyhow, Red Fife became the main spring wheat crop grown on the prairies for the next 60 years. In 1964 they erected a stone memorial to David Fife, next to the Trans-Canada Highway about 8 miles east of Peterborough, but unfortunately it was moved to the Lang Pioneer Museum south of Peterborough. There was a sign along the highway as you approach Peterborough from the east pointing out the importance of Red Fife wheat and its development in that area.
Chris grows his organically pure Red Fife, and uses some of his produce to grind on demonstration days at the Historic Delta Mill. It's a painstaking job done by Chris as he starts the mill stone turning and opens the chute to allow the wheat to fall towards the grinding stones. It's important to keep the rotation of the stones at a prescribed speed so as to keep the grinding process cool and to protect the quality of the flour being created. He keeps testing the flour by rubbing it between thumb and finger until he has the proper adjustment of the wheat flow and grind stone rotation speed to give him fine textured flour. Once everything is correct he has to only keep watch. The man who invented the process claimed that such a mill could be run by one person, who poured in the grain. The wooden elevators, and chutes carried the grain through each step in the process until the finished flour slid down a chute and into a waiting bag.
The tours of the mill are carried out by staff dressed in period costumes. They guide you up through the three storey building, showing the various pieces of machinery. Many interpretive signs fill in the more detailed points.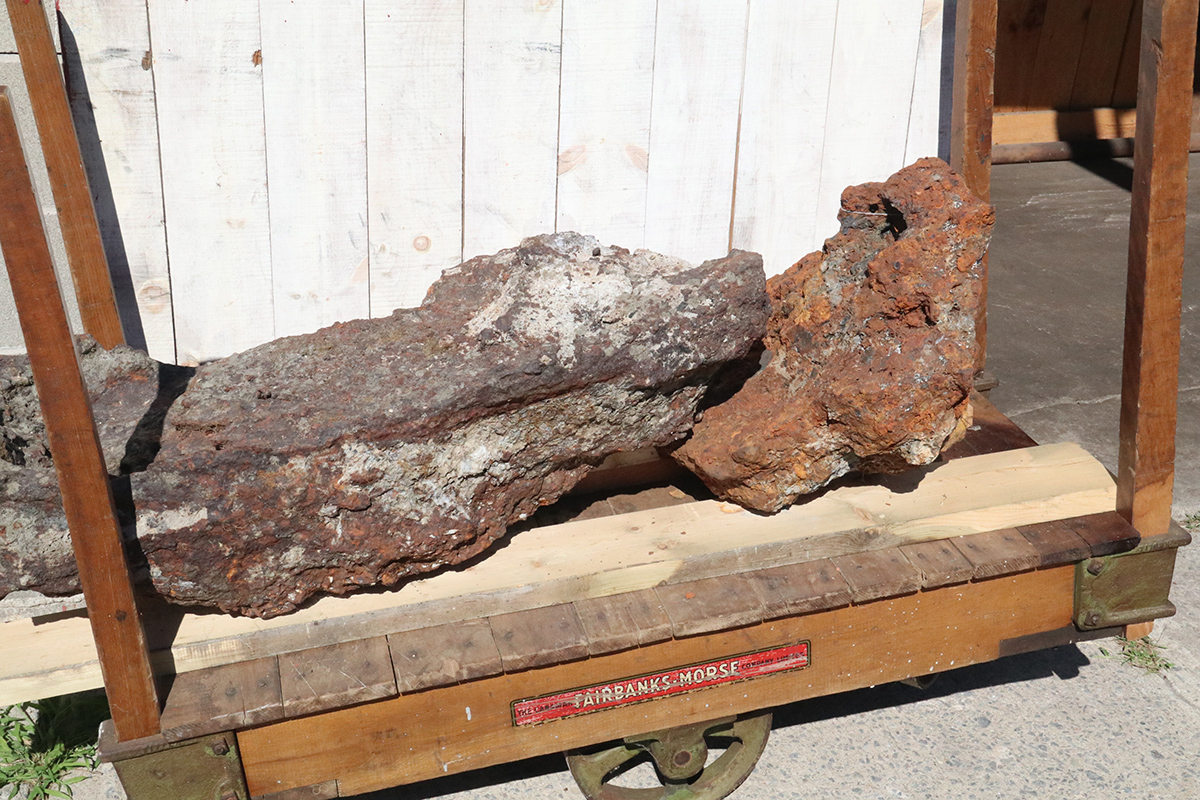 The mill building is itself of interest to those with a fondness for old building construction. Look at the amazing ridgepole which runs unbroken for 50 feet. It is cut five-sided to fit into the vee of the roofline, and to provide flat support sides for the braces.  The craftsmanship of the system of braces and beam is terrific. Especially note the wind braces at the ends of the roof that countered thrusts of winds from all directions. All these angles were planned and created by a human, no computer with design software, and they match perfectly and have done their job for over 200 years.
You can also see demonstrations of blacksmith's work in a room they have converted for that use.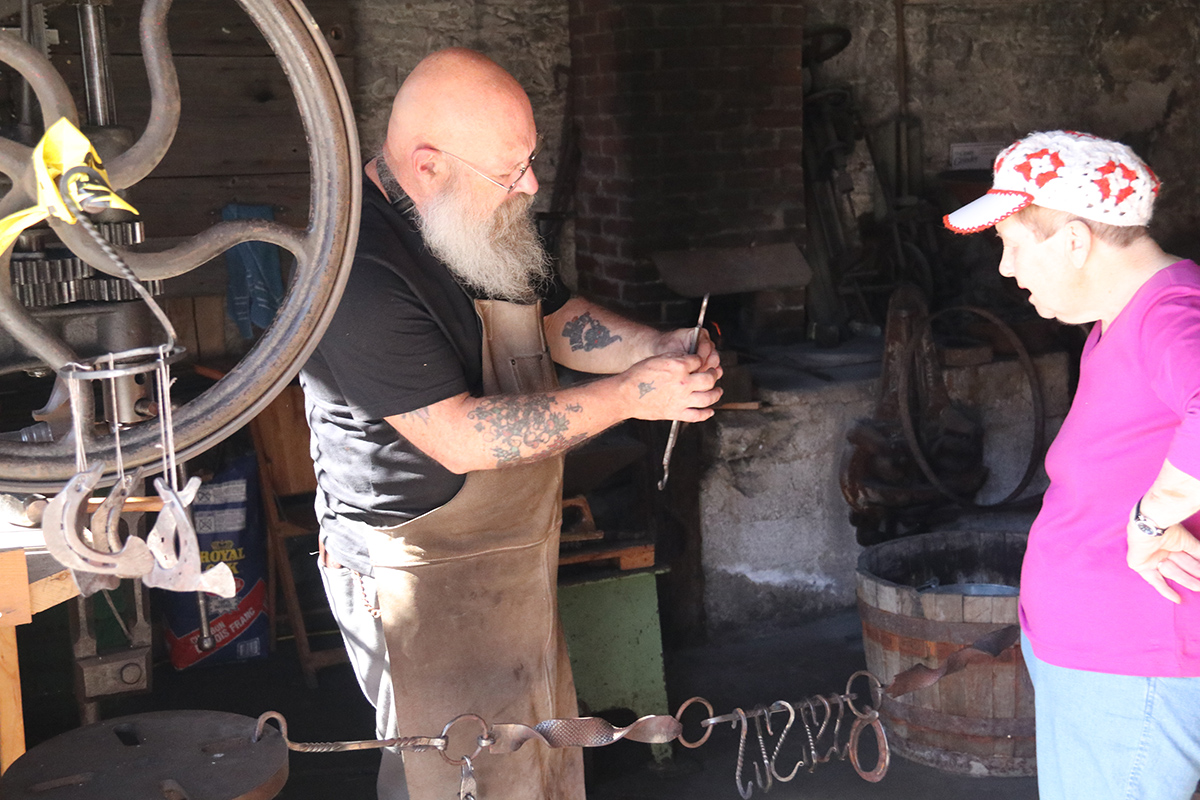 Your visit to Delta must include the Old Stone Mill. It's the diamond in Delta's crown. If you have never visited a place like this be prepared for the sound of the rushing water, and rumbling of mill stones, and the trembling of the floor. It's something you won't forget easily.
It was the mill and what it produced, that built the community. The farmers arrived with their grain for grinding. Wheat gave them flour, and from that flour they could bake their own bread. They might have butter that they made at home from their own milk, and if they had a surplus of milk, and butter, and probably eggs, they had a saleable product which they would take to the settlement to sell.
They needed items that they couldn't grow, and so merchant stores sprang up, and so did the inns because people travelled from place to place, and they didn't want to sleep out under the stars. This meant there would be the taverns for the thirsty traveller. Farmers needed items made from steel, and the blacksmith moved in to all these little villages. He was an important wheel in the cog of civilization. Not only did he make steel items, but he repaired them. He created steel hoops for rims on the wooden wagon wheels and set them tightly on the wheel. The town was on a roll and by 1897 showed 500 residents.
The early village had a tannery, a brickyard, cheese factory, a carriage works and a newspaper. As with so many rural towns there were not enough jobs, young people moved away, and the population shrunk. It's only through the efforts of those volunteers who help with the mill, and the other shows that anyone even knows that Delta exists.
By 1815 the community's name became 'Stone Mills' but that changed to 'Delta' years later.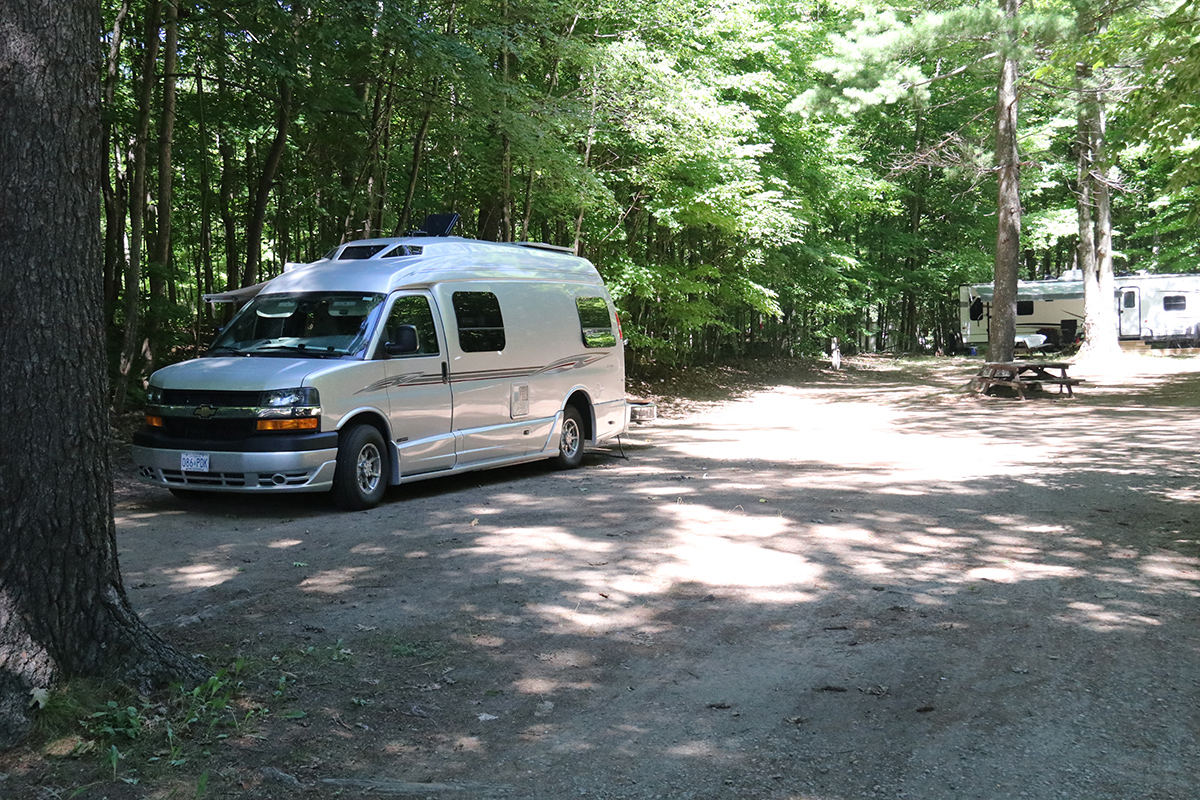 There is a well loved campground in town, the Lower Beverley Lake Park with 235 trailer and tent sites. This is a complete service campground with internet, full hookups, lighted playground, nature trails, a swimming beach, and a boat launch. It also has some very old, and very tall oak trees to provide shade and acorns for the squirrels.
On Saturdays in November and December they 'Celebrate the Season'. Here you can hop aboard a wagon, or have a nice walk if you like, through the park where there are 85,000 lights for your enjoyment.
Here you will hear Christmas carols as you pass the displays and stop for a complimentary hot chocolate by the campfire. There is an admission charge but your enjoyment will make up for it.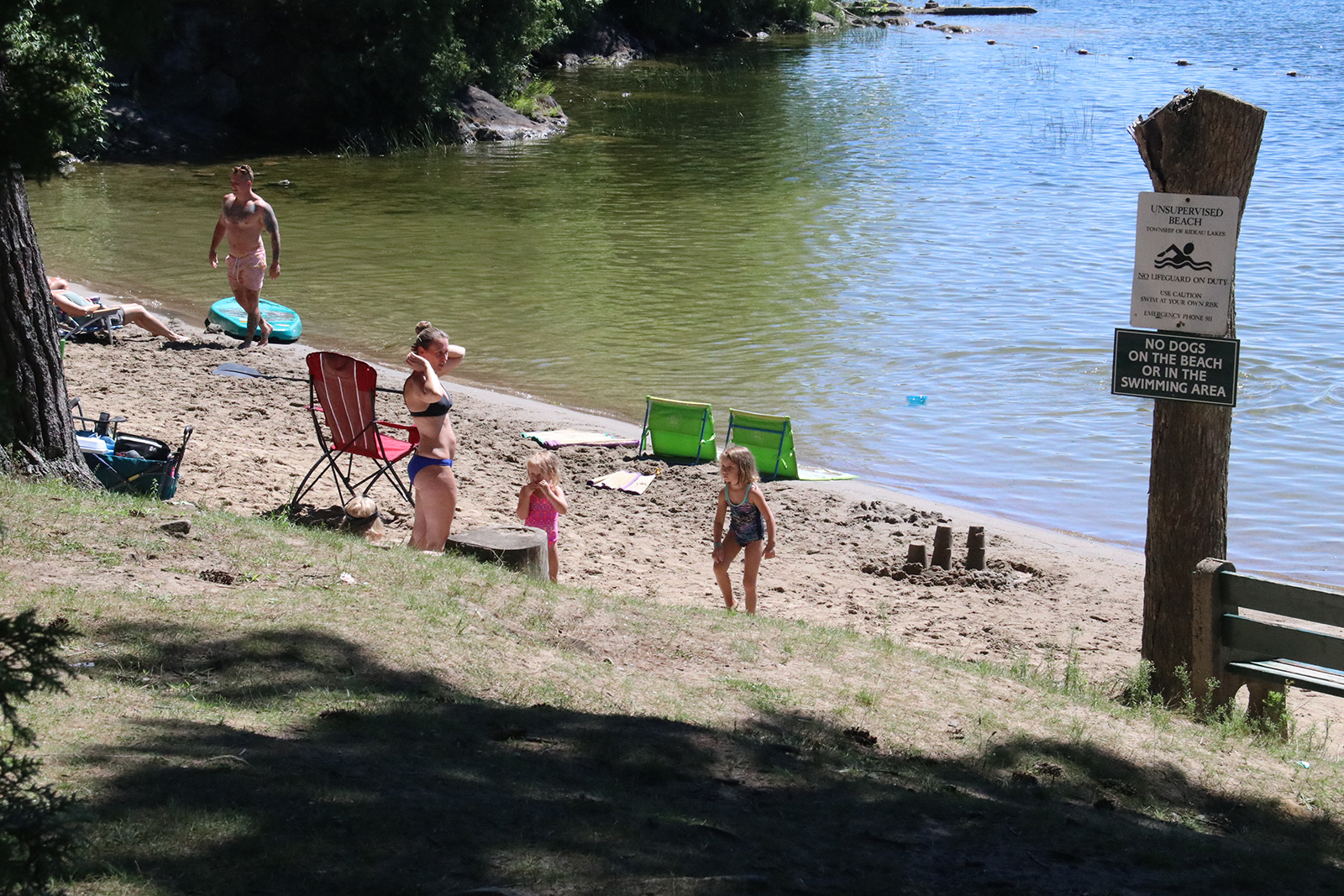 Once spring comes, sap begins to run in the maple trees. Delta Maple Syrup Festival has long been a favourite with visitors from miles away. It's a chance to have your all-you-can-eat pancakes drowned with fresh maple syrup, and an order of sausages. Sounds really tasty. On hand will be venders with maple syrup to take home, and there will be an assortment of crafts, some of which might be just what you've needed.
The Delta fair is held often in late July with a midway with family and children's rides which include a Venetian Swing Carousel, a Scrambler and a Tilt-a-Whirl. This fair has been running since 1830, and although it used to make the rounds of some communities, now it's centred in the 1890's Delta Fair building.
At any time, there is a walking tour in town that shows off several early homes which display a variety of architectural features of each era.
Missing is the railroad. For many years, from 1888 to 1952, Delta had a railway. The Brockville, Westport and Sault Ste. Marie Railway moved goods and people through this part of rural Eastern Ontario.
Delta at one time was on the main road from Kingston to Brockville. In those early years there was no road along the St. Lawrence River. Of course, this road was great in winter, and a horror of mud and deep ruts in the spring. But it did connect Delta to the rest of the world, and gave an outlet to produce from the local farmers, especially wheat, and dairy products.
Delta is also on the edge of the Frontenac Axis, rough land from this extension of the Canadian Shield rock to the southwest and flatter, sedimentary rock to the north and east. Those who approach Delta from the south will pass through deep, impressive road cuts, swampy areas, and creeks, a major feature of the Frontenac Axis. You will also pass through an area from which early miners extracted iron ore, and business men erected a simple smelter to produce hunks of raw iron desired by the blacksmiths of the area.
If you are looking for a great place to camp, and wish to visit an old mill, Delta has shown us that it is a prime candidate for your travel wish list.
For Information: www.beverleylakepark.com
For more than four decades, James and Sylvia have been touring the byways of North America. See his website at www.StonessRVtravel.com to purchase his Touring North America RV travel guides, which show a variety of routes to places he has travelled. These are now available as downloads.