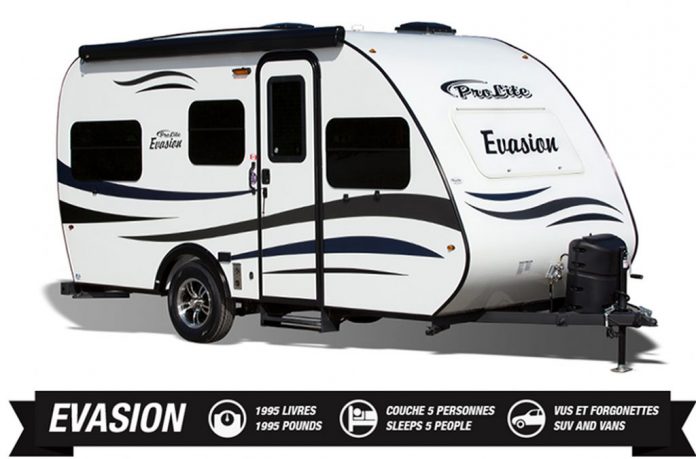 Based in Saint-Jérôme, Quebec, ProLite is a leading manufacturer of quality, ultra-light trailers from which it distributes to its dealer network in Canada, the US and Asia. It is represented at 22 RV dealers across the nation. All models are equipped with a one-piece shell roof covered with fibreglass and include a full one-year warranty. ProLite trailers are known for their aerodynamics and fuel efficiency.
Company owner Martin James grew up in the RV industry and was inspired by his father who was a rep in the business. Martin worked various RV jobs, from vehicle washer to sales manager. One day in RV sales an owner of a Honda Civic asked Martin if he had anything he could tow behind his small vehicle. The idea for ProLite blossomed from there and in the spring of 2000, Martin built his first trailer from scratch in his garage. He dubbed it the Polaira and approached a dealer who, with skepticism, let him keep it in the yard. Martin's first order for several units soon followed.

Martin upgraded production to a small workshop where a few units per week were produced. In 2007 the company moved from St-Eustache to a 20,000 square-foot commercial building in St-Jérôme. They paid attention to customer needs, evolved and innovated, and, in 2013, ProLite expanded with a custom-built factory (45,000 sq ft), including a complete showroom and office space (together totalling 7,000 sq ft) on-site. The ProLite family has grown from a few employees to over 60 (pre-Covid, the team was up to 85); trailer sales are over 600 units a year.
Prolite has 14 models of trailers that can adapt to the everyday vehicle. The smallest model, the SUITE, sleeps two, weighs 590 lbs and measures around 12'. The largest, the EXTREME, sleeps five (a bunk version sleeps six), measures 24'3" and weighs 3,700 lbs; it is specifically designed for SUVS and vans with a towing capacity of 5,000 lbs or more. Between these models there is a wonderful variety to accommodate RVers looking to travel light with space-saving options.
For more information on ProLite, visit: www.roulottesprolite.com