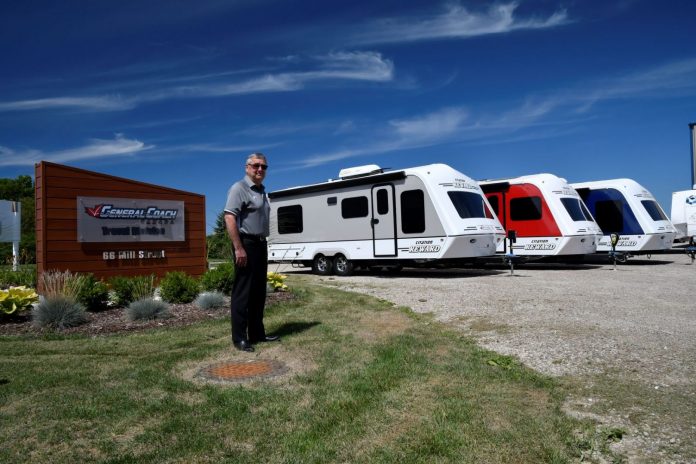 General Coach Canada prides itself on being unique. A leading manufacturer of park model trailers, mobile homes, rental cabins and specialty trailers, including entertainment trailers used worldwide, General Coach recently unveiled its latest design, the Citation Reward, a slick, modern and high-end travel trailer for 2022 and beyond.
The Reward takes inspiration from the Award travel trailer of the 1980s and '90s and is available in three elegant models (25', 28' and 31') and three colours: red, dark blue and grey, with four interior colour schemes. It was constructed for everyone from retirees seeking getaways in an RV with easy handling and style, to small families wanting minimal RV maintenance and millennials in search of a contemporary, stand-out option. The 25' has two twin beds while the larger two models have Queen beds with a fold-down dinette in the 31' trailer.
Says Roger Faulkner, company president: "It's for the 'Made in Canada' market and will be an alternative to the Airstream," adding that there is even an emblem of the maple leaf embedded in the trailer.
The "condo on wheels" as he describes it, has all the bells and whistles that discerning RV enthusiasts expect, including beautiful modern-day interiors and components and appliances of the highest quality. The Reward is engineered for durability, ease of use and long-term towing. Its sleek, aerodynamic look is also super efficient, having been made so slipstreams go around the side and top of the unit, reducing drag and enabling high efficiency towing. Its molded front cap with tinted windshield – harking back to the Award – has been upgraded to automotive standards and promises to be leak-free.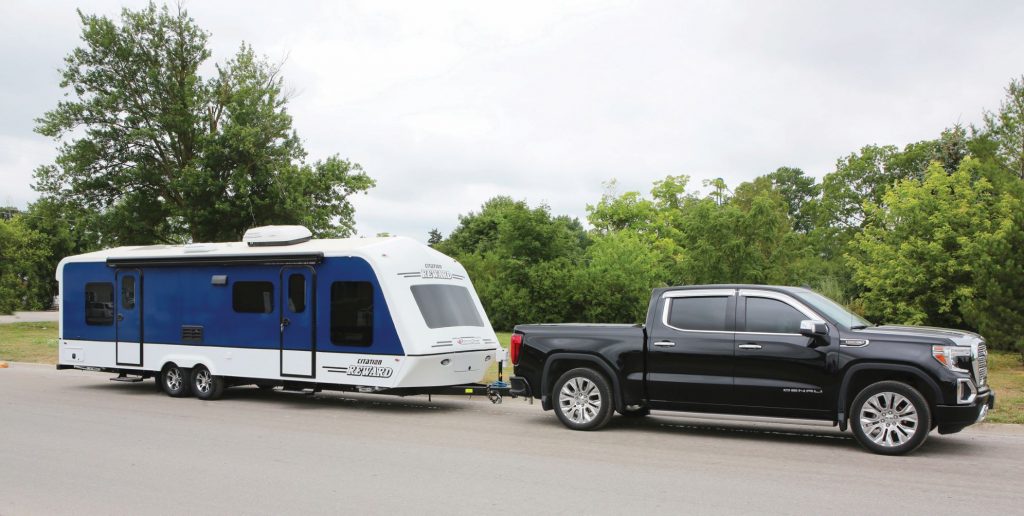 General Coach Canada, based in Hensall, Ontario, just east of Lake Huron, was established in 1950. Roger Faulkner took ownership in 2010 and currently employs 200 staff, of which around 160 are hourly workers; Roger's son Chris is company VP and daughter Heather is Head Buyer. General Coach added a new building in 2018, bringing its manufacturing lines to three, totalling 140,000 sq. ft.
Roger Faulkner has seen it all in the RV business over the years but says of COVID-related RV sales that "he's never seen the activity we've seen today", adding that General Coach was humming during the shutdown as it was considered an 'essential business', building trailers for the construction industry, temporary office spaces and portable washroom and shower units.
A visionary in Canada's RV leisure and lifestyle industry since 1968, Faulkner, who was inducted into the prestigious RV/MH Hall of Fame in the "builders" category, in 2018, believes that the RV business will skyrocket. As for General Coach itself, Roger is confident that the company has found a unique niche in the market: "The reason for our success is because we are always looking for that empty room. It makes no sense to enter a room which is full. We, being a Canadian Manufacturer, must produce products which no one else is interested in. I am happy to say that no one is building what we're building. We have survived because we're different."
The Citation Reward prototype can be viewed on YouTube. Click HERE to take a walk through of this very distinctive travel trailer.
Click HERE to take a plant tour and meet the General Coach team…