(MAKES APPROXIMATELY 48)
Ingredients
1 medium-sized onion, finely chopped
24 oz. (680 g) frozen pre-cooked small meatballs
1/2 cup (125 mL) beef broth
1 cup (250 mL) pineapple juice
1 cup (250 mL) ketchup
1/4 cup (60 mL) brown sugar
2 tbsp (30 mL) soy sauce
2 tbsp (30 mL) cider vinegar
2 tbsp (30 mL) cornstarch
1/4 cup (60 mL) pineapple juice
1/2 cup (125 mL) sweetened flaked coconut, toasted
DIRECTIONS
In a slow cooker, add onion, meatballs, beef broth, and pineapple juice.
In a bowl, combine the ketchup, brown sugar, soy sauce, and cider vinegar.
Pour the mixture over the meatballs. Stir well. Cover.
Cook on low setting for 6 to 8 hours.
Combine cornstarch and remaining pineapple juice in a small bowl.
Stir until smooth.
Add the cornstarch mixture to the hot slow cooker pot and stir until thickened.
Place the meatballs in a serving dish. Sprinkle with toasted coconut.
---
Girls' Night Out with The Cooking Ladies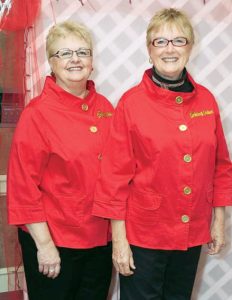 RV'ers know how to have fun. Ladies especially. We recently headlined a sold out crowd of 430 women at "Girls' Night Out with The Cooking Ladies" at Victoria Palms Resort in Donna, Texas.
To begin our performance, we told the story of a previous "Girls' Night Out with The Cooking Ladies" because we wanted our audience to know just how seriously we take our job.
The previous event was sold out as well, with over 300 women present. We demonstrated recipes and told fun sto-ries about our adventures on the road in a motorhome. Just like the audience at Victoria Palms, they laughed and applauded in all the right places. There was one difference. Part way through our previous event we noticed that there was a slight murmur over to one side of the hall. We thought we were losing the audience. We automatically picked up the pace, raising our energy levels to keep everyone's attention.
When our presentation was over, a long line of women came up to thank us and tell us how much they had enjoyed the show. One woman in particular approached Phyllis and said, "You two are so professional because, when that woman passed out, and the ambulance arrived, and she was taken out on a stretcher, you didn't miss a beat."
"What woman?" Phyllis replied.
Exotic Island Meatballs is one of the recipes we demonstrated. Meatballs have always been a long-time favourite at potlucks and at happy hour. They are also great for celebrations.
HAPPY 40TH ANNIVERSARY RV LIFESTYLE MAGAZINE!
If you want to see and hear women having fun, watch for a glimpse of "Girl's Night Out with The Cooking Ladies" on YouTube. We'll post a link on our website.