RV Lifestyle Magazine featured on The Tonight Show starring Jimmy Fallon!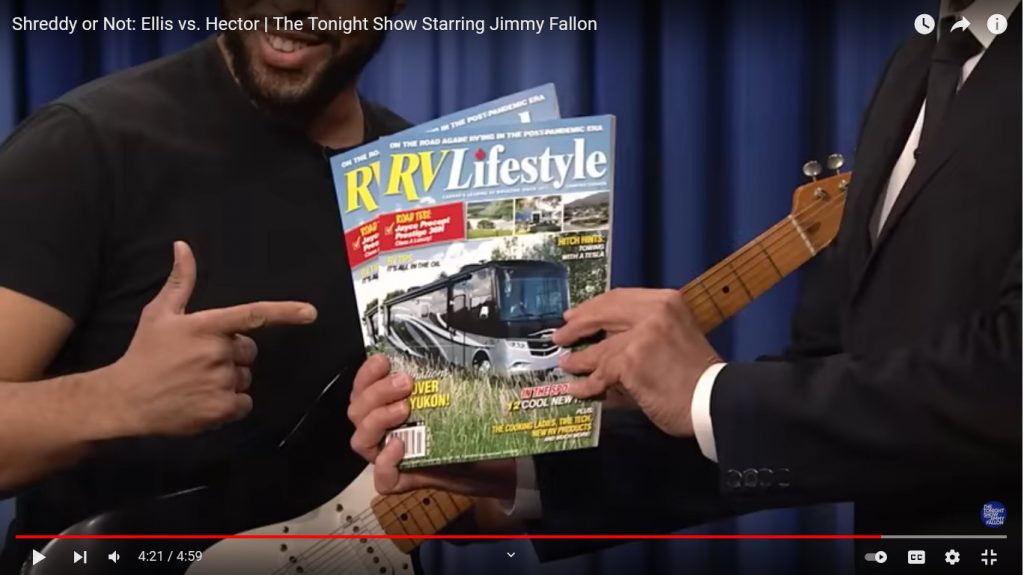 Here's a very cool clip from our favourite late-night TV show – The Tonight Show starring Jimmy Fallon – check out the full segment at https://youtu.be/gssal8FY98U
The game focused on two studio audience contestants – one a guitar "shredder", the other a novice guitar player. The object was to determine which contestant was the "shredder" and which one was the amateur, based on two questions…
Jimmy declares the winner and presents the RV Lifestyle Magazine prizes at 4:10 in the clip – here is the direct link to see Jimmy give copies of RV Lifestyle Magazine and one-year subscriptions to Ellis from LA, and Hector from New Jersey, https://youtu.be/gssal8FY98U?t=250 .
Their prizes – a one-year subscription to RV Lifestyle Magazine for each contestant – are the ideal gifts for young musicians ready to take their talents on the road!
Many thanks to the team at The Tonight Show, and a special thanks to Jimmy Fallon for this wonderful opportunity to introduce the RV Lifestyle to two very talented musicians!
Lots of RV enthusiasts in the entertainment industry!
As it happens, Jimmy Fallon and several of his celebrity friends are RV enthusiasts. Jimmy vacations with his family in their 31' Minnie Winnie, which they acquired in 2018.
Other Tonight Show guests travel in RVs ranging from a 17-year old class C to a top of the line motorcoach.
These celebrity RV owners are RV Lifestyle Magazine website, print, and digital edition readers.
There are quite a few RV clips from The Tonight Show starring Jimmy Fallon – please visit www.YouTube.com  and search for "Jimmy Fallon RV" to find several very interesting clips from The Tonight Show, focusing on celebrity RV travels, adventures, and misadventures.
Here are a few Jimmy Fallon Tonight Show RV links you might enjoy:
Mila Kunis Spent Her Honeymoon in an RV Park with Ashton Kutcher's Parents https://youtu.be/5bCZ9dSgxjo
Drew Barrymore Crashed an RV into a Gas Station https://youtu.be/TtQij-Q6KgE
Shailene Woodley Lived in an RV for Two Months (a 17-year-old Jayco Granite Ridge): https://youtu.be/-43Sz_X7B7Q
The list goes on – at least a dozen clips if you are inclined to binge watch…
We cannot claim to have introduced Jimmy to the many advantages and family values of the RV experience, but his gift of one-year subscriptions to RV Lifestyle Magazine for his "Shreddy or Not" studio audience contestants on Monday night was a sincere and thoughtful gesture – it was not a joke. Jimmy felt that these young musicians would find a great deal of expert advice on all facets of RV touring in the pages of RV Lifestyle Magazine, and we couldn't agree more!
We are thrilled to have had RV Lifestyle Magazine in the limelight for our 15 seconds of fame on Monday night, June 7, 2022 – this was something that Jimmy and his team came up with – we had no prior knowledge that this would take place, or we would have shipped enough copies of the magazine to give an RV Lifestyle Magazine issue to the entire studio audience!
To read the copy of RV Lifestyle Magazine featuring the Jayco Precept motorhome on the cover, please visit:
https://www.rvlifemag.com/rv-lifestyle-50-3-jayco-precept-prestige-36h/
If prompted for a password, please use RVLFREE2017