Whether you've been naughty or nice, every RV'er deserves a bit of good cheer – here are some cool RV Gift Suggestions from Santa Bob…

Gifts for the whole family…

Send your friends and family a personalized message from

Santa Bob…
Click here to view last year's RV Lifestyle Magazine Christmas message…
Nobody know RV's better than Santa Bob, and this year, he is looking forward to sending your friends and family a hearty Merry Christmas greeting – to request a custom Christmas video card from Santa Bob, please send him a message via Facebook – https://www.facebook.com/profile.php?id=100063761694828
---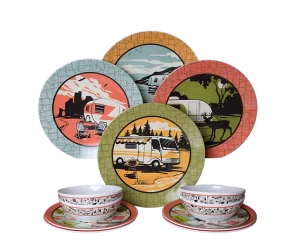 Camp Casual Dish Set
Taking friends or family camping? Never run out of kitchenware again with the Camp Casual 12-Piece Dish Set, an aesthetically pleasing dish set perfect for long camping trips in your RV. Made out of 100% Melamine, the dish set comes equipped with enough dishes for four separate campers. Including four 11" plates, four 8.5" salad plates and four 6" bowls, the set is top rack dishwasher safe and comes in a reusable case.
With a beautiful and unique design on each plate and bowl, the set is perfect for those looking to impress. The plates are available for purchase on the Camp Casual Website at https://www.campcasual.com/product-page/12-piece-dish-set
---
Countoure USA
Portable Ice Maker
This space-saving appliance from Contoure USA is the perfect solution for on-the-go ice for any RV.  This portable ice maker is the smallest ice maker on the market.  Simply add just over three litres of water and the unit will start making ice in 7-10 minutes.  In a single day, this little unit can produce a whopping 27 lbs of ice. Each unit features a front-facing control panel, a side mounted bottle opener and a top mounted viewing window.  The company says a 12-volt version of this ice maker is coming by the end of the year.  Quickly and quietly make ice on the go with this sleek ice maker from Contoure USA!
For more information, and to purchase a unit, please visit www.contoureusa.com 
---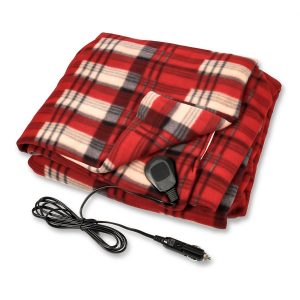 Picnic like it's Christmas in July…
Your seat will stay dry thanks to the waterproof Camco Picnic Blanket with foam cushioning. Open dimensions are 51″ x 59″. Comes in red/white with convenient carry handles and hook and loop fasteners that keep the blanket folded for storage; folds compactly to 3″ x 8.5″ x 13″. Camco's Heated Blanket has a 7ft power cord that plugs directly into a 12-volt vehicle outlet. Its low amperage draw won't drain your RV or car battery. It's 100% polar fleece and measures 43″ x 59″. Both available online and at various RV dealers and outdoor stores across Canada.
https://www.camco.net/heated-blanket-12volt-59-x-43-red-black-plaid-42804
---
GSI Outdoors:
Personal, Portable French Press
Gourmet coffee at your campsite!
"Roughing it" doesn't need to apply to your coffee! Make your mornings that much better with this portable French Press from GSI Outdoors. Small enough and strong enough to be packed away in luggage, this French Press is a must have for the campsite. In little more than a few minutes you have gourmet coffee at your campsite. The press is insulated and makes two cups of coffee (or tea!) at one time. Once your coffee is brewed there's no need to look for your favourite mug. This press has a sip-lid on top, enabling you to drink right out of it with ease. The press is able to completely come apart, making cleaning an easy task.
For more information: www.gsioutdoors.com
---
Portable Chair
Kick back and relax with the GCI Outdoor Kickback Rocker Portable Rocker Chair. The chair is GCI's lightest and most compact rocker yet. With quick set up, the rocker features a smooth design with a lower sit, providing a large amount of comfort without the bulkiness that comes with most rockers on the market. The chair is designed to be bagless, and is able to rock on a variety of harsh surfaces including rocky areas and hard terrain.
Get comfortable with the GCI Outdoor Kickback Rocker – a supremely comfortable Portable Rocker Chair, which can be found on the GCI Outdoor website at https://gcioutdoor.com/products/kickback-rocker
---
For your pets…
Kuma Lazy Bear Dog Bed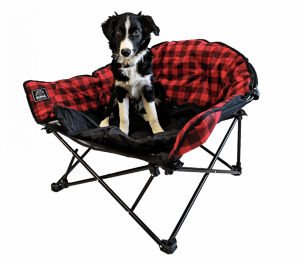 Your canine will feel cozy off of the ground in Kuma's Lazy Bear Dog Bed. This 11" elevated bed has a padded back and sides and a removable padded cushion with mesh bottom for easy cleaning. It's made of durable ribbed 600D polyester and a carry bag is included. The seat area is 25″W x 26″D, it has a sturdy 3/4" black tube frame with stabilizer feet and it's rated for 175lbs. Perhaps Fluffy will share her chair with you! Comes in sierra tan/black and red/black.
https://www.kumaoutdoorgear.com/store/category/chairs-5/product/lazy-bear-dog-bed-101/
---
Give yourself a gift…
Surge Protector
Protect your RV from any electrical surge with the Hughes EPO Surge Protector. This indispensable device provides RV users with 2,400 joules of surge protection. The smart circuit analyzer within the surge protector will shut power down to an RV as soon as a disturbance occurs, and is also Bluetooth accessible, allowing RV users to monitor power right from their phone.
Available for both 30- and 50-amp setups, the surge protector also comes with a replaceable surge module, preventing having to buy a new unit when hit by a large power spike. The Hughes EPO Surge Protector is available on the Hughes website at https://hughesautoformers.com/product/pwd30-epo/.
---
CarGenerator
Santa never worries about energy, but we certainly do, especially when inclement weather can cause power disruptions at the campsite or at home.
Jonathan Schloo, from Toronto, Canada, invented the ideal solution for supplying power for your RV, your cottage, or your house… it's called CarGenerator, and it's the ideal Christmas gift for every family!
The CarGenerator line of all-weather inverters uses your car's engine to provide electricity in a pinch – you could say that it transforms the car engine into a generator!
CarGenerator is a high-quality, patented pure sine wave inverter–the only inverter you can buy that's safely enclosed in a weatherproof housing.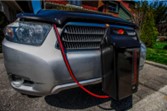 The magic of CarGenerator is the patented, custom-engineered weatherproof housing and a turn-key, ready-to-go solution you can pull out anytime, day or night, and in any weather conditions. CarGenerator gives you the AC power you need and charges your DC RV trailer batteries at the same time.
Several models of the CarGenerator are available, in a range of sizes and output – they share these features:
Pure Sine wave commercial grade inverter, 60 Hz, less than 3% THD
High efficiency power conversion >90% efficient.
Runtime with standard vehicle: 50-80 hours continuous
Low harmonic distortion and no static or humming noise
Can safely run tools, air pumps, small motors, furnace blower motors, refrigerators that a cheaper modified sine wave inverter cannot
Weatherproof yet fully ventilated and patented housing, Rainproof, Snow, Ice Integrated high temperature engine-safe jumper-style cables, length 7ft TPE cable jacket for extra heat resistance and oil grease etc.
Jumper cables professionally manufactured in USA solid strand pure copper cables over-engineered to carry full current safely
Manufactured in Canada, these top-quality devices offer a compact and affordable alternative to a portable generator – but they run cleaner, longer, and more efficiently than a conventional generator costing many times as much, thanks to the use of your car as the source of energy, rather than a less efficient generator motor.
Check out the YouTube video:
Visit the website at https://www.cargenerator.com/ to learn more, and order one of these for yourself!
Our friends at CarGenerator have offered an RV Lifestyle Magazine Christmas special bonus including a significant discount $899 regular reduced to $749 special… AND it includes $180 in bonus items of a furnace plug kit, AC Power meter, 3-year extended warranty, and free shipping!
To take advantage of this very SPECIAL offer, please order using this link:
https://offer.cargenerator.com/choose-your-package-rvlifemag/
---
Towing Scale
The CURT Betterweigh Mobile Towing Scale is a new and improved portable scale. Measuring in real time, the scale gives extremely accurate measurements when it comes to changes in velocity and pitch of your vehicle.
The Mobile Towing Scale has a very simple and easy setup, and uses Bluetooth to give RV enthusiasts peace of mind and convenience through the use of the BetterWeigh App. With zero installation requirements needed, the scale provides a modernized way to calculate the weight of your vehicle.
For more information regarding the CURT Betterweigh Mobile Towing Scale, visit the CURT website: https://www.curtmfg.com/betterweigh
---
Toys and Games…
Please visit this web page for our Toys and Games article…