Christmas gifts for the RV/outdoor loving child in your life.
With the holiday season upon us, the time for gathering gifts is here. While gift-giving is fun, sometimes it can get frustrating when you don't know what to get for someone. If you have a child to shop for who enjoys RVing or the outdoors, this list will give you some great gift ideas!
All items are distributed by Atlas Trailer Coach Products, and they are available at your local RV dealership.
Camp Board Game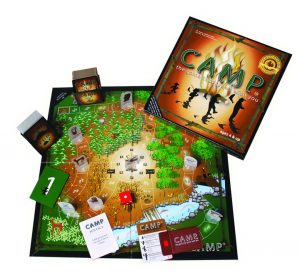 Camp is a board game for both children & adults. While participating, players will also learn fun facts about the great outdoors. The game is designed to get more difficult as time goes on.  Level one questions start at identification of animals. As the game goes on and players increase their knowledge of the outdoors, they get into the more difficult levels of questions. The object of the game is to play against each other to get to Camp first. For more information on the game, including rules, visit https://www.educationoutdoors.net/product/camp-board-game/.
Smores Card Game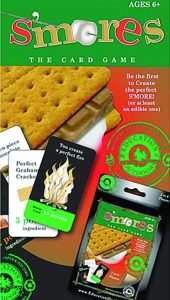 This outdoorsy themed game is played by making smores throughout the game. To make a smore, the player has to collect 'ingredient cards' and collect all the ingredients needed to make a smore, such as graham crackers, chocolate squares, and a marshmallow. The objective of the game is to be the first player to get most amount of smores with the highest point. This game is intended for 2 to 6 players and for ages 6+. For more information on the game, visit https://www.educationoutdoors.net/game-rules/#smores-card-game.
RV Cribbage Board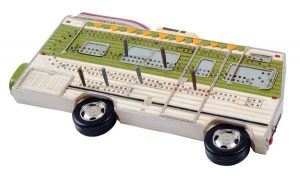 Players cut to see who deals first with lowest card becoming the dealer. The dealer then deals six cards to each player. The players then review their hand and discard two cards each into a pile called the "Crib". All cards discarded to the crib belong to the dealer, are kept face down and are not to be revealed until the end of each hand. The objective of the game is to be the first player to reach 121 points by scoring during play as well as for various card combinations. For more information, visit https://www.outsideinsidegifts.com/products/rv-cribbage-board?variant=44550381957.
Tumble Tower Game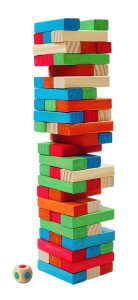 This game may look similar to Jenga, but the differences are quite important. This game is considerably smaller than Jenga, making it perfect to take on road trips and keep in your bag. With dimensions of 12″ x 3″ x 3″ while assembled, tumble tower is more challenging because of the small pieces. This game also includes a die, which is used to determine which block to pull out from the tower. Players roll the die and remove the same colour block the die lands on. The side with the black circle represents the natural wood blocks. The blank side of the die is considered "wild". When rolled, a player can remove any block of their choice or they can pass their turn. For more information visit, https://www.outsideinsidegifts.com/products/basecamp-tumbling-tower.
Fireside Story Dice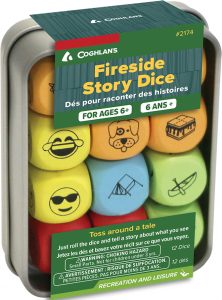 Put a twist on the tradition of telling stories by the fire with Fireside Story Dice. This game has no "rules" per se. Players just roll the dice and tell a story according to whatever symbols is rolled. The symbols can mean whatever you want and are just guidance for story ideas. For more information, and tips, visit https://www.coghlans.com/en-ca/fireside-story-dice-2174.
3 In 1 Roll Up Game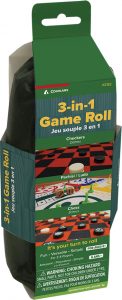 This set is perfect for bringing on your trip as it has three games in one. It comes with two game boards and 50 game pieces and has all the materials needed to play three classic board games. Chess, Checkers, and Pachisi (a.k.a. Ludo or Horse) are the three options. The game boards are made of felt material, making them easy to clean and easy to store when rolled up. The set includes a checkers/chess game board, a Pachisi Game Board, 32 chess/checkers pieces, 16 pachisi game pieces, 2 dice, a game piece pouch, and a storage pouch. For more information, visit https://www.coghlans.com/en-ca/3-in-1-game-roll-2182.
All of these items can be purchased through your local RV dealership, anywhere in Canada.