RV Lifestyle showcases a few RV-dedicated GPS models that offer some of the latest technology to make the most of your travels this summer. 
Global Positioning Systems (GPS) units are perhaps the most utilized devices that help drive the RV lifestyle. Easy, one-touch access to routes, weather, traffic, attractions – to name a few of the features – have made life on the road not only easier, but safer and more convenient for RVers.
"The way RVers use a GPS is quite different from other motorists," says Dave Marsh, vice president of research and development for Rand McNally. "RVers travel casually, and when they are in unfamiliar areas, GPS technology provides reassurance that a route will be safe for their type of travel."
Some devices available on the market offer routing that considers bridge clearances, weight restrictions, ease of accessibility, road conditions and other regulations for every trip. While "getting there is always half the fun," it's important to be able to find points of interest for RVers, including comprehensive local campground information, restaurants, truck stops, towing services, repair and RV centres.
Travel and fuel logs, trip information, lane assistance guides – to name a few of other vital functions – further assist RVers in providing more efficient time on the road.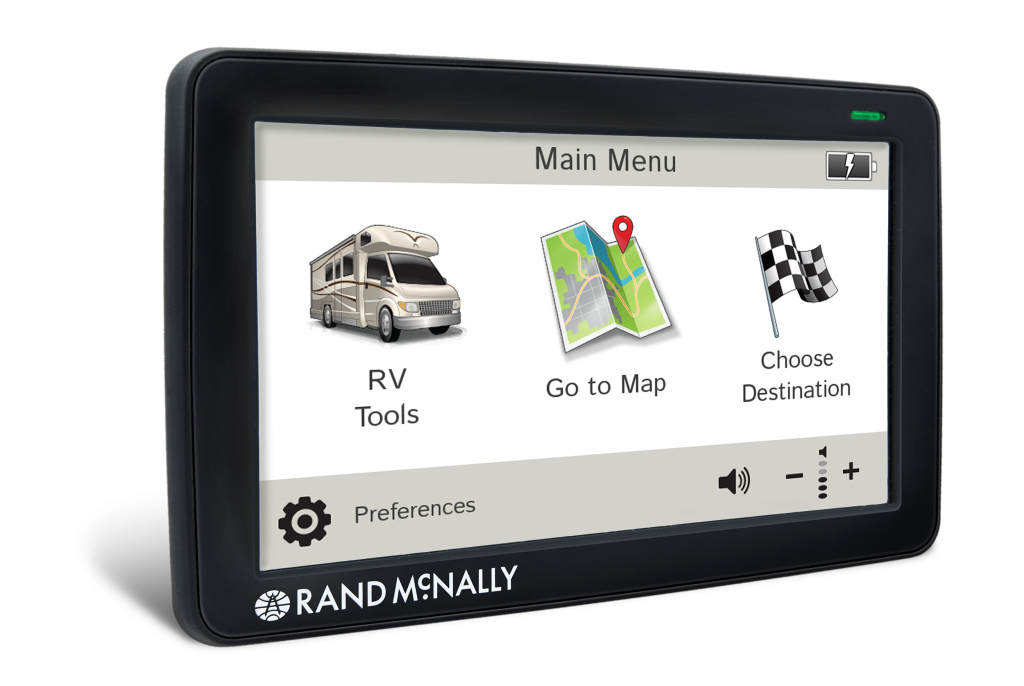 RAND MCNALLY
RVND 7730LM
From the company that's always been headed in the right direction when it comes to mapping, routing, and digital trip planning, Rand McNally – considered the first company to offer a GPS built specifically for RV travel – has designed its RVND 7730LM, a dedicated GPS that provides all the detailed route information RVers need.
The screen of the RVND 7730LM measures a little more than 7×4 inches and offers comprehensive and current map information of Canada and the United States, ensuring accurate road and trip information  for every destination.
Maintaining its philosophy of providing what Rand McNally calls "ease of first use," the RVND 7730LM is user-friendly and all features are easily accessible with its simplified screen. Simply enter your RV unit style, choose your desired route, (as well as fuel stops, shopping districts and attractions along the way) and the 7730 does the rest.
For example, the RVND 7730LM features millions of points of interests to choose from including RV service centers, restaurants, parks, and local attractions while RV parks are updated from area to area.
A unique feature of the RVND 7730LM is what the company calls Advanced Lane Guidance, which informs drivers of sharp turns, steep inclines, bridge clearances or other road conditions before your approach. There's also "Junction View" that indicates upcoming exits, number of lanes per exit, and distance to the upcoming exit and lane.
What's more is the company's web-based TripMaker (available at tripmaker.randmcnally.com) that allows users to build, plan and manage a full itinerary (prior to or during a trip), which then can be conveniently uploaded to the RVND 7730LM.
Multiple trips within a trip can be inputted directly into the RVND 7730LM. Users also may access the Rand McNally Editor's Pick function to gain access to up-to-date weather, current fuel pricing, and more (via Hot Spot on a cellular phone). The company also provides its GPS owners with access to Rand McNally's Dock, which enables free updates as along as you own the unit.
For more information on the RVND 7730LM  visit www.randmcnally.com
RV 760LMT/ RV660LMT
With its seven-inch, 800 x 480-pixel colour TFT screen and an abundance of features, the Garmin RV 760LMT can display the type of information an RVer needs, when they need it.
The RV 760LMT comes loaded with detailed maps North America – U.S, Canada, and Mexico, and for the utmost convenience simply enter your designated route, along with your RV's specifications (such as unit style, height, weight, length and width) and the unit determines the best route suitable for your RV and trip. These include RV-related restrictions such as bridge heights (for many major roads and highways) plus warnings for possible steep grades and sharp, undesirable corners and routes. According to the company, Customized RV routing is only for U.S. and Canada
Another key highlight is its expansive RV Parks & Services Directory (for Canada and the United States) that includes approximately 20,000 sites available at the national/state parks and privately owned campgrounds. RVers can also customize their search based on specific criteria that suits their camping lifestyle. The 760LMT can also relay 14,000 searchable service locations such as truck stops, tire shops, towing companies, and repair services.
According to Garmin, the RV 760LMT consistently offers map updates (useful for the life of your device) to provide the most current information on routes, mapping details, points of interest, plsu parks and services. Add the power cable, which works as the traffic receiver to traffic conditions and updates during your trip. It also provides convenient detours.
The unit is also compatible with the company's popular Basecamp interface, which is accessible via a laptop and allows RVers to manage detailed trips and download the data to the RV760LMT, and the BC20 Wireless Backup Camera.
Another unit highlighted this year from Garmin is the RV660LMT. While it offers many similar features as the RV760LMT, new functions include Easy Route Shaping, which allows RV users to change routes to include preferred roads or cities just by touching the screen, and the Elevation Profile that displays a map tool with possible steep grades along a route for customers to exercise caution.  Other differences between the two units include a six-inch screen, it's preloaded with POIs from Foursquare, and compatible with the BC30 Backup Camera
For more information visit www.garmin.com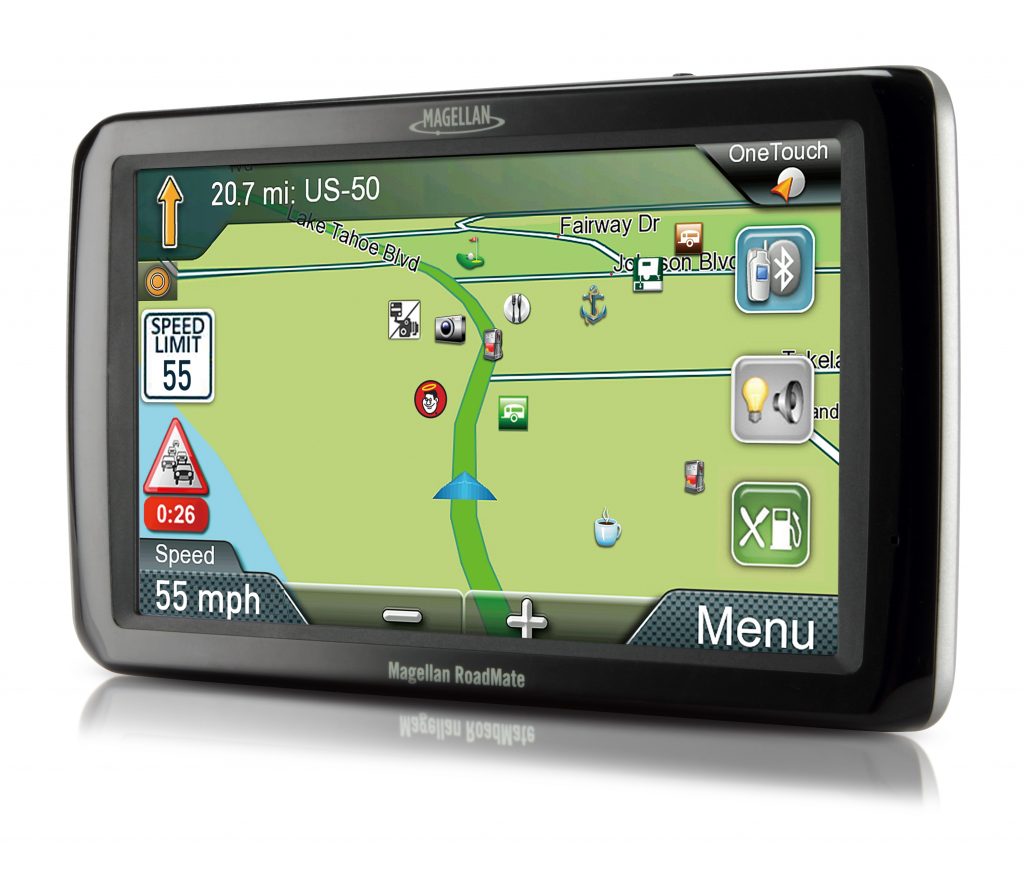 MAGELLAN
There's a lot to like about the Magellan RV 9365T-LMB. With too many features to list, some highlights we like about this GPS unit is the seven-inch touch screen LCD that has an adjustable day/night view display offering quick, convenient views of data. Similar to other units in the RV-dedicated market, the RV 9365T-LMB offers Customizable RV routes to navigate a route specific to an RV's dimensions that includes non-paved roads, road restrictions and more.
It comes pre-loaded with Good Sam RV Travel Guide and Campground Directory featuring comprehensive private and public Campground information to suit individual needs, and an exclusive RV sani-dump station and a directory to empty or dump gray and black water.
            There's also no need to worry about locating points of interest along your route when you need it as the RV 9365T-LMB is said to offer up to eight million points of interest to easily located service stations, restaurants, even shopping, even ATMS. You can even set and personalize various points of interest along your route.
The unit is also back-up camera and rear-view camera ready and the Personalized One-Touch Favorites Menu lets RVers to store and easily access favourite points of interest.
For all of the details visit www.magellangps.com