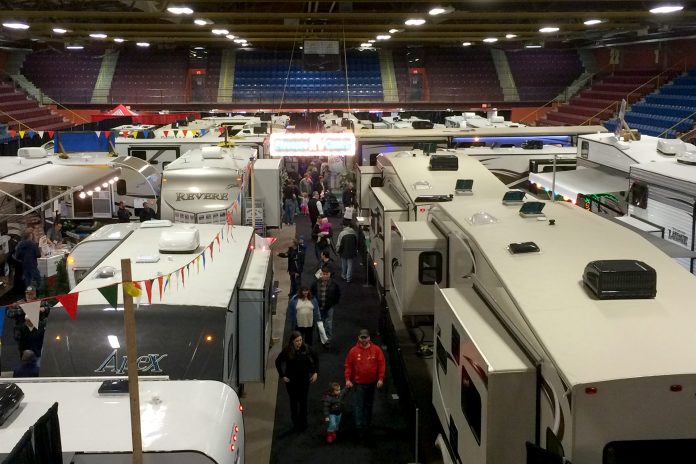 We have heard from several RV dealers across the country, who report that they are able to offer a range of services that are especially important in this difficult time.
Here are just two examples of the unique ways Canadian RV dealers have stepped up to the plate to assist medical staff and first responders, as well as members of the general public.

Great Canadian RV, of Peterborough, Ontario, is committed to serving their customers as best they can during these difficult times
Stacey Robinson, of Great Canadian RV, has been very busy with media interviews outlining how the dealership arranged for RVs for medical and first responders who needed temporary accommodation – when the dealership ran out of RVs, they reached out to their customers, who are now offering temporary use of their units to help medical staff and first responders who must stay close to their posts in order to serve their communities.
The dealership is coordinating these efforts in their area, and when the RVs are returned, they will be cleaned and disinfected.
Stacey has provided contact information as follows:
Rosanne Montemurro, of Winnipeg RV Service and Repair, Sunnyside, MB, contacted RV Lifestyle Magazineto let us know that the dealership is open for business during this very crucial era, and they have incorporated Social Distancing into their operations in order to help prevent the spread of this virus.
Winnipeg RV and Rosanne's Interior are accredited with MPI to perform remediation and disinfection of vehicles and RVs affected by mould, hantavirus, fire, and other situations regarding Public Health.
The same products used for hantavirus are effective in killing new and emerging viruses such as COVID-19.  This information is available on the CDC and Health Canada websites.
Winnipeg RV a and Roseanne's Interior are currently performing disinfecting services for several trucking companies and rental car agencies. They can provide Certificates of Disinfection as needed.  Appointments can be made by phone or e-mail.
For more information please contact the dealership by email: wpgrv@hotmail.com or visit the website at www.winnipegrvserviceandrepair.ca