How To Turn Any Vehicle Into A Camper…
A Special Feature from our friends at Go Overland Canada
Adding a rooftop tent to your vehicle instantly turns it into a house on wheels. Many of us dream of owning a converted van and road tripping across Canada and down south, but the reality is that this may not be the most practical. The solution? Buy a couple of crossbars for your vehicle, and discover the comfort of a rooftop tent!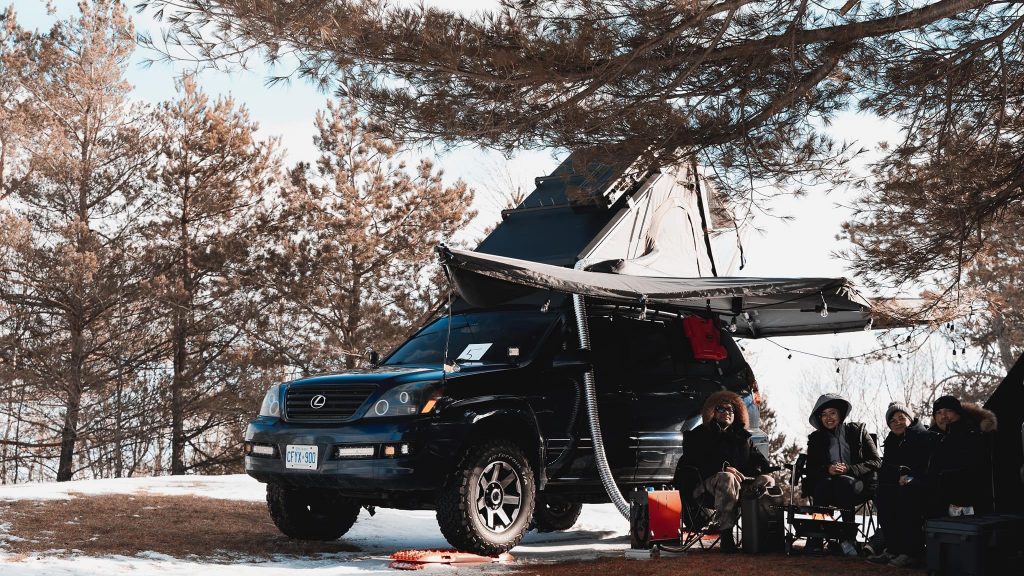 Rooftop tents have been around for decades. They come in many shapes and sizes, but there are a few considerations to look out for before making a purchase. Some of the things you'll want to consider include: how many people will be sleeping in it? Does it need to be four season? How fast do I need to be able to open and close it? What's my budget?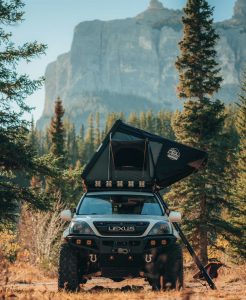 In terms of mounting a Go Overland Canada rooftop tent onto your vehicle, and wondering if your vehicle can handle the weight of the tent – the crossbars that you need only have to be able to hold the weight of the rooftop tent dynamically (while you are moving). If the crossbars are rated for 150 lbs dynamic, then that means when the vehicle is parked, the static weight capacity is multiplied since the weight is evenly distributed. Once you have your crossbars, you're ready to start shopping for a rooftop tent.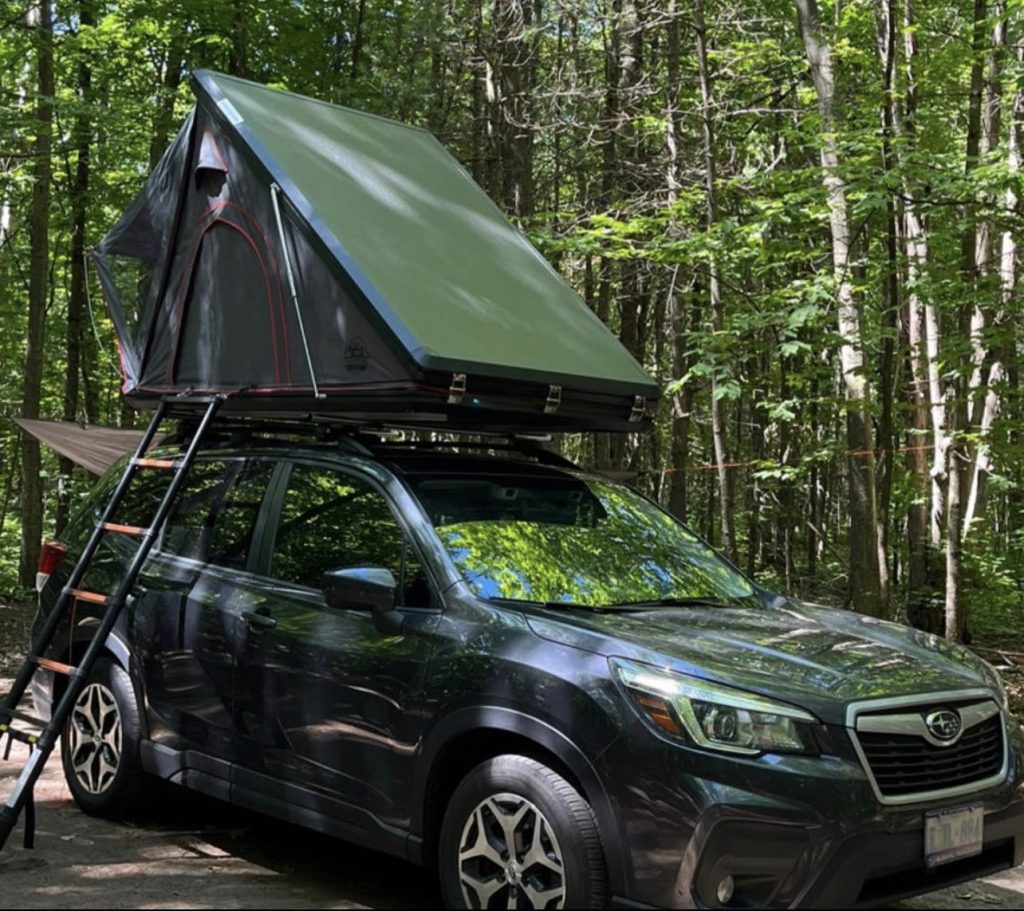 Go Overland Canada Inc. is a Canadian owned and operated rooftop tent brand based in Ontario. They specialize in making durable, four season rooftop tents that are made of honeycomb aluminum, that can mount onto any vehicle. Their most popular model is a wedge style tent, which takes a mere 30 seconds to open and set up, and less than 60 seconds to close down. This means getting to a campsite late at night isn't such a hassle anymore. The model is called the Journey X, shown above.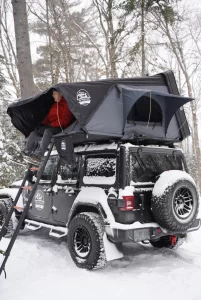 Their largest rooftop tent is the Xpedition XL which can sleep 3 adults, or even 4. This is the most popular model for families, especially for parents with children. If you like to sleep in complete darkness, these tents are great, since the canvas is "black out" once the windows are closed.
All Go Overland Canada rooftop tents include ladder, memory foam mattress, universal mounting hardware, anti condensation mat, shoe bag, detachable cold weather liner, and roof racks that mount on the top of the tent. If you are interested in ordering a tent, you can check out the different models on their website www.gooverland.ca and make sure to use discount code rvlifemag for $100 off your order.
Is this the ideal "guest bedroom" for an RV owner?
Many RV families carry a tent so that friends and family members can enjoy a bit of privacy on a camping trip. Some RV enthusiasts like to leave their trailers parked in a campground, and head off to explore the surrounding countryside for a few days, using their tow vehicle as a camping expedition vehicle. That's when a tent comes in very handy… and that's why the Road Test Team at RV Lifestyle Magazine were immediately drawn to these fascinating tents.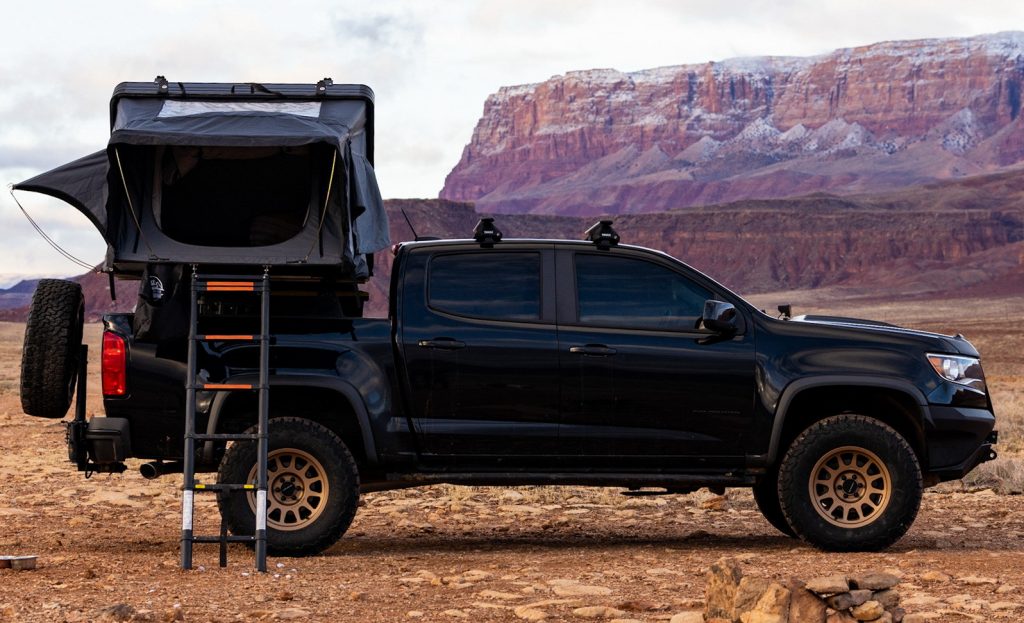 There are many advantages to a Rooftop tent. Being up above the ground, elevated from the cold damp ground, and sheltered from the elements creates a very comfortable place to sleep. The Go Overland Canada tents are waterproof and can withstand the cold thanks to their winter liner – it's much more comfortable than many traditional ground tents.
For more information on these rooftop tents, and for insights on how suitable your vehicle may be for this type of camping adventure, please reach out to the team at Go Overland Canada at  info@gooverland.ca and mention that you saw this story on the RV Lifestyle Magazine website.