Disclaimer: RV Lifestyle Magazine was compensated for publishing this review.
In the world of RV-ing, there's no doubt about it, the focus is on LOCATION. LOCATION. LOCATION. That's why we're so excited to let our adventurous Canadian friends know about the Resort RV Park at Rising Star Casino located in Rising Sun, Indiana.
The new full-service Resort RV Park is open for you to enjoy seasonal outings in beautiful Southeastern Indiana. Rising Sun is a historic riverboat town along the Ohio River surrounded by lush green rolling hills laced with quiet country roads. The town offers a boat ramp and public dock available to guests of the RV Park. It's a great destination for relaxing, exploring, bicycling, golfing or enjoying the casino.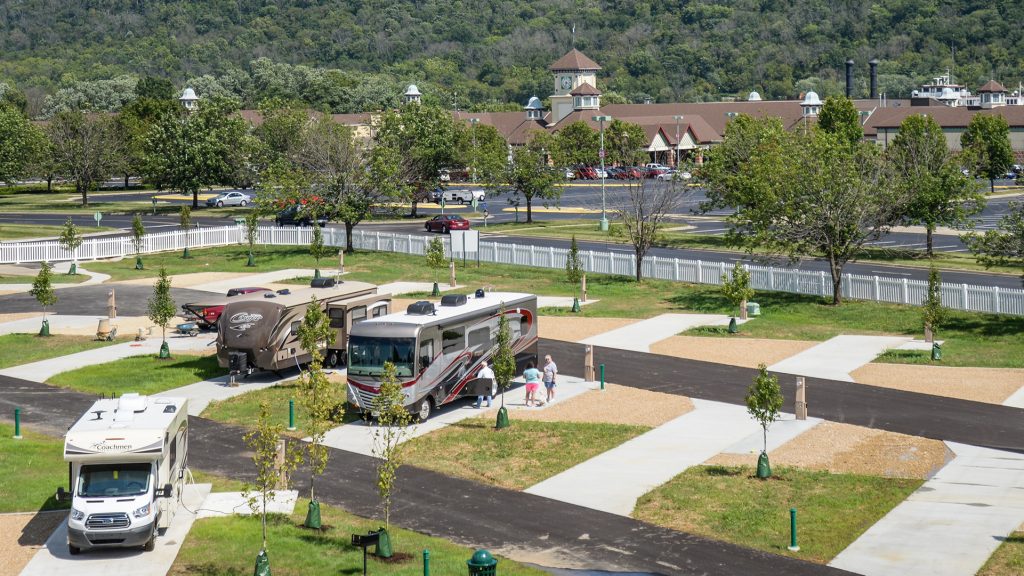 The drive to the Resort RV Park at Rising Star Casino Resort is pleasant and conveniently located off I-75, the main Ontario-to-Florida corridor that is very popular with snowbirds and summer vacationers. The Resort RV Park is only an 8-hour drive from Southern Ontario, making it the perfect destination for our friends up North! Nestled amidst the scenic hills on the banks of the Ohio River, this is a great location any time of the year. RV guests will be happy to explore the surrounding area and bask in the natural beauty found in Southeastern Indiana.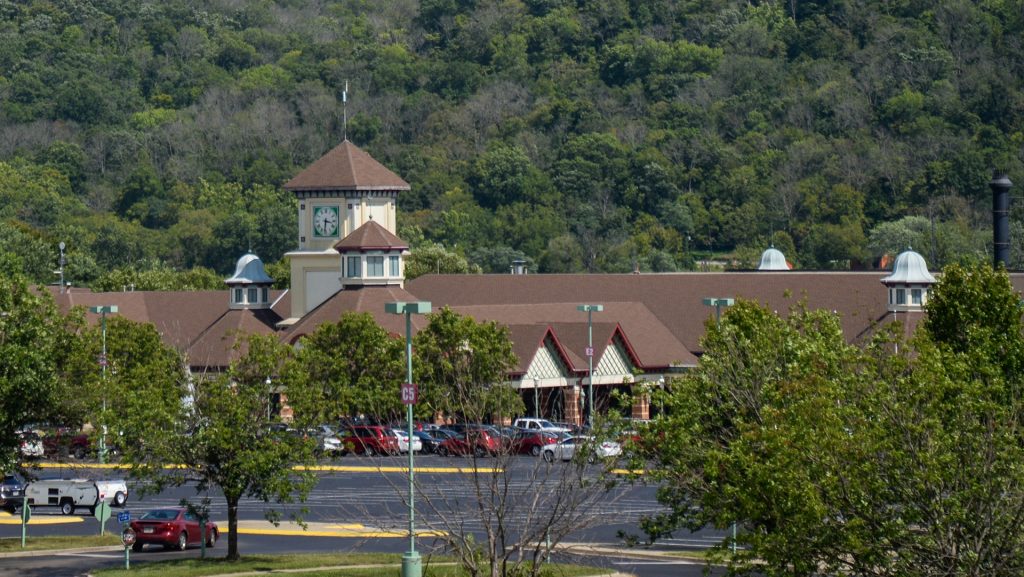 Adults will welcome the opportunity to discover the great indoors at Rising Star Casino, easily within walking distance from your home-away-from-home at the Resort RV Park. As soon as guests walk through the door, they'll receive the star treatment! The Casino features 939 of the most popular slot machines and the friendliest dealers at your favorite table games. Rising Star Casino also offers live entertainment on weekends, a wonderful selection of culinary delights at the River View Buffet, a great specialty dining experience at Wellington's Steakhouse, and quick bites at Queen City Market & Jack's Deli.
After a winning day in the casino, relax and rejuvenate in a soothing whirlpool spa, take a refreshing dip in our indoor pool, cleanse the pores in a steamy sauna, work off that extra energy in our health club or swing a club at Southern Indiana's only Scottish links-style golf course!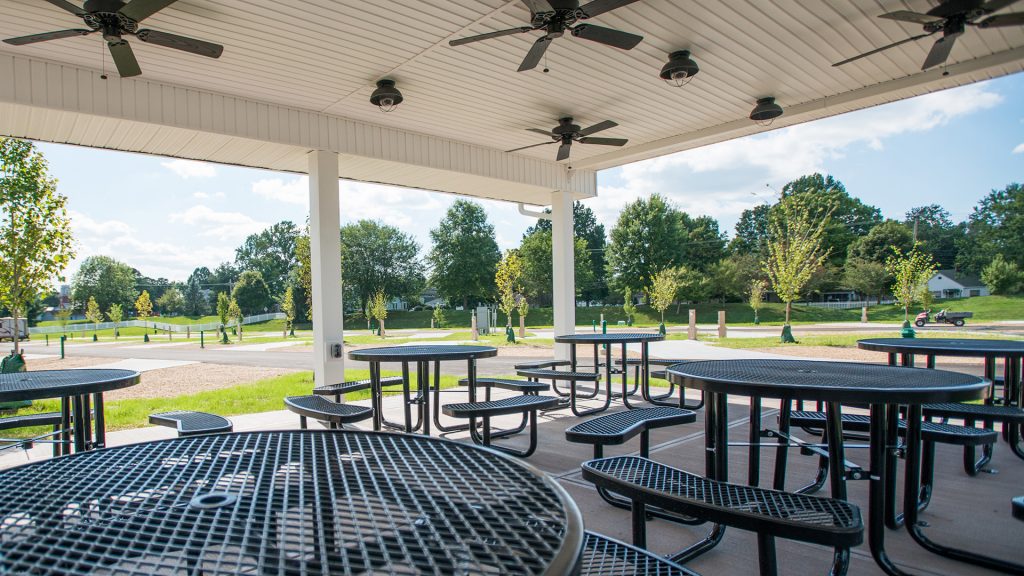 The Links Golf Course, Southern Indiana's only 18 hole Scottish links-style golf course is a Tim Liddy designed gem that features rolling bent grass fairways & greens, winding lakes, heather rough and panoramic views of the Ohio River Valley. It's a challenging and fun course for players of all skill levels. After your round, relax in the clubhouse and our outdoor covered patio. Enjoy a bite and a beverage from our snack bar & browse through the Pro Shop featuring Links merchandise.
When you're ready to take a break from all your winnings in the casino, get outside and explore the rich history and quaintness of Rising Sun. The first documented settlers were members of the family of Samuel Fulton, an uncle to steamboat inventor Robert Fulton, but it wasn't until 1816 when John James of Fredericksburg, MD and his son officially registered the town as Rising Sun.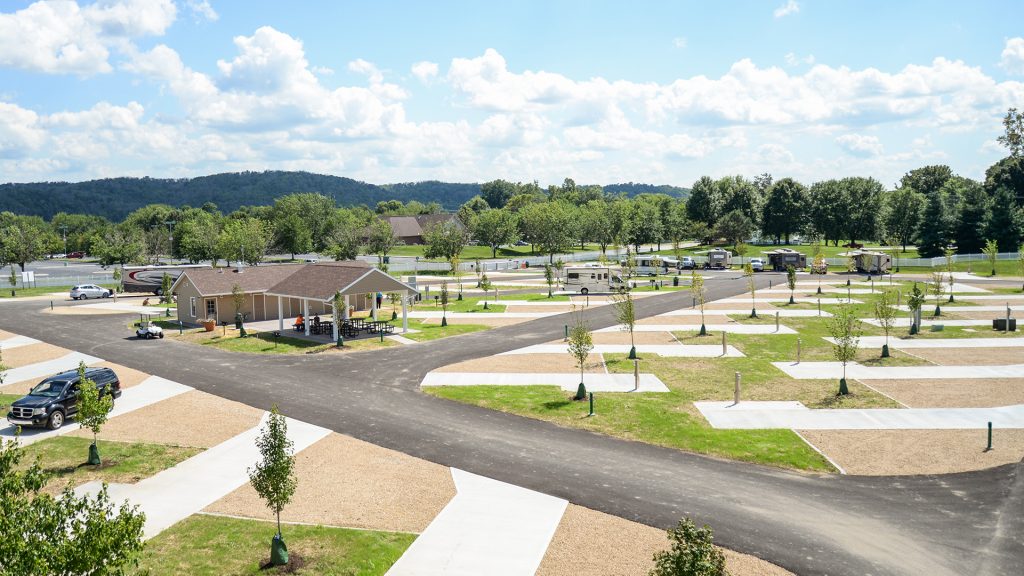 Several legends attempt to explain James' choice of name for his small town. Some say it was taken from an early ferry on the riverfront. Others say James chose it because he was so struck by a view of the sun rising over the Kentucky hills.
Today, Rising Sun offers a unique blend of modern-day attractions and classic charm. Zipline through the treetops in a thrilling outdoor adventure, find the unique and unusual with art and antiques as you stroll along Main Street, howl with the wolves at The Red Wolf Sanctuary, walk the riverfront, roll the dice, hit the links, snuggle up with your favorite book and let the Ohio River bring the world to you.
The Resort RV Park is surrounded by a variety of attractions that will bring delight to any traveler. Whether you want relax in your RV after a long day's journey, take a stroll along the scenic Ohio River, or enjoy the luxuries of the great indoors, The Rising Star Resort RV Park has everything you need to fully enjoy during your stay.
Rising Sun Casino & RV Park Gallery
The Resort RV Park is a great choice for all, whether you're a seasoned RV enthusiast or just beginning your journey, you'll enjoy a quality experience – enhanced by the friendliest service and the most amenities of any RV Park in the region:
56 spaces, each with full hookups including power, water and sewer
Private bathrooms with showers
Washers & dryers
Bocce Ball Court
Shuffleboard
Playground
Dog park
Picnic tables & grill area
Cable TV
Wi-Fi
The Rising Star golf course
Two adjoining hotels
Access to town docks and boat ramps
Grocery and convenience stores within walking distance
Casino with 939 slots and 25 table games
Variety of restaurants including buffet and steak house
Three blocks from charming downtown historic district
Good Sam member with high ratings
The Resort RV Park at Rising Star Casino will definitely exceed your expectations. We hope that, when mapping out your next RV trip, you'll include us as one of your destinations. There's so much to see and experience here in southern Indiana. Pristine natural beauty, history, the excitement of a fully integrated casino resort, warm hospitality and exceptional RV amenities to make you feel right at home. We look forward to seeing you soon!
Visit risingstarcasino.com for details.