An updated recipe from days gone by, Retro Roll-Ups.
(Makes 15)
Ingredients
4 slices of bacon, diced
2 1/2 cups (625 ml) finely chopped

 

mushrooms
2 tbsp (30 ml) finely diced onion
15 slices of sandwich bread
4 ounces (114 g) cream cheese, softened
1/4 cup (60 ml) melted butter
1/4 tsp (1.25 ml) garlic powder
Directions
Cook the bacon in a frying pan over medium heat for 2 minutes.

Add the mushrooms and onion. Cook and stir for 5 minutes.

Remove the mixture from the frying pan and drain on a paper towel. Set aside.

Trim the crusts from the bread. Slightly flatten the bread slices with a rolling pin.

Spread the cream cheese on each crustless piece of bread.

Spread approximately 2 tablespoons of the mushroom mixture on each piece of bread over the cream cheese.

Roll the bread up jelly roll-style and secure with toothpicks.

Place the seam side down on a cookie sheet lined with parchment paper.

Combine the melted butter and garlic powder. Brush the rolls with the garlic butter.

Bake for 10 to 15 minutes in a preheated 375°F (190°C) oven or until golden brown in a toaster oven.

Remove toothpicks before serving.
---
RV Retrofit With

 
Auto-Motion Shades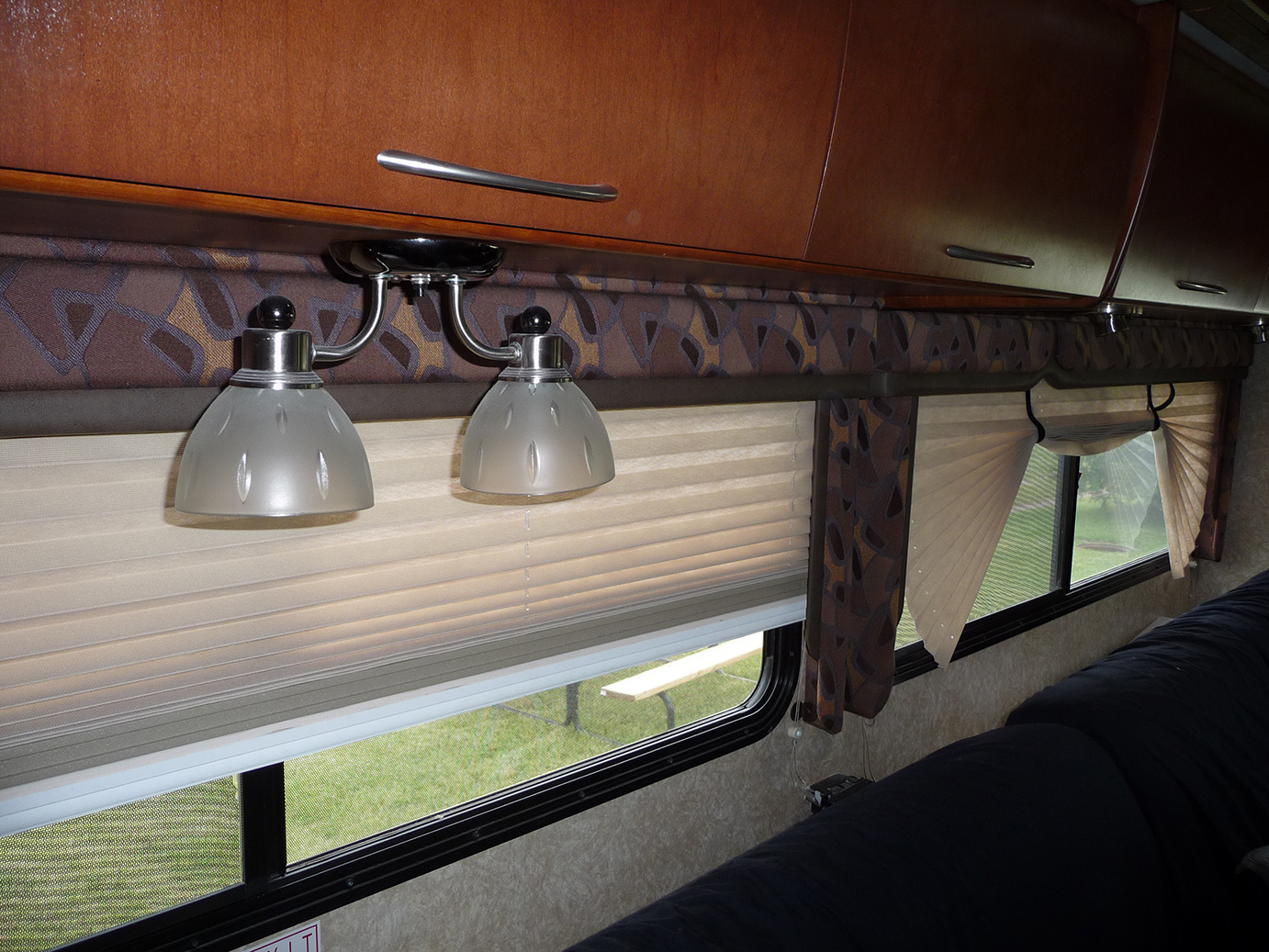 We were having a day/night shade nightmare. The window coverings in our 2011 RV were identical to those in our previous 1998 RV. Just like in the past, the strings drooped and stretched and the blinds sagged. We held them together with Velcro. It wasn't a pretty sight. We knew there had to be something better.
We found the perfect solution to our blind problem at the Recreation Vehicle Industry Association's National Trade Show in Louisville, Kentucky, where we met Hans Munger, the president of Auto-Motion Shade Inc., a Canadian company based in Markham, Ontario. Auto-Motion Shade is North America's largest manufacturer of manual and motorized sun visors and sun protection shades for RVs, boats, trucks, transit buses, locomotives, and construction equipment, as well as those fancy, high-tech, over-sized tractors we see working out in the fields.
By going to the website www.automotionshade.com we found automatic shades to suit our RV living area windows. We can raise and lower them with the click of a remote, no more wrestling with too taut or too loose strings. Furthermore, gone are the days of climbing up on a ladder to install a cover over the exterior of the windshield. Munger suggested we suspend a black sunscreen on the inside. Not only does black provide excellent outside viewing it also offers the best glare control. For night time privacy, we have new, bracketed curtains that slide around the cockpit.
With our modern Auto-Motion Shades, we have progressed from the past to the future, from retro to retrofit. 
For a bit of nostalgia, here is a recipe from days gone by. We updated it, too, because back then we spread processed canned mushroom soup on the bread rather than using fresh mushrooms.
---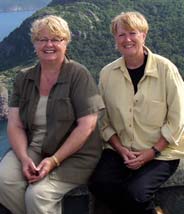 Follow The Cooking Ladies on Facebook, Twitter, Instagram and Pinterest. Links are on their website: www.thecookingladies.com
Phyllis Hinz & Lamont Mackay are authors of On The Road With The Cooking Ladies, Let's Get Grilling https://amzn.to/2OSGLbZ and a new series of guidebooks Stratford For All Seasons https://amzn.to/38w4bvu