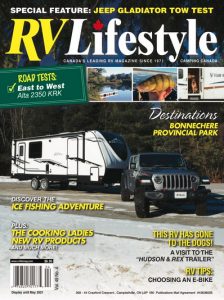 RV Lifestyle Magazine Road Test:
2021 Alta 2350 KRK from East to West RV –

A fresh approach to trailer adventures!
By Norm Rosen
We had the opportunity to visit Al and Stacey Robinson at Great Canadian RV near Peterborough, Ontario, to check out one of the newest brands to brighten the Canadian RV scene – the Alta travel trailer from East to West RV, a division of Forest River Inc.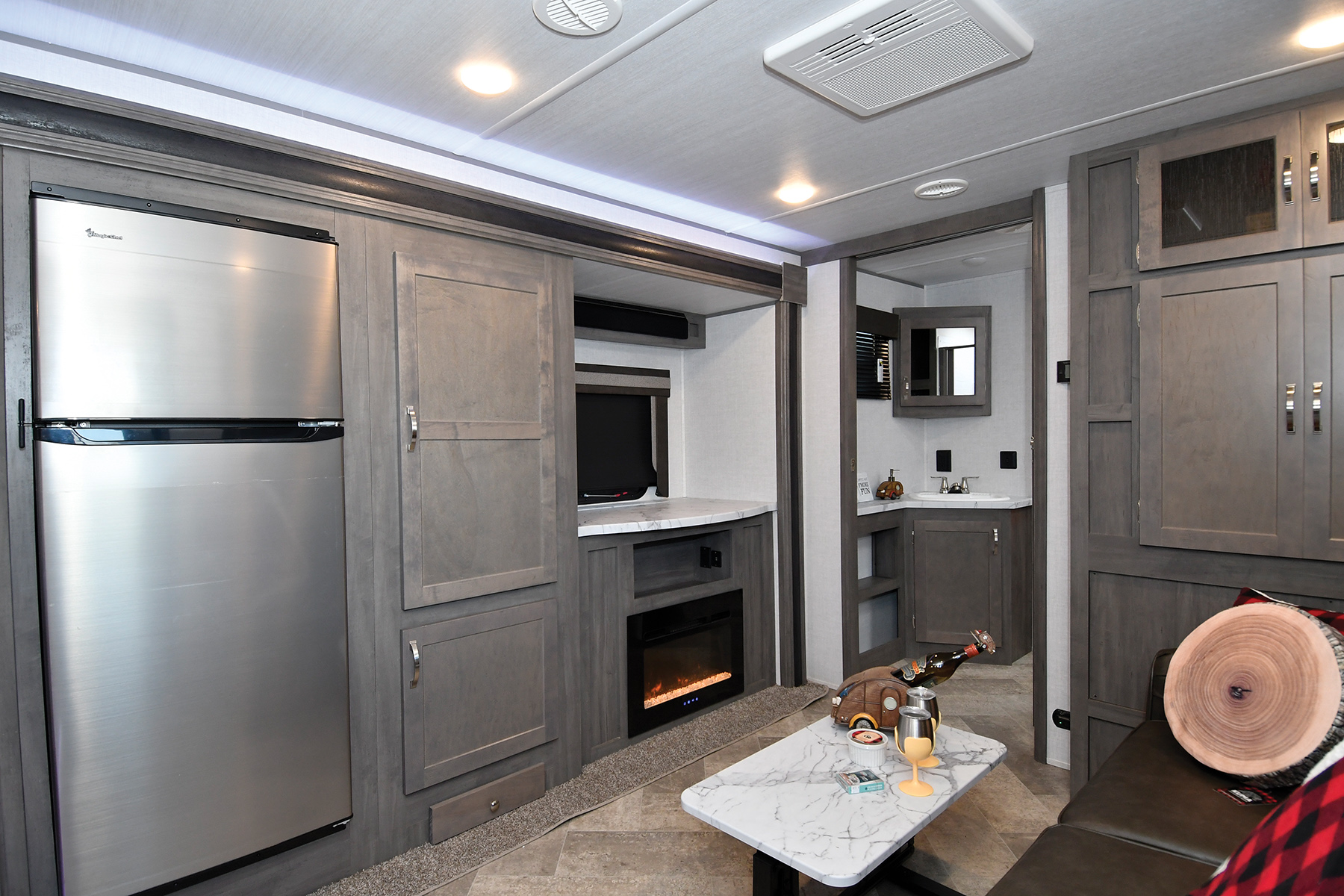 East to West RV was born just a few years ago from an inspiration to advance RV design and technology, and the company became a Forest River Inc. division in 2018. East to West RV draws from generations of RV expertise embodied in every model under the Forest River Inc. umbrella. Forest River Inc., a Berkshire Hathaway company, is the second largest RV manufacturing conglomerate in the world… so it's not like you are looking at a fledgling RV manufacturer – the people at East to West RV are experienced professionals, and their products are on the leading edge of the industry.
When we discussed the selection of one model from the extensive 2021 line, Al suggested that we focus on a mid-size unit, that would be easily towed by a wide range of family vehicles. When we looked at the list of available tow vehicles and saw that Al's wife Stacey had a Jeep Gladiator Rubicon, we knew that we had found an intriguing combination that would be a natural highlight for this issue.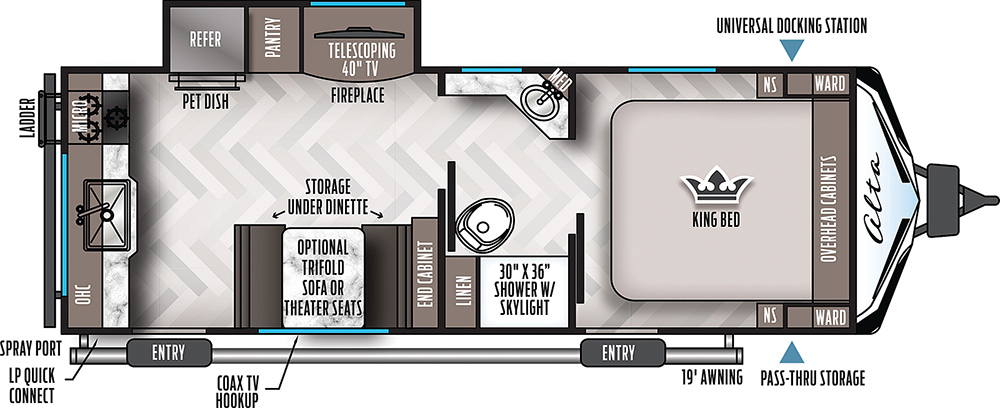 The Alta 2350 KRK is a lightweight laminated travel trailer that tips the scale at a dry weight of just 5,906 pounds, with a hitch weight of 680 pounds. This is well within the capacity of the 2020 Gladiator Rubicon, which has a towing capacity of 7,650 pounds for the Sport or Sport S model, when equipped with the Max Tow Package and the 8-speed automatic transmission, although the trailer's full cargo carrying capacity of 3,574 pounds would suggest that if you want to stay within the Chrysler family, a 2500 series Ram pickup might be better suited for those who like to travel with all of their toys.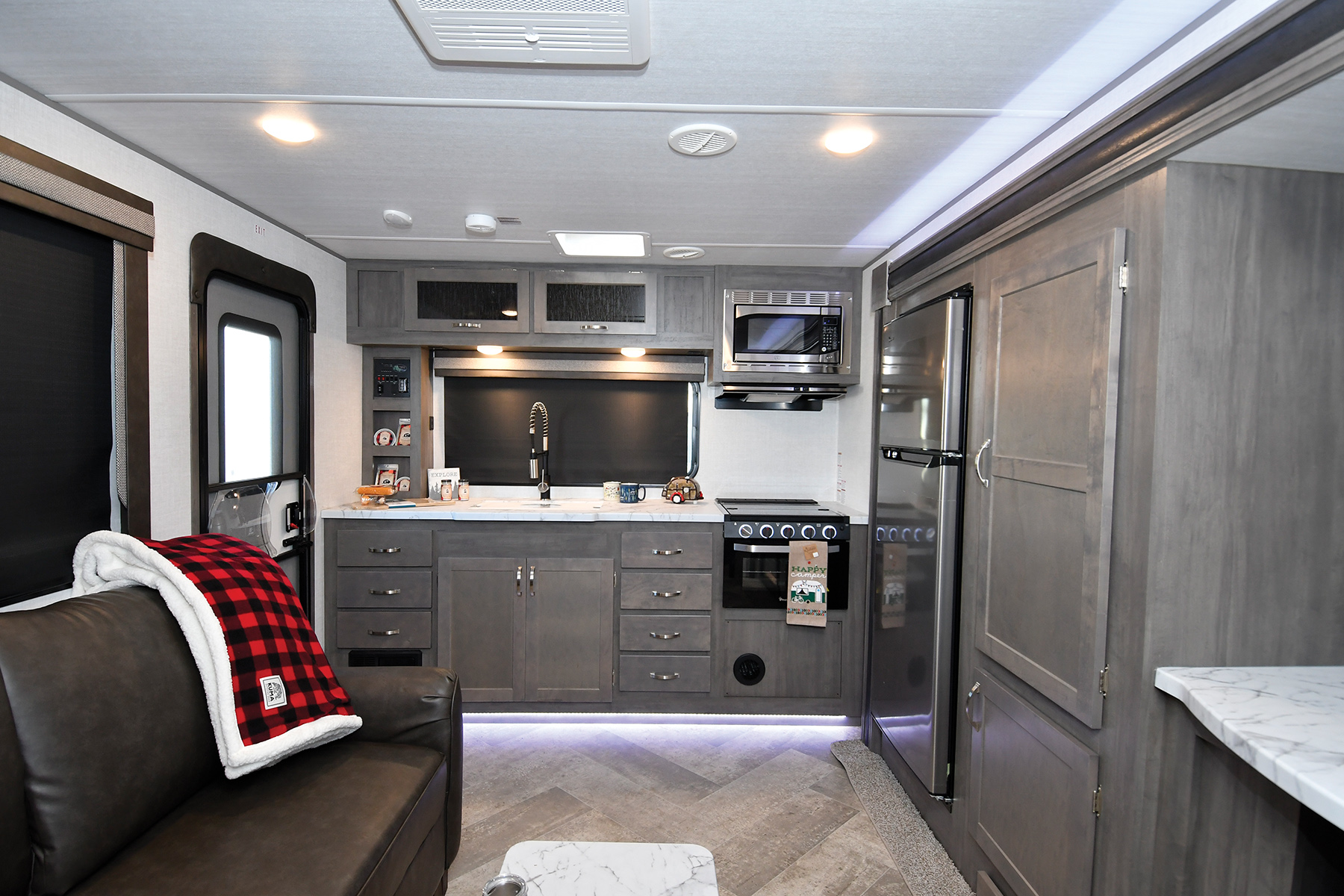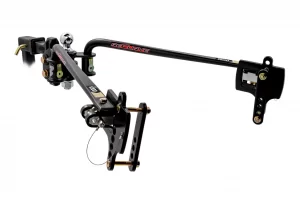 We hitched the Alta to the Gladiator with an Eaz-Lift ReCurve R3 weight distribution hitch with adjustable sway control. The combo tracked like a dream – although in the cold weather we did not fill the water tanks, as we usually do for a road test… our decades of experience suggest that the 500 pounds of fresh water would not have reduced the excellent towing experience – indeed, a bit of payload carried low in the chassis tends to add stability to a rig in crosswind conditions. The Alta, with dual axles, provides a stable and very well-balanced towing experience. Our test vehicle was outfitted with ST225/75 R15 nitrogen filled radial tires on aluminum rims, which we tested and confirmed that they were running at the specified 65 P.S.I. The tires carry a Lionshead 1-2-5 "Lifetime+" warranty, which we have not previously seen on other RV models. The spare tire is part of the package – not all trailer manufacturers provide this, but they should!
Construction
East to West RV builds conventional "stick and tin" trailers, and upscale fiberglass models. The Alta is in the upscale category, with a steel Automotive Deposition Coated Norco® Drop Frame, aluminum cage wall structure, fiberglass exterior, enclosed and heated underbelly, and rubber roof. Above your head, the Alta sports a vacuum bonded roof with a rubber roof exterior layer – the factory refers to this as a "fully walkable" roof, which we prefer to think of as a very strong structure – we caution people to tread with great care when you go "up the ladder to the roof" because this is not an area where you need to be, other than for regular maintenance. On the rooftop you will find the 50-Watt solar package, consisting of a solar panel, controller, battery, box, and battery disconnect. This is a mandatory option on all units, and it's a clear indication that the Alta will be on the leading edge of technology as we move toward a greener world. There is pre-wired prep for an optional Furrion® Backup Camera, which we find to be a most desirable addition to any RV. 
The trailer has 50 Amp service with 15,000 BTU rooftop A/C and an optional second 13,500 BTU rooftop A/C can be installed. Heat is ducted through the walls, while the A/C is ducted through the ceiling.
There are many thoughtful features that you may not notice at first glance, but they add significantly to the comfort and convenience of the trailer, and they are a real indication that this unit has been designed and engineered by people who have extensive camping experience. Among these features are a universal docking station with 110-volt receptacle, a very conveniently placed battery disconnect and easy access to your satellite TV / cable TV hook ups, and city water connection. To keep the front fibreglass cap in perfect condition, the trailer has a diamond plate front rock guard.
The Alta has a spacious drop frame pass-through storage compartments with "slam" style baggage doors.
For active campers, there is a hot and cold exterior shower. We were very impressed to see that the Alta has an unusual but very welcome feature – there are exterior 110V power ports on both sides of the trailer.
The first time you step into the Alta, you will notice the MORyde® aluminum entry step at the main entry door that is counterbalanced for easy deployment. This step is very solid and stable, and there is a very convenient toolbox integrated into the design. The entry door is wider than usual, for very easy access to the trailer, and there is a very solid swing arm assist handle that folds against the trailer for travelling. 
In the Campground
The Alta is equipped with a power tongue jack with LED light, for extra convenience when hitching or unhitching at night. Setting up the Alta at your campground is a breeze, thanks to the clever location of your hookups, with most of the key components placed within a special exterior compartment. Once you are happy with the position of the trailer in the campsite, it only takes a minute to unhitch and lower the Norco® 4-Point electric stabilizer jacks, connect the electrical supply, and extend the slide-out section.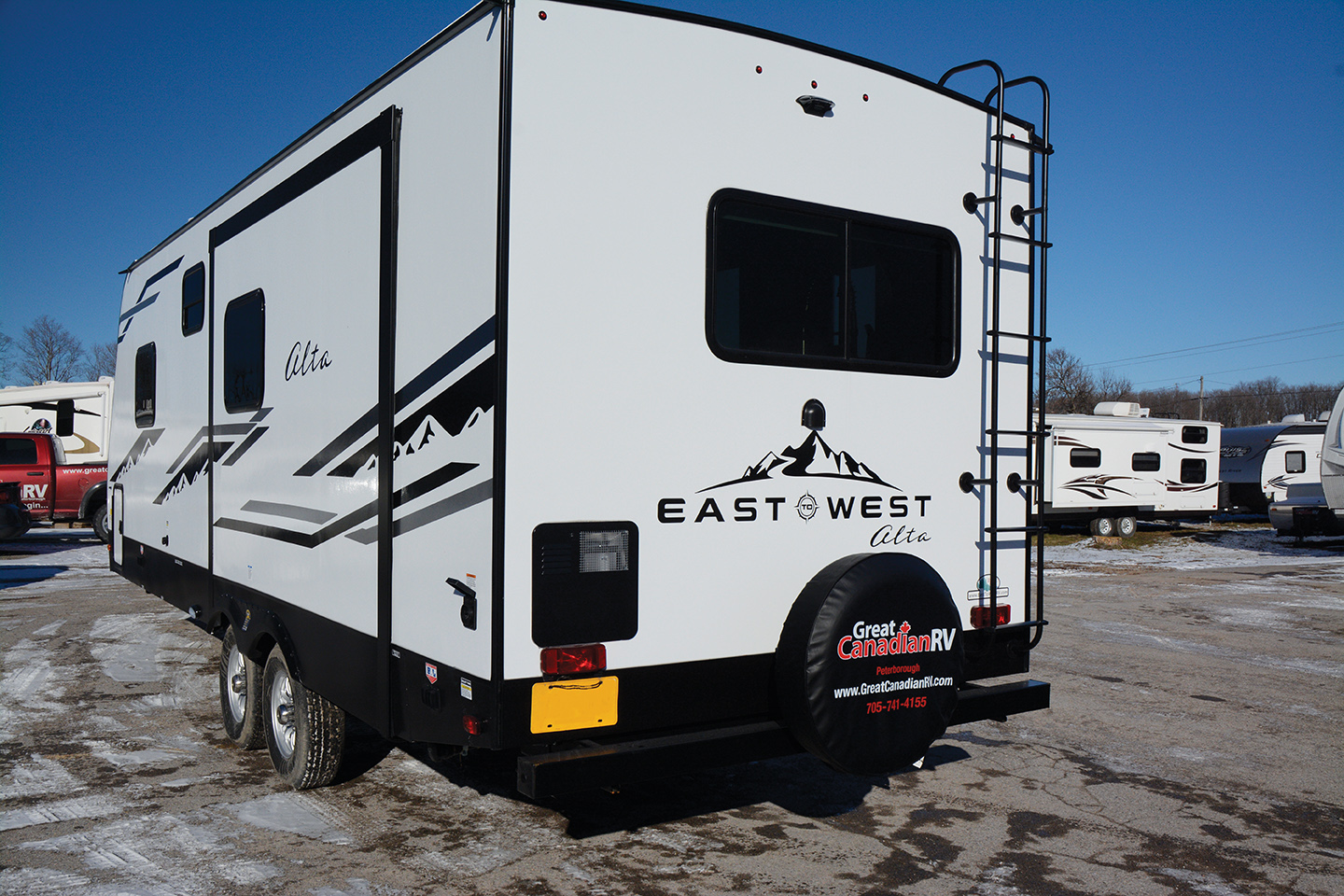 Once you have hooked up the water and sewer systems, and the cable TV connection, you can extend your 19' power awning (with LED lights), and your campground castle is ready to welcome visitors! If you don't have campsite cable or a satellite dish, the Alta is equipped with a high definition/amplified TV antenna
Among the many conveniences provided in the Alta 2350 KRK is an R.V.Q. Quick Connect for your barbecue. There is a water heater bypass valve for easy winterizing, and a high pressure fresh water port for campsite connection, or to fill your tank prior to a trip.
Interior Appointments
Step into the Alta and you immediately notice the generous 81" headroom and the bright interior colour scheme. Oversize windows assure a great view, and the blinds and window treatments are very nicely matched to the décor. The floorplan is open and spacious for a trailer of this size, with a very convenient mid-section split bathroom configuration, and a driver's side slide-out section encompassing the refrigerator, entertainment centre, fireplace, and closet space. For pet lovers, there is a special "pet drawer" under the closet, that pulls out to reveal a specially designed receptacle for Fido's food and water bowls. 
The bright and fresh interior of the trailer is finished with surfaces that are easy to maintain. The upgraded Shaw® linoleum herringbone flooring is easy to walk on and with the enclosed and heated underbelly, the surface should be very comfortable when you wake up on a chilly Spring or Autumn morning. With a 35,000 BTU furnace the Alta 2350 KRK maintains a very comfortable interior temperature – when we did our road test is was well below freezing outside, but after just a few minutes, we enjoyed 70° F interior temperature throughout the trailer. The thermostat is small by comparison with a typical model, but very easy to operate, with an LCD readout, and the forced air heating was surprisingly quiet, which we attribute to the careful selection of ducting material and the insulated walls. For warm weather comfort, the unit has a 15,000 BTU ducted air conditioner with Quick Cool function.
All of the 2021 Alta models come with a Luxe Décor package – this includes many of the special features that you might not think of ordering – but after a few days in the trailer you will see how thoughtful the company designers were when they put this package together.
Our trailer was equipped with the Tri-fold sofa with an adjustable coffee/dining table, which we find more versatile than the optional theatre seating or the dinette booth that you can specify instead of the sofa on this model. With a hidden Furrion® 40" LED TV in the entertainment credenza, that raises or lowers at the touch of a button, you can enjoy your dinner as you watch the latest in Hollywood movies. The entertainment centre features a Furrion® 2 Zone sound system with Bluetooth and HDMI connectivity, and the sound can be played through two marine grade exterior speakers. For the ultimate RV entertainment ambiance, there is an electric "fireplace" that can be turned on for visual appeal, and it can be used as an auxiliary heater.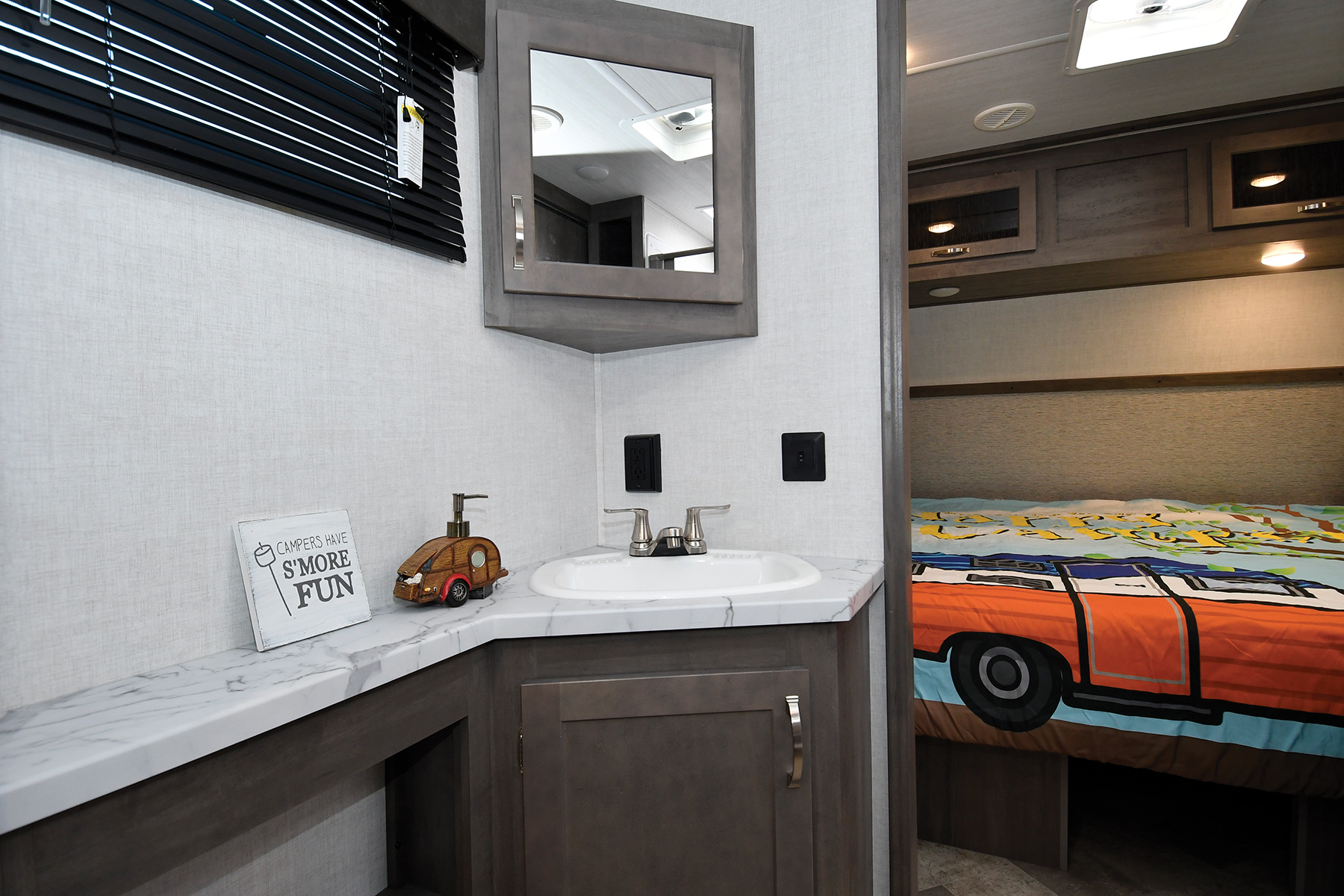 With two entry doors, this model is exceptionally convenient for a couple or a small family, and it offers lots of space for entertaining guests – just stow a few folding chairs and some TV tables for your visitors, and you can easily accommodate four to six guests.
For a complete walk-through please visit our YouTube channel – here is the direct link to our RV Lifestyle Magazine road test video: https://youtu.be/fK73AQJ5YVk 
To take a closer look at the floorplan and various interior components of the Alta 2350 KRK, there is an excellent "virtual tour" of the 2020 model on the East to West RV website at https://my.matterport.com/show/?m=XyED6PnmaYi 
In the Galley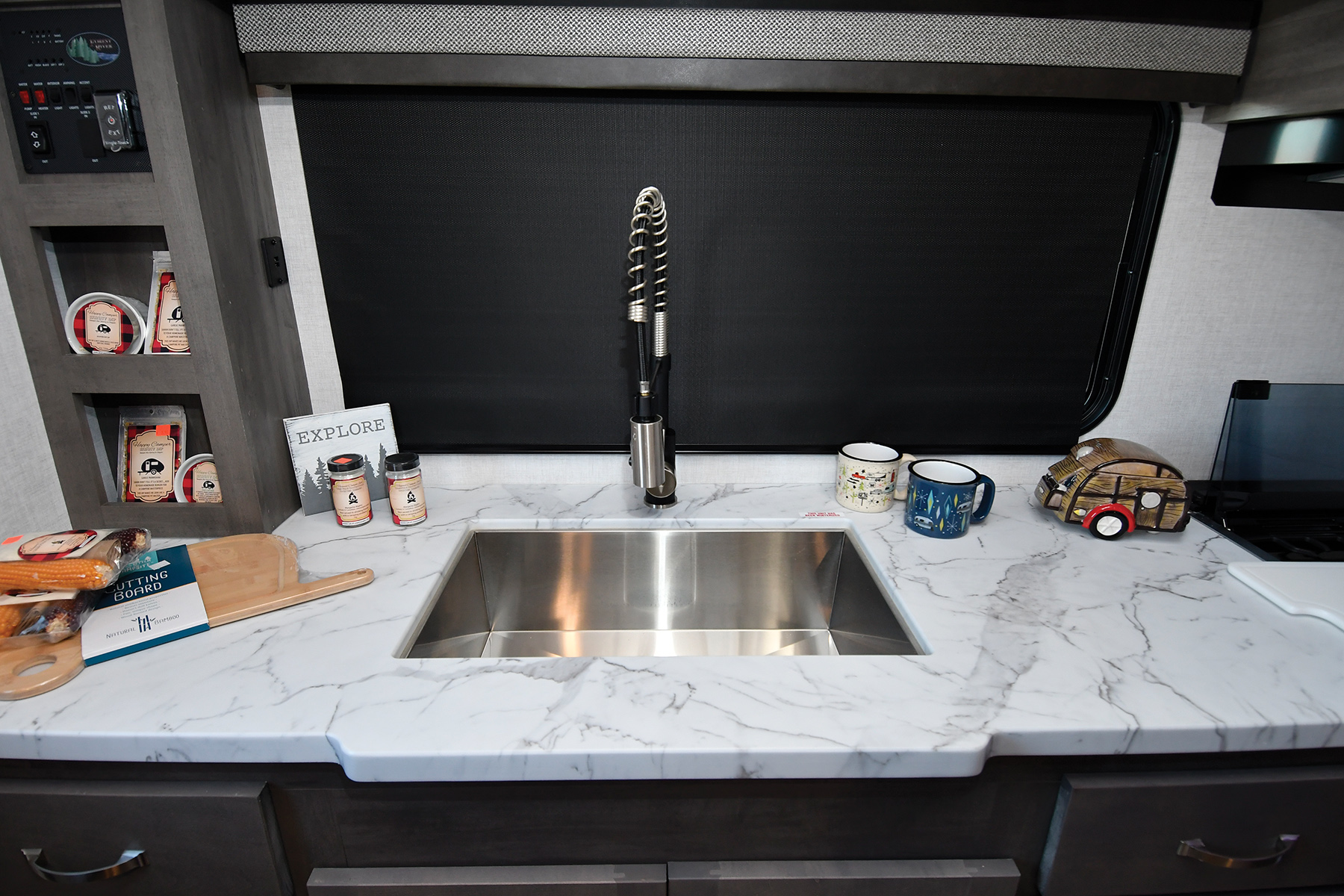 The "RK" in the model designation refers to "Rear Kitchen", and we found this floorplan to be most accommodating for a travel trailer of this size. The interior living space was bright and open, with lots of room to move around. The large rear window and well-placed interior lighting fixtures make this a bright trailer, day or night.
The galley features a large "farm style" rectangular stainless-steel sink, under-mounted into a one-piece solid surface countertop. The residential style kitchen faucet with extension spray rivals what you would expect to find in the modern home. There is a generous amount of galley storage, and the décor is very attractive- we really like the solid wood frame kitchen cupboard doors with glass inserts.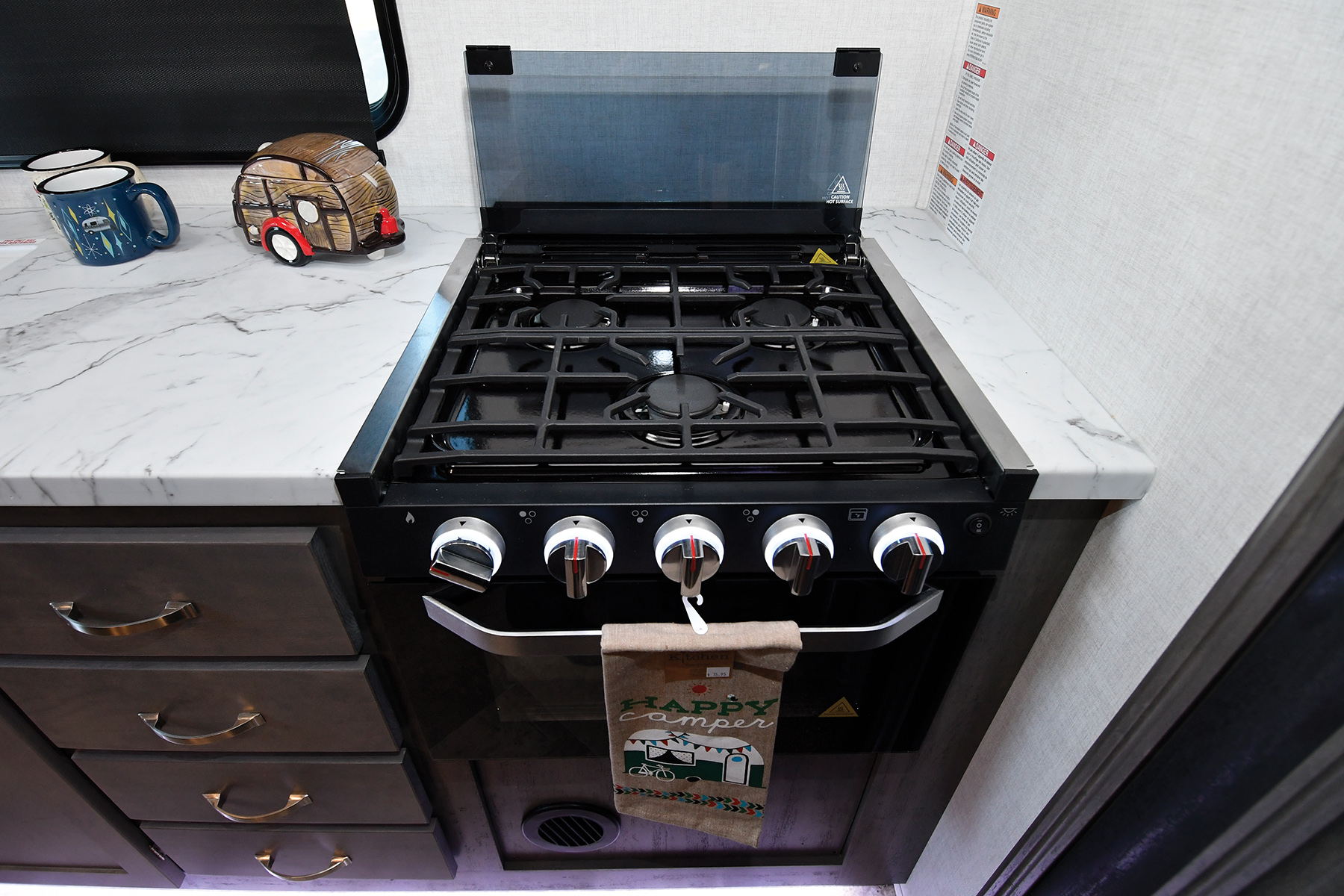 Galley appliances include a Magic Chef 3-burner range and oven with illuminated controls and a folding tempered glass backsplash. The microwave oven at eye level is ideally suited for average height chefs. Our test unit was equipped with an optional Magic Chef 10.5 cubic foot gas/electric refrigerator. All of the appliances sported upscale stainless-steel panels.
In the Bedroom
With a separate entrance door, the front master bedroom can be configured as a "suite". This is a major plus, especially when you have a floorplan that features a mid-section bathroom. This is where the first "K" in KRK comes in – it stands for King Bed – and what a bed it is! With the high quality 72" x 80" mattress, we're talking comfort, convenience, and ease of movement around the bedroom. There is a mounting spot prepared for an optional Furrion® 32" LED TV, but our unit was not equipped with this – although it had just about every other option available. Beside the bed are "his and hers" wardrobe closets, and "night table" drawers on each side. For those who need special nighttime appliances, there is a hidden C-PAP storage area with a 110V outlet.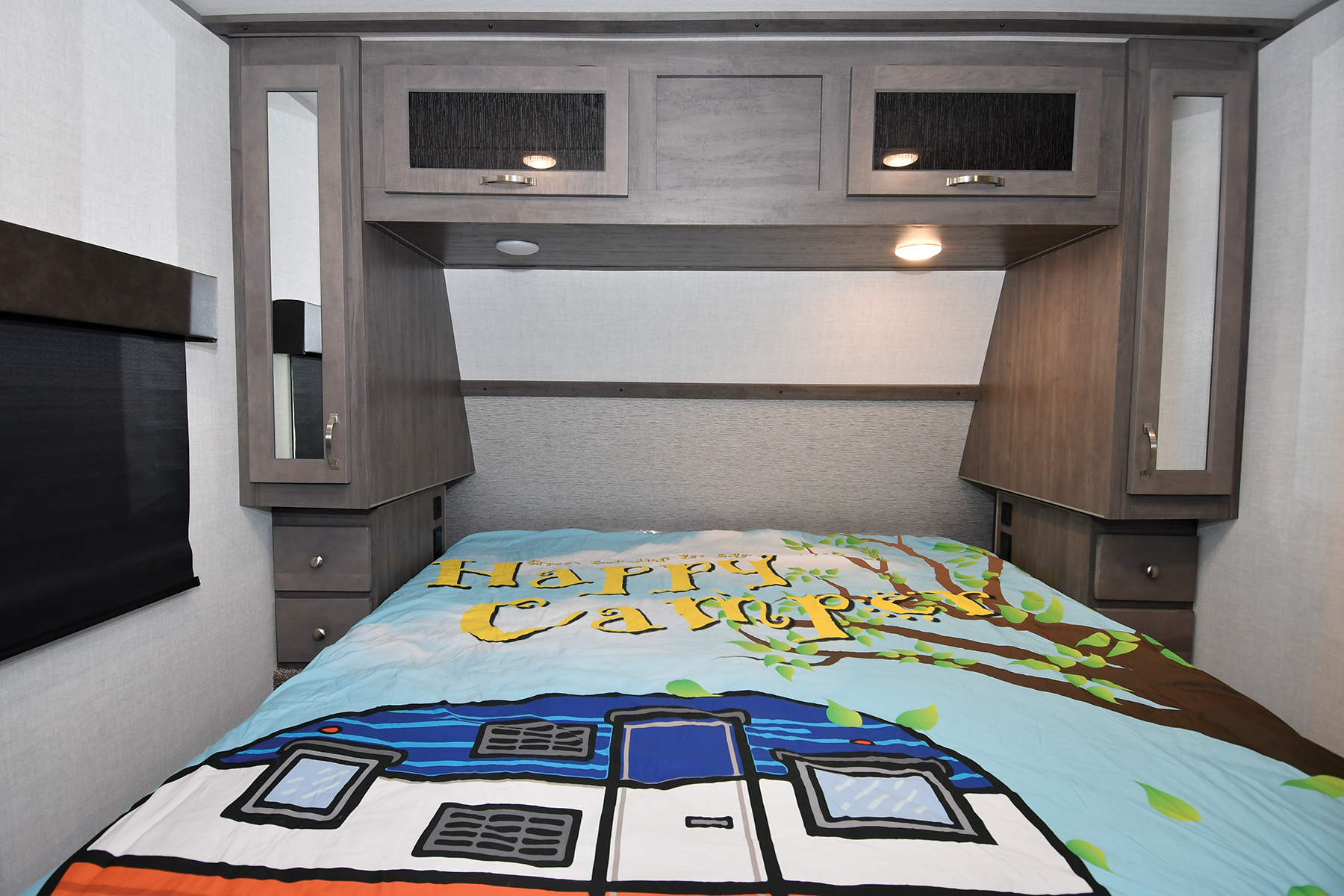 We look for several points in a front bedroom trailer: ease of movement around the bed, so you can make up the bed in the morning; bedside counter space for your glasses, cell phone, and other items; and under-bed storage. The 2350 KRK has the ingenious under-bed drawers that we first saw in selected 2019 Forest River models… this is by far the best idea in the travel trailer bedroom category, and it sets the East to West RV model apart from competitive units.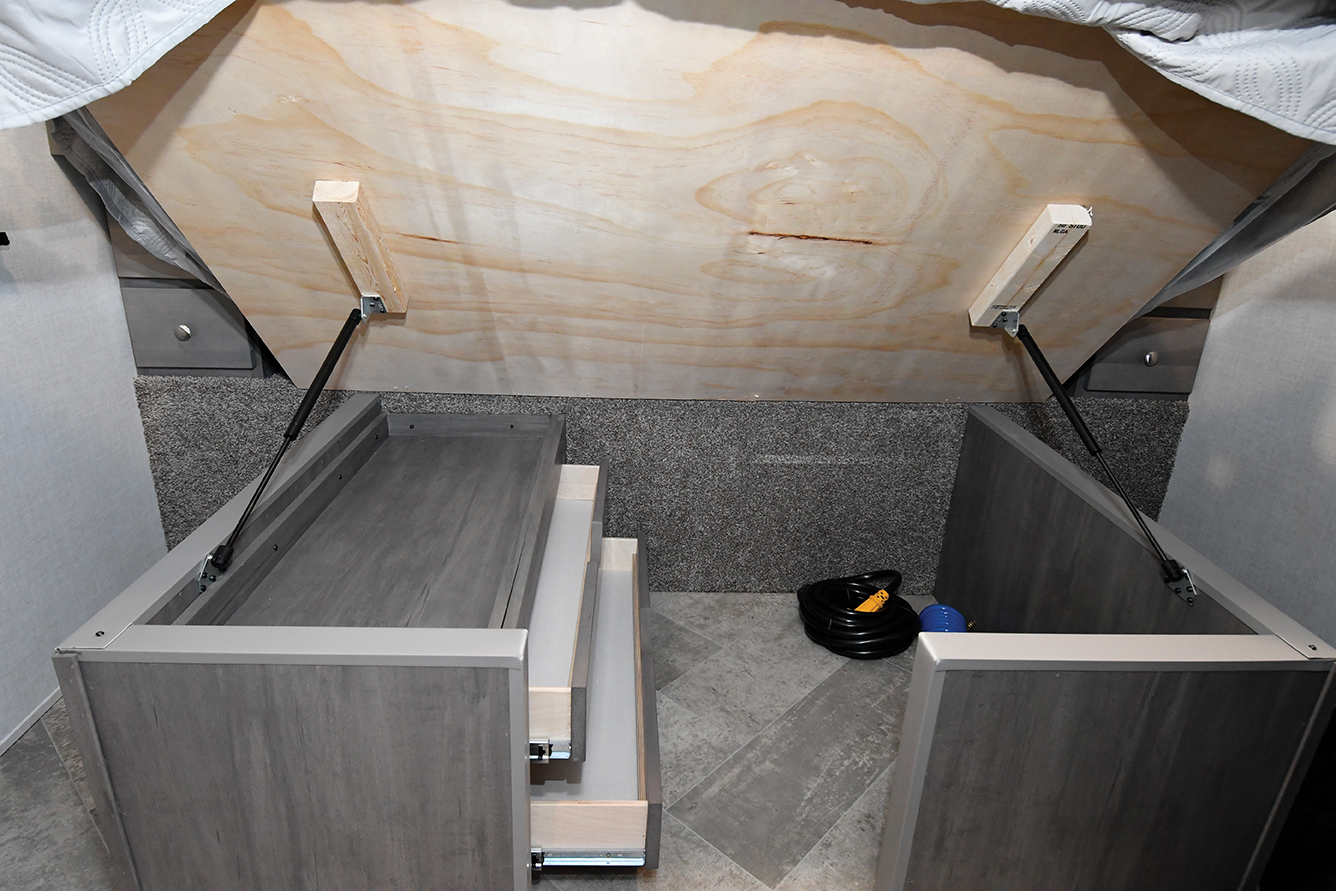 In the Bathroom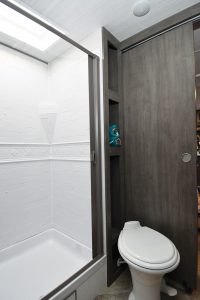 The 2350 KRK features a mid-floorplan "split" bathroom, with the vanity, oversize sink, and medicine chest on one side, and the shower and porcelain foot-flush toilet on the other. The shower stall is very spacious, with a skylight for illumination. The sliding glass shower door is large and moves effortlessly. Pocket doors on the bedroom side and on the living room side let you close off the bathroom from either direction.
T

he Bottom Line
With dashing good looks, a very thoughtful interior floorplan, and the fit and finish you would expect in a top-of-the line travel trailer, the East to West Alta 2350 KRK is a refreshing new approach to RV design, and an exceptional value at a reasonable price. 
---
SPECIFICATIONS
East to West RV – Alta 2350 KRK
Hitch Weight: 680 lb.
UVW: 5906 lb.
CCC: 3574 lb.
Exterior Length: 28' 6"
Exterior Height: 11' 2"
Exterior Width: 96"
Interior headroom: 81"
Water Heater: 6 gallons (LP, DSI)
Fresh Water: 53 gal.
Gray Water: 60 gal.
Black Water: 30 gal.
Awning Size: 19' power, with LED lights
MSRP as tested, F.O.B.
Peterborough, Ontario $45,875
For more information please visit the manufacturer's website at https://www.easttowestrv.com/
Many thanks to the team at Great Canadian RV for their assistance with this road test feature.
Visit Great Canadian RV at https://www.greatcanadianrv.com/
to watch our road tset video, please follow this link:
---
Towing with the Jeep Gladiator Rubicon
What better way to feature one of the most exciting new travel trailers on the Canadian market than to pair it with one of the most interesting tow vehicles!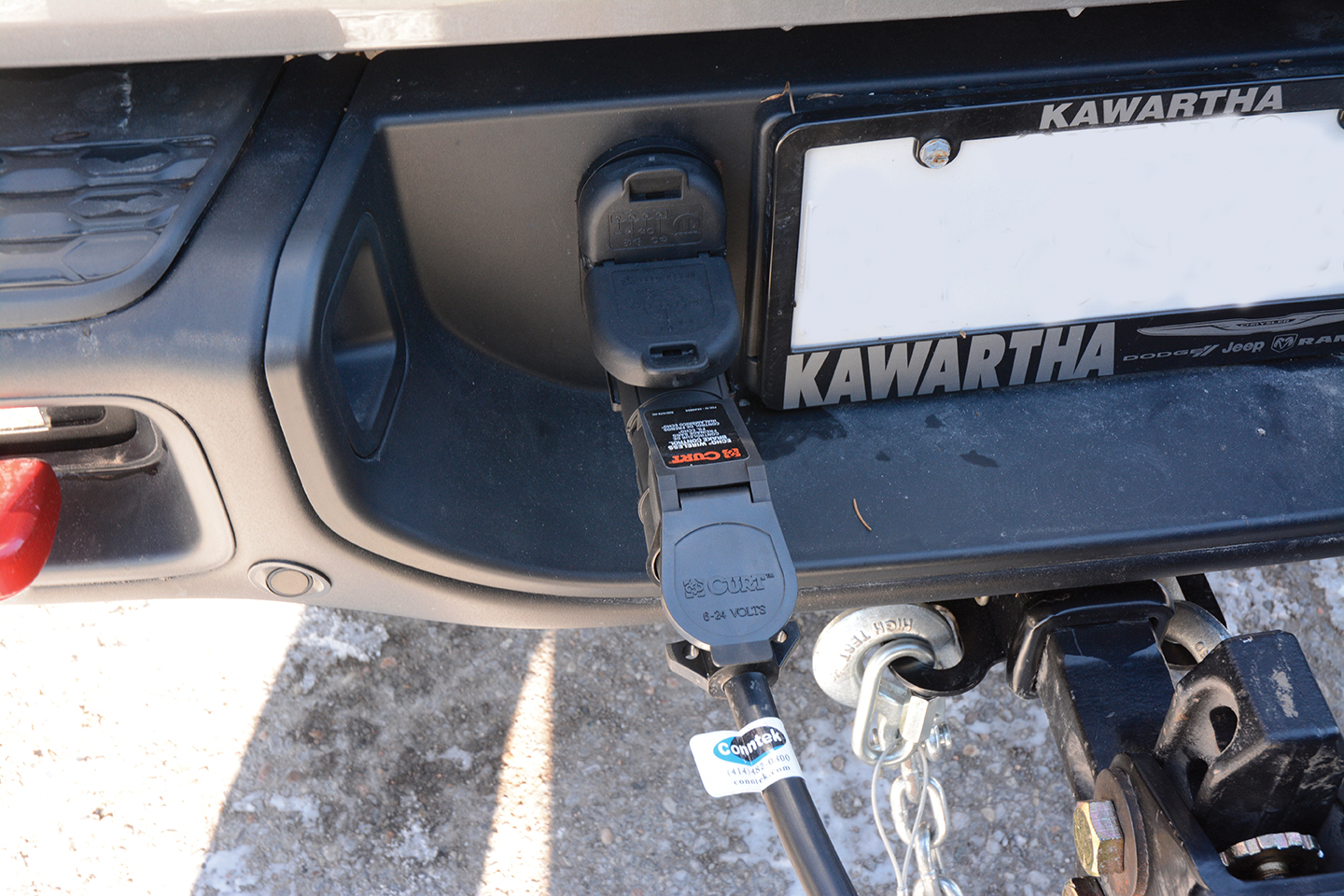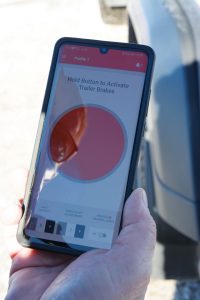 We hitched the Alta trailer to a 2020 Jeep Gladiator Rubicon, outfitted with the Max Tow Package and the 8-speed automatic transmission, and an Eaz-Lift ReCurve R3 weight distribution hitch with adjustable sway control. We used the new Curt ECHO Wireless Brake Control system, which has a transceiver that mounts between the trailer's 7-pin wiring harness and the tow vehicle's Bargman hookup. The system lets you control the trailer brakes from a smartphone app – it works like a charm, and once you have the brakes fine tuned for the road conditions and the load, you don't have to make any other adjustments unless the road conditions or the terrain change.
The Gladiator Rubicon is a very comfortable driving experience, with or without a trailer in tow – for an in-depth review of the Jeep, please see Garth Cane's road test in RV Lifestyle Magazine Vol. 48 No. 7.
The link above will open the Digital Edition at Garth's story – if you are prompted for a password to access the issue, please use RVLFREE2017