Your RV may be pre-wired for a range of appliance and accessory upgrades – your RV dealer can help you pick the upgrades that are ideal for your unit.
By Norm Rosen
While many RV enthusiasts follow a three to five-year trade-in schedule, there are compelling reasons why it may be advantageous to invest a bit of time and money to refresh your current campsite castle.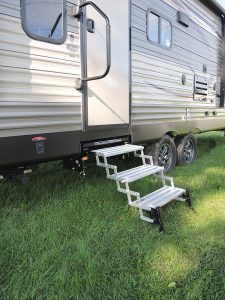 Many RV Lifestyle readers have chosen to take a wait and see position while the Canadian dollar is sitting at an unfavourable exchange rate – we all know that the exchange rate goes up, and the exchange rate goes down… so if you think that the dollar will be worth 10% more next summer, and perhaps 15% more in two years, why trade-up when the exchange rate adds a significant amount to the cost of a new RV?
When the dollar is down it is the perfect time to take a good look at your current RV, and think about the feasibility of upgrading some of the components and features.
RV component manufacturers have developed a full range of products that can be used to retrofit almost any RV to bring features, flair, and functionality up to the cutting edge of current RV technology.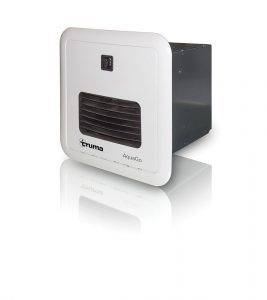 The list of potential refits spans the range from the obvious replacement of older appliances with new models that are modern and energy efficient, to upgrading the décor components – flooring, wall coverings, window treatments, and a full range of items that go beyond the scope of regular maintenance. From RV refrigerators, water heaters and furnaces, to air conditioners, power roof vents and lighting systems, there have been so many technical innovations in the past few years that you could refit an older RV to be "state of the art". You can also refresh the interior appeal of your RV, transforming a tired décor into an eye-popping environment.
The winter months are the ideal time to plan and execute these RV renovations. For many RV dealers, this is a time when service departments are quiet, and they would welcome the opportunity to help you refit an older RV. If your RV is just sitting in storage at the dealership, why not take advantage of the opportunity to upgrade – when you factor-in the enhanced value that you are adding to your vehicle, the investment makes sense for everyone.
For the experienced do-it-yourself enthusiast, some RV upgrades are well within the range of basic carpentry, painting, and flooring skills. For some refits and renovations, especially projects involving electrical and plumbing work, it is advisable to have a certified RV technician do the work… and for any project involving the LP gas system, it is imperative use the services of a certified gas fitter.
As you browse the new RV models at your local RV show, think about the features and components in the new units, and how you can retrofit some of these innovations into your existing unit. Let the RV dealer know that you are not quite ready to trade-up to a new unit, but you would be very interested in upgrading your existing RV.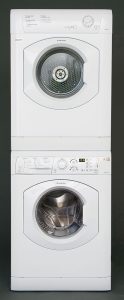 There are so many new features that you could add to your RV. Do you have a unit with an empty closet that is pre-wired for a washer/dryer combo? Would you be thrilled to say goodbye to the campground laundry, and hello to the convenience of an on-board laundry capability?
The same concept applies to refitting older RV units with modern high-efficiency furnaces, refrigerators, and air conditioners. New water heating technology from companies like Truma can significantly improve the operation of an RV shower – and eliminate the space and weight of a traditional tank-style unit.
Many of the older design RV components can be upgraded to enhance the livability of the existing RV, extending the lifespan of the vehicle, and increasing the resale value. In many cases, part of the cost of refitting RV appliances can be justified by this added value… a 10-year old trailer with a new refrigerator, furnace, and A/C unit will be worth substantially more than a similar product with the original equipment.
Whether you install the upgrades yourself, or have your RV dealer's service techs do the work for you, the result is higher value when it is time to trade up.
If refitting the RV appliances is too large a project, think about remodeling and redecorating the vehicle. New furniture designed specifically for RV aftermarket installation can dramatically upgrade the interior comfort and convenience of an older RV. Check out some of the sofas and recliners from suppliers like LCI, whose Thomas Payne line of RV furniture is designed to ship in sections that will easily fit through the RV entry door, and assemble in minutes to bring a fresh new look of luxury to the vehicle.
Your RV dealer's service techs can easily replace carpet and vinyl flooring to refurbish an older unit. You can recover the interior walls with wallpaper or add a backsplash to the kitchen area, and you can reface the cabinet doors just as you might renovate a residential kitchen.
Older RVs that have exterior design elements that have faded or suffered damage from too many years of exposure to road wear can be refinished. In some cases, a thorough cleaning and finishing can restore the gleam of a fiberglass exterior.  In other cases, your RV dealer can apply fresh decorative graphics – even custom designed "wraps" … the potential is limited only by your imagination.
Can you Do It Yourself?
For RV enthusiasts, nothing beats the satisfaction of a Do-It-Yourself project. There is an ever-growing list of new RV products that can be installed by any capable handyman (or handylady) – or by the RV service techs. From items as simple as 12-volt LED bulbs to replace the old incandescent models, and RV windshield wiper blades specifically made to fit a motorhome (easily installed by the RV owner), to LED ceiling lights and power skylights that will require installation by a qualified RV electrician, the potential for upgrading an older RV is impressive… expand your horizon to replace your old-style steel RV entry steps with one of the new aluminum models, and enhance your front door area by adding entry assist handles, porch lighting, manual or electric stabilizing jacks, and the list goes on.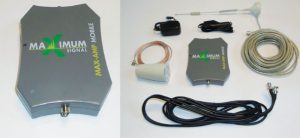 You might say that the sky is the limit for parts and accessory products to refit and refurbish older RVs. Just look up and check out the condition of the awnings – it is a simple task to source and refit fresh awning material. Take a walk around the unit, and look at the rubber weather seals around the compartment doors, slide-out sections, and exterior fittings – all of these components can be replaced to extend the service life of the vehicle.
Some RV upgrades are so simple you might ask why you never thought of them before. Have you ever had a storage compartment door hit you on the head because the latch to hold the door open has broken or disappeared somewhere on the RV road to adventure? New mechanical and magnetic latches can solve this problem… and while you are at it, how about a new set of "keyed alike" RV storage compartment locks? You can even go for a new entry door lockset – there are several available that offer increased security, some can be activated by a smartphone app.
Do you camp in areas where cell phone signals are disappointingly weak? You can buy a signal booster, like the one from Maximum Signal, and you will never feel that you are alone in the woods again… we featured this product in a recent RV Lifestyle Magazine New Product section and our phones literally rang off the hook – keep in mind that this product, like all of the items mentioned in this article, is only available through RV dealers.
Don't be depressed if you are not quite ready to pull the trigger on a new RV purchase… for every year that you delay spending money on trading-up, you have a golden opportunity to add a dash of excitement to your existing RV… and add value to the unit when it is time to trade it in!