We recently had a unique opportunity to pick up five 16' Airstream trailers on the same day from the Airstream factory in Ohio. We had been planning to prepare a special column comparing five different 4-cylinder tow vehicles, so we assembled our fleet of tow vehicles and our team of drivers, and headed south.
Our tow vehicle fleet included a 2015 Subaru WRX, a 2012 BMW X1 and a 2016 Volkswagen Tiguan, all with 2.0 Litre Turbocharged motors. We also had a 2014 Cadillac ATS with a 2.5 Litre naturally aspirated motor and our 2010 Jetta. Each vehicle had a 6-speed transmission (manual in the WRX) except the BMW which had an 8-speed.
The 16' Airstreams weigh in at 2,980 pounds, and they have an 8' wide body. As a point of interest, many of our customers who have 4-cylinder tow vehicles select the 3,600 pound 22' Airstream because it actually tows a little easier as it is just 7'6" wide.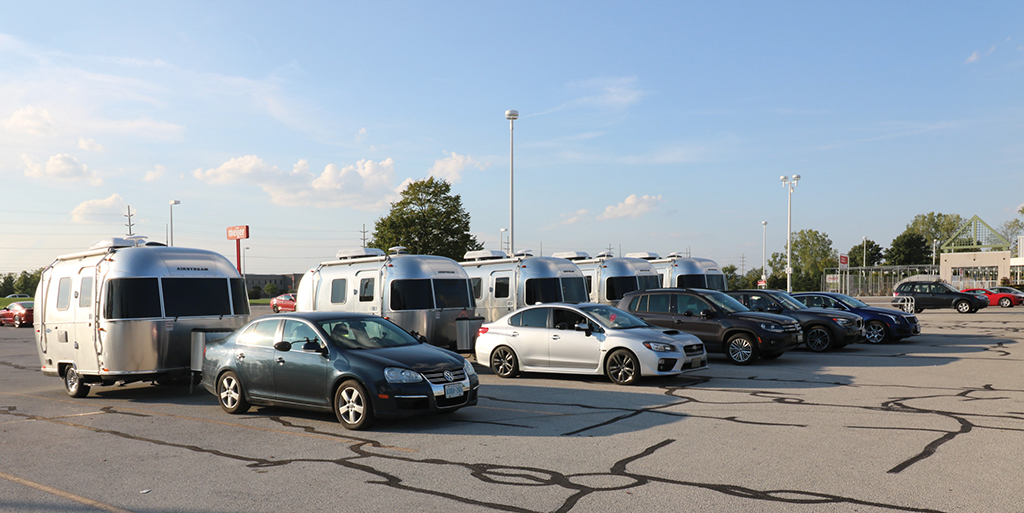 Our road test would cover the route from Jackson Centre Ohio to our home base in Lambeth, Ontario, a distance of 303 miles. Most of Interstate 75 from Toledo to Jackson Center is under construction while they expand the road to 3 lanes, so we had plenty of different road surfaces and lots of narrow lanes to run though, and the usual strong crosswinds coming across the open fields of Ohio. When you can run different tow vehicles along the same road at the same time with identical trailers it is a great comparison test as it removes most of the variables that normally come with checking fuel economy, handling, and overall towing comfort.
We planned the trip carefully to compile an accurate comparison of the various tow vehicles. We ran the first 90 miles at 60 MPH (97 KPH) and tried to avoid hard acceleration as we were looking for the best mileage possible. When we stopped to top-up all the fuel tanks, the BMW and Jetta were almost equal with the others not terribly far behind. The next segment of the test called for the drivers to run at higher speeds – in the 65-70 MPH range, and we had more stop and go driving to detour around a traffic tie up. This substantially reduced the fuel economy in all the gas powered vehicles, but the diesel powered Jetta hardly changed. This is why we may not see many diesel powered cars in the future. They may get much better mileage in real world driving, however on the EPA and Transport Canada tests – where very little throttle is applied – there is not as much of a difference.
Road Test Results:
Subaru WRX 2.0 Litre
Turbo 6-speed manual
This Subaru is a car I have driven on numerous occasions. As a solo vehicle it is a great combination of practicality and performance – it has extremely tight handling, a solid body structure, and suspension tuning that is almost a perfect balance between handling and harshness. As refined as it is, the surge of turbo boost gives it just enough unpredictability that it is great fun to drive.
Towing the 16' Airstream you might think "what trailer?" It just seems to pretend it is not there. You can toss the Airstream from lane to lane, decelerate hard into corners, and do pretty much what you like – the trailer just stays solidly planted. 0-100 KPH acceleration is 13 seconds including a 2nd to 3rd shift at 95 kilometers per hour. To put that into perspective, a test in 1971 with a Plymouth Belvedere with a 426 Hemi needed 13.6 seconds with an Airstream weighing only 800 pounds more. For some, the manual transmission would be a negative, but before discounting the manual transmission entirely, it is worth a test drive – it shifts so nicely and launches so easily that it is pretty easy to accept the manual – and the CVT automatic would just seem out of place in this car.
Cadillac ATS 2.5 Litre
6-speed automatic
The Cadillac is closest to the WRX in handling – likely 95% of the WRX's capability, but with a smoother ride. It is a wonderful chassis that feels like it was carved out of a solid brick. Though the engine is larger, not having a turbo gives it less total power, but for the 16' Airstream it is more than adequate. Most of the time the Cadillac tows the Airstream nicely in 5th gear, however one neat thing I discovered is that if you manually shift into 6th on cruise control it goes as fast as it can without shifting down. In the case of the 16' Airstream, setting the cruise at 100 KPH it would tow at 93-94 KPH in 6th on cruise control.
As I mentioned earlier, the 16' Airstream is 8' wide and the 7'6" wide 22' Airstream tows easier (it is always a challenge for people to understand that the longer trailer tows easier). I thought this would be an interesting comparison test to see what the speed difference would be in 6th gear on cruise control. As it turns out, the Caddy tows the 22' at 99 KPH in 6th. I find this little Cadillac to be a very impressive car – we knew that already from our experience on the race track with it. My only complaint is the ridiculously complex dash and electronics package. Maybe I am just too old, but it used to be that I could get into any car and know how it worked. One thing that would have my father shaking his head is that other than the Jetta, the Cadillac is the least expensive vehicle in this group.

BMW X1 2.0 Litre Turbo
8 speed automatic
The BMW X1 is in a new market segment where the vehicles are taller than a car, but not as tall as a crossover SUV (like the Subaru Outback or the Volvo Cross Country). The Jetta is 58" tall, the Tiguan is 67" tall, and the X1 is in the middle at 63". All of these are relatively low riders compared to an F150 at 76" or an F250 at 81".
The Beemer is the most well-rounded vehicle in the group, with the interior space of an SUV, but close to car-like handling. The quickest 0-60 time towing, and the most economical of the turbo engines, it is also the most expensive car in this group, but the value is there. The handling is excellent but with a more supple ride. Of course, on a BMW, the tight body structure goes without saying. Though it does not have the sports car handling of the WRX or the Cadillac, stability while towing is just as good, with more comfort, and the interior is easily the quietest. With 8 gears to choose from, the turbo spends less time in boost mode – giving this all-wheel drive vehicle fuel economy as good as the front drive Cadillac sedan. If you can afford it you will love this car.
The Tiguan
This would have seemed like an excellent tow vehicle if I had not driven the WRX and BMW first. It is the tallest vehicle in the group and the only SUV – it also it has the softest suspension tuning, which is still relatively firm compared to the other vehicles in the group. So the ride is still controlled and stable but you are not going to corner aggressively as you might with the Cadillac. The Tiguan has nice 225/55R x 17" tires but they are on relatively narrow rims which gives them some side-sway, so wider rims or tighter sidewall tires would really help. Still, I don't want to sound like the Tiguan did not work well – you could not feel a transport pass, and it was very nicely composed in large dips, even when crossing the centre divide in construction zones. In the end, height and soft suspension will likely make this the most popular tow vehicle, even if it is not the most dialed-in. It was also the least fuel efficient, but that is to be expected with its height and all-wheel drive. It is interesting to note that it uses more fuel than our 8-speed Chrysler 300 with the 3.6 Litre V6.
Jetta Diesel
The Jetta is our most proven tow vehicle in this group – we have installed hitches on a couple of hundred of these since 2006. This includes some commercial clients who tow enclosed cargo trailers and cover substantial miles with them. We have owned this Jetta since it was new, and it now has 175,000 kilometers on the clock with about half of that towing. We generally tow trailers considerably larger and less aerodynamic than the 16' Airstream used for this test, and we often hitch up larger units so our customers can see how easy it is to tow a trailer, and the Jetta just keeps clicking along. How much longer we will have it in our fleet, I am not sure, as VW has not decided what they are doing to fix the new generation diesel. As it is, there is not much to complain about with this 2006 model. The Jetta has a relatively long overhang compared to its wheelbase, but it has excellent suspension tuning so the ride is comparable to the Tiguan, and handling is not quite as stable but still very good. Solo you can drive it like a sports sedan and still get 1000 kilometers on a tank of fuel.

Summary
Each of these vehicles has its own set of strengths and weaknesses, but all are quite capable of handling aerodynamic trailers. in fact, the 16 felt like an overly easy towing assignment for most of them. Pretty much everyone's favorite vehicle was the one they owned, which makes sense. As the most impartial of the drivers (as I only owned the Jetta) I would have to say that the WRX is the car I enjoyed the most and would likely purchase myself, although I would not be disappointed with the BMW at all, and if I put a bit more money into the equation the Cadillac would be the best value.
I will leave the Jetta out as you can't buy one anymore, although there is a new aluminum body mid-size Jaguar XE diesel arriving soon, that will have 80 pounds more torque than the Jetta ,40 more horsepower, and an 8-speed transmission. This car may give Jetta caliber mileage with substantial performance enhancement, but it will likely cost $15,000 more than a Jetta diesel was back in the day.
One lesson I would say from this is that if you are using a turbo charged motor for towing it is a good idea to do a tow test and check your fuel efficiency before committing to a towing a trailer. Aerodynamic efficiency is going to be critical. While these engines have the power to tow less aerodynamic trailers, they will be deep into boost while towing, so the fuel economy is likely to suffer exponentially. Weight is not a critical concern as they all have an abundance of power for acceleration and plenty of control.
In this table you can see how the mileage drops off dramatically with higher speeds – especially with the turbocharged gas engines. The worst number in each category is in red and the best are in blue.
The cars largely got to the Airstream factory at different times so we could not do a solo highway comparison. The only one we were able to do was the Cadillac and Tiguan so they did run together, but it was not ideal for testing fuel economy as we had a 15-18 mph headwind and we were running 75 mph. The Tiguan delivered 26 mpg US gallon, which is not bad for a wheel drive SUV in those conditions, and the Cadillac achieved 32.6.