Upscale Elegance!
RV Lifestyle Magazine Road Test and photos by Norm Rosen
We had the pleasure of visiting Paul Pereira at Hitch n' Go RV in Delhi, Ontario, to road test the first 2024 Redwood 4120GK fifth wheel from CrossRoads RV to arrive in Canada.
From the first impression to the completion of our road test, this fifth wheel checked all the boxes – fully featured, beautifully appointed, and finished with the care that you would expect from a manufacturer building units for the high-end market, this Redwood trailer is a beauty!
Construction
The Redwood 4120GK is built on a Falcon Integrated Technology FIT 2.0 chassis with a 12" main frame, 10" drop frame, MORryde pin box, Dexter 8K lb. axles, enlarged brakes, and MORryde LRE 4100 suspension with wet bolts. This is the foundation for a very well engineered fifth wheel that's built to last. 
The floor is constructed with a foundation of 3" aluminum subfloor rails on 11" centres, filled with a layer of Radiant Tech Foil insulation, two layers of fiberglass batten insulation, 5/8" floor decking, a corrugated underbelly and a Darco moisture barrier, to create a fully enclosed and heated underbelly.
With four slides, this trailer has to deliver trouble-free convenience. CrossRoads RV uses Perfect-Fit slide technology featuring five-point slide room construction that carries a three-year structural warranty. The slides are designed to eliminate drag on carpet and linoleum flooring. There are composite slide-room "glide" bars, bulb seals that slide into the tracks, rain channels that direct moisture away from the slide openings, and beefed-up aluminum headers above the slide rooms for greater strength. Combine this sophisticated engineering with the 7' interior height of the slide rooms, and the excellence of the design is instantly apparent.
The sidewalls are engineered as a 2" laminated sandwich, consisting of a double luan backer, double welded aluminum frame, sanded block foam insulation, and a Z-65 True Gel Coat exterior.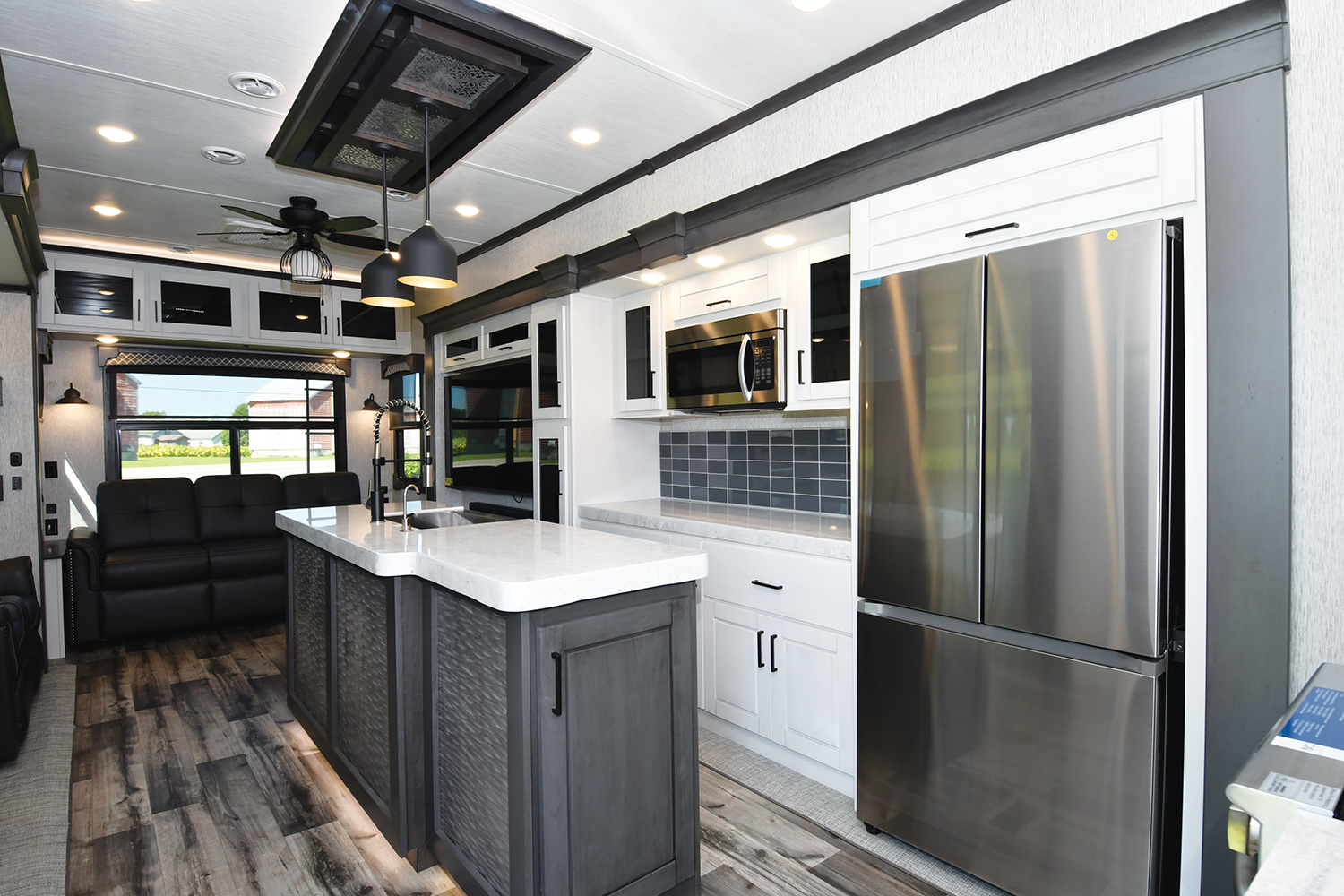 The fully 'walk-able" roof is engineered with a 5" reinforced trussed roof rafter system, insulated with a layer of fiberglass batten and a layer of radiant tech foil, topped off by 3/8" roof decking and one-piece Alpha-Ply roof material.
Parks Package
Our test unit was equipped with an optional "Parks Package" that includes a wide array of deluxe components. Entertainment items include a 39" LED HDTV in the bedroom, a 55" or 65" 4K Smart TV (VBM) in the lounge area, soundbar with powered sub woofer, electric theatre seating with massage, electric adjustable awning with LED lights, a second power awning, a second 15K A/C with heat pump in the bedroom, tank heating pads, and more… ask your dealer to elaborate on the many ways this package turns a camping trailer into a deluxe camping residence.
On the Road
We towed the Redwood with a Ram 3500 turbo diesel daily rated to haul 30,000 pounds. This one-ton pickup is the ideal class of tow vehicles for fifth wheel trailers of this size and weight. Towing was a breeze with a dry trailer – fill it to the maximum cargo carrying capacity with your gear and supplies and it will be a very fine handling rig.
In the Campground
This fifth wheel is engineered for serious RV enthusiasts who are looking for a fully equipped, well designed, and finely crafted RV that is suitable for all-season use, and extensive touring. Among the many features that impressed us was the Winegard Air 360+ V@ WiFi system with Winegard Connect 2.0, that is compatible with most 4G LTE data plans. This makes working remote a pleasure, and greatly enhances your Wi-Fi entertainment experience.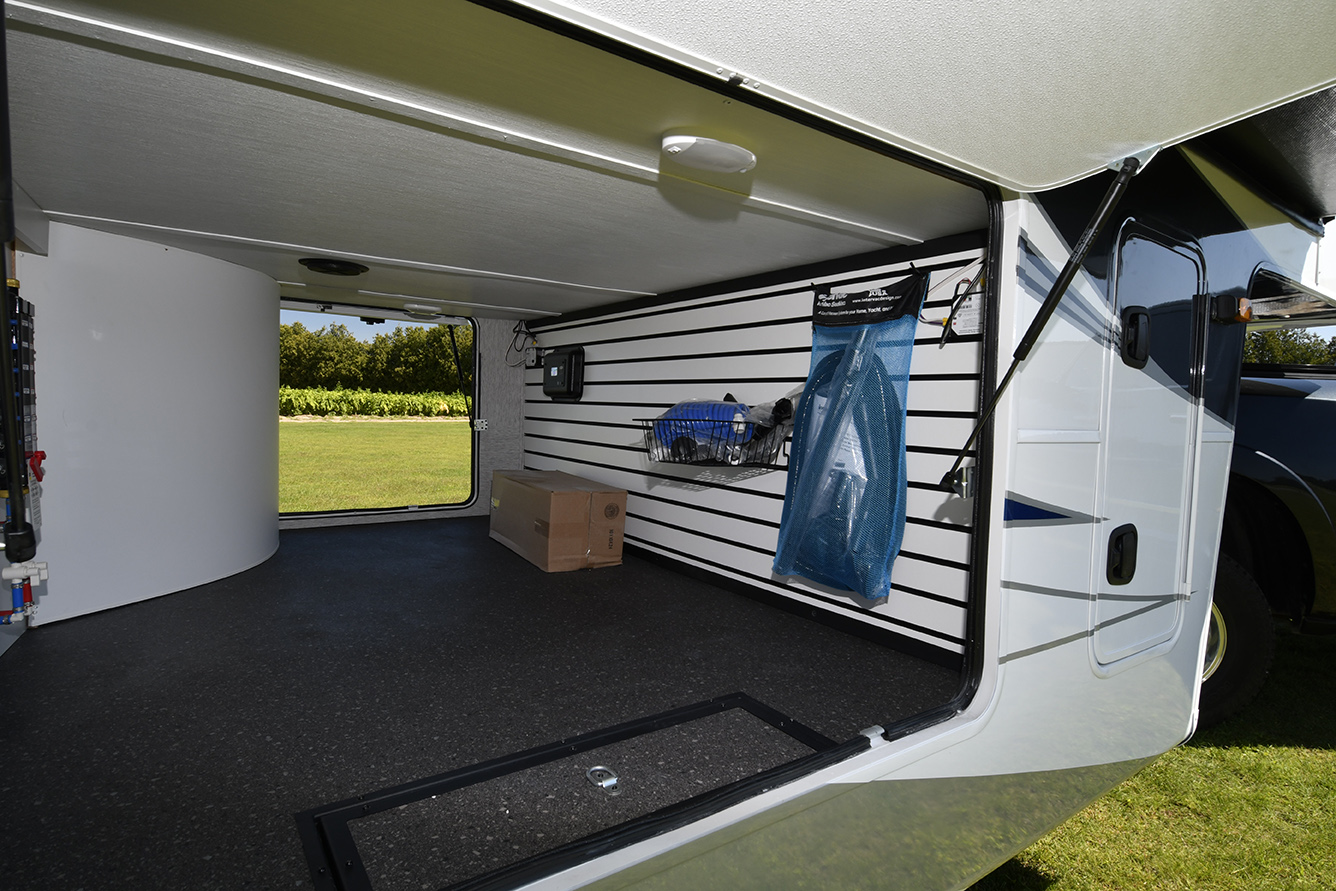 We were particularly impressed with the Firefly Integrations Vegatouch control pad, that puts all the RV lighting, HVAC, RGB and A/C functions at your fingertips, as well as control and monitoring of awnings, slides, levelling jacks, water tanks, water heater, water pump, generator, and more. Firefly Integrations offers apps that can give you remote control and monitoring access to selected RV systems – check the website at www.fireflyint.com for more details, and check out the Redwood RV website at https://www.crossroadsrv.com/products/redwood-rv/redwood/features-options/ for more details on the iN-Command Global Automation System.
Comfort and Convenience
Camping is by its nature an activity that is prone to accumulating dust, dirt, and miscellaneous environmental intruders inside the trailer. The Redwood fifth wheel helps you deal with this by providing a central vacuum system with power dustpan.
Keeping your Redwood spotless is part of the décor team's goal, and they accomplish this by utilizing easy care residential carpet and linoleum. 
One option that did not come with this particular fifth wheel is a washer/dryer combo. While the trailer is pre-wired and ready for this appliance, some people prefer to use the larger machines available at many campgrounds and local laundromats.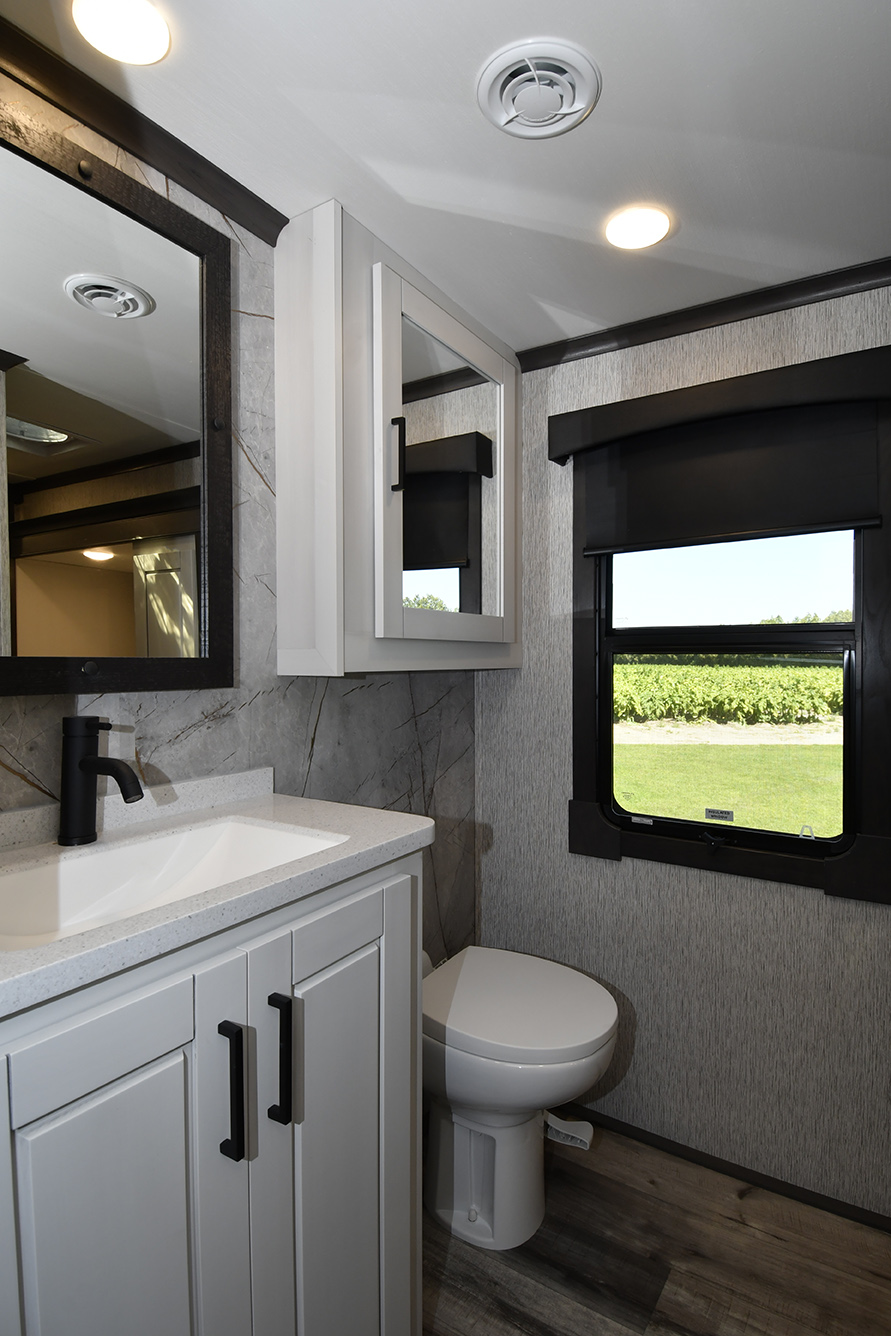 There are many factors that make a four-season RV suitable for camping during the hottest days of summer and the coolest days of Spring and Autumn. CrossRoads RV uses a Clima Tech heating and cooling system that delivers comfortable interior temperatures in the four crucial areas of the trailer. The Clima Tech system incorporates a 35,000 BTU energy efficient furnace with floor ducted heat run spanning the entire length of the unit, and water lines run into the floor, running parallel to the ducted heat to keep the lines from freezing. There are dedicated heat runs for the sub-floor area where the tanks are located, and the pass-through storage areas. In addition to the furnace, there is a 5,300 BTU electric fireplace that heats up to 1,000 sq. ft., and a heat pump dedicated for both the bathroom and the bedroom.
Redwood RV uses an exclusive air conditioning system including three 15K Coleman Power Saver Q Series A/C units that are among the quietest in the industry – and you can run all three at the same time. The cooling ducts are engineered with dual zone coverage. The A/C system uses the Blade Pure™ Airflow technology that provides 20% more cooling power as well as MERV 9 filtration to control dust, lint, pet dander, mold, pollen, auto fumes, and dust mites, removing up to 50% of 1-3 micron particles. The A/C ducts use Tuf-Lok thermoplastic couplers that form a crush-resistant seal that won't pull apart under the forces of heat, rough roads, and structural stress. This dramatically reduces cold air duct leaks, making the system more energy efficient.
The Clima Tech system delivers the following real-world interior temperatures when the outside temperatures are 110° F, and 0° F:
Outside temperature – 0° F / 110° F

Rear living area – heat = 74°/ cool = 68°

Galley area – heat = 75°/ cool = 68°

Bathroom area – heat = 75°/ cool = 68°

Bedroom area – heat = 72°/ cool = 65°
In the Galley
They call this model the 4120 GK – for Giant Kitchen. Our test unit was a campground gourmet's dream come true, with an 18 Cu. Ft. Side-by-Side Norcold Refrigerator with ice maker (RV refrigerator models) – you can opt for a 22 Cu. Ft. residential refrigerator with 1,200W Inverter. We loved the 30" convection microwave with exhaust fan, the oversized farmhouse sink with high rise faucet and pull-out sprayer, and the true residential four-burner gas range with 3.7 cu. ft. oven.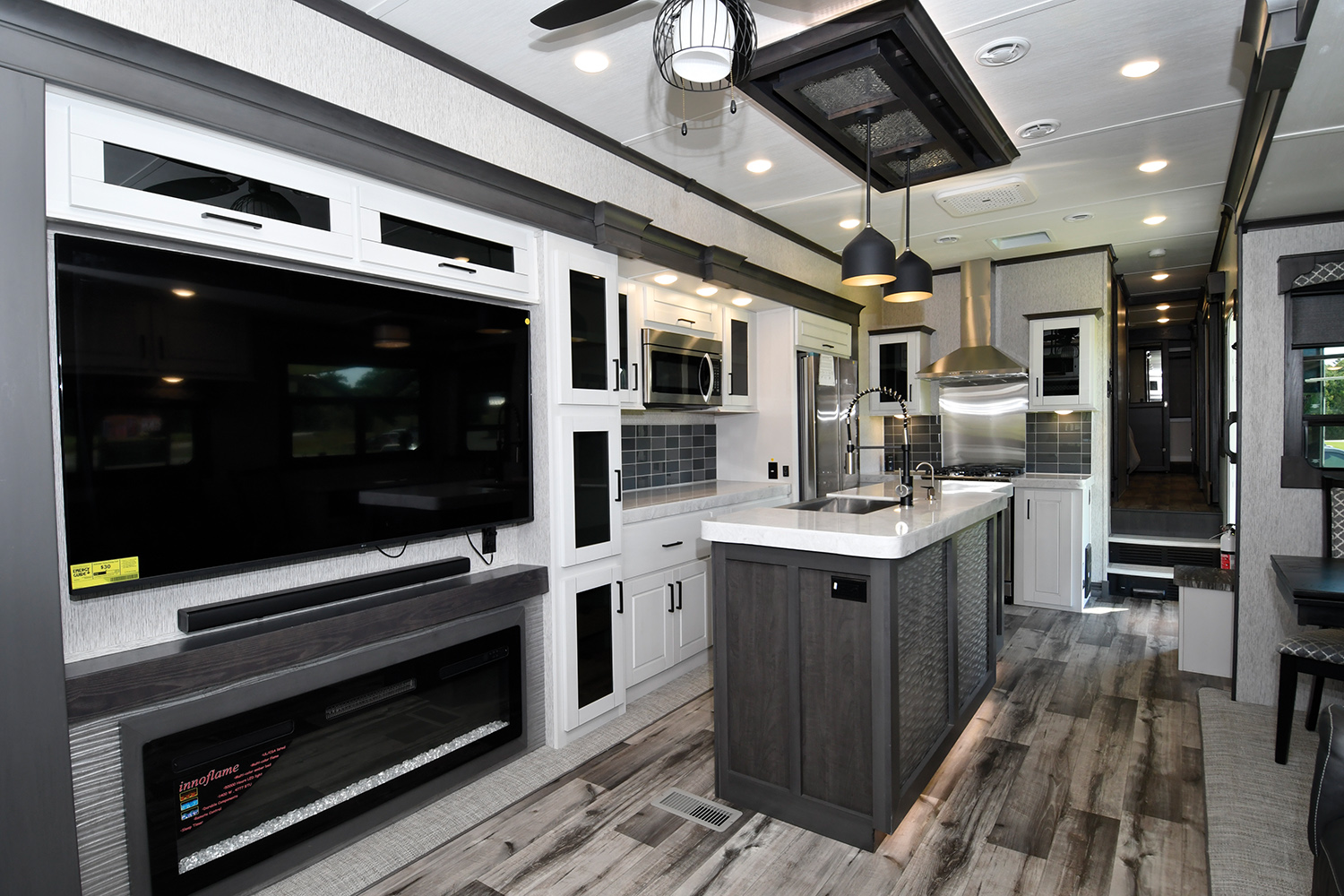 Quality construction abounds in the galley, as it does throughout the trailer. There are EGS steel backed cabinet anchors, full-extension ball-bearing drawer guides, and hardwood stiles that are pre-drilled and screwed together.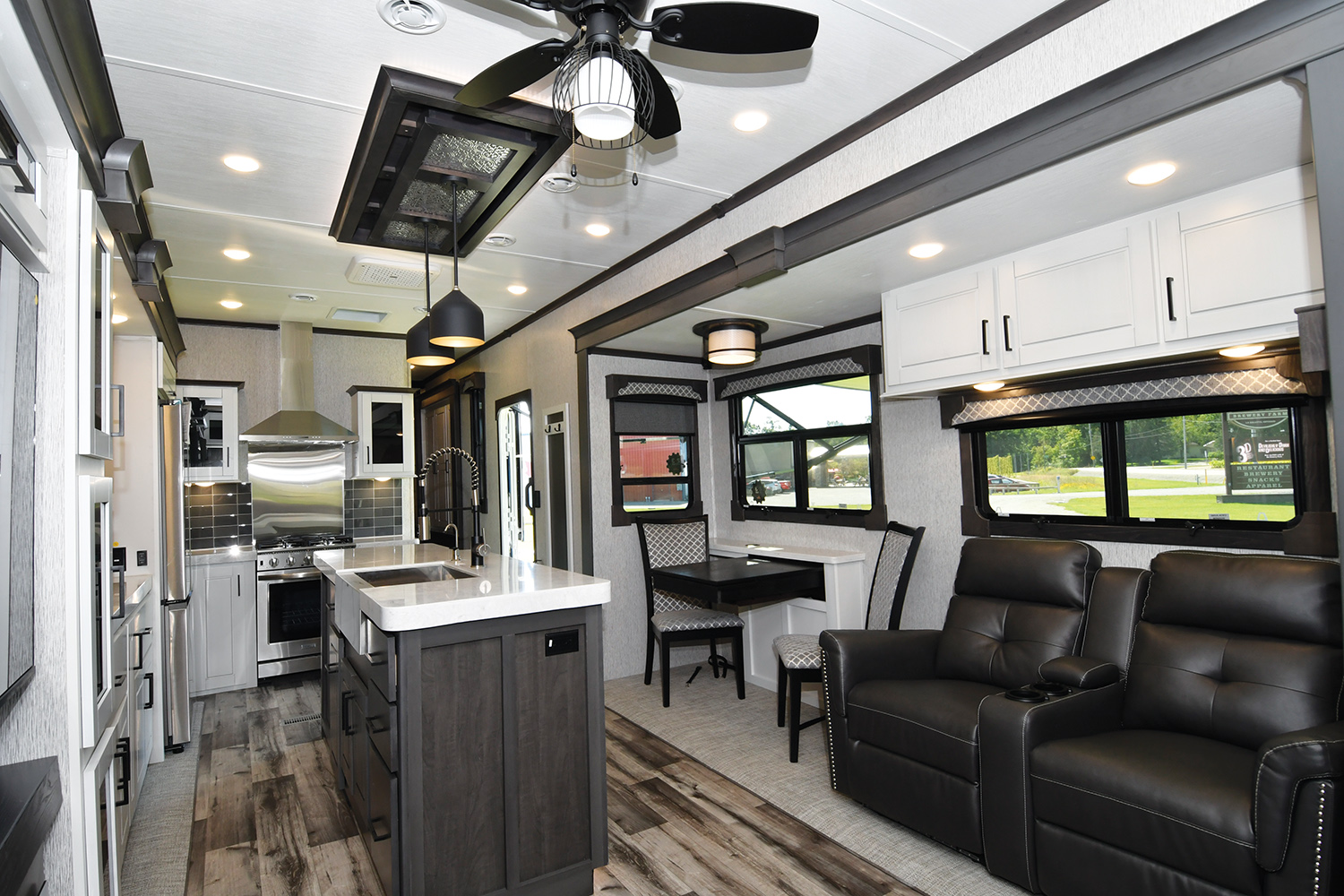 This galley is spectacular – it has a high rise island with dedicated garbage cabinet, over island lighting, and solid surface countertops. There's even a Max Air Fan with rain sensor. You will be amazed at the spacious pots and pans storage, and the residential sized storage drawers with soft close hidden hinges.
Water Quality
The Redwood fifth wheel was equipped with an On The Go water softener, a very welcome accessory in most areas, where hard water can wreak havoc on your skin, cause mineral deposits to foul your plumbing, leave a residue on your pots and pans, and generally ruin your enjoyment of the RV water system. The state-of-the-art engineering includes a Trauma on demand water heater, a whole unit water filter, and a drinking water filter.
In The Bedroom
The Redwood master bedroom is ideal for the RV couple who want a home away from home. HVAC considerations have been well taken care of thanks to a 15,000 BTU Whisper Quiet A/C with heat pump, and comfort is supreme with a gel foam king bed with bed tilt function. There are 110V outlets on both sides of the bed, as well as C-PAP shelves. USB ports, of course, for his and hers cell phone charging.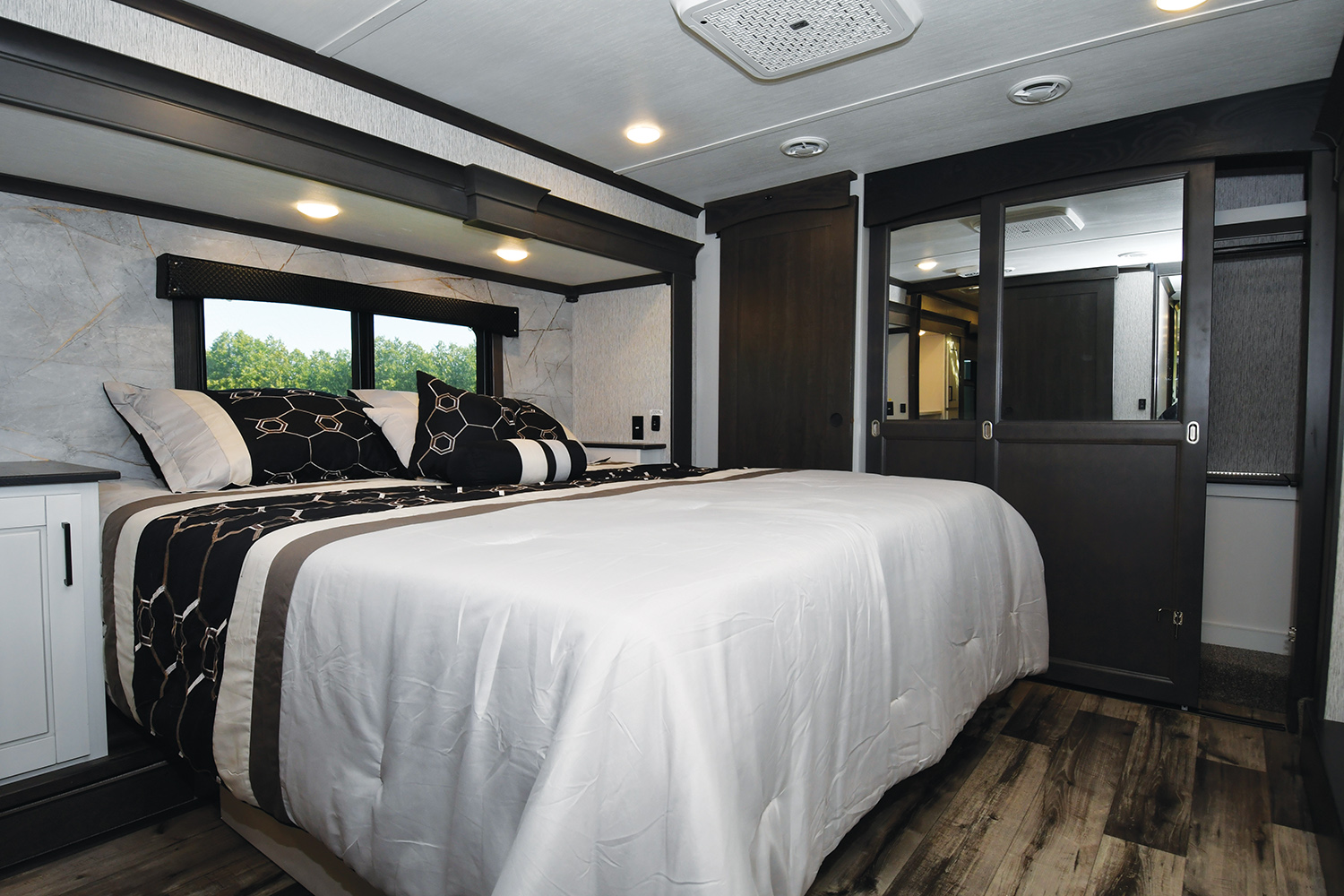 The bedroom has a 39" LED HDTV for your entertainment, night roller shades for privacy, residential dressers with drawers, and a walk-in closet with shelving for your wardrobe.
The Bottom Line
The 4120GK (Giant Kitchen) model featured here was decked-out in the "Midnight" décor, with Stratus cabinet finish and exterior Topaz Blue custom paint. Our test unit started at a base MSRP of $181,680 (US) and added $33,984 in options – these include:
Exterior custom paint: $12,792

Stratus cabinet colour: $320

Full-Time Living Package: $7,992

Parks Package:

 

$4,792

Residential Appliance Package: $2,072

15K 3rd air conditioner: $952

Side awning package – quad slides: $1,920

Solar Freedom 2: $2,232

RVIA Seal:

 

$168

Canadian compliance: $744
No-cost options include the Midnight décor package, 6-point hydraulic auto levelling, 8,000 lb. axles with H range tires, dual pane frameless windows, Firefly Smart Automation system, and residential 18 cu. ft. refrigerator.
Who could ask for anything more?
You might think that the Redwood is as fully equipped as a fifth wheel could be… but there are a few options you may want to add to your custom built trailer, including a 5.5 Onan LP Generator, disc brakes, full body paint, high efficiency dishwasher, RV refrigerator in place of the residential refrigerator, slide awning package, and a Zamp 170 Watt solar panel with controller.
CrossRoads RV has you covered…

 
The CrossRoads limited base warranty covers the RV for two years from date of purchase by the original owner. Transferable during the warranty period. The limited warranty covers defects in materials and workmanship supplied by and attributed to the CrossRoads' manufacturing and assembly of the RV.
The limited structural warranty covers the RV for a period of three years from the date of purchase by the original owner. Transferable during the warranty period. The structural warranty covers defects in materials and workmanship attributable to CrossRoads RV manufacturing and assembly of the structural portion of the RV.
There are more than 2,000 service centres throughout North America, including current dealers and repair facilities – all accessible online within seconds, or by telephone. 
---
SPECIFICATIONS
2024 CrossRoads RV Redwood 4120GK fifth wheel
Exterior length 44'10'
Exterior width 8' 0"
Exterior height with A/C

 

Dry weight 16,212 lbs.
Hitch weight 3,154 lbs.
Carrying capacity 2,788 lbs.
LP gas 60 lbs.
Fresh water 50 gal.
Gray/galley water 82 gal.
Black water 44 gal.
Sleeps 4
MSRP Base $181,680 US
Price as tested, F.O.B. Delhi, Ontario $202,880 US

 
Many thanks to Paul Pereira and the team at Hitch n' Go RV Inc. for their assistance with this road test project.
Visit the Hitch n' Go RV website at
www.hitchngorv.com