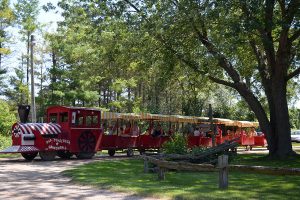 If you are looking for an ideal place to spend a few days, a few weeks, or the whole season, Our Ponderosa, a Parkbridge Resort located at Ipperwash Beach in Lambton Shores, Ontario, is a great place to visit.
Located in the Great Lakes region of Ontario, near the shores of Lake Huron, this RV campground and resort has all the amenities – it's an ideal destination for campers of all ages.
Our Ponderosa offers a full schedule of planned activities and events throughout the season. This Parkbridge community is a deluxe full-service three-season resort, complete with camping sites, seasonal RV sites, resort and cottage rentals.
You can relax at the pool, or play a round on the 9-hole golf course while the kids enjoy crafts and games, then partake of the evening entertainment – with live bands, adult and family dances, and lots of entertainment on the schedule, there is always something for everyone to enjoy.
Activities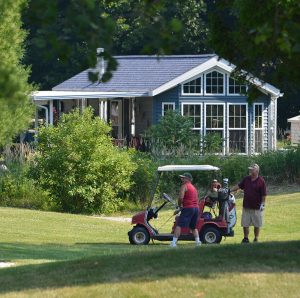 Visitors to Our Ponderosa Resort enjoy a full slate of amenities on-site, including swimming in the heated family pool & adult pool, 2 hot tubs, 78 ft water slide and a splash pad. If you prefer drier activities, you can take a ride on "Charlie Choo-Choo" a train that tours the property on a regular schedule, or relax in the recreation hall, where there is always something to do in the games room.
You can practice your swing at the driving range, play a round on the 9-hole golf course, or challenge the kids to a game of mini-golf… all on the resort grounds.
For the more adventurous campers, you can explore the surrounding area – Our Ponderosa is located just a few minutes from the beach at Lake Huron, and there are many regional attractions nearby, including:
Arbor Acres Plaza (Ipperwash)
Arkona Lions Museum (Lambton)
Birnam Orchards
Blue Water Fun Park (Sarnia)
Dark Horse Estate Winery (Grand Bend)
Forest Lambton Museum
Juicy-Fruit Orchards & Farm Market (Thedford)
Sarnia Water Park
Lambton Heritage Museum
Kineto Movie Theatre (Forest)
Kerrigan Family Farm (Forest)
Huron Country Playhouse (Grand Bend)
Starlight Drive-In Theatre (Grand Bend)
Indian Hills Golf Course
Grand Bend Motorplex
Twin Pines Cider House & Orchard (Thedford)​
Our Ponderosa has a fully-equipped store on-site, and there are a variety of shops and services available in Grand Bend and Forest.
Local Events
There are several attractions held in the area each year, located in and around the towns of Grand Bend and Forest. For more information check the website at www.grandbendtourism.com/events-2/
Overnight Sites
Our Ponderosa offers RV camping sites that they refer to as the "Voyageur sites" featuring easy pull-through layout, comfortable living space and great privacy. These sites have 30/50AMP full service sites that include, water, sewer, picnic table, and fire pit, and there are sites to accommodate anything from a tent trailer to a full-sized motorhome.
For campers who prefer a "pioneer" style experience, there are 15 amp partial service sites with hydro/water and close to full washroom & laundry facilities.
Seasonal Sites and Cottage Rentals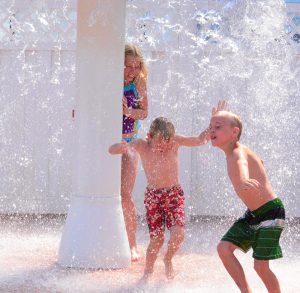 Our Ponderosa offers a range of permanent seasonal cottage and RV sites some with optional extended season availability. You can book a site to accommodate your RV or Park Model, or talk to the resort staff about purchasing a new model. For more information on new park models visit www.ourponderosa.ca
The seasonal sites feature a variety of options to provide exceptional living space and privacy.
Our Ponderosa also offer extra-large upgraded "Premium sites" located in a new and exclusive cottage section.
Seasonal Site features include 30/50 AMP power, water, and sewer hookups, fire pit, and full access to resort amenities. Internet and cable TV services are available.
As Canada's leading owner, operator and developer of more than 120 residential and recreational communities across the country, Parkbridge has been providing vibrant, safe and attainable communities for people to live, retire and vacation since 1998. For more information, visit us at parkbridge.com.
For more information please contact:
Our Ponderosa Cottage and RV Resort
9338 W Ipperwash Road, Lambton Shores, Ontario, Canada, N0N 1J2
Tel: 519-786-2031
http://www.parkbridge.com/en-ca/rv-cottages/our-ponderosa/our-ponderosa