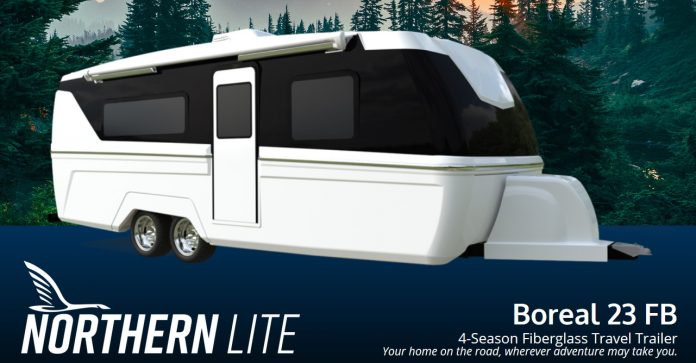 Northern Lite, the Kelowna B.C. Canada manufacturer known for building high quality 4-season truck campers, has announced an exciting addition to their range of RV products that are 'Built for Adventure'.
The company, which has a stellar reputation as a builder of truck campers, has revealed a "sneak peek" of their new Boreal 23 FB trailer – an innovative new 1-piece, seamless, leak proof, 4-season fiberglass trailer.
The Boreal 23FB is a 4-season travel trailer designed to keep your family dry in a torrential downpour on the Oregon Coast, cool during the heat of an Arizona summer and cozy warm on a mid-winter ski trip to the Canadian Rockies.
The trailer features modern interior design, hand-crafted high-end cabinetry, full sized queen bed, a spacious bathroom with full-sized shower, and storage for every item you will need on the road.
The Boreal 23FB shell has been designed to be leak proof. The upper and lower halves of the trailer are joined and sealed to create a seamless one-piece hull. There are no other true 4-season travel trailers on the market with this level of leak proof hull construction.
With 6'8" of interior height and an exterior width of 8'4", Northern Lite has designed an extremely roomy floor plan for a 23-foot travel trailer. With a large bathroom, a spacious bathroom and a living area that includes a large convertible u-shaped dinette and a kitchen with ample counter space.
For more information, and a virtual tour of the new trailer, please visit https://northern-lite.com/boreal-23fb-travel-trailer-sneak-peek/