Clyde, a Swan with a Rap Sheet
Once upon a time, not so long ago, on the Avon River, in Stratford, Ontario, there were a pair of swans, a cob and a hen, named Bonnie and Clyde. Like their movie counterparts, they became infamous. Clyde's bad behavior led to reports of assault, attempted infanticide, bigamy, and murder. Caretakers and visitors to the city stepped forward as witnesses, judges, and jury.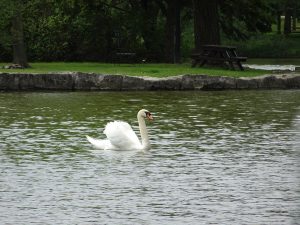 Swans are known to be monogamous and they have become symbolic of love and fidelity. Clyde, however, proved otherwise. Bonnie appeared to be the love of his life until, during mating season one spring, their special relationship expanded to become a triangle. Clyde could not resist a certain single hen who, because of his advances and her shameless willingness to enjoy them, became known as Jezebel. Clyde built a nest for Bonnie, his wife, and another nest for Jezebel, his mistress. Bonnie was the first to produce Clyde's offspring. He was living with Jezebel in a secluded, romantic spot at the time.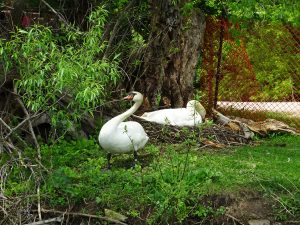 On a certain afternoon's paddle down the river, Clyde came across his fuzzy little children by Bonnie and attempted to murder them. He was immediately arrested and put in jail, the swans' winter quarters away from the river. For their safety, Bonnie and family were hustled out of town. In the meantime, another cob was showing interest in Jezebel. Clyde was released from prison to prevent his rival from murdering his and Jezebel's young cygnets. It wasn't long before it became obvious that jailtime did not rehabilitate Clyde. Clyde murdered Jezebel's suitor. Then, unable to keep his infidelity in check, he became involved in another love triangle. During the ensuing battle with the rival male, Clyde met his demise by drowning.
Swans are vegetarian. They would love our lentil salad.
---
Mango Lentil Salad
Ingredients
1 cup (250 ml) dried green lentils

 

1 grated peel of 1 lemon
1 firm, mango
1/2 cup (125 ml pitted, sliced kalamata olives
2 tablespoons (30 ml) capers
2 garlic cloves, finely chopped
1/2 cup (125 ml) chopped fresh parsley
2 tablespoons (30 ml) lemon juice
1/2 teaspoon (2.5 ml) dried oregano
pinch salt
pinch pepper
1 1/2 tablespoons (22.5 ml) extra virgin olive oil
Directions
Rinse the lentils and place them in a saucepan. Cover with cold water to 2 inches above the lentils.
Add the lemon peel and bring to a boil. Cover and simmer for 25 minutes or until almost tender.
Drain the lentils and set aside.
Peel and dice the mango. Set aside.
Combine the olives, capers, garlic, parsley, and lentils in a large bowl.
In a small bowl, combine the lemon juice, oregano, salt, pepper, and olive oil. Whisk until mixed.
Drizzle the liquid over the lentil mixture. Stir the mixture to coat lentils with dressing. Stir in the diced mango except for a small amount to use as garnish.
---
The Cooking Ladies' 10th cookbook, "On the Road with The Cooking Ladies, Let's Get Grilling", is available on Amazon at http://amzn.to/2CjLfR0 and wherever books are sold.
Follow The Cooking Ladies' on Facebook, Twitter, Instagram, and Pinterest. Links are on their website: www.thecookingladies.com.