Someone recently suggested to me that I should start utilizing Twitter as another means of receiving letters from readers. However, with the nature and short messages of tweets, I felt the messages would be too concise to use and I would not entirely comprehend the point of the tweet and misinform RV Lifestyle readers.
Nonetheless, I receive little tidbits of information and questions (pertaining to regular vehicle maintenance, trailer set up, tires, tow vehicles, etc.) that are not really enough for an entire column, but still worthy of passing along to you, the reader. So, I figured I would do just that for this column.
My personal car is a 2004 Jaguar XJ that I wrote about a few years ago. Although, I don't drive the car in the winter, I always run all-season tires as I felt they would be better on wet grass in a campground, etc. The Jag runs on different tire sizes in front and rear. The set in the front has P245/40R x 20" and the rear has P275/35R x 20." When I went to look for tires last spring, I couldn't find a combination I wanted (in an all seasons) so I went with high-performance summer tires.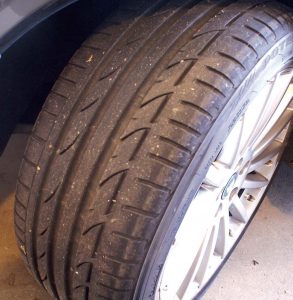 These tires  have a very straight tread line. The Jaguar has a very tight-steering-feel and I didn't think it could really get any better, but what a difference the summer tires made as tracking was a huge improvement over the all seasons.
A month later, our 2007 Dodge Charger needed new tires and since we run snow tires on this car, I put P245/45R x 20" summer tires on it as well. Again, it made a substantial improvement in steering-feel and handling precision. I have noticed that quite a lot people run snow tires these days so going to a straight summer tire at the end of winter is worth considering. One note of caution, however, is to make sure you get your snow tires on before the snow flies as the summer tires are terrible even on an inch of snow.
Speaking of the Jaguar, I can say I still love this car to an irrational degree. It just rolled up to 135,000 kilometres and I expected some reliability issues over time. So far, the only repair has been a new hood latch that kept setting the alarm off. What impresses me is that I replaced the brakes at 50,000 kilometres as they had rusted and were a little jumpy. The great thing is it has not needed brakes since and the steering is as tight and solid as the day I bought it, yet it has never needed a new tie rod end, ball joints etc.
One interesting process was getting the transmission fluid changed. At 95,000 kilometres, I thought I better get the transmission fluid changed. The Jag dealer said it was lifetime fluid but couldn't tell me who's lifetime. I said the fluid is seven years old with 95,000 kilometres and I drive the car fairly hard and tow with it regularly. So, I thought I should change it anyway. They said they didn't have the parts available to do the change.
The Jaguar has a ZF 6-speed automatic and I know they have a booth at the Detroit Auto Show, so when I went to the event, I paid them a visit on press day. They told me the same thing about the lifetime fluid, but again they couldn't define "lifetime." Eventually, after some prodding, they gave me a contact at California Transmission Specialties who could get me the correct fluid, gaskets, replacement bolts for the pan and a new oil pan (as the filter is part of the oil pan). All these parts cost $400 and also came with instructions for changing the fluid.
I showed the procedure to Jaguar and they said it was simple and the same process as changing fluid in the 5-speed. Their charge was $230. So, $630 later I had new fluid in the transmission, but I felt much better about it. Considering a ZF 6-speed is a few thousand to replace, its cheap insurance in my mind.
Speaking of fluid changes, I had a conversation with the owner of the shop that does all the maintenance on the rest of our fleet. He mentioned, "I am up to my ears in engine changes and I hate changing engines." I then asked why and he told me about all the long extended oil change intervals that are being promoted by many manufactures. The gunk in the engine eventually builds up enough that it clogs the timing chain, causing it to skip or come off, which causes the valves to hit the pistons and generally ruins the engine.
Around the same time, I was speaking with one of our customers who has towed his 31' Airstream all over North America a few times with his 2008 Mercedes Diesel. He was in a campground in South Carolina and was approached by a retired Mercedes employee curious to find out how he liked his Mercedes. He mentioned he spent most of his career with Mercedes and he was responsible for getting the company to supply the 3.0 L Diesel in North America. His parting comment was, "think about changing the oil a little more often". I have always been a believer in frequent fluid changes. We change the oil every 5-8,000 kilometres and if the vehicle has a lot of stop and go or does a lot of hard towing in intense heat, we change at it 5,000. We change the rear axle, transmission and transfer case fluids at 80,000. The lifetime engine coolant is changed at 100,000.
I should also update you on the two vehicles that do most of the towing around our business – the 2010 Jetta TDI and our 2011 Dodge Caravan. The Jetta is used because it is so cheap to run and the Caravan is used because it's so versatile and economical.

The Caravan has 73,000 kilometres on it already. We just installed the second set of 225/55R x17" XL (extra load) tires, but other than that it has only needed routine maintenance. The 2010 Jetta now has 115,000 kilometres on the clock with an extensive amount of that towing a wide variety of trailers. Thus far, it has been trouble free. It has needed new tires of course and one set of brakes. Our concern with this car was whether or not the DSG clutch and automatically-shifted manual transmission would be durable with a lot of towing. Recently, we had the transmission and clutch inspected to see if there were any issues. So far everything is working very well.
Today, I would buy another VW and not just another Jetta. Two years ago when VW introduced the new Passat, which is slightly larger than the Jetta, it wound up being the same price. Their answer was to move the Jetta down market a little so they would not have two cars at the same price point.
To save money they took off the independent rear suspension. If you would like a VW diesel, then perhaps opt for the Passat or Golf, which still have the independent rear suspension. We have set up a few Passats for customers and it's a very nice car. It's considerably larger than the Jetta with a longer wheelbase and a wider stance, yet the fuel mileage appears to be about the same.
On the Passat, the standard 16-inch tires have a lot of sidewall roll so you can change them to a more precise handling tire or go with the 17-inch wheel option. We will likely change our Jetta to a Passat, but we will likely run the Jetta for a few more kilometres.
Many of the customers we do test drives for have read these Hitch Hints columns or have seen us at shows. In general, most people coming in have a pretty open mind about trying something new. Every year I do a towing seminar at an Airstream Rally at the Airstream facility and I generally take a few people for test drives.
This year, Airstream put it in their program and I ended up doing about 30 test drives with around 80 people using the Taurus SHO and a 30' Airstream. Although Airstreams are easy to tow, many people have strong beliefs that a ¾ ton is needed to tow anything, so they were pretty leery about the combination. In the end, they were quite surprised with the results.
One RVer who has been towing for 30 years just kept saying "I had no idea it could be like this." In the area where we were testing, there's a two-lane road with a double 90-degree "S" bend, with a recommendation of 25 mph. It's well banked and the Taurus and 30' Airstream went around it fairly easily at 40 mph. One person even went back to see if his 4×4 ¾-ton would go around the corners as fast solo as the Taurus and Airstream did. He said it did, but it was a lot less stable.
Another person who was questioning the combination operates a performance driving training program for the Pennsylvania Police Departments. He got behind the wheel and after about 1000 feet he said "oh yeah, this is dialed in." He was very impressed and stated the combination handled better than his Tahoe and 19' Airstream. The Taurus is a pretty tight handling tow vehicle but much of the difference was that for the first time, most of these RVers were towing a properly connected trailer. Even people purchasing in the Airstream price point rarely have a great hitch set up.