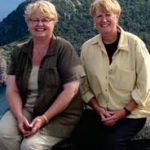 Please visit The Cooking Ladies' website at www.thecookingladies.com or email them at info@thecookingladies.com
(Makes 2 to 3 servings)
3 tablespoon (45 mL) canola oil
1 large onion, chopped
5 cloves garlic, chopped
2 chicken breasts, cut in small cubes
2 cups (500 mL) low-sodium chicken broth
1 bay leaf
3/4 teaspoon (3.75 mL) cumin
3/4 teaspoon (3.75 mL) white pepper
1 (11 oz/311 g) can white corn, drained
1/2 cup (125 mL) low-fat sour cream
1 (15.5 oz/439 g) can white beans, drained
lime wedges
Heat the canola oil in a deep saucepan over medium heat.
Add the onion and garlic to the oil. Stir until the onion becomes soft. Do not brown.
Add the chicken. Stir and cook until the chicken is no longer pink. Do not brown.
Pour the broth over the chicken. Add the bay leaf.
Add the cumin and white pepper. Stir to mix well.
Bring to a boil. Turn the heat to medium-low for a slow boil. Cook for 20 minutes.
Place the corn in a food processor. Add the sour cream. Process until smooth. Set aside.
Add the beans to the chicken. Continue to cook over medium-low heat for 20 minutes.
Stir in the corn mixture. Mix well. Cook for 5 to 10 minutes. Stir often.
If less liquid is preferred, continue to cook for another 5 to 10 minutes.
Ladle into bowls. Squeeze a little lime juice on top of the chili.
Serve with extra lime wedges.
---
Getting along Swimmingly with Polar Bears
The Polar Bears at the Polar Bear Habitat & Heritage Village are an excellent reason to visit Cochrane, Ontario. The rescue and rehabilitation facility is the only place in the world where children and adults can swim with Polar Bears. It is pretty exciting to be in water just inches away from a soaked, white monster-of-a-bear as he munches down lettuce for lunch. The good news is that there is a glass wall between the human pool and the bear pool.
Cochrane is also the home of the Tim Horton Memorial Museum, a special room inside the Tim Horton Event Centre. It is a very personal place, much like a teenage boy's bedroom filled with hockey sweaters, hockey pucks, hockey sticks, bleacher seats, and photos.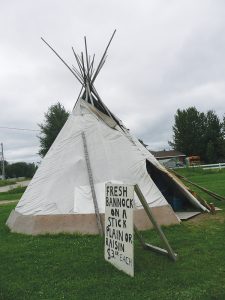 Cochrane is the starting and ending point for the Polar Bear Express. This 186-mile, four-hour train trip took us far beyond the end of the last gravel road going north. At Moosonee, the northern terminal, just a few water miles from James Bay, we caught a water taxi over to Moose Factory where the Hudson's Bay Company set up the first permanent English-speaking settlement in 1673. On the Moose Cree First Nation Traditional Territory we stepped inside a smoke-filled teepee to sample both plain and raisin bannock on a stick.
Our chicken chilli is as white as the polar bears. It would go perfectly with unleavened bannock prepared over a campfire.