The auto industry contributes billions of dollars to the Canadian economy every year. It is not just from direct employment in the assembly plants. There are hundreds of part suppliers, trucking companies and others that all rely on this industry. Auto companies make large contributions to universities and colleges—the list goes on and on. Canada would be much worse off without its auto sector so if you can make one of these vehicles work for you, you're investing in more than just a car.
If you would like a tow vehicle made in Canada, we have a surprisingly good selection. We don't have local production trucks anymore but for many trailers there is a great selection of Canadian-made tow vehicles. An added bonus is that our Canadian plants produce some of the highest quality ratings in the world.
My personal favourites on this list are the Chrysler 300, Dodge Charger variants made in Brampton Ont. We have been using these cars since their introduction in the fall of 2004. These cars have been constantly refined since then so today they perform at a level far beyond their price point.
As I write this, I am sitting in Florida having just driven here with an Airstream on our 2014 300S. It is my first long trip in the 300 in a while and my goodness it works well, very comfortable seats for a long day of driving, quiet and smooth but handles terrific. Coming through Miami last night the turnpike was under construction with lots of construction S bends, side barriers, fast heavy traffic and narrow lanes. The 300 kept up with the traffic and its precise handling inspired confidence in tight conditions.  If you want fantastic fuel economy, it is hard to beat the 3.6 Litre 8-speed combination, it gets better fuel economy than many four-cylinder SUV's. If you want a powerhouse, then the 5.7 Litre Hemi delivers massive horsepower and torque and it is almost all available for towing because it does not have to push a big truck along. If you would like an absolute animal of a tow vehicle then look at the Charger SRT8 with its 485 horsepower 6.3 Litre (fuel economy suffers somewhat more on this one).
One other thing I like about using a car for towing is that what I have in the trunk is out of sight and any rattles I am not likely to hear. The low centre of gravity and suspension tuning tends to be firmer and more controlled than trucks and SUV's, as well. This combination of properties means that these are likely the safest tow vehicles available.
By far the most popular Canadian made tow vehicle is the Dodge Caravan. It is certainly hands-down the best value in a tow vehicle available, maybe the best value in any vehicle. The 3.6 Litre and 6-speed transmission gives respectable performance and good fuel mileage, the handling is quite good especially if you optimize the tire size for towing. With the stow and go seat option it can be a roomy cargo van or flip the seats up and you have plenty of space for six passengers and seven in a pinch. It is hard to imagine a more versatile vehicle. Our 2014 Caravan currently has 240,000 km on it and so far it still runs like a clock. Sixty per cent of those miles are towing miles often far larger trailers than we would ever suggest for customers. Considering it was $21,000 brand new it today owes us nothing. About the time we were purchasing this Caravan I was helping a customer spec a Mercedes. It turned out the option packages on the Mercedes cost just about as much as the entire Caravan.
Closely related to the Caravan is the Chrysler Pacifica. It shares many of the Caravan's features such as stow and go seating but with many significant improvements. Though it has the same 3.6 Litre engine in the Pacifica it is mated to a 9-speed ZF Transmission, it unfortunately has no manual shift mode. Also added to the Pacifica is a well performing 9-link independent rear suspension. This suspension rides smoother than the Caravan's twist beam rear suspension. The interior of the Pacifica is upscale and quiet with a stronger body structure. Also available in the Pacifica is a plug-in hybrid version, however we have not towed with the Hybrid as of yet. The Pacifica is more expensive than the Caravan but that is to be expected considering all the upgrades, if the Caravan ever dies, I will add one of these to the fleet.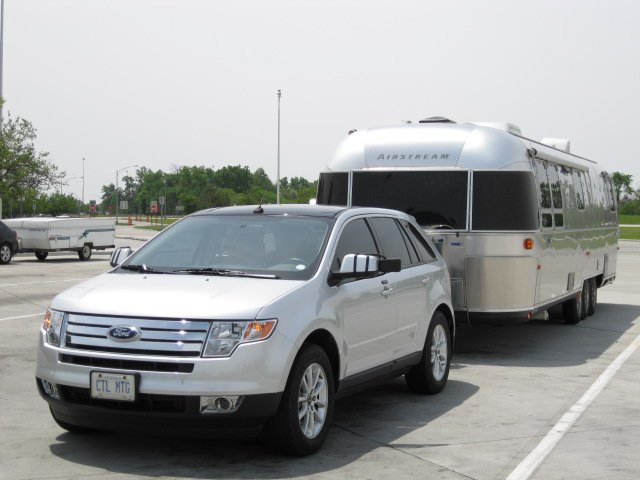 Of course, everyone seems to want an SUV these days no matter how practical or logical a car or van is. Again, we are fortunate to have some great ones made here in Canada. Ford's Oakville, Ont. plant builds the Ford Edge ST and the Lincoln Nautilus. The Edge ST comes with a 2.7 Litre EcoBoost and a wonderful suspension tune–firm without being harsh. It is a great well proven vehicle. The Nautilus comes with the same 2.7 EcoBoost but with a smoother riding suspension tune. Personally, I would prefer the ST, but the Nautilus will still be very good.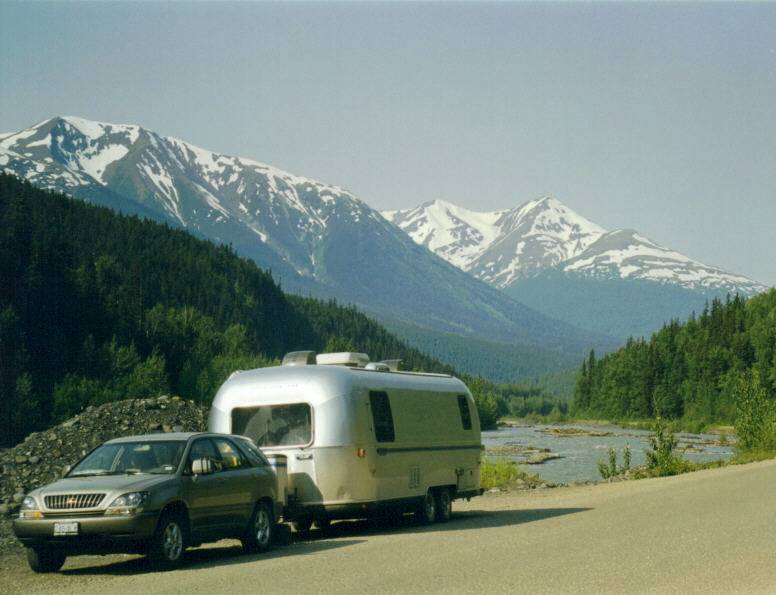 The other well proven SUV built in Canada is the Lexus RX 350 and 450H Hybrid. The first crossover hybrid we towed with way back in 1999 was a Lexus and we have had many customers use them ever since. The 3.5 Litre V6 and 8-speed transmission performs well and the interior is whisper quiet as you would expect. Handling historically has not been as dialed in as the Edge ST or even the Nautilus due to softer suspension tuning and a shorter wheelbase. The F-Sport model solves the suspension tuning and comes close to hiding the shorter wheelbase, especially the shorter model. The Lexus comes in two lengths, the longer version having three rows of seats, since the additional length is added to the rear overhang not the wheelbase the shorter body is the better tow vehicle.
A few customers are towing with the hybrid Lexus 450H. The hybrid combines both the gas and electric motors for plenty of short burst acceleration such as entering a highway or starting on a steep hill. For towing it is not a major fuel economy advantage, solo highway trips are comparable mileage as well but if your daily use involves any amount of stop and go driving the savings can add up. Transport Canada city fuel economy for the Hybrid is 7.5 L/100 vs 12.2 L/100 for the RX 350. This difference can be even higher with more stop and go driving.
Just down the road from us in Ingersoll, Ont. is the GM plant that builds the Chevrolet Equinox. This is a fine working SUV for aerodynamic trailers. Though the wheelbase is quite short at 107" the handling is helped by a short overhang and nice suspension tune. Previously this vehicle was built with the 3.6 Litre drivetrain from the Traverse, so it had the power to tow larger trailers and we set up several with 25' Airstream's Vista Cruisers. Now it has two engines suitable for towing and this is the dilemma. The more powerful of the two is the 2.0 Litre Turbo with 252 HP and 260 torque mated to a 9-speed transmission. Also available is a 1.6 Litre Turbo Diesel with 137 HP and 240 Torque, almost identical numbers to the Jetta Diesels we towed so much with. Fuel economy is of course much better with the diesel. Under 3500 RPM power is a pretty close match to the 2.0 gas fuel economy for most people will be better than the Hybrid Lexus.
All of these vehicles do need the hitches strengthened for towing anything but the smallest trailers, we usually change the rear springs in the 300 and sometimes the Caravan. If you are curious about using any of these feel free to send an email with your trailer specs and we can give you a good idea about the expected performance. The 300 and Caravan are often available for test drives at our store if you would like to experience just how great a Canadian car can be.