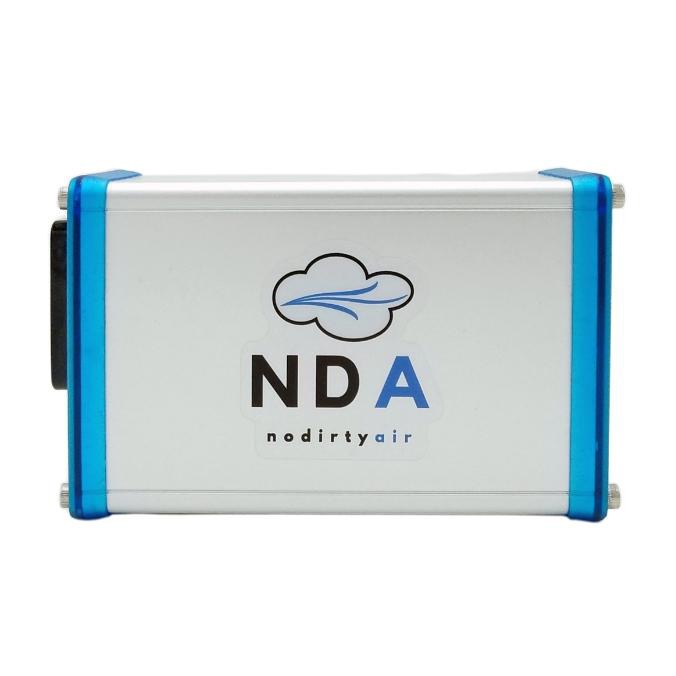 We have all been there. You head out for a hike or perhaps a swim in the campground pool and return to open the door of your RV and BAM! You are greeted by the odors of your teenager's sweaty socks, the grilled cheese that dad burned at lunch and the trout you caught for last night's dinner, all combined to hit you right in the face.
You left the vents open and the back window cracked but the odors are still there.
Now, thanks to No Dirty Air™ Mobile, you can flip a switch when you leave for that hike and come back to a home away from home that smells like a fresh rain shower.
The secret lies in the No Dirty Air™ Mobile's two-stage system that leverages activated oxygen and UV technology to bring a mobile, versatile disinfecting/sanitization air cleaning system to consumers.
Since activated oxygen is heavier than ambient air, the system goes beyond just cleaning the air but can also disinfect surfaces in areas surrounding the unit.
"The RV lifestyle has always been about freedom to explore this great country and spend great times with family and friends. In the current environment, we also want to enjoy this freedom with confidence in our health and safety and the No Dirty Air Mobile can give you that confidence, anytime, anywhere," said John Sztykiel, Co-Founder of Created 2 c, the parent company of No Dirty Air. "We developed No Dirty Air based on proven technology of activated oxygen and UV light, which have been known for their cleaning and disinfecting properties for more than a century. Our activated oxygen/UV light technology that removes odors has a tremendous disinfecting benefit against, viruses, bacteria and other microbes, which are often the source of the odors we sense in the air. These benefits have generated strong interest and orders from RV manufacturers, dealer and consumers since we have introduced the No Dirty Air Mobile."
The No Dirty Air™ Mobile device is designed to effectively process and clean 4.65 cubic feet per minute of air in offices, kitchens, bathrooms, autos, RVs, boats or any occupied space of 500 to 2,000 cubic feet in size. This means for the average RV, you can set the No Dirty Air Mobile when you leave in the morning and by the time you return at the end of the day, the air in your unit will be clean and disinfected.
Utilizing two units can cut the cleaning and disinfecting time in half, and since the system is mobile, when you return home from your vacation, you can move the unit to you other vehicles to clean them as well. No longer will your SUV smell of soccer practice, or your car smell of chili cheese fries after your son borrows it to go out with his friends.
Disinfecting as it cleans the air…
"With the recent COVID-19 pandemic, we realized that No Dirty Air™ Mobile has been designed to use nature's atmospheric disinfectant to clean the air," said Joni Sztykiel, co-founder of Created 2 c. "The ability to attack viruses and other microbes in a convenient way has never been more acutely needed than in the current environment. We want to be sure that the shelter we provide our families is clean, healthy and has all the resources we need to live pure lives. These same desires come with us when we take our homes on the road in an RV – we want them to be clean, safe and healthy for our families."
The No Dirty Air™ Mobile system was designed for ambient air sanitizing and disinfecting that can be used to treat the air and surfaces in your home, office or vehicle to remove odors and attack harmful microbes. The technology inside No Dirty Air Mobile incorporates two of the most natural atmospheric cleansers, ultraviolet light and activated oxygen (see https://www.youtube.com/watch?v=UNeHeXt60L0  for a brief explanation of how it works) within its two-stage system. No Dirty Air™ Mobile circulates air through the first stage of treatment, the activated oxygen reaction chamber. This stage oxidizes carbon-based pollutants, volatile organic compounds (VOCs), and attacks viruses, bacteria, mold and mildew. The second stage of treatment uses an ultraviolet light to further treat the air as well as lower the activated oxygen levels exiting the unit.
No Dirty Air™ Mobile Specifications:
Compact/Portable/Lightweight – 2"x3"x5", .85 lbs, Able to fit in a purse, backpack, travel bag, briefcase, etc.
Global compatibility with 110v-240v AC and 12v DC, Low Voltage, able to operate from a car adapter, a regular outlet, or solar
Space – up to 2,000 cu. ft. which covers the average size of a travel trailer, fifth wheel or motorhome
Safety – it is safe to be in rooms larger than 60 square feet with the No Dirty Air Mobile during operation, due to electronic controls and safeguards
Testing/Validation: the ambient activated oxygen produced by No Dirty Air Mobile, in a ventilated space larger than 300 cu. ft (about 42 sq. ft) has been tested to be below the acceptable standards set by OSHA and NIOSH for exposure over an 8-hour timeframe
Filter free with no filters to replace, and no maintenance
Two-stage system – First activated oxygen then a UV light, extremely powerful anti-microbial
Durable, hard case designed to withstand the rigors of portable use
Natural, activated oxygen/ozone and UV LED means no chemicals, and no chemical residue
Made in America, detailed information on No Dirty Air™ Mobile including ways to purchase are available at nodirtyair.com
About No Dirty Air:
No Dirty Air (NDA) is a creation of Created 2 c, whose primary focus is to provide healthy, odor-free disinfection/sanitization products/processes anytime, anywhere. NDA is a technology disruptor in the personal air/use space, leveraging activated oxygen/ozone and UV light.
This new product is now available at www.nodirtyair.com