A treasure from the RV Lifestyle Magazine archives…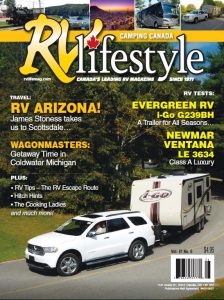 This travel feature first appeared in Volume 41, Number 6, Summer 2011 – Scottsdale Arizona remains a prime destination for RV travellers in 2021.

By James Stoness
When the first chill of winter triggers your quest for sunshine, it is time to explore the many sunbelt destinations that welcome Canadian RV travellers.
The Valley of the Sun in Central Arizona is like a magnet for thousands of people, many of whom have their homes in that sunny clime, and many more who flock there from the north for the winter. Phoenix has grown from a small town in the mid 1800's into a city of almost 1.5 million and as the population spread outward, it formed small communities at the edge.
One of these communities is Scottsdale, now a city of a couple hundred thousand. Scottsdale tries hard to separate itself from a vast urban area that just resembles one huge city when you drive through.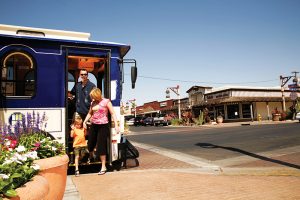 For hundreds of years, the Hohokam civilization lived and farmed the Valley of the Sun and created many miles of canals to irrigate their crops. Scottsdale sits on one of the old villages, and spreads across the agricultural areas. It achieved city status in 1951.
Development of the city meant that homes and streets were pressing outward into the desert. The present city perhaps owes its success to a few happy circumstances in its early development.  One of these resulted from increased flooding in usually dry Indian Bend Wash, creating events that pointed the way for the future. Homes and other development crowded the edges of Indian Bend Wash and after some flash floods destroyed property and fine homes it was deemed time for action.
They called in the U.S. Army Corps of Engineers who have helped develop some major water works in the United States. Their solution was to develop a wide cement channel to hurry the water through, thus separating the new city by a wide cement trench. However, they were thwarted by the common sense of the citizens who said no. What evolved was the creation of grasslands, and small lakes, trails and golf courses. Anything they built had to be able to withstand the flow of flood water without being destroyed. The ground was shaped to guide the flow, and the small lakes acted as temporary holding ponds to collect some of the flood's runoff. The grass, shrubs and trees slowed the water's flow. The concept worked so well that it became known as the Scottsdale Greenbelt.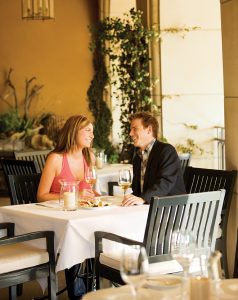 The attractive green parkland drew developers to the edge, but they had to build extra flood storage and parkland to compensate for any water flow problems their development might cause. The upscale homes would be attractive and the area began to look prosperous.
The resulting park lands provide areas for residents and winter visitors alike to have fun. There are baseball diamonds, as well as areas for soccer, golfing, walking trails, fishing in the lakes, and children's play areas. The parks provide space for holiday festivals, and other celebrations.
Old Scottsdale lies to the south. Here you could spend days working your way through a variety of bars, restaurants, and nightclubs. There are several western art galleries. Scottsdale Fashion Square features a very large shopping mall with several top stores carrying lines of expensive goods. The number of shopping stores, arts galleries, and spas is astounding considering the small size of the city and its desert location. On certain nights you can follow an art walk making visits to lots of artist's exhibitions, both large and small, and find lots of opportunities to purchase a masterpiece for your walls.
Scottsdale area is also home to many golf courses including prestigious championship courses. It will be the place to play if you like golf but the problem will be where to stay, if you are an RV'er. Those looking for trailer parks to settle into for the winter will have to be happy locating a few miles away in one of the adjacent communities. Scottsdale has very little to choose from.
The Valley of the Sun is part of the Sonoran Desert whose scenery and vegetation is great, unless it is too hot. Winter in Scottsdale can range from pleasantly warm to chilly. Since Scottsdale is edged by mountains, there is plenty of opportunity to get out and enjoy the fresh air. Even if it's cool weather prepare yourself for hiking in the desert. Take lots of water, good footwear, pants, a hat, and a good map, and tweezers to help remove cacti needles. Prepare as if your life depends on it. It could! You are in a desert.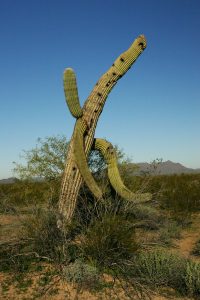 On the east side of Scottsdale, the McDowell Sonoran Preserve protects land on the McDowell Mountains from development. Its 17,000 acres has many miles of foot trails with varying degrees of difficulty. As in most places in the Sonoran desert you can have good groves of cacti, hilly scenery, and wildlife, and the land around the McDowell Mountains lacks for very little. Topographically, it is a little higher and receives more moisture than the lower country trails which will account for the greater vegetation growth on the mountain. Perhaps you can picture yourself on a trail that winds through beautiful groves of yellow flowers and slips around the giant saguaro and past a fishhook barrel cacti, before heading into a striking mountain cove.
A dark coloured rocky hump manifests itself in Scottsdale spreading west into Phoenix. Its name, Camelback Mountain, supposedly comes from its profile shape. I will leave that for you to decide, but take a good imagination with you. Close to the downtown area of Scottsdale it provides a desert hiking experience close at hand. The park is small but does provide the opportunity to perhaps run across rabbits or the elusive road runner and have a brisk hike at the same time.
What plants are you likely to see in the desert? The huge saguaro cactus is certainly the most prominent reaching 50 feet in height and are often the tallest plants in your view as you gaze across the desert. Some have many arms, and others do not have any, yet they can live to 200 years of age. Their spiny pleats are like an accordion and stretch out making the cacti rounder as they soak up water from the roots after a rare downpour. A saguaro forest viewed from a ridge is truly impressive. They are important homes to the Gila woodpecker and the flicker who peck holes into them to make nests. When they leave to make a new nest the owls and finches of the desert make use of the abandoned holes.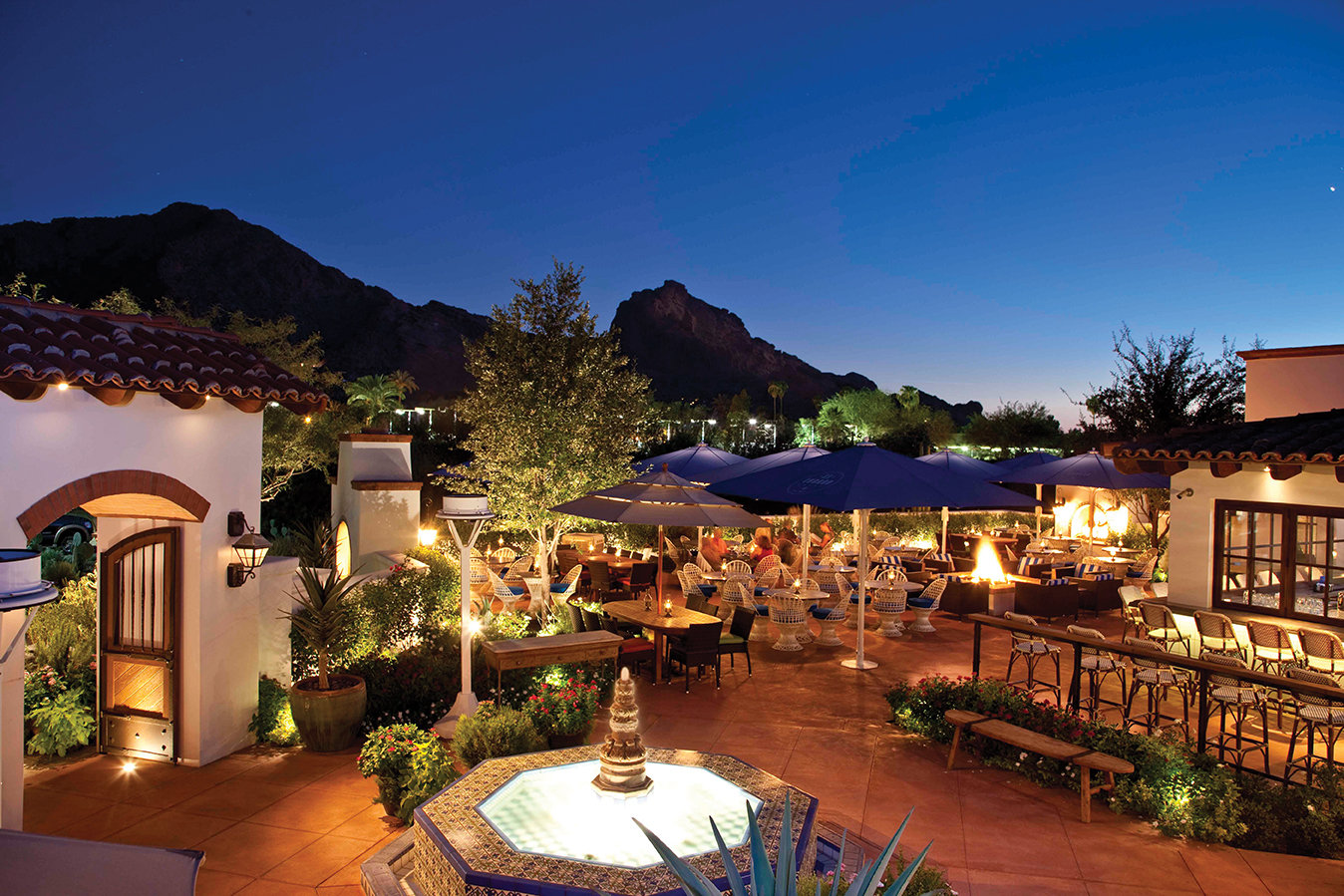 The cholla family of cacti are branching bush-like plants rising from knee height to the top of your head and like to grow in groves. The Teddy Bear cholla's branches are covered with small spiny balls of fur and look very cuddly. They have a trail name too, the jumping cholla. Although they don't leap at you, you'll swear that I'm wrong after your first encounter with one on the trail. They do attach themselves to anything that touches them and you are warned not to use your fingers to pull them off. Use a comb, or pair of sticks to remove the prickly bud, and then use the tweezers I suggested that you carry. I had one attach itself to my dangling camera strap. When I flicked the strap to shake it off it flew to my fingers and fastened to a pair of them. As I tried to brush it off with a stick it walked down to my finger tip and up the other side leaving little drops of blood as it travelled. Believe me when I tell you they are sharp. If you use a hand lens and look at the tip, you will find that there is even more to the tip than you can see with the naked eye.
The common short brush you see will likely be creosote bush. It absorbs water with a wide root structure and very little else grows near it. The spaces between the bushes make it look like it's been planted in rows.
The ocotillo often looks like a very tall stick with sharp spines. If it has small leaves, you know it has rained recently and for a while, the leaves will stay and nourish the plant. As a water saving mode the leaves drop off when the drough conditions return. These stems can be used for fencing corrals, and for roofs on sun shade huts in the desert.
When you are in a desert, you should take the opportunity to explore it and learn about it. There are several entrepreneurs who can help you do this. Perhaps a hot air balloon ride is what you are looking for. You will have a fine opportunity to see a lot of desert comfortably and get a bird's eye look at the area.
After that experience, you might rent a four-wheel drive vehicle and visit the back desert areas, and if you don't feel secure doing that alone, join a group drive, or go with a back road tour group being driven in their jeeps or other back roads vehicle. When you are in the desert away from people you get a whole new perspective of the word 'empty'.
Scottsdale has lots to see and do except for camping. Trailer parks are scarce but you can stay in nearby Tempe. The Apache Palms RV Park looks conveniently located to visit Scottsdale, and to head west to the Lost Dutchman Mountains.
Even if you think you don't have time to spare, take in the following places. Drive the Apache Trail NE from Apache Junction to the Roosevelt Dam and Reservoir. This 50 mile drive is partly paved but the gravel portion is usually well cared for. But it is an isolated area and you need to be prepared for it. It is also very crooked, with some crooked steep hills. To compensate, the scenery is magnificent with craggy mountains and deep canyon views with lots of desert plants, and beautifully desolate. The mountains to the south are the Superstition Mountains, home to the fabled Lost Dutchman Mine. Lots of people who felt lucky have tried to find it, but it still remains lost, and so do a lot of the searchers.
You should stop at the old town of Goldfield near the beginning of the drive. Although touristy, there are a lot of the old mining town's buildings and equipment on view and it's worth the stop.
East of Florence Junction on the road to Globe you will find the Boyce Thompson Arboretum home of a myriad of desert flora.
Wintering in Arizona is a treat. The humidity is low and the scenery is great. Cities like Scottsdale provide a place for those who enjoy the hustle and bustle with fine dining, and great attractions to keep you busy.
For additional information:
Scottsdale Convention and Visitor Bureau http://www.scottsdalecvb.com/
RV Lifestyle Magazine's Travel Editor, James Stoness, is the author of 'Touring North America', a series of travel guides on CD and online to help you plan your trips across North America, as well as a series of novels. Visit his website to read his novels and travel guides – https://stonessrvtravel.com/