This article first appeared in our January 1996 issue – Volume 25, Number 1
Looking back in time -and celebrating 25 years as Canada's #1 RV magazine!
by Norm Rosen
It was twenty-five years ago in Montreal when publisher Bill Taylor first saw the need for a national magazine, reporting on a lifestyle that was fast becoming an increasingly popular choice for families who enjoyed the great outdoors.
An avid sportsman who spent much of his time with his wife and children trailering, Bill recalls the early years: "I was in my mid—twenties with a young family. I spent a lot of my time RVing, from Montreal to the Adirondack Mountains, even pulling a boat along with us.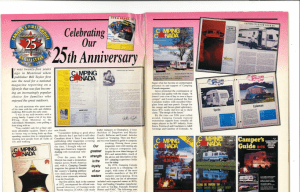 "You couldn't ask for a finer and more affordable vacation. There's also new friends. I remember feeling so good about spending vacation time in campgrounds, this lifestyle that I just had to tell other Canadians about it. Since I was already publishing other magazines covering snowmobiles and motorcycles at the time, I thought why not bring out a brand-new magazine dealing with recreational vehicles."
Over the years, the RV lifestyle has made a tremendous impact across North America and, with it, Camping Canada magazine has grown to become the country's leading publication dedicated to what is now commonly referred to as the Good Life.
Our first edition, back in the summer of 1971, encompassed the official campground directory of Campgrounds North America (CANA) and made mention of such memorable travel trailer marques as Champlain, L'Islet (builders of Dauphine and Master Coach), Bellevue and Lionel. Articles focused on "Camping, Then and Now" and we even feature a guide to campsite cooking. During those years, magazines were still running ads for tobacco companies and, despite the now dated designs of RVs and automobiles, much of the advice and description of the RV camping experience holds true for today.
By 1974, Camping Canada magazine had grown to become a whopping 116 pages, with some of the most notable members of the RV industry participating. Even back then, our list of advertisers included such respected names as KOA, Jeep, and leading Canadian manufacturers such as Caravane Val-Bar, Funcraft, Pyramid Homes and P.M.C. The following year, our annual edition swelled to 132 pages, and companies like Triple E and Jayco began what has become an uninterrupted presence in and support of Camping Canada magazine. Jayco promoted the combination of economy and quality with the slogan, "It doesn't cost a ton of hay to own a Jayco camper," and Lionel produced the first Canadian trailers with molded fiberglass front and rear panels. Except for the orange and brown upholstery, these RVs really did live up to their claim, "The design of the future."
By the time our fifth year rolled around, Camping Canada enjoyed tremendous support from virtually all major players in the RV industry, from Itasca, Foretravel and Coachmen to A&E Awnings and Carefree of Colorado.
At that time, Monarch and Boler trailers offered a taste of things to come, with compact trailers that could be towed behind a compact car. From three issues a year in 1975, we further increased publication to six issues in 1978 — at a low, low price of just $4.
When we started writing Camping Canada, the popular step up from a family tent was a tent trailer. Then hard-top tent trailers with soft sides or hard sides hit the scene, leading one of our writers to come up with the all-encompassing term, "hard-top, soft—side, fold—down camping tent trailer." Today these popular entry-level RVs are more commonly called fold—down camping trailers.
Came the big gas crisis of the early 80s and a brand-new concept called a park model,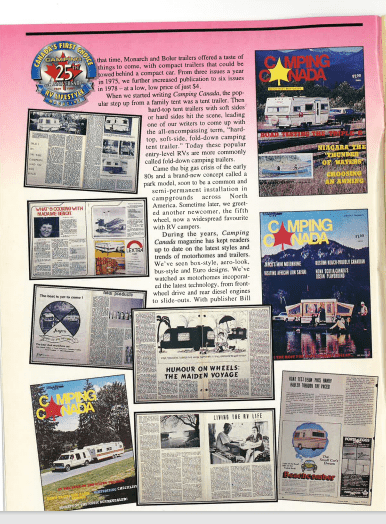 soon to be a common and semi—permanent installation in campgrounds across North America. Sometime later, we greeted another newcomer, the fifth wheel, now a widespread favourite with RV campers.
During the years, Camping Canada magazine has kept readers up to date on the latest styles and trends of motorhomes and trailers. We've seen box-style, aero-look, bus-style and Euro designs. We've watched as motorhomes incorporated the latest technology, from front- wheel drive and rear diesel engines to slide—outs. With publisher Bill Taylor spearheading the challenge to present the many joys of RV living to readers from coast to coast. Camping Canada has become one of the country's leading promoters of the RV experience.
Through the years, we have had the opportunity to work with some of the most talented people in the publishing business, such as Art and Hazel Balcom, who provided West Coast road tests and wrote about the retirement lifestyle in the tradition that is now being continued by Peggi and John McDonald.
Our greatest strength is the loyalty of our readers. We have thousands of subscribers who have been part of the Camping Canada family for more than 10 years, and we still hear from readers who have been with us since our very first issue.
Throughout the years, we also owe a great deal of thanks to key members of North America's RV Industry, many of whom served on Camping Canada's Special Advisory Council, providing valuable input and support that helped us grow.
When we first started out, Camping Canada introduced readers to the various types of RVs. We helped spread the message that, regardless of your needs or budget, there's an RV that's just right for you. After 25 years, the message hasn't changed – neither has our commitment to both a fun lifestyle and our growing family of subscribers.
As Bill Taylor puts it, "We've almost come full circle. I started out camping with my children and I'm sure it won't be long before they're spending their holidays with their children, carrying on the RV lifestyle."