By James Stoness
The Big Horn Mountain Range of Wyoming has always been one of my favourite places to go for superb mountain scenery, adventure, and great forest camping.
There is a big difference between our majestic Canadian glacial carved mountain peaks, and those of the Big Horn Range in Wyoming. The difference is in the access. The Canadian Rockies are composed of steep cliffs and deep valleys with limited roads into them. The Big Horns are high, reaching 13,000 feet, but they are broad, and somewhat rounded. It's the broad-shouldered part that allows for a myriad of highways, and forest access roads over much of the Big Horns. On the two main highways you will climb about 4000 feet from the plains to reach the 10,000-foot level.
Although they are a destination for a summer trip by themselves, many people stop in this area on their trips to visit Yellowstone National Park, which is to the west. Those visiting Yellowstone from the north could slip over to the Big Horns.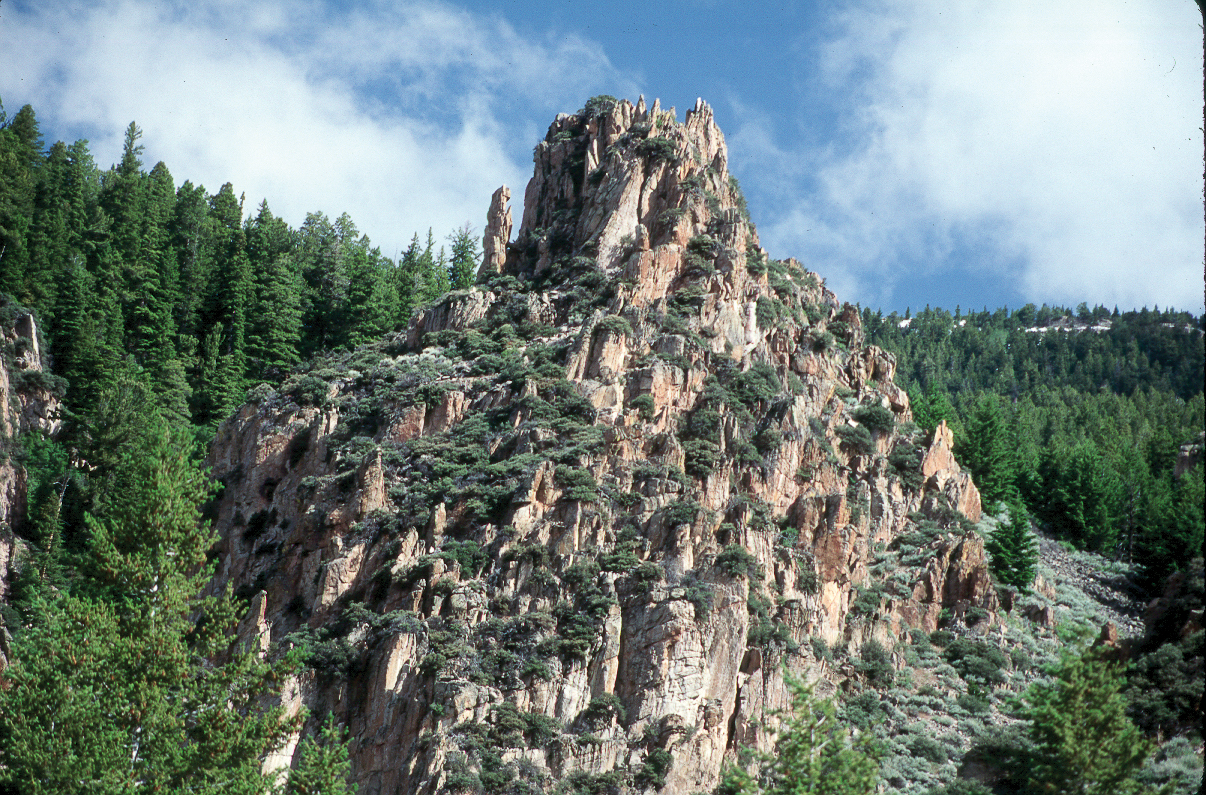 The Big Horn Mountain range is unusual. It forms a slight arc, about 200 miles long, and stands apart from the Rocky Mountains to the west. It's an island mountain range and because it's easy to go around it on the way to Yellowstone NP, a great many people avoid the Big Horns, and in doing so deprive themselves of a great experience.
The mountains consist of thousands of feet of sedimentary rock that were placed in inland seas and then forced upward into high mountains. The western slopes are in a rain shadow of the mountains farther west and are quite dry, while the eastern slopes are watered by moisture from the Great Plains and grow dense forests. Water from the descending streams irrigates farmers' crops along the base of the mountains. Some of the rugged features on the mountain are the result of ancient glaciers. Now, the only glacier left is found in the 200,000-acre protected Cloud Peak Wilderness area. There are no roads here, and hikers are expected to make no changes while using the area. The magnificent cirques and cliffs offer superb scenery.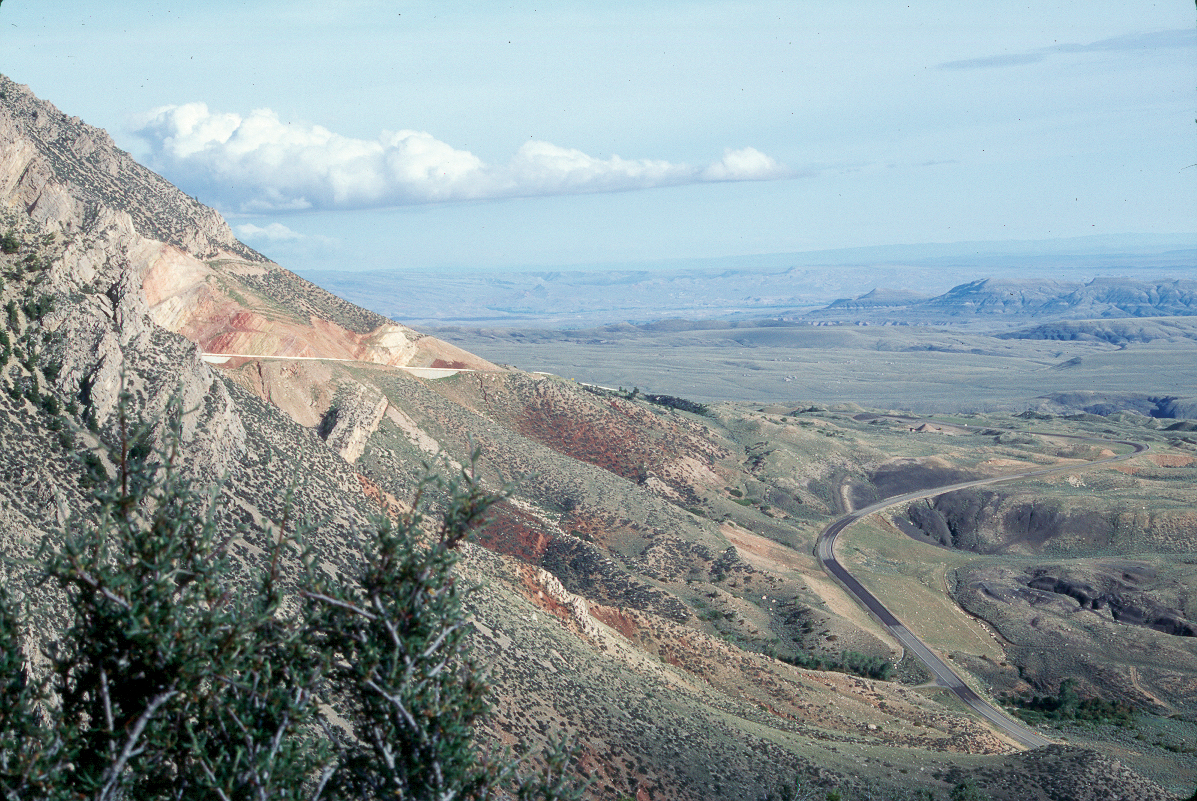 Wy-14, the Big Horn Scenic Byway, leaves I-90 at the exit to Ranchester, north of Sheridan. This 58-mile highway is a road to adventure. When you are out on the plains heading west you will have watched the mountains slowly rise above the horizon for many miles. From afar they don't look high nor impressive. But now as you drive across the ranch country on Wy-14 you are heading directly into them. After you pass through the small town of Dayton you leave the farming valley behind. The scenery consists mostly of rolling plains with a few scattered evergreens. Very quickly your motor tells you that things have changed. You are at the base of the climb and evergreen trees start making their presence known. For many miles it doesn't look as if you are climbing a mountain as the road just winds along through what look like evergreen clad hills with a few rock cuts. In the next few miles you climb and twist around switchbacks that have you looking back over the valley, and alternately facing into the mountain. The highway is excellent but watch the heat gauge if you have one, as grades run 5-7%.
There are a few pull-outs or viewpoints that allow good pictures of the receding plains. If the automatic transmission is slow to shift down, select a lower gear that keeps you moving smoothly, without lugging the engine. I remember once climbing these with my Dodge Royal, and towing a tent trailer. I had to turn on the winter heat, and turn the fan onto high, to help cool the engine. It worked well, but sure made a mess of some chocolate cookies that were in a package on the floor. Sylvia kept her feet up on the seat where it was cooler.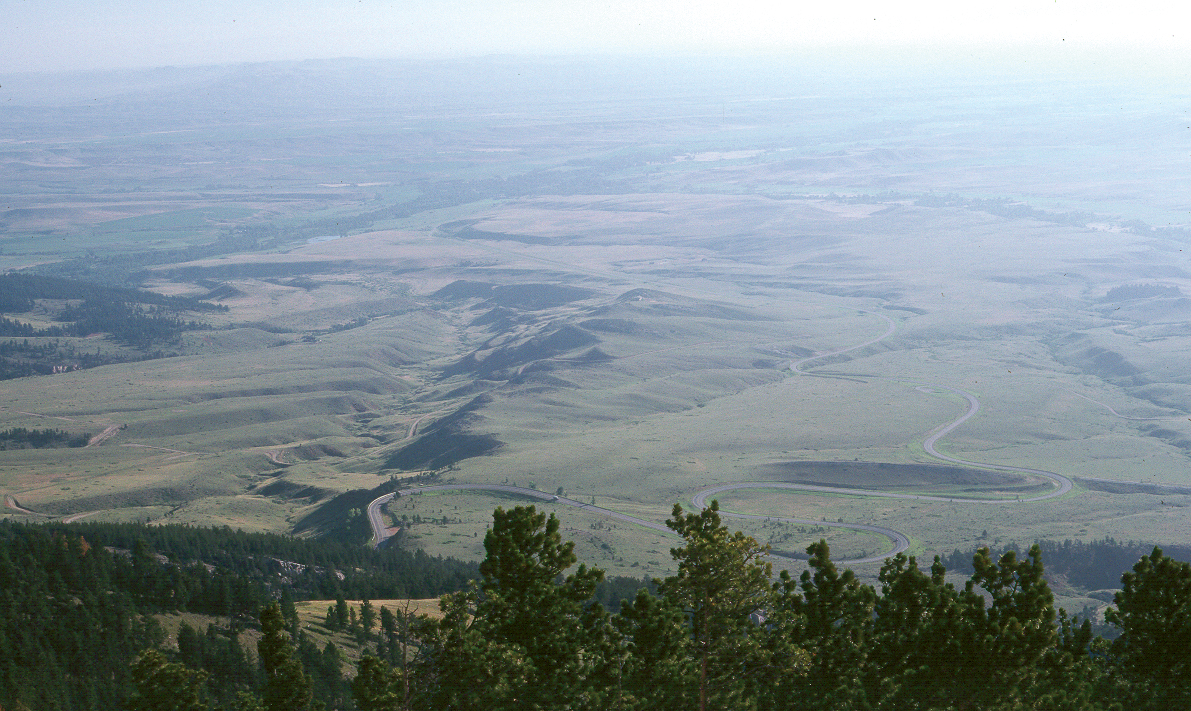 At this elevation the mountains are now cloaked with evergreens, revealing the occasional rugged cliff and deep canyon. The scenery is absolutely spectacular. There is a view point at Hairpin Turn but you have to go on up around the turn to see the entrance on the left. This is a perfect place to look down at the valley below and see the road, way down there, twisting and turning every which way. That's the road you passed over, or will pass over if you are descending. There is an interpretive stop at Sand Turn where you can get pictures of the Fallen City, just across the valley. This is a long rampart cliff that is disintegrating, distributing a massive talus pile below it.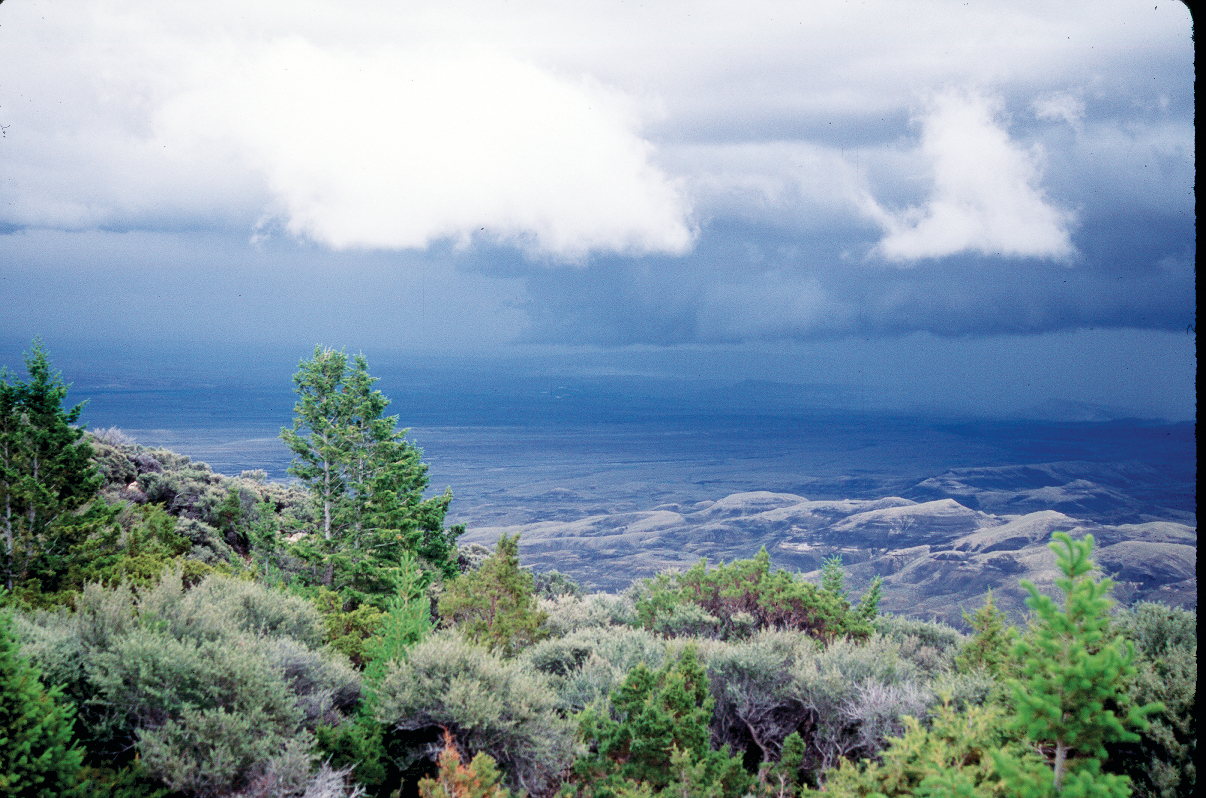 The mountain will soon become flatter, with meadows and small streams. But first there is camping at Sibley Lake. This is an idyllic lake backdropped by a steep hill, clad in evergreens. Nearby is a rustic campground. Once when I was there a long time ago, there was a child using a Mickey Mouse fishing rod who hauled in a really big fish.
As you continue west you will pass Prune Creek CG, South Tongue CG, and you will find other forest campgrounds along some of the adjacent forest roads. When you look around at distant views of forests and open glens on this broad topped mountain you may forget that you are now around 9,000 to 10,000 feet up. You will find this to be true as soon as you try walking swiftly, or using the axe to split firewood. Then you sit down, and regain your wind, and then do everything slowly until you acclimatize. Buy a forest road map and start investigating into the back country, or download a MVUM- motor vehicle use map. Many of these roads are driveable by car, but ask about the conditions before you go. Fast moving storms are common on the mountain, and they do wipe out sections of road, or leave them rough and boulder-strewn, from time to time.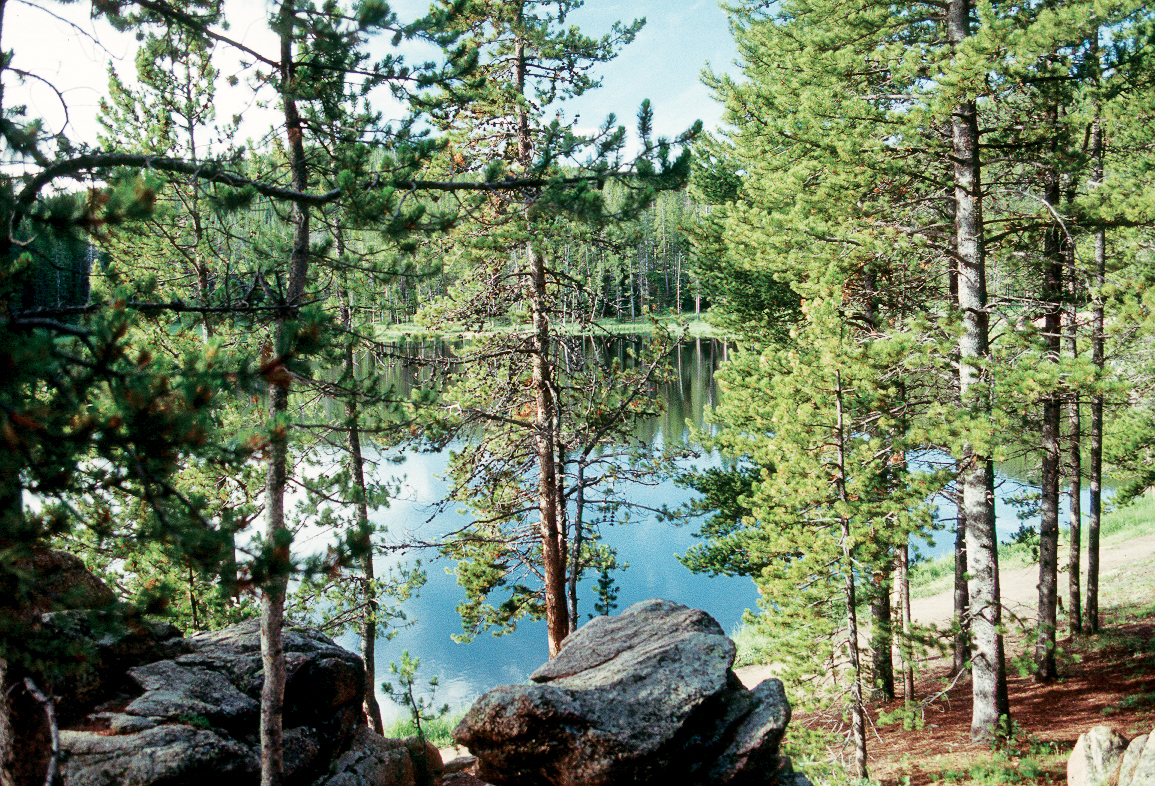 Burgess Junction marks the place where Wy-14 heads south and then west, and Wy-14A heads west. Wy-14A is not for those not comfortable with mountain driving. It is very twisty and descends at 10% for ten miles and at 8% for another 4 miles. It's really scenic as it drops down into the rugged Big Horn Basin.
A tourist once described stopping at an overlook at the bottom of the mountain, where he described the redolent smell of the sage, the poignant odour of the pines, and the stench of overheated brakes. Don't be an RV'er who contributes to that.
If you are novices to mountain driving, these ideas have worked for us. If you have a heavy RV, gear down early before you are rolling merrily along. Continue to descend in low gear and keep your speed really low. You will have lots of opportunity to let traffic pass. There are straight stretches and you are going slowly, so just move over and let the cars go on past. This works for most of these steep mountain grades. Just pull down your speed when it gains, by braking. Then repeat. Do not hold the brakes on.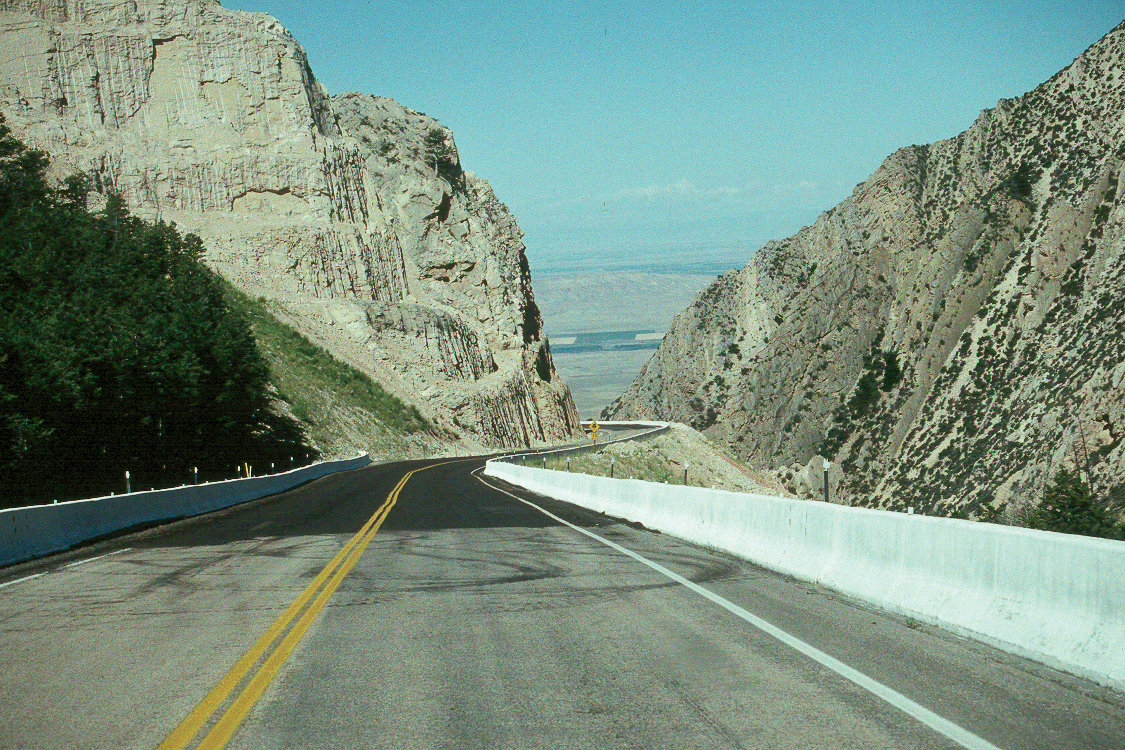 There is a good overlook at the top of the hill, near where all the warning signs are, that show an overall view of the basins below. It also shows one of the rare places in North America where a river doesn't go around a ridge, but turns and cuts right through it.
Just before the steep descent you will see Medicine Mountain to the north. A gravel road takes you to a parking lot where you can walk up to view the Medicine Wheel archeological site. This is one of the best preserved ancient sites they have found.
Forest Rd 14 takes off north near here and after 8 miles takes you to the 500 foot high vertical Bucking Mule Falls. It's still 1 ½ miles to hike to the falls from the parking lot, and it will feel farther because of the elevation.
Are you keen for a little backroad adventure? Forest Rd 15 heads north and then winds around to return to Burgess Junction. There are pay campsites along the way, and there is free dispersed camping too, which requires you to be about 300 feet off the main road.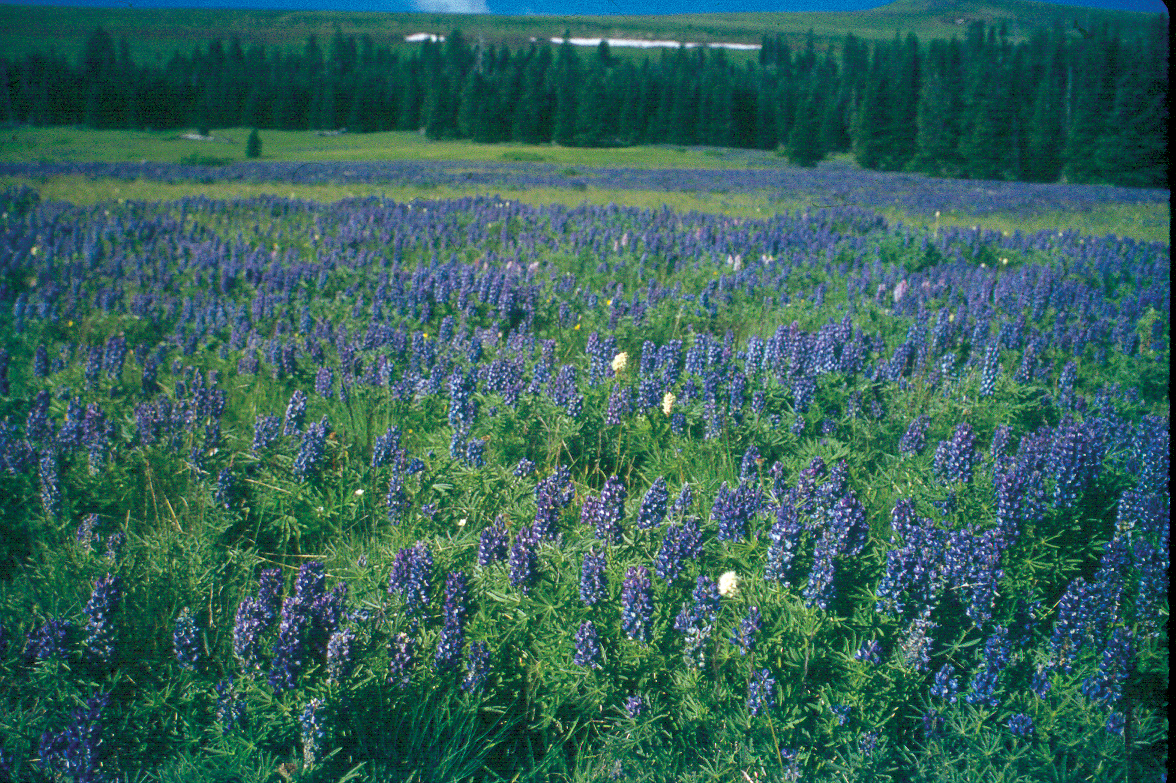 From Burgess Jct. head south on Wy-14. There is a turnoff to Copper Creek Rd to the east. This gravel road leads to more scenery and some nice isolated campgrounds. You can follow east for several miles and then go down Red Grade road to the bottom of the mountain. It will be a steep descent. A few years ago my wife and I came up Red Grade in a truck camper. It's a long gravel drive, and quite steep in places and we enjoyed every minute. Once on top we stopped for a few days in a quiet campground by a stream with only three moose to keep us company. The campground biffy was over at the side of the clearing and the moose frequently walked across in front of us to graze in the vegetation in the stream. We joked that there should be a sign, like at a railroad. "Watch for moose, before crossing!"
If you continue southeast, you will start with a climb to Granite Pass, followed by 18 miles of 5-7% grade with lots of curves down to 15 mph. Continuing the descent, the evergreens give way to grass and sage and then you enter Shell Canyon, very crooked with the dashing Shell Creek beside you. The steep broken cliffs rise up to block the sun, until suddenly, you exit into the open country at the base of the mountain.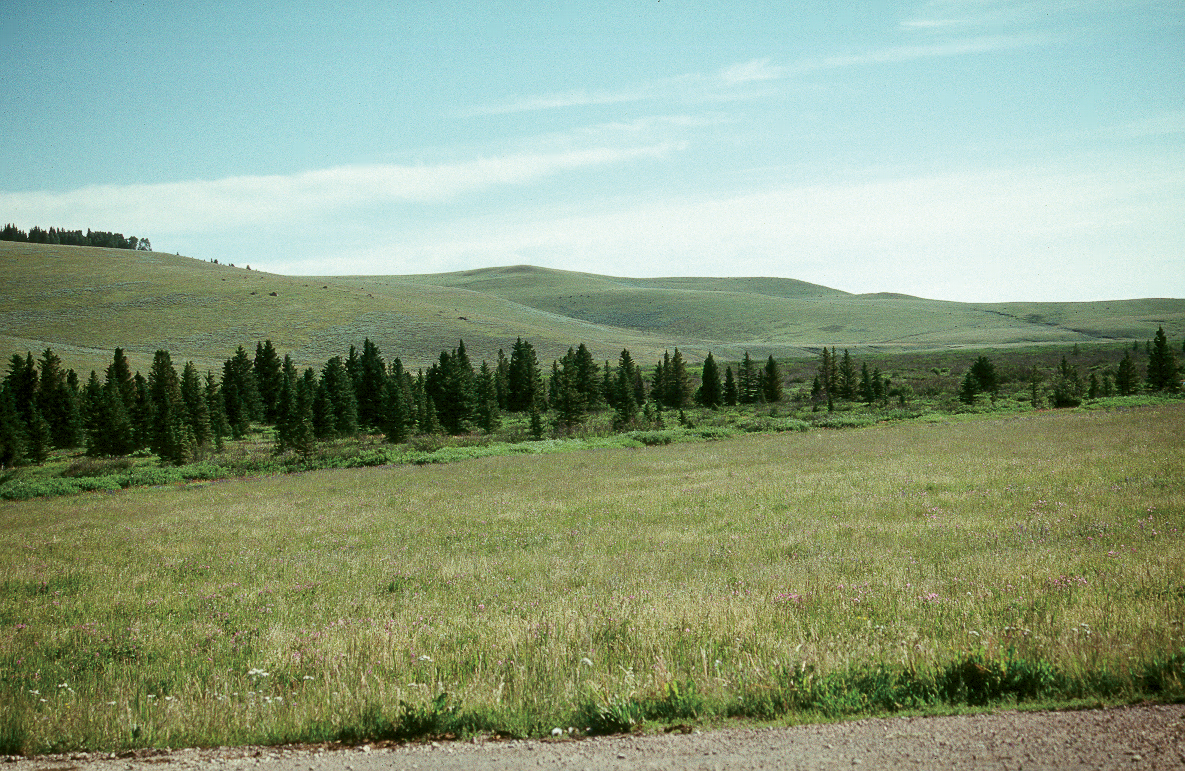 Wy-16, the 47-mile Cloud Peak Skyway Scenic Byway, crosses the mountains to the south, linking Buffalo to Ten Sleep. Ten Sleep got its name from the fact that indigenous people on foot would take ten days to cross over the mountain. If you turn west off I-90 at Buffalo it will be a few miles before you reach Powder River Pass, el 9,666 feet. I've never found this route to be as scenic as the Big Horn route. It spends most of its time climbing and descending the mountain. It has good views of the Cloud Peak Primitive area to the north, but does not have the wide-open spaces, lakes, and streams found on Wy-14. There are also not as many forest roads branching off into the wilderness.
If you are ready for a bit of mountain camping, and driving on roads where you get the feeling that there is no one else around, head to the Big Horn Mountains of Wyoming. We've certainly enjoyed them!
For more information on mountain grades, telling severity of road: http://www.mountaindirectory.com/
General Big Horn information:   
https://www.fs.usda.gov/main/bighorn/home
For a MVUM – motor vehicle use map:
https://www.fs.usda.gov/Internet/FSE_DOCUMENTS/fseprd536999.pdf
RV Lifestyle Magazine's Travel Editor, James Stoness, is the author of 'Touring North America', a series of travel guides on CD and online to help you plan your trips across North America, as well as a series of novels. Visit his website to read his novels and travel guides – https://stonessrvtravel.com/