The Rum Runners Tour in Windsor, Ontario, is a traveling play depicting real people who walked the streets and "worked the whiskey" during Prohibition. In the roaring twenties, most of Canada chose to stay dry, but this didn't stop the production and smuggling of alcohol beverages to the large and lucrative market in the United States. Prohibition lasted in the United States from 1920 to 1933. Even though alcohol could not be sold in Ontario, residents could drink it, keep a personal stash for medicinal purposes, and take a whiskey break at work.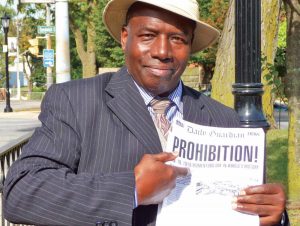 To escape the wrath of local police and customs officials, bootleggers strapped bottles to their bodies, sewed large pockets into the lining of overcoats, and even filled hot water bottles with whiskey. Women hid bottles of booze in baby buggies, stuffed them into their stockings, and dangled them from belts under their long skirts. In the summertime, rum running boats were faster and better than government boats. In the winter, traffic on the frozen Detroit River was congested with skaters, sleds, and drastically overloaded automobiles. It wasn't far to go. They say that a good centre fielder might be able to throw a baseball across the river from Windsor to Detroit.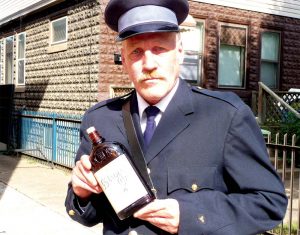 On the tour, we met actors depicting local police, the Women's Christian Temperance Union, and Reverend Leslie Spracklin, aka "The Fighting Parson" who toted a pistol on his hip, even in church. These good citizens worked hard to rid society of "drunken foul-mouthed men" and "rouge-faced tarts." In spite of the efforts of the Temperance movement, the police and The Fighting Parson, women of the time shortened their hair and their skirts, danced The Charleston, drove cars, put on make-up, and won the right to vote.
Whiskey constantly flowed across the border.
This slow cooker recipe is a delicious place to hide your rum.
RUM RUNNER APPLES & PEARS IN A SLOW COOKER (Makes 4 servings)
INGREDIENTS
2 firm baking apples
2 firm pears
2 tablespoons (30 ml) fresh lemon juice
2 tablespoons (30 ml) melted butter
2 tablespoons (30 ml) brown sugar
3 tablespoons (45 ml) dark rum
1 teaspoon (5 ml) cinnamon
whipped cream or ice cream
DIRECTIONS
Peel the apples and pears, cut in half, and remove core
In a bowl, combine the apples, pears, and lemon juice. Toss the fruit pieces to coat them with the lemon juice
Place the apples, pears, and lemon juice in a slow cooker pot
In a bowl, combine the melted butter, brown sugar, rum, and cinnamon. Mix well
Pour the mixture all over the fruit in the slow cooker pot
Cover and cook on low heat for 3 to 4 hours
Place the hot fruit in dessert dishes
Spoon the hot cinnamon-rum mixture over the fruit
Top with whipped cream or ice cream.
Please visit The Cooking Ladies' website at www.thecookingladies.com or email them at info@thecookingladies.com